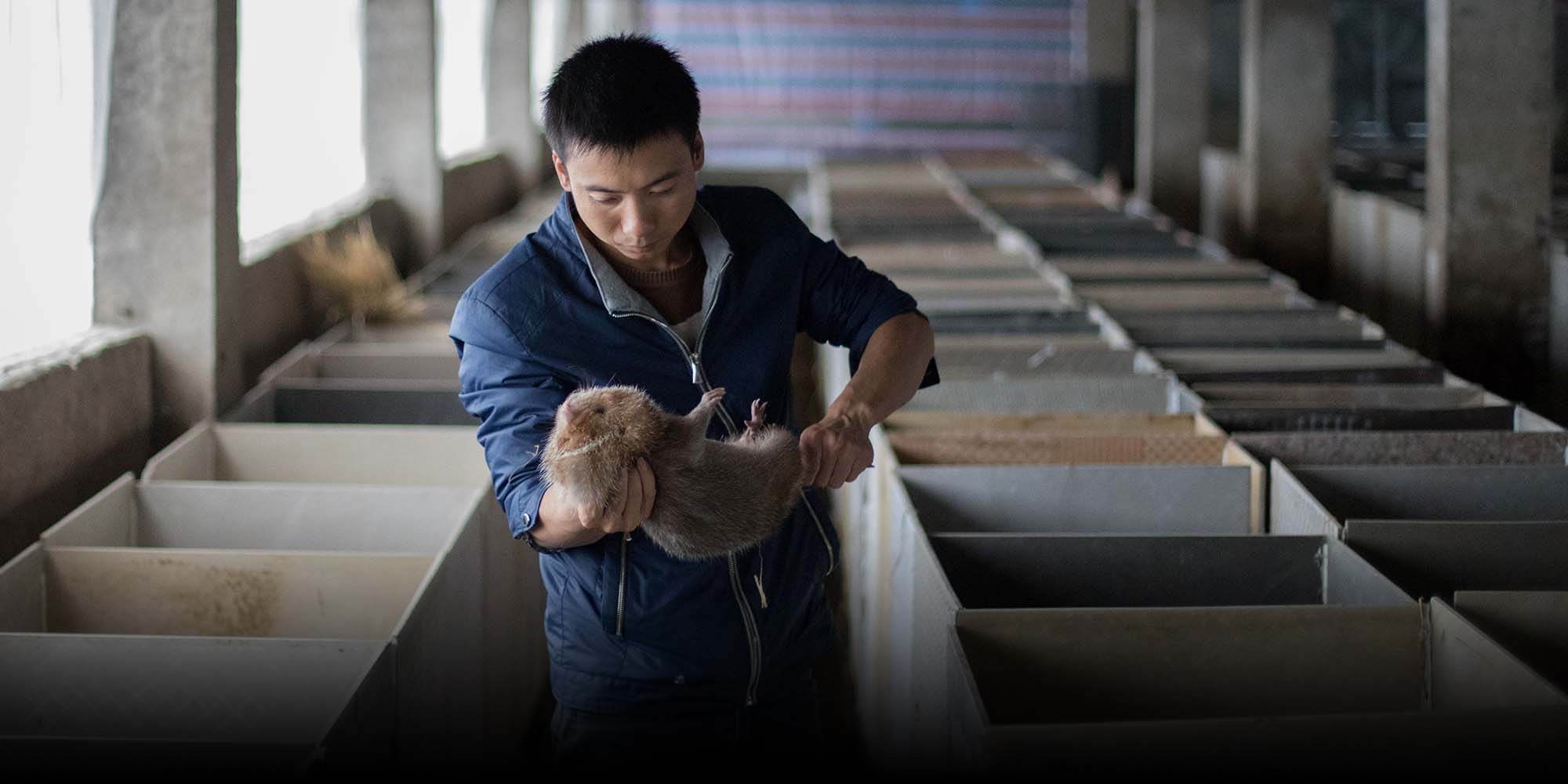 NEWS
China to Phase Out Farming of 45 Wild Animal Species by 2020
Authorities continue to make strides deterring people from consuming wild animals and minimizing the risk of disease, but experts say more are needed.
China is set to prohibit the artificial breeding of nearly four dozen animal species, months after it banned the consumption of wild animals in a bid to reduce the risk of zoonotic diseases after the COVID-19 outbreak.
The National Forestry and Grassland Administration said it would phase out artificial breeding of 45 wild animal species — including bamboo rats, civet cats, and porcupines — by the end of 2020, Sixth Tone's sister publication The Paper reported Friday, citing an earlier announcement. In addition, 19 other species — such as hedgehogs, badgers, and guinea pigs — can only be farmed for purposes other than consumption, such as science or medicine.
An official from the administration's wildlife protection and management office told Sixth Tone that the animals on the list are terrestrial species that are widely farmed for consumption. He explained that farmers can no longer breed the 45 species, and may either continue breeding the other 19 under the new terms or find another way to make a living.
"A large number of people are involved in farming these 64 species, so this needed to be clarified," said the official, who did not give his name because he wasn't authorized to speak to media. He added that the new policy "serves as a clear notice" to both farmers and government departments.
An estimated 14 million people in China — most of them in poor, rural areas — breed wildlife for a living. In May, the forestry administration told locals to stop the practice and apply for compensation for any lost income.
"The phasing-out process has yet to be completed, and the compensation is lagging behind — the farmers' livelihoods are in shambles," the official said, adding that the administration has directed local forestry bureaus to expedite the compensation process while also enforcing the ban.
Tian Jiangming from the Anti-Poaching Crime Squad, a wildlife protection group, told Sixth Tone that phasing out animal breeding isn't enough, and authorities should focus equal attention on strengthening supervision and improving transparency in the approval of animal farming permits.
"The wild animal species that remain able to be bred definitely outnumber the (64) species listed," he said. "We still have concerns. Wild animals bred for purposes other than eating might be secretly sent to restaurants in the absence of adequate supervision."
Earlier this year, certain wildlife species that can be bred in captivity relatively easily were listed as "special livestock," allowing farmers to raise them for food or other forms of consumption. They included reindeer, alpacas, ostriches, minks, and racoon dogs, among others.
Tian said it remains difficult for the authorities to oversee all the breeding sites due to a lack of law enforcement resources and awareness. Even if farms are required to keep ledgers for the procurement and sale of animals, he said, they could still easily fabricate the details.
"A blanket ban on breeding wild animal species with a white list of exemptions would be easier and more straightforward to manage," he said.
In response, the official from the forestry administration said some wild animal species not on the current list are still being bred for consumption on a smaller scale. He added that this group will be phased out in a "smooth manner," without elaborating.
"Other wild animals that aren't on the current list shouldn't be bred for consumption either," the official said.
Editor: Bibek Bhandari.
(Header image: A man examines a bamboo rat in Ganzhou, Jiangxi province, Nov. 18, 2018. People Visual)