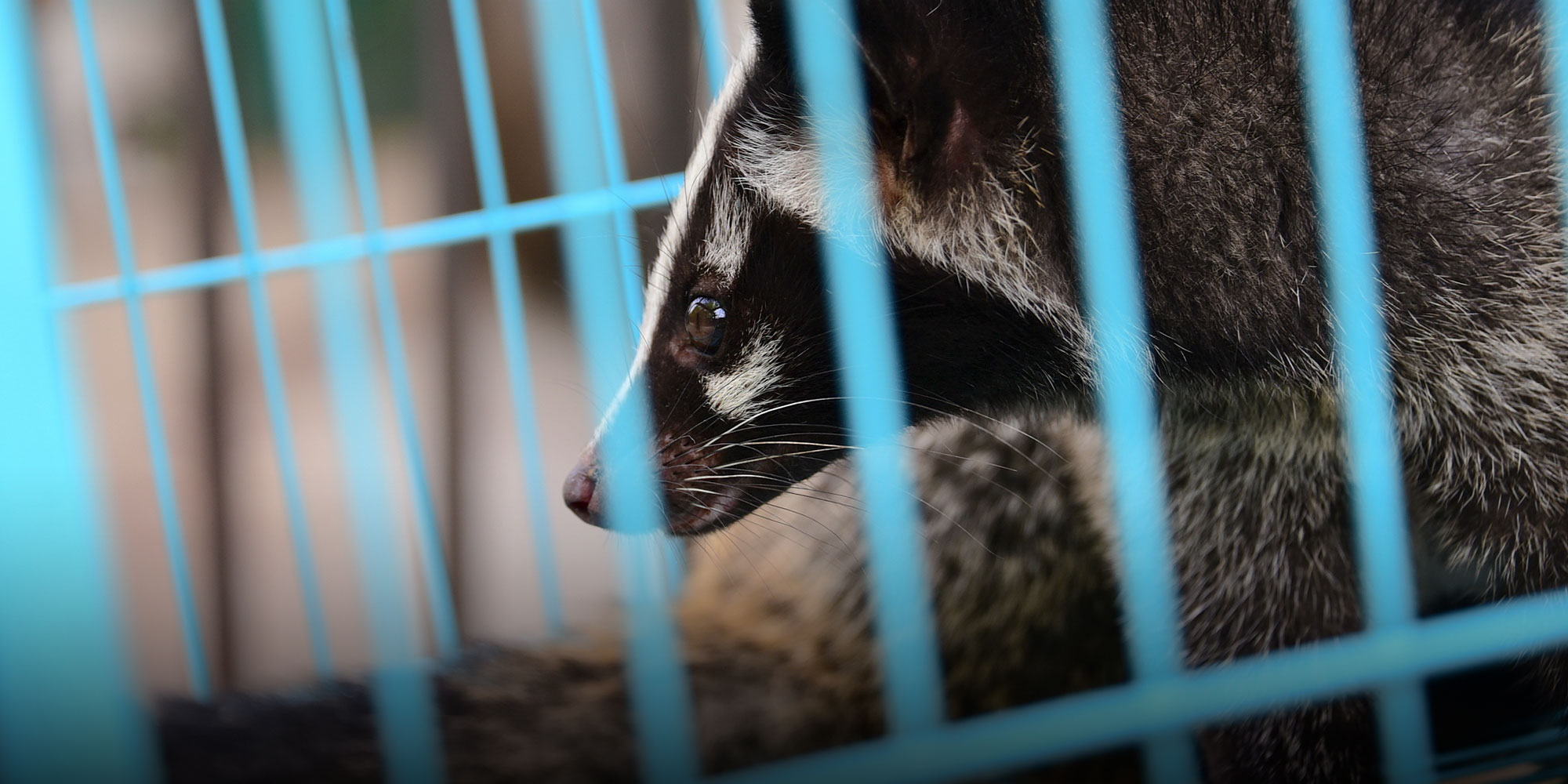 FEATURES
China Banned Eating Wild Animals Amid COVID-19. What Happens Now?
China's vast wildlife trade involves millions of people — and tens of millions of animals. Authorities are still working out how to deal with them.
Zhang Bo doesn't know what he should do with the 500,000 frogs in his barn.
The farmer has been breeding Asia bullfrogs for years to sell to wet markets and restaurants near his home in South China's Guangdong province, where the amphibian is a popular delicacy. But on Jan. 26, China announced a nationwide ban on trading wild animals in response to the coronavirus pandemic, cutting off his business overnight.
One month later, China's top legislative body went further, banning all eating and related trading of terrestrial wildlife — whether wild or bred in captivity — effective immediately, warning violators would be punished severely.
Now, Zhang faces a dilemma. He can't sell his frogs and has already racked up debts of over 200,000 yuan ($28,300) buying feed for them. But he also doesn't want his animals to starve.
"I'm worried, as the feed is running out," the 33-year-old tells Sixth Tone. "My whole family relies on the business for their livelihoods."
Zhang's troubles highlight the daunting challenge facing Chinese authorities as they attempt to dismantle the country's vast market for wild animals, which is estimated to be worth hundreds of billions of yuan.
Many of the roughly 14 million people involved in wildlife breeding are based in poor rural areas that were heavily reliant on the industry. If the market isn't phased out smoothly, experts warn the ban could cause severe side effects as breeders go bankrupt or try to continue selling on the black market.
China's leaders have signaled in recent weeks that they're fully committed to enforcing the ban to reduce the risk of future pandemics. As with the 2003 SARS crisis, scientists believe the coronavirus originated in bats and was passed on to humans via an intermediate host: Bamboo rats, badgers, pangolins, minks, and turtles have all been posited as possible intermediaries.
On Feb. 3, Chinese President Xi Jinping ordered officials to crack down on markets selling animals illegally and eliminate people's "bad habit of overeating wildlife."
In the days following Xi's speech, officials launched a massive inspection campaign targeting wet markets and restaurants known for selling exotic wildlife. By Feb. 27, around 350,000 venues had been "rectified" and 39,000 animals seized, according to the National Forestry and Grassland Administration.
But authorities have yet to confirm how they'll deal with China's thousands of breeding and trading businesses — and the animals under their control. The issue has sparked debate among industry insiders, policymakers, and conservationists, with some worrying overly harsh policies could harm local economies and be difficult to implement.
Before the ban, the government had enthusiastically promoted the artificial breeding of wild animals as a "special industry," seeing it as a method for reducing poverty in rural communities. China's national forestry bureau named wildlife breeding a pillar industry in its five-year plan for 2011-2015, while the central government included it in its 2018 rural revitalization strategy.
The industry has flourished over the past decade, and more than 100 species of wild animals are now artificially bred in China, according to Zhang Li, professor of life sciences at Beijing Normal University, who has no relation to frog-breeder Zhang Bo. The animals are mainly killed for their meat and fur, while some are used in laboratories or to make traditional Chinese medicine.
Some breeders even became celebrities, aided by state TV programs that touted raising bamboo rats and palm civets as a way for farmers to get rich. The Huanong Brothers, a pair of rat breeders from East China's Jiangxi province, won a huge online following by documenting their lives on social media. (Since the ban, the brothers have been posting videos of themselves eating vegetables, rather than chubby rodents.)
The ban, however, has left some communities in a precarious situation. Rao Xiaojian is head of a rural collective that bred masked palm civets for restaurants across southern China. At its height, the business employed hundreds of local families, and the area in Jiangxi became known as "China's civet village." In 2014, Rao was named a "young rural entrepreneurial leader" by the Chinese government.
But the ban has been a "sudden disaster" for the village, Rao tells Sixth Tone. He has 90,000 unsold civets on his farm, and his neighbors are pressuring him to buy up their animals, too. Local snake, pheasant, and rat breeders are in the same position, he says.
"The government told us to change careers, but I don't know how," says Rao. "All my facilities are for breeding civets, not ducks and chickens … And I still have several million yuan of debt."
Liu Yongfu, director of the poverty alleviation office for the State Council, China's Cabinet, who has no relation to Liu Jinmei, has suggested that breeders will receive government aid to transition into a new industry. But local officials are still scrambling to draw up workable plans to make this happen.
"The ban came too soon," says Ran Jingcheng, head of the Wild Animal and Plant Protection Administration Station in Southwest China's Guizhou province. "(It's) a sharp turn that's hard to adapt to."
Low-income regions like Guizhou will struggle to pay farmers sufficient compensation unless they receive help from the central government, says Ran. His department has estimated that payments to the province's breeders could cost as much as 2 billion yuan.
"If counties with no money have to accomplish the mission (to shut down breeding businesses), they may resort to coercive measures, which will only lose us popular support," says Ran.
Another concern is what to do with all the companies' animals. According to Ran, there are 1.1 million wild animals bred for commercial use in Guizhou alone. "It's not humane to kill them, and it's not possible to release them (for fear of causing genetic pollution and destabilizing local ecosystems)," he says.
According to Ran, officials are considering using the animals in exhibitions, to make medicine, or as food for zoo animals. "If there's a three-year buffer period, there might not be too many conflicts," says Ran.
Another complication is that the government hasn't yet confirmed a whitelist of species that will be exempt from the ban. At the moment, the only species allowed to be sold commercially for food are common domesticated animals such as cows, chickens, and pigs; unprotected fish and seafood species; and American bullfrogs, Chinese softshell turtles, and Chinese pond turtles. "It (the whitelist) needs to be completed quickly," says Ran.
The list, however, is already the subject of much wrangling. Industry insiders — and also some officials concerned about the economic impact of a total ban — argue that the government should focus on ensuring breeders meet high safety standards, rather than stamping out the entire market. Ran suggests the artificial breeding of certain species, for which companies already use mature technologies, could be classed as "special farming" and supervised by the Ministry of Agriculture.
But conservationists view an expansion of the whitelist as the thin end of the wedge. Many remember the aftermath of the SARS epidemic, when Chinese authorities introduced a ban on the trade of wild animals for use as food, but later relaxed the policy after intense industry lobbying. An initial whitelist allowed businesses to legally breed and sell 54 species of wild animals, enabling the industry to continue expanding rapidly.
Liu Yidan, an animal welfare campaigner with no relation to Liu Jinmei or Liu Yongfu, tells Sixth Tone watering down the ban could create legal loopholes and public health risks. In the past, communities proved adept at exploiting gaps in regulation, she says. Licensed breeders, for example, often provided cover for illegal poachers trafficking wild animals.
"(Breeding) licenses became shields for the illegal wildlife trade," says Liu Yidan. "Farmers have chat groups — just like we volunteers do — connecting people in the same business across the country. If someone is caught selling poached wild animals without a license, they claim the animals are from a licensed farm. They cover for each other."
"As long as the seller has a license, law enforcement officers won't say a word, even if the animals have broken legs or are bleeding — a clear sign they were caught in the wild," Liu Yidan says.
For Zhang Li, eating wild animals in any form poses a public health risk, given the lack of specialized standards and facilities for wildlife quarantine inspections.
Opponents of the wildlife trade argue the government should not only refuse to lengthen the whitelist, but tighten restrictions still further by strengthening China's wildlife protection law and updating its protection list. According to Zhang Li, the professor, the current law has failed to prevent protected species like the yellow-breasted bunting from being hunted almost to extinction. "The provisions are relatively weak," he says.
China also needs to integrate ecological and public health concerns into any revised wildlife protection law, according to Liu Jinmei, general counsel at Friends of Nature, a Beijing-based environmental nonprofit. She points out that, because the law focuses on protecting endangered species, it hasn't prevented people from eating or hunting bats — which are riddled with dozens of potentially fatal diseases.
"We don't want to manage the bats, but we must restrict human interaction with bats," says Liu Jinmei.
Which side wins out — the conservationists or the breeding industry — remains to be seen. For Zhang Li, the government has less of an incentive to make concessions to the industry today than in the wake of SARS, because the country is much richer.
"Game animals are no longer a necessary source of protein, but luxury items in many areas," says Zhang. "It's rooted in the minds of some consumers that wild is better."
Liu Jinmei agrees that things will probably turn out differently this time. Compared with 2003, there is stronger support for a ban among the public and the government, she suggests. In an online poll conducted by National Business Daily Jan. 26, the day after the wildlife trade ban was announced, 55% of 125,000 respondents said they supported the government's decision, while 44% said they hoped the suspension wouldn't be permanent.
"The tension is still there," says Liu Jinmei. "But previously, the (opposing) voices from the (government) system and industry were overwhelming. This time, it's more balanced."
Back in Guangdong, Zhang Bo still has slim hopes that he might be allowed to restart his Asia bullfrog business one day. But in the meantime, he's focusing on securing compensation if he can't.
The local government in his home city of Zhaoqing has published draft plans stating that wildlife breeders should shut down or move into other businesses, such as American bullfrogs, and be compensated according to the law.
But there's a potential snag: Zhang Bo and 20 other local Asia bullfrog breeders were operating without licenses. "I heard the licenses were too difficult to obtain, so I haven't applied for one," he says.
The farmers have sent a petition letter to the local government explaining their situation and asking for financial aid. They're still waiting for a reply. "If the worst happens, I'll look for a job to make a living," says Zhang.
Editor: Dominic Morgan.
(Header image: A wounded civet at a wild animal rescue station in Zhengzhou, Henan province, April 14, 2016. Li Sixin/VCG)