If you're thinking of isolating even after the coronavirus pandemic ends, how does buying an uninhabited island sound?
Authorities in northeastern China's Liaoning province are now offering hundreds of uninhabited islands for sale starting from an annual fee of 3,700 yuan ($535) per hectare, state broadcaster China Central Television reported Saturday, citing a notice jointly published by the provincial departments of finance and natural resources in late July.
"The ecology of some sea areas and islands has changed, so it is necessary to properly and scientifically put these resources to use soon," an unnamed official from the natural resources department told the state-run Global Times newspaper on Sunday. "Selling these state-owned resources to individuals is a good way to realize their sustainable usage."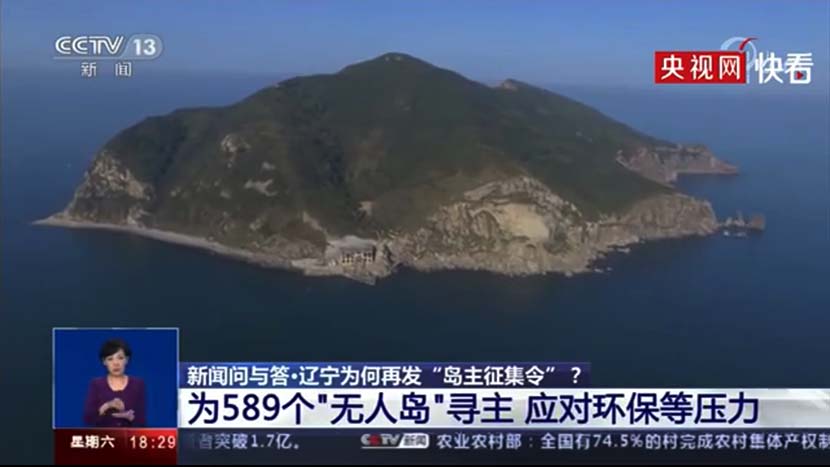 A screenshot from CCTV's broadcast shows an island for sale off the coast of Liaoning province in Northeast China. From @央视新闻 on Weibo
Liaoning has the largest number of islands of any province in northern China — 633 in total, 589 of which are uninhabited, according to media reports.
In a separate detailed policy, provincial authorities said the islands, once purchased, can be used for different purposes including tourism, entertainment, transportation, industrial storage, fisheries, and agriculture.
This isn't the first time the possibility of owning natural resources has grabbed public attention. In an online auction last year, a man submitted a winning bid of 682,662 yuan for an expanse of ocean off the coast of the eastern Shandong province after his girlfriend had berated him for forgetting her Valentine's Day gift.
Editor: Bibek Bhandari.
(Header image: People Visual)