After not getting his girlfriend a gift on May 20 — one of China's unofficial Valentine's Days — a man decided to make amends by buying her 210 hectares of open ocean.
The man, surnamed Zhang, successfully bid 682,662 yuan ($99,000) for an expanse of ocean located off the coast of Shandong province in an online auction that concluded Tuesday morning, according to Modern Express newspaper.
A local media report Monday had included screenshots from social app WeChat that appear to show the woman claiming her boyfriend surprised her by buying her part of the sea after she had complained to him about forgetting her Valentine's Day gift.
Following the grand gesture, the woman will have exclusive usage rights to 210 hectares of ocean near Cheniushan Island that formerly belonged to a fish farming company, according to the auction page.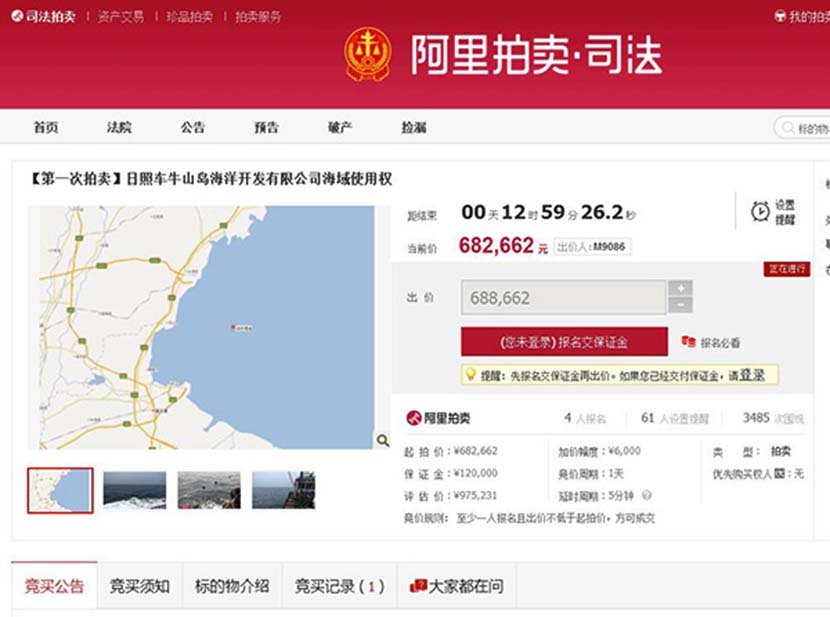 A screenshot from China's judicial auction website shows Zhang's high bid of 682,662 yuan for the 210 hectares of ocean off the coast of Shandong province.
Though being able to "own" part of the sea may seem implausible, Beijing-based lawyer Zhang Xinnian told The Paper, Sixth Tone's sister publication, that Zhang's bid for usage rights is indeed legitimate.
"Property law states that territorial waters belong to the country and cannot be sold or bought. However, the country also protects usage rights that are acquired legally," Zhang said. "According to China's law on sea area use, organizations and individuals can apply for sea usage rights with the marine affairs administrative department." Those who obtain the usage rights to such areas through auctions or other means can transfer, rent, or mortgage them at any point during the lease, Zhang added.
On microblogging platform Weibo, some netizens were amused by the man's dubiously romantic gesture, while others were jealous of how far he had gone to appease his partner. Still others questioned the gift's practicality.
"What's the point of auctioning usage rights for the sea? Is he bidding for a fish farm because his girlfriend likes seafood?" commented one Weibo user under a related media post. "The only thing his girlfriend is going to do is show off on social media."
Cases of men going to great and sometimes bizarre lengths to woo women occasionally make headlines in China. In June 2017, a student in Henan province tried to win back his ex with 99 watermelons. In May 2018, a man in Chongqing celebrated his girlfriend's birthday by giving her a giant, heart-shaped bouquet made from thousands of 100 yuan bills. And last October, a man in Hunan brought a Lamborghini and a bouquet of roses to propose to the woman of his dreams — who flatly rejected him.
Editor: David Paulk.
(Header image: Juice Images/VCG)