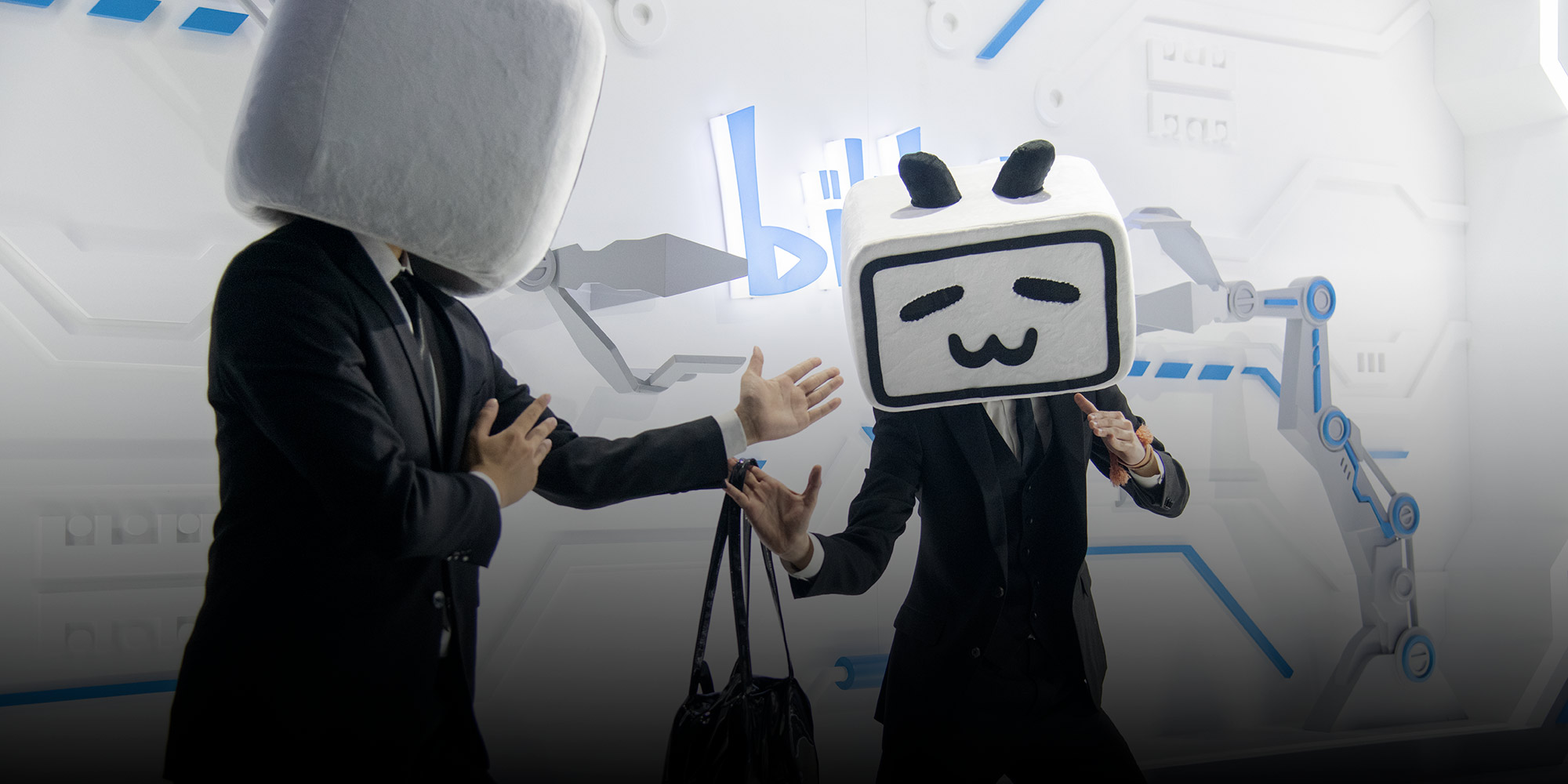 FEATURES
Bilibili vs. Bilibili: The Culture Clash Dividing China's YouTube
Once a niche community for anime and gaming fans, Bilibili is reinventing itself as a mainstream video platform for Gen Z. But its veteran users aren't happy.
When Qin Yuzi was in high school in 2015, her happiest time of the week was when she'd binge-watch anime, gaming videos, and music mashups on video site Bilibili Sunday afternoons.
Despite being alone, Qin felt like she was part of a tight-knit group of friends on the platform. As she watched, witty and endearing comments from other users would glide across the screen — a function called danmu, or "bullet screen comments."
"They were what attracted me to Bilibili the most," the 22-year-old tells Sixth Tone. "Everyone commented using our own lingo and inside jokes."
The niche website — which was then mostly dedicated to Anime, Comic, and Games (ACG) content — became a safe space for Qin. The native of Guangzhou in southern China made friends with 70 other ACG fans through Bilibili, with whom she'd chat and play games.
Today, however, the platform feels almost unrecognizable to her.
Since 2015, Bilibili has undergone a radical transition into a mainstream video site targeting China's Generation Z as a whole, encouraging megastars like Dwayne Johnson to set up accounts and diversifying into a plethora of new areas — from e-commerce and livestreaming, to documentaries and movies.
The changes have brought the platform — which is now a Nasdaq-listed company — unprecedented success. Monthly users have soared from 15 million in 2015 to 170 million in 2020, while revenues have rocketed to $1 billion per annum, leading many to label the platform China's answer to YouTube.
But Bilibili is also facing backlash from veteran users like Qin, who have decried the growing commercialization of the site and the dilution of its ACG identity. Most of all, they resent the influx of rowdy new users, whom they accuse of ruining their online haven with unkind and negative comments.
"My paradise has been desecrated," says Qin. "Bilibili is no longer that platform where I could watch videos while socializing with others. I now feel like I'm just another user."
The platform's transformation is disappointing for old Bilibili users, especially given that its CEO famously promised them years ago it would never change.
Bilibili was first launched as an anime fan site in 2009 by then-teenager and ACG obsessive Xu Yi, who grew up in the eastern Zhejiang province. In its early years, the site operated as a nonprofit video platform geared toward ACG culture, thriving off user-generated content such as music videos pieced together from famous anime clips and pirated uploads of foreign series.
Over time, the platform developed a unique, close-knit community. The bullet screen comments were a trademark feature, allowing users to trade quips about their favorite videos in real time as they watched. Fans referred to Bilibili as B-zhan — "B-site" — and affectionately called it their "shoddy little site."
Xu fiercely guarded the purity of his creation. When he accepted investment from veteran entrepreneur Chen Rui in 2011, he did so only after his new partner impressed him with his knowledge of anime trivia.
New users, meanwhile, had to pass a multiple-choice test before being able to post comments on Bilibili. The challenging rite of passage featured 20 questions about comment etiquette, and then gave users an hour to answer 100 questions about ACG culture, such as "In the anime show 'Fairy Tail,' who is Gildarts Clive's daughter?" The answers could be found on search engine Baidu, but the test added a veneer of exclusivity to membership — and helped ward off the trolls.
Chinese media have described Xu and Chen in these early days as foxi — or "Buddhist-like" — in their approach to running their business, as they appeared passive and indifferent to fame or profits.
While rival video sites like Youku put user-generated content behind unskippable 90-second ads, Bilibili refused to do so. In 2016, the site introduced a paid membership scheme, but users reacted with fury, and Bilibili quickly took it down.
It was after this controversy that Chen took to social media and made his now-infamous claim: "Bilibili may go bankrupt one day, but it'll never change."
The threat of oblivion, however, was very real: In 2015, Bilibili had a loss of 173 million yuan (then $27 million). And when the firm's management realized they may have to choose between changing the site or going out of business, they opted for the former.
"If Bilibili had refused to change, it would have gradually receded and eventually been destroyed by its powerful competitors," said Chen at the company's 11th anniversary event in June this year. "We couldn't stay at the moderate scale that everyone was happy with forever."
Over the following years, Bilibili grew at an unprecedented rate, especially after it became the exclusive distributor of Sony's wildly popular mobile game "Fate/Grand Order" in 2016.
The game was so popular, it became the company's biggest income source for a time, paving the way for Bilibili to list on Nasdaq in March 2018. At the time of its initial public offering, gaming accounted for 83% of its revenues.
The firm also moved into new areas, including esports — it now owns two professional teams — and production. Its content libraries vastly expanded to include movies and documentaries, as well as grassroots anime — most of which could only be accessed via a paid membership scheme that was eventually reintroduced.
User-generated content — a mainstay at Bilibili — evolved, too. Creators in many new genres, from beauty vloggers to educators, have chosen to build their fan bases on the platform. Development plans such as "Plan B" in 2018 even encouraged the entry of celebrities like Hollywood figure Kevin Hart.
To lower the barrier for membership, the site even simplified its hallowed entrance exam by reducing it to 100 questions and adding queries on topics unrelated to ACG, such as Chinese history.
The commercialization strategy paid off: Bilibili's first-quarter financial report showed revenues had grown 69% year-over-year, with monthly active users up 70%.
Today, the platform is enjoyed by 170 million young Chinese each month and has earned a reputation as China's closest equivalent to YouTube, which can't be freely accessed in the country. But many from Bilibili's original community say they sorely miss the good old days.
The debate over Bilibili's transition into the mainstream became a hot topic in May, after the company released a video celebrating Youth Day that featured a rousing speech from a middle-aged actor praising China's young people for boldly pursuing their dreams.
The video went massively viral on social media, and it was even shown on national television. The spectacle of seeing older relatives sharing the clip on social app WeChat, however, was a jarring experience for many Bilibili fans, who couldn't believe how far their "shabby little site" appeared to have strayed from its niche ACG roots.
Over the summer, fans were further perturbed as Bilibili launched a nationwide advertising campaign. The platform had undergone a major rebrand, ditching its traditional pink color scheme for blue and adopting the bland, corporate-sounding slogan, "Videos you're interested in, all on Bilibili."
Bilibili's beloved anime mascots 22 and 33 also disappeared from the app's opening graphic in June — though Sixth Tone observes they now seem to have returned.
For longtime users like Qin, the company's shift in strategy isn't troubling in itself, but it reflects a wider change in the site's culture she sometimes finds upsetting.
As Bilibili's popularity has grown, a small, but noticeable contingent of online trolls has become active on the platform. A video of an overweight girl dancing, for example, would have attracted reams of supportive bullet screen comments five years ago, but now some users will post lewd observations, according to Qin. The nasty comments are now so common, she turns off the danmu feature and doesn't post anything herself.
"You rarely get that harmonious atmosphere anymore," says Qin. "There aren't too many rude comments, but it ruins your mood once you see it."
Other Bilibili users have also noted a darker atmosphere on the site. Wars between content creators have become more frequent, while the malicious cyberbullying that accompanies battles between celebrity super-fan groups — a phenomenon that used to be confined to Twitter-like social media playground Weibo — has started spilling into Bilibili.
Clashes between Bilibili's old guard and the new entrants have also started flaring up, with many newer users arguing they're being unfairly criticized.
Wang Shengjun, a researcher at Shanghai Jiao Tong University who specializes in online subcultures, says some older Bilibili users have become "xenophobic" toward newcomers, harboring grievances and losing their sense of belonging.
While Bilibili has been clamping down on inappropriate remarks, heated exchanges can still be found in the site's comment sections.
The visible disharmony on the platform has led some commentators to suggest Bilibili risks a mass exodus of its old users, which could weaken the cohesive identity that was the foundation of Bilibili's success for so long.
Lu Haoran, a college student who's been using Bilibili for eight years, says he's considering moving on. He tells Sixth Tone the ACG content he loves is no longer "visible" on Bilibili's main feed, which is now awash with ads, celebrity-related content, and trending videos.
"I was aware of more people with different interests coming into Bilibili. It was fine at first … but now, they're intruding into my circle, which really bothers me," says Lu. "Because of them, I now have less access to good content."
According to Lu, many of his favorite content creators have retired from Bilibili and moved on to other pursuits. He says several veteran users he knows have migrated to another, smaller ACG platform called AcFun.
But media discussions of Bilibili's transformation and the dangers the company face tend to be overblown, says Rui Ma, creator and co-host of the Tech Buzz China podcast.
"The death of Bilibili is exaggerated," Ma tells Sixth Tone. "There are going to be people who are mad (about the changes) … but the essence of what it is remains."
Though far less niche than before, Bilibili is still small compared with truly mainstream apps like TikTok or WeChat, and its user base remains largely young and centered around Gen Z. It's also retained its playful spirit — as evidenced by the myriad parodies of the Youth Day video that have emerged on the site, says Ma.
Ultimately, Bilibili will be more worried about losing its newly acquired users to formidable competitors like tech giants Tencent and ByteDance, as the position of China's YouTube is still up for grabs, Ma suggests. Rapidly diversifying could be the company's only way of surviving in a cutthroat market.
"The competition in China is so intense," says Ma. "It doesn't really make sense for Bilibili not to go after these (new) projects while they still have their investors' confidence and they have their users' attention."
Bilibili certainly shows no signs of slowing down. In interviews, Chen says he believes the company must increase its revenues to $1.4 billion if it's to stand a chance of competing long-term.
Over recent weeks, the company has announced 11 new games, a long-term broadcasting and content-making partnership with the video game "League of Legends," and plans to produce its own hip-hop-themed talent show similar to "The Rap of China" — a successful TV series.
And despite its fans' complaints, most of Bilibili's users appear to be sticking around. Lin Liying, a longtime user from Shanghai, shrugs her shoulders at the changes to the platform.
"A lot of people have been saying that recently, bullet screen comments have become increasingly rude and immoral," says Lin. "However, I just feel it's an inevitable phenomenon on big online platforms."
Though Lin preferred the old Bilibili, she says it's become a more "complete" platform as a whole. A diehard ACG fan, she still pays the site's membership fee to access content.
For content creators, meanwhile, the platform's rise has been a boon, giving them access to much larger audiences. 
Hao Shi, who makes cooking videos based in tranquil rural locations, says he's delighted to see celebrities and new users flock to Bilibili. He now has 1.7 million subscribers.
For Hao, the newbies just need time to adapt to the gentler culture on Bilibili. He's sure the harsh bullet screen comments will fade away in the end.
"If they don't assimilate, they'll leave," says Hao. "It's just a matter of time. Time will do the filtering."
Editor: Dominic Morgan.
(Header image: Two cosplayers dressed as the Bilibili mascot pose for a photo during the during the ChinaJoy digital entertainment expo in Shanghai, Aug. 2, 2020. Yang Zhuo/People Visual)