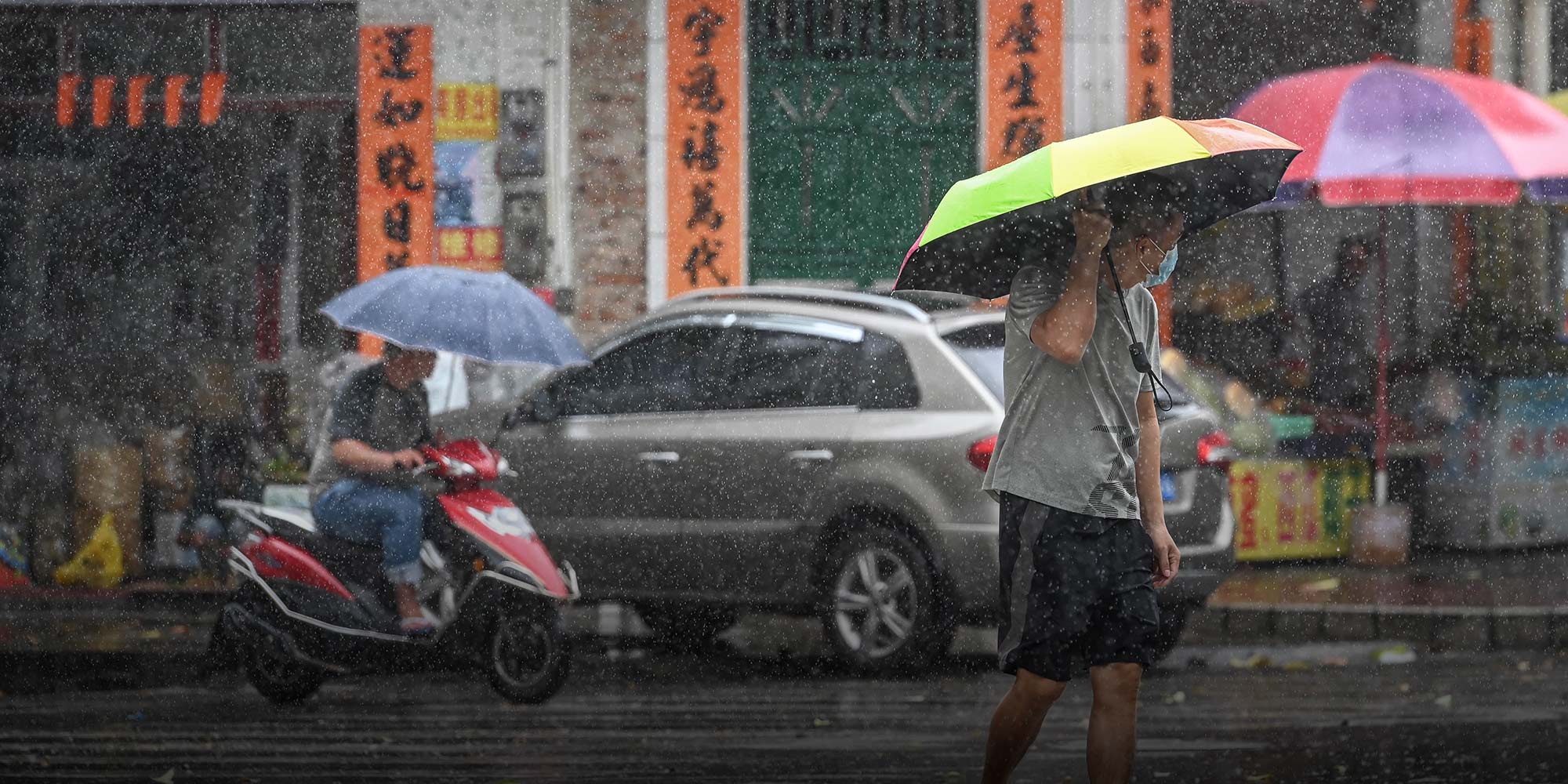 NEWS
China Recorded No Typhoons in July. That's Unusual.
Climate experts say weaker typhoons often result in intense heat, drought, and other extreme weather-related events.
July in China means typhoon season. But not this year.
For the first time since 1949, China did not record a single typhoon in July, raising concerns among climate scientists about a rare weather pattern that could increase the chances of droughts and heat waves, especially in coastal areas. In three previous years, typhoons were recorded in July but did not make landfall.
Many places along China's coast have already reported record-high temperatures for July. In the southern island province of Hainan, temperatures exceeded 37 degrees Celsius for many days in June and July, and the average July temperature in the eastern Fujian province was 29.1 degrees, 1.1 degrees hotter than the historical average. Meanwhile, in the nearby Guangdong province, mid-July rainfall was significantly reduced.
Though the first typhoon of the season usually arrives toward the end of June, the months of July, August, and September are said to be peak periods for tropical storms, according to the China Meteorological Administration.
Experts say that while typhoons are usually associated with disasters, they actually play a critical role in modulating the climate and temperature.
"South China is supposed to enter a rainy season with typhoons, but since there were no typhoons in July, most regions there have sustained intense heat under (the impact of) subtropical high pressure," Lü Xinyan, a senior engineer at the China Meteorological Administration, told Sixth Tone.
She added that the rainfall accompanying typhoons is usually a major source of precipitation in Hainan, and the ensuing drought from a July without typhoons has hit the local farming community hard.
Provinces like Fuzhou in Fujian — where July is usually the second-highest period for typhoons — didn't witness any storms either, which, according to natural disaster researcher Gao Lu, has turned the region into a "boiler." Unusually high temperatures in the provincial capital have resulted in a significant increase in heat strokes among locals this month, according to local media.
This year, not only have typhoons skipped July, but there have also been fewer typhoons in general. On average, China has experienced 8.1 typhoons annually for the past three decades. However, the first and only typhoon that made landfall in China this year was Nuri in mid-June, bringing torrential rains that helped alleviate high temperatures and drought conditions in portions of Guangdong, Guangxi, and Hainan.
Zhan Ruifen, a meteorologist with Fudan University, told Sixth Tone the rare weather phenomenon is due to a confluence of several factors including global warming, the El Niño effect (when warm ocean water affects weather conditions over a period of time), melting glaciers in the Arctic, and rising sea temperatures in the eastern part of the Indian Ocean.
"In the context of global warming, there will be more such extreme climate events waiting for us," she said.
Zhan said scientists have observed a correlation between a weaker typhoon season and a stronger "plum rain" season, which is associated with summer monsoons. July 1998 — another historically low typhoon season for China — was accompanied by widespread flooding across vast swaths of the country, from Heilongjiang in the northeast to Guangxi in the south, as well as along the Yangtze River. The parallels between 1998's and this year's unusual weather patterns are hard to ignore.
Typhoons are headed for China in the next few days, weeks, and perhaps even months: Meteorologists are currently tracking a tropical disturbance in the South China Sea that could turn into a typhoon and make landfall Saturday in Hainan.
Editor: Bibek Bhandari.
(Header image: A man walks along a road in heavy rain during a typhoon in Yangjiang, Guangdong province, June 14, 2020. Chen Jimin/CNS/People Visual)