A gas tanker explosion in eastern China's Zhejiang province has killed at least 20 people and seriously injured about two dozen others, local authorities said Monday.
The tanker carrying liquefied petroleum gas was en route to the city of Wenzhou from Ningbo when it exploded along a highway Saturday afternoon, authorities said in an earlier statement. Local officials had previously put the death toll at 19, with 172 injuries.
According to a statement by the Ministry of Public Security, the vehicle went airborne after the initial explosion, landing on a nearby factory and causing a second explosion. Video footage shared by domestic media shows the vehicle was ablaze before the second explosion.
The blast has severely damaged nearby residential buildings and other factories in the area. The cause of the explosion is under investigation, authorities said.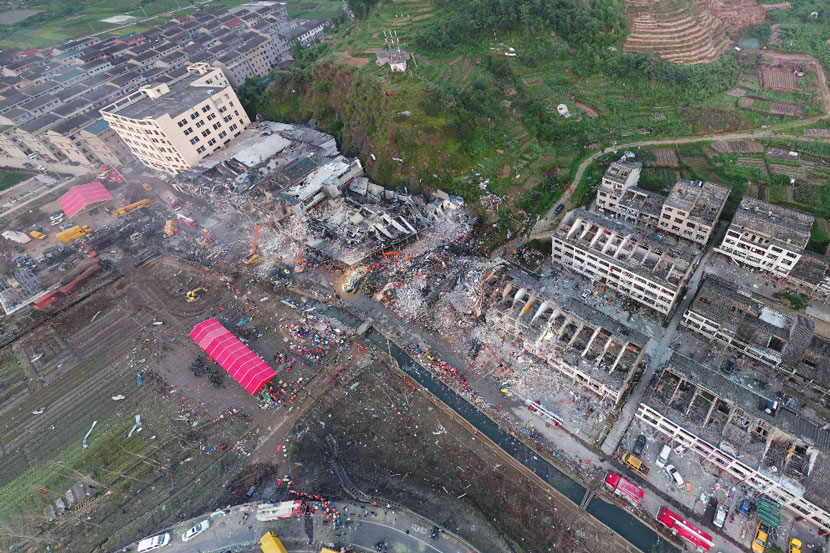 An aerial view of the explosion site in Wenling, Zhejiang province, June 2020. From Zhejiang's department of natural resources
Following the explosion, local environment bureaus sealed off the area's water supply to prevent possible contamination, city authorities said. Currently, "no obvious pollution" has been detected in the air or water.
On Sunday, the Ministry of Public Security's transport administration said the gas tanker "did not come into contact with any vehicle" before the explosion, debunking speculation that the explosion may have resulted from a collision.
Rui'an Ruiyang Dangerous Goods Transportation Co. Ltd., the company that operated the gas tanker, has been punished several times for safety violations, according to The Paper, Sixth Tone's sister publication. Between 2016 and 2018, the company was fined 10 times for violating safety management rules, failing to conduct timely vehicle performance testing, and hiring unlicensed transportation workers.
Liquified petroleum gas and liquified natural gas, both combustible when exposed to air, are listed as "hazardous chemicals" in China, to be put under special management and control.
The explosion has cast a spotlight on the transportation safety management of dangerous goods in a country that transports 3 million tons of such materials by road every day. Last year, five Chinese ministries vowed to tighten management and supervision of the overland transport of dangerous goods.
China is one of the largest producers and transporters of hazardous products. After several fatal explosions at domestic chemical plants, the country has repeatedly tried to tighten safety management standards and supervision of hazardous goods.
Editor: Bibek Bhandari.

(Header image: An aerial view of the explosion site in Zhejiang province, June 14, 2020. People Visual)