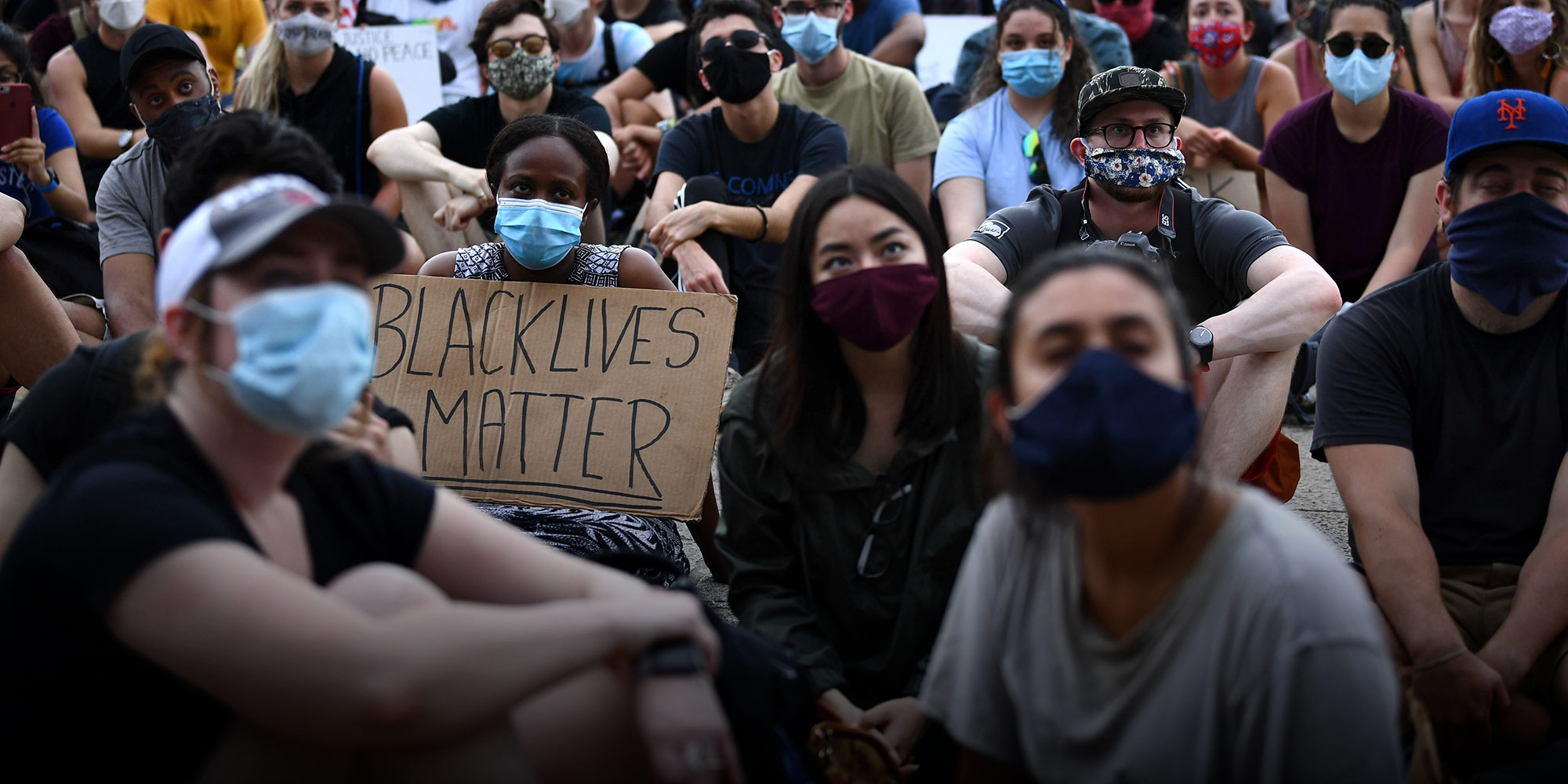 VOICES & OPINION
At the Margins of a Movement, Forging a Common Language
Chinese understandings of movements like Black Lives Matter are often warped by a lack of access to — or engagement with — black authors and writings.
On May 30, my American roommate told me about an anti-racism march taking place in downtown Philadelphia, adding that she was planning to go. But first, she wanted to know if I minded her attending a mass rally in the middle of a pandemic.
I didn't. As far as I was concerned, the only question was whether I should go myself. As a Chinese international student living in the United States, the emergence of the Black Lives Matter movement in 2013 radically altered my understanding of American society, its history, and its justice system. So I wanted to support BLM this time any way I could. Still, I was a little worried about the health risks posed by taking part in a demonstration at this particular point in time.
Ultimately it was the fear that too few Chinese Americans would show up that settled it: I called up a Chinese friend, and we drove over to the site of the protest, where I was soon heartened by the sight of other Asian faces. The protests were mostly spontaneous, and we didn't know what to do when the police tried to surround us; we left when they started firing smoke bombs.
It was the first time I'd seen police use violence to disperse a crowd, yet I got home to find Chinese-language news outlets and social media users describing the march as a "riot."
I'm an active user of social media myself, but it wasn't until the next day that I decided to open up publicly about what I'd seen and heard. There were risks involved: Although international students are legally allowed to participate in protests in the U.S., rumors that immigration officers might be in attendance can have a chilling effect in practice. Even voicing support online can potentially have consequences, as American border officials can now ask arrivals to list their social media accounts.
Nevertheless, I felt obliged to speak up. I blocked my family on social media while assuring them in private I was only reposting photos I got from the news.
Concerned about my student visa renewal, I stayed off the streets for the next week. It wasn't until June 6 — after my extension came through — that I took part in another demonstration. During that week away, however, I wondered if there was anything else I could be doing, besides protesting, to advance the cause of black rights.
Chinese arriving in the U.S. instantly join the ranks of the country's minority population. For many Han Chinese, that's a new experience, and among those living in the U.S. there are sharp divisions when it comes to racial issues. I don't have much contact with conservative Chinese, but even within broadly liberal groups, the language used to describe the Black Lives Matter movement can be difficult to swallow. The typical reaction of many — even those who have long supported liberal values such as gay marriage and gender equality — to the collective anger sparked by the death of George Floyd is often along the lines of: "It's unfortunate that black people are killed, of course, but this is the work of a few bad apples. The police keep the peace and deserve our support." Others demonize the demonstrations.
The indifference of even liberal-minded Chinese to racial issues seems to stem from a belief in meritocracy that is even more absolute than that of most white Americans. In the United States, immigrants from Asia are often portrayed as "model minorities" who excel in school and the workplace. This "model minority" myth is integral to the image of the U.S. as a meritocratic society where success is determined solely by individual effort. It allows people to attribute the plight of African Americans to a lack of hard work, even when presented with clear-cut examples of racial discrimination.
Personally speaking, when I first came to the U.S., my ignorance of American history led me to believe things like, "the black community doesn't work hard" or "they commit more crimes because they're poor." It wasn't until I acquainted myself with the discourse surrounding the BLM movement and the works of black writers that I grew keenly aware of how selective policing and structural racism permeates the entire American economic, political, and judicial system.
Sadly, few of these works have been translated into Chinese. That's where I hope to make a difference. My motivation isn't pity for the plight of African Americans, although unfortunately this seems to be a popular motivation for participating in the fight for racial equality. Nor is it a case of empathy based on our shared status as people of color. That may be true, and it is doubtless an effective means of mobilization, but what drives me is the belief that the insights and analyses of black writers and academics deserve to be heard.
When the protests were gaining momentum, a friend and I translated a 1968 Esquire magazine interview with James Baldwin. In it, the famous author and activist discusses black people's lack of a future in the United States; their situation as a captive people, robbed of everything; and their mistrust in all levels of American society, from the government and white politicians to police and industry. His message is explicit: At any given moment in time, one group may bear the brunt of systemic racism, but the damage done affects everyone — even the perpetrators.
In addition to translating, I've invited some friends who study in the U.S. and the U.K. to join an online book club about the problems faced by African Americans. They are all Chinese-speaking women, many of whom, like me, study gender issues. Privately, some have told me that few of the Chinese communities they inhabit — whether their families, classmates, or social media WeChat groups — support the BLM protests. Our book club is the only place they can relax and talk freely without having to repeatedly explain their basic positions to strangers.
True, there's a risk that this kind of get-together will become an echo chamber. But for me, an echo chamber is not necessarily a bad thing when members are otherwise isolated politically. It's a place where we can take a breather, refine and advance our arguments, and prepare to convince others.
For the past two weeks, we've been reading works by Angela Davis and the academic and activist Keeanga-Yamahtta Taylor. Many members have already started to reconsider their attitudes toward the prison system. We're taking notes in Chinese on what we're reading, then collating and publishing them online so the broader Chinese-speaking community can access works that would otherwise only be available in English.
Simply translating existing materials from English into Chinese isn't enough, since the ideology of anti-black racism developed in a different historical and social milieu. But I hope we can at least integrate more insights from African American authors into our thinking and link their critical analyses to our own lives and experiences. Only then can we develop a new, transnational language for anti-racism capable of bridging the gaps between our cultures.
Translator: David Ball; editors: Cai Yineng and Kilian O'Donnell; portrait artist: Zhang Zeqin.
(Header image: People attend a demonstration at the Lincoln Memorial Reflecting Pool, protesting the death of George Floyd, in Washington D.C., June 4, 2020. Brendan Smialowski/AFP via Xinhua)