China's health authorities plan to remove pangolins from the country's list of approved medical ingredients, effectively banning the use of the scaly mammals in traditional Chinese medicine, local media reported Tuesday.
The move comes just days after the country upgraded pangolins to "level one" protected status. It also follows weeks of debate within China about how the country should regulate the Chinese medicine industry — a major driver of the country's wildlife trade.
According to Health Times, a publication operated by the state-run People's Daily, pangolins will be one of several ingredients omitted from a new edition of the Chinese Pharmacopoeia, due to be published this year. Other state media including Global Times have repeated the claim.
China's National Medical Products Administration declined to confirm or deny the reports when contacted by Sixth Tone Wednesday, saying only that the 2020 Chinese Pharmacopoeia would be published later in the year.
Environmentalists have been calling for pangolins to be excluded from the Pharmacopoeia for years, arguing their inclusion helps fuel an extensive global poaching network.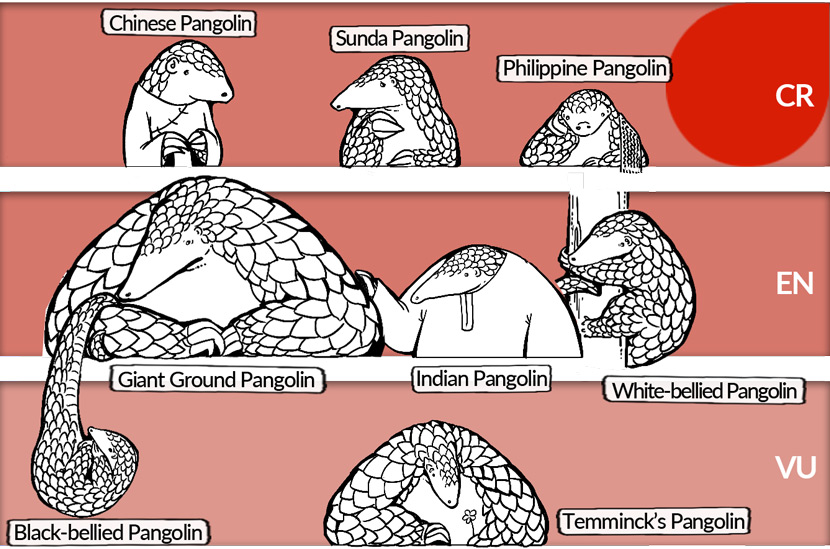 Eight species of pangolin are included on the International Union for Conservation of Nature's Red List of Threatened Species. Illustrated by Hiaomao, edited by Ding Yining/Sixth Tone
The animals, whose scales are highly prized in traditional Chinese medicine, are said to be among the most trafficked mammals in the world. Three of the eight species of pangolin are classified as "endangered" by the International Union for Conservation of Nature, while another three are "critically endangered."
China banned pangolin hunting in 2007 and prohibited commercial imports of the creatures in 2018. Medicine producers, however, are still allowed to use pangolin scales, as long as they're sourced from China's existing stockpiles of the animal parts.
The loophole has allowed a black market for pangolins to flourish, with traders reportedly passing off scales from illegally hunted pangolins as ingredients legally sourced from the stockpiles, experts told Sixth Tone. Chinese authorities haven't revealed the volume of pangolin scales remaining in the stockpiles.
"As long as the government continues giving out licenses (to use pangolin scales), there'll be smugglers taking risks to make high profits," said Zhang Siyuan, an activist at nonprofit China Biodiversity Conservation and Green Development Foundation (CBCGDF).
As recently as December 2019, police in the eastern Zhejiang province busted a ring of 18 traffickers and seized over 23 tons of pangolin scales — equivalent to 50,000 animals slaughtered. The scales had been concealed in a shipment of ginger slices transported to China from South Korea.
The change to the Pharmacopoeia would be a significant step toward ending the use of pangolins in TCM, though experts caution further measures could be necessary to eliminate the practice.
Li Junde, a researcher at the China Academy of Chinese Medical Sciences, told Sixth Tone the ingredient's exclusion from the new list "indicates" that companies shouldn't use pangolins for medicinal products. He added the government should release regulations detailing how it plans to deal with companies using pangolin scales, as well as the country's scale stockpiles.
China was already tightening restrictions on the use of pangolins before the COVID-19 crisis erupted, with the government excluding TCM products containing pangolin ingredients from the country's national health insurance scheme starting January. The pandemic, however, appears to have added impetus to this process.
Scientists believe the coronavirus likely originated in bats and migrated to humans via an intermediate host, with bamboo rats, badgers, and pangolins all considered likely suspects. A recent study suggested the disease may have emerged after coronaviruses in bats and pangolins swapped genetic material.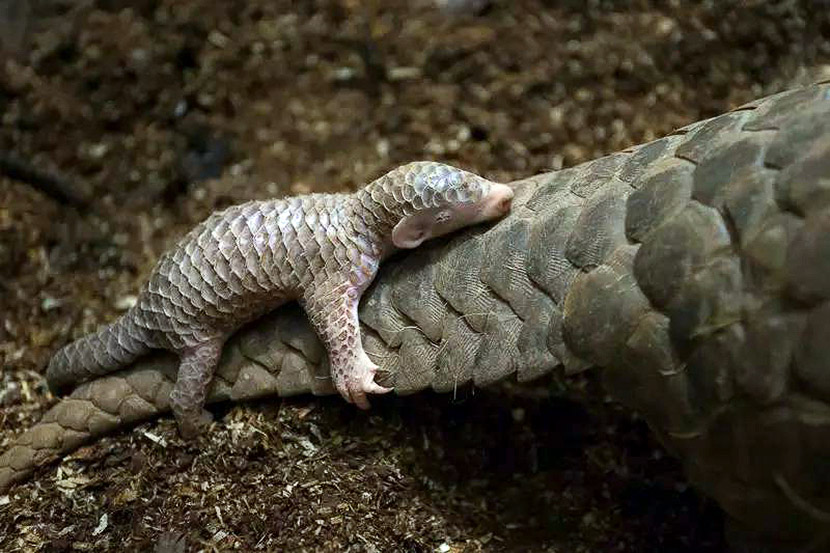 A baby pangolin hangs on its mother's tail. Ning Feng/Chinese Business View/People Visual
According to Health Times, other ingredients removed from the Pharmacopoeia in addition to pangolins include huanglian yanggan, a remedy that contains bat feces.
Chinese authorities have faced growing calls to curtail the use of endangered animal ingredients in TCM over recent months. Longstanding concerns over the industry's impact on biodiversity have been amplified by fears the large-scale exploitation of wild animals raises the risk of zoonotic outbreaks.
The traditional medicine industry enjoys strong government backing, with authorities promoting TCM remedies as treatments for COVID-19 and pledging to set up TCM institutes in every county in China. The vast industry is worth in excess of 780 billion yuan ($119 billion), according to government estimates.
But the State Council, China's Cabinet, has acknowledged the "severe destruction of wildlife resources used in TCM" is one of the main challenges facing the industry.
"The gap between the wild animal resources available and industry demand has become more significant over the decades," said Li Yiping, a professor of TCM pharmacology at the Changchun University of Chinese Medicine.
Among Chinese researchers and policymakers, there has been an increased focus on making TCM sustainable over recent years, though opinions differ regarding how this can be achieved.
Breeding wild animals in captivity has emerged as a popular solution, fueling the rise of a nationwide network of breeding centers for raising dozens of different species. According to a 2017 report by the Chinese Academy of Engineering, 210,000 people are involved in breeding animals for medical use in China, and the industry is worth an estimated 5 billion yuan.
But wildlife breeding has also aroused controversy. According to Jiang Zhigang, a Chinese zoologist, some researchers doubt the industry helps protect wild animal populations: Some enterprises need to continue capturing wild animals to support their breeding operations, while others may return to hunting animals in the wild if artificially breeding them doesn't prove economically viable. 
In December, state broadcaster China Central Television reported that breeding companies were catching Siberian wood frogs inside a conservation area in the northeastern Jilin province. The breeders were selling the amphibians to use as food and medicine, according to the report.
In the wake of COVID-19, the public health risks posed by breeding centers have also come under the spotlight. In February, China introduced a nationwide ban on eating wild animals, and local authorities began taking steps to dismantle the vast industry that breeds wild animals for consumption.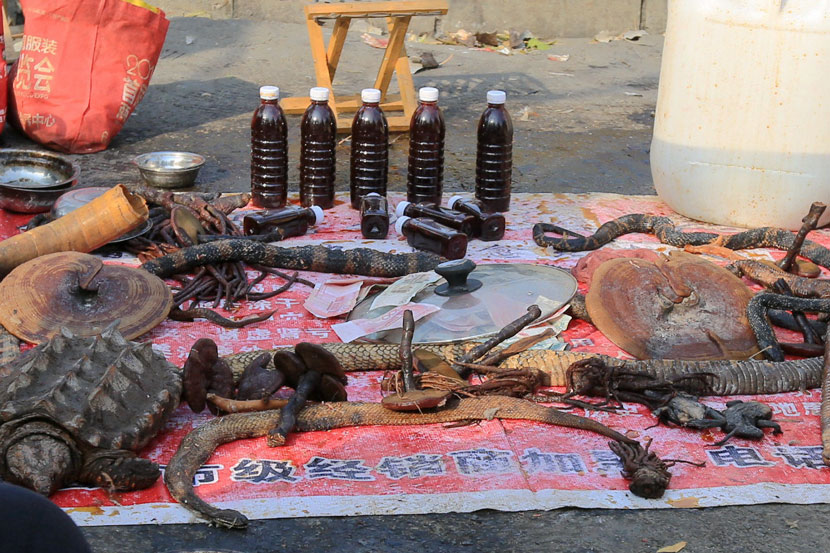 A stall sells medicinal liquor and other medicinal materials in Harbin, Heilongjiang province, Nov. 5, 2017. Zhang Shu/IC
But breeders are still allowed to raise animals for medical use, which could create loopholes in government supervision, experts argue. In late May, China's forestry administration encouraged breeders to switch from raising certain animals for food, to breeding them for use as medical ingredients, as a way to mitigate their losses from the wildlife consumption ban. Breeders must obtain a new permit to certify the change in their business.
It's still unclear to what extent Chinese authorities plan to strengthen regulation of the use of wildlife in TCM. During the "two sessions" series of legislative meetings in May, a delegate to the National People's Congress proposed the government take action in this area to protect public health, but the issue wasn't discussed at length.
China is currently in the process of revising its wildlife protection law — one of the main pieces of legislation covering the wildlife trade. In 2016, the government revised the law to mention the use of wildlife in medicine, but it currently contains only a few clauses restricting medical companies' use of animals, according to Zeng Xiangbing, an environmental lawyer at Hubei Huanyuan Law Firm.
Large medical companies exerted a significant influence over the previous revision to the wildlife protection law, Zeng told Sixth Tone. The publication of the updated law later this year could indicate whether the balance of power has shifted.
"The power of the interest groups was too great compared with the animal welfare groups (in the past), resulting in the wildlife protection law being more like a wildlife utilization law," said Zeng.
For Zeng, the best solution to ensure the sustainable development of TCM is to promote substitute ingredients to replace rare animal parts. Since China banned the trading of tigers and rhinos in 1993, companies have started to use dog bones and buffalo horns as alternatives to tiger bones and rhino horns, respectively.
A 2016 study of consumer preferences in Beijing found that many still prefer wild animal over captive bred or substitute ingredients. But researchers also said awareness of wildlife conservation issues made consumers more willing to accept alternative ingredients, which "suggests there is still hope for conservation measures."
In March, environmental groups including CBCGDF called on the International Union for Conservation of Nature to standardize the sustainable production of ingredients and prevent the use of threatened wildlife species in traditional medicine.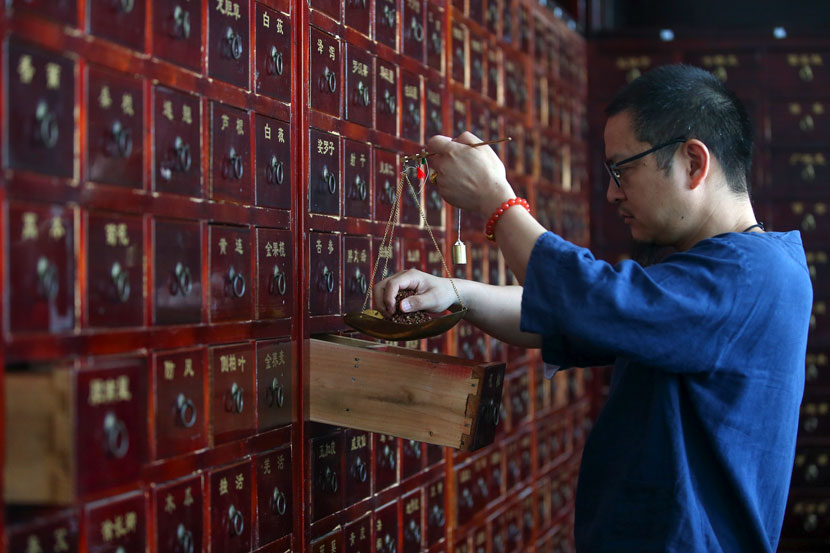 A pharmacist weighs TCM ingredients in Huangshan, Anhui province, June 5, 2019. Shi Yalei/People Visual
The campaign, however, still has a long way to go. Just weeks later, a research program funded by a Chinese government-controlled foundation sparked backlash by announcing it planned to explore the potential for Chinese white dolphins — a protected species — to be used as a source of medical ingredients.
The foundation backtracked as the scandal snowballed, changing the text of its research proposal to say it would simply study the dolphins, without specifying the purpose of the project. But the incident underlined once again that the debate over TCM is far from over.
Editor: Dominic Morgan.
(Header image: A rescued pangolin in Qingdao, Shandong province, Sept. 14, 2017. Wang Haibin/IC)