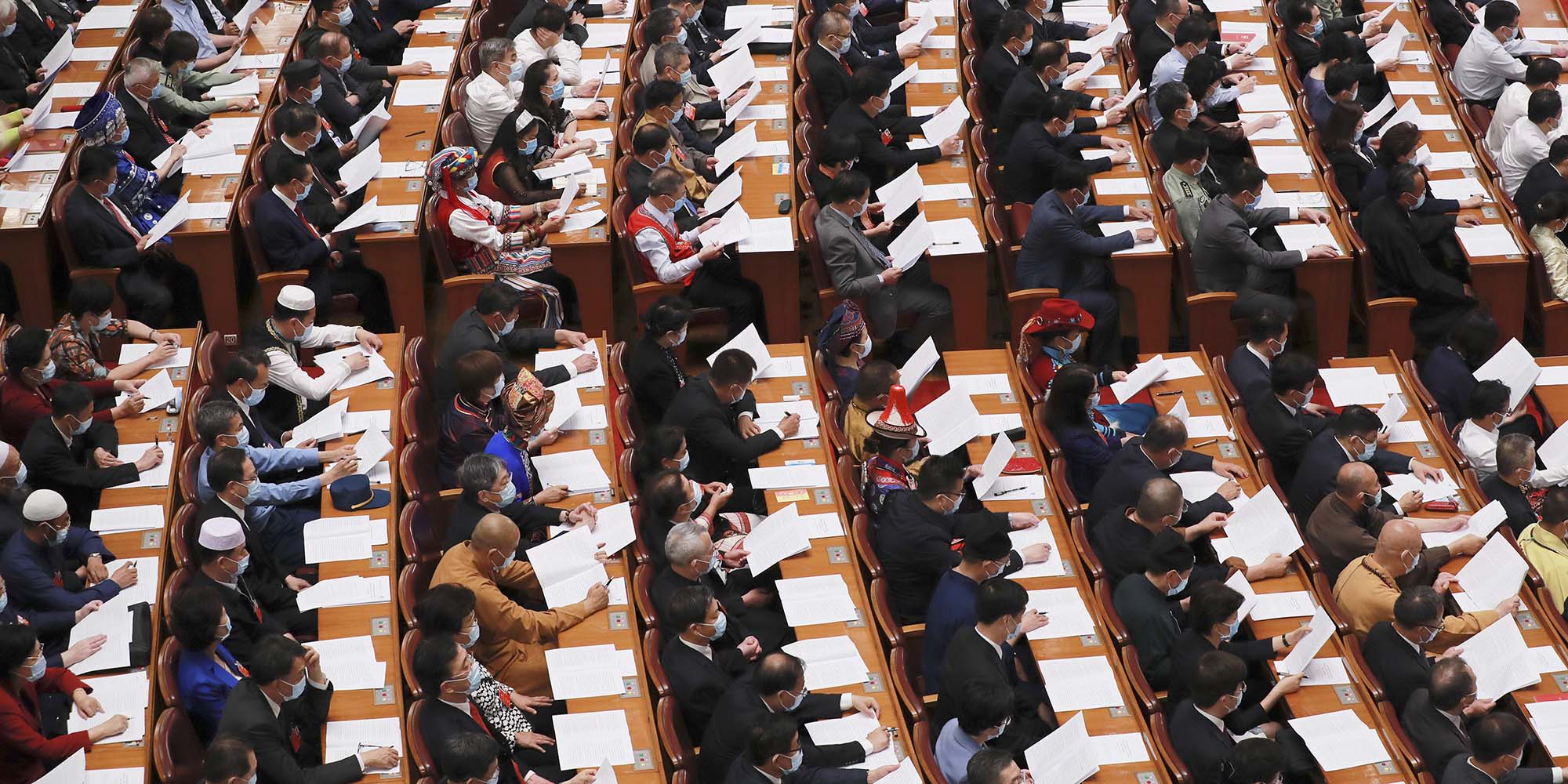 NEWS
What's on the Table at China's Top Congressional Meetings?
From school bullying and license plates to divorce settlements and animal abuse, here's what to watch for at the National People's Congress, which convened Friday.
After being delayed for two months due to the COVID-19 pandemic, China's most important government gatherings of the year kicked off Thursday and will continue through next week.
Delegates of the National People's Congress (NPC) and members of the Chinese People's Political Consultative Conference (CPPCC) flocked to Beijing this week to attend the "two sessions," or lianghui — annual meetings of the country's top legislative and political advisory bodies that set the year's political agenda and give shape to the government's priorities.
As motions put forward at the NPC become legally binding if formally adopted, all eyes were on the legislature as it convened Friday. While a proposed Hong Kong security law has caused a flurry of reactions in China and abroad in the last 24 hours, individual delegates, too, are attracting attention by backing causes close to their hearts.
Here's our list of the most widely discussed motions at this year's NPC meetings:
No fines for excessive childbirths
Although the family planning section was removed in the current draft of China's revised civil code, the country's existing population and family planning law still "encourages couples to have two children." Meanwhile, those with more than two children can face steep fines or repercussions at work.
In 2019, a public security officer in the southern Guangdong province was fired over having four children. Huang Xihua, an NPC delegate who has backed several family planning-related motions during her term, proposed this year that punishments for excessive childbirths be canceled altogether.
According to Huang, the two-child policy isn't helpful, given China's current demographic situation. Earlier this year, the National Bureau of Statistics revealed that 2019 saw the lowest birth rate in the country's 70-year history.
A case for kids as criminals
In recent years, China has seen a number of juveniles involved in what would normally be considered serious crimes, including murder. But because perpetrators under 14 can't be held legally responsible for their actions, the adolescent offenders can only be sent to foster homes or rehabilitation centers — a legal loophole that has at times sparked concerns among the public.
Under China's criminal law, children under 14 can bear no criminal responsibility, while 14- and 15-year-olds are considered conditionally liable. This year, several NPC delegates proposed — as others did last year — that the age of criminal responsibility be lowered to 12.
No more license plate lotteries
Zeng Qinghong, chairman of domestic automaker GAC Group and an NPC delegate, proposed that restrictions on vehicle purchases be canceled, along with traffic control measures in large cities, in order to boost consumption.
To help reduce urban gridlock and air pollution, city governments have imposed restricted access to license plates, which has resulted in some would-be motorists waiting years to win an annual license plate lottery. Meanwhile, several cities in northern China have implemented restrictions on which days certain vehicles can be on the roads, depending on whether the last digit on their license plate is odd or even.
Sex offenders barred from working with kids
NPC delegate Liu Xiya, who is also a primary school principal, put forward a motion to establish a national database of child sex offenders — a measure China's highest prosecutor, the Supreme People's Procuratorate, had also announced in its reform plan last year — and prevent those with histories of preying on minors from working closely with them.
A few recent cases of sexual abuse involving minors have drawn wide attention on Chinese social media. Over 80 students from a middle school in southwestern China's Sichuan province accused their former teacher of sexual harassment, leading to his arrest earlier this month. And a recently released report suggested that one-third of child sex abuse happens at school. Although the Chinese government has called for sexual predators to be slapped with teaching bans, the duration can be as short as five years, depending on local rules.
Wronged spouses entitled to better divorce settlements
Lawyer and NPC delegate Li Xia proposed that people deemed to have wronged their spouses — through cheating, domestic abuse, or abandoning family members — should not be entitled to an equal settlement when the aggrieved party sues for divorce.
According to the current draft of China's revised civil code draft — which is itself up for deliberation at the "two sessions" — a divorce-seeking spouse who was not at fault in their marriage has the right to seek compensation. However, a law firm's report from 2017 suggested that only 42% of domestic violence survivors received compensation when divorcing their abusive partners.
School bullying
After last year's award-winning teen drama "Better Days" cast a spotlight on school bullying, NPC delegate Li Yalan's motion to legislate school bullying also received wide applause online.
While tragedies stemming from school bullying, including suicides and fatal beatings, occasionally make headlines in China, there is no law or regulation stipulating how those involved in such incidents should be punished — or indeed whether they should bear any legal responsibility. According to Li, the absence of legal backing in such cases leaves students insufficiently protected.
Criminalizing animal abuse
Gao Zicheng, an NPC delegate who also serves as director of the Beijing Lawyers Association, proposed including animal abuse in China's Public Security Administration Punishment Law. Currently, China has no law or regulation that explicitly prohibits the mistreatment of animals.
In January, an amusement park in the southwestern city of Chongqing came under fire after putting a harness on a pig and sending it off a bungee jump as a publicity stunt. And last month, a university student in the eastern Shandong province was caught torturing over 80 cats after he uploaded the videos online.
Editor: David Paulk.
(Header image: Members attend the third plenary meeting of the 13th Chinese People's Political Consultative Conference in the Great Hall of the People in Beijing, May 21, 2020. Ding Lin/Xinhua)