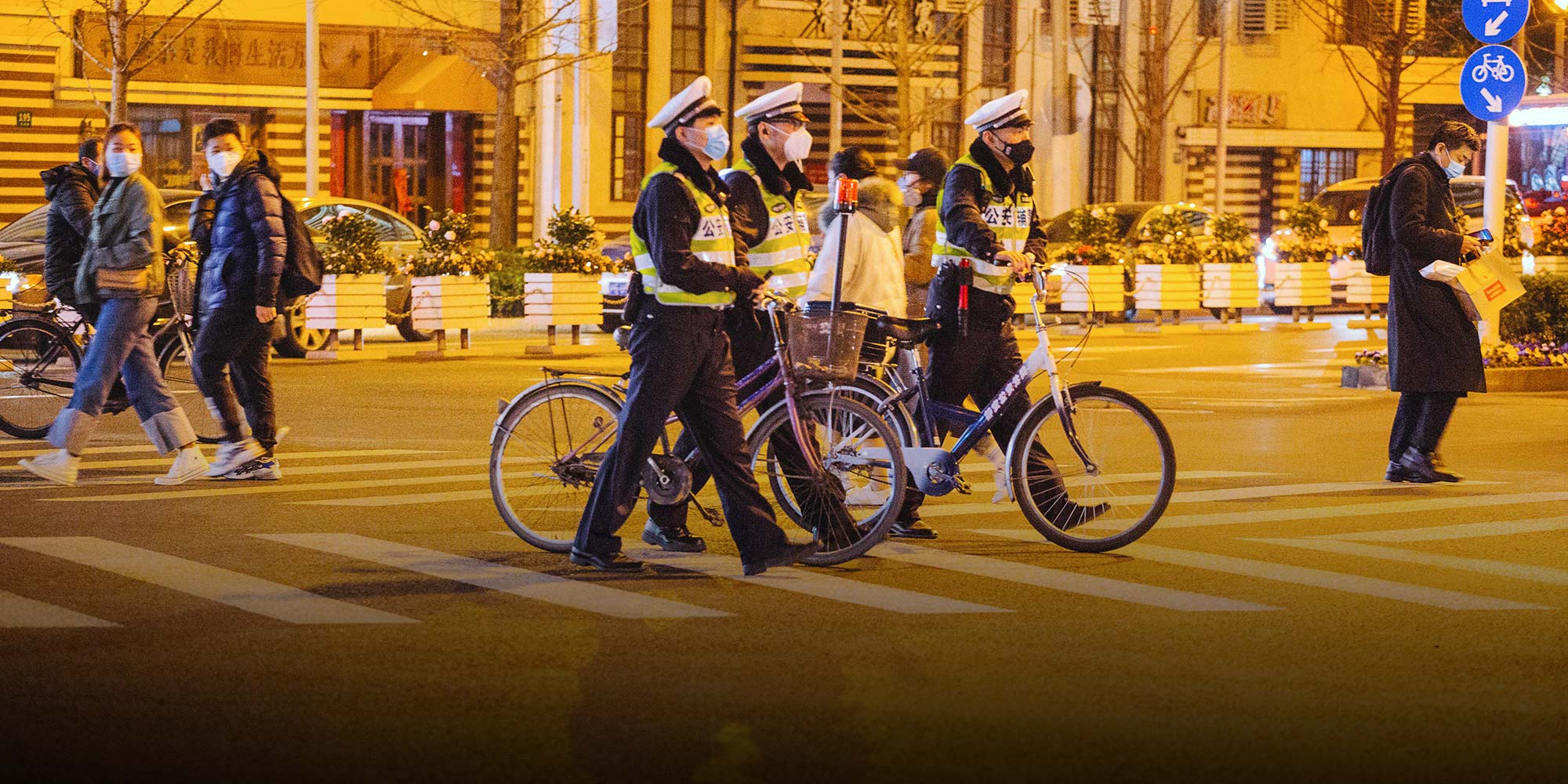 NEWS
Coronavirus: Latest Updates (Feb. 16-29)
Rolling coverage of the novel coronavirus that has infected tens of thousands of people in China and growing numbers abroad.
For daily updated figures on infections, deaths, and suspected cases in China and abroad, see Sixth Tone's digital infographichere.
Feb. 29, 2020
Feb. 28, 2020
COVID-19 Cases Rise in Countries Outside China
With 2,022 confirmed COVID-19 cases, South Korea has the largest cluster of people infected with the novel coronavirus outside the Chinese mainland. Of the 256 new cases reported Friday, 182 were diagnosed in the city of Daegu, where the epidemic in the country is most concentrated.
In Japan, Prime Minister Shinzo Abe on Thursday urged all elementary, middle, and high schools to close until April to stop the coronavirus from spreading. As of Thursday, the country had reported 919 COVID-19 cases, with eight people having died from the disease. The government has ordered the cancellation or postponement of large-scale events for the next two weeks, while Tokyo Disneyland will be closed from Saturday until March 15 to contain the virus.
Iran has become the hardest-hit country in the Middle East, with 245 cases of and 26 deaths from COVID-19. At least seven officials, including the country's deputy health minister and highest-ranking woman in government, have been infected. The virus has now spread to several countries in the Middle East including Bahrain, Iraq, Kuwait, Oman, and the United Arab Emirates.
With 650 confirmed cases as of Thursday, Italy has the highest number of COVID-19 infections in Europe, with the country's death toll from the disease reaching 17. More than half of the total cases — 403 — have been reported in the northern region of Lombardy. The disease has also been confirmed in several other European countries including Austria, Croatia, Germany, France, Spain, Sweden, Finland, Norway, and Denmark.
On Thursday, Nigeria confirmed its first coronavirus case in the state of Lagos. It's the third confirmed case in Africa, after previous COVID-19 cases were reported in Egypt and Algeria.
Here's ourcomplete list of countries and regions affected by COVID-19.
Feb. 27, 2020
China To Have Epidemic 'Under Control' by April, Top Expert Says
Zhong Nanshan, a renowned respiratory disease expert and the de facto leader of China's COVID-19 treatment and containment efforts, has predicted that the country's epidemic situation will likely be "under control" by the end of April.
During a press conference Thursday, Zhong said his team had added two influencing factors — China's intervention methods and the elimination of peak travel after the Spring Festival holiday — to their forecast model to determine possible outcome scenarios to the epidemic.
"We predicted that the peak would be in mid-February, closer to the end (of the month)," Zhong said. "The figures started falling after Feb. 15. … We predict that the epidemic will be basically under control by the end of April."
Zhong also raised eyebrows by saying, briefly, that although the novel coronavirus was first detected in China, it may not have originated in the country.
Over 400 Hubei Public Security Officers Infected, With 4 Deaths
A total of 404 public security officers in the central Hubei province, the epicenter of the COVID-19 outbreak, have been infected with the disease, according to local authorities.
As of Feb. 25, 293 police officers and 111 auxiliary officers in Hubei had been infected with the novel coronavirus, the provincial public security bureau said Wednesday. Four officers, including a senior officer at the Wuhan public security bureau, have died from the disease, while 111 have recovered, the statement said.
Some 119,000 security personnel — including police officers and auxiliary officers — have been dispatched to the front lines in Hubei to respond to the COVID-19 epidemic, according to the provincial public security bureau.
Feb. 26, 2020
China's Eastern Cities Bar Foreigners as COVID-19 Cases Soar in Neighboring Countries
At least five Chinese cities have restricted foreigners from entry amid a spike in COVID-19 cases in South Korea and Japan, Sixth Tone's sister publication The Paper reported Tuesday.
In the eastern Shandong province, the cities of Qingdao, Yantai, and Weihai have imposed restrictive measures including temporarily quarantining tourists from the two countries in hotels and new reporting mechanisms to record foreigners' health. In the northeastern Liaoning province, the city of Yanbian — where 36.3% of residents are ethnic Koreans — said it would "especially stop receiving tourist groups from South Korea," while the coastal city of Dalian is requiring all tourists to take specially arranged transportation and stay in designated hotels.
There are currently over 1,100 people diagnosed with COVID-19 in South Korea and 159 in Japan, not counting the hundreds who have tested positive aboard the Diamond Princess cruise ship anchored in Yokohama.
On Monday, a hashtag translating to "South Koreans are fleeing to China to avoid their country's coronavirus outbreak" was trending on microblogging site Weibo, with many users sharing screenshots of flight tickets from Seoul to Qingdao that were five times higher than the usual price. The Qingdao government responded Tuesday by saying that inbound South Koreans — mostly students and workers — accounted for less than 20% of the city's total air passengers.
IOC Member Suggests Tokyo Olympics' Fate Up in the Air
A senior member of the International Olympic Committee (IOC) said this year's Summer Olympics in Tokyo may be canceled because of the COVID-19 epidemic rather than postponed or moved to another city, The Associated Press reported Tuesday.
Dick Pound, one of the longest-serving members of the IOC, told the American news agency that the next two or three months will decide whether the games can go ahead as scheduled from July 24 to Aug. 9. Should Tokyo be deemed unsuitable for public health reasons, "you're probably looking at a cancellation," Pound said.
The news has become a trending topic on Chinese microblogging platform Weibo, where a related hashtag had been viewed over 4.8 million times by Wednesday afternoon. Many are using the hashtag to express disappointment at the prospect of the games being canceled.
"Can't they be postponed? Japan has been preparing for so long, and so have the athletes," read an upvoted comment under a related media post. "In another four years, many athletes may retire. I still want to see the (Chinese) women's volleyball team under coach Lang Ping win the championship."
Feb. 25, 2020
3,000 Chinese Medical Workers Infected With COVID-19
More than 3,000 medical workers have been infected with COVID-19, according to a press conference held Monday by officials from the World Health Organization and Beijing.
Liang Wannian, co-director of a joint WHO-China expert team, said most of the infected medical workers were in Wuhan, though the sources of the infections — whether they were contracted at hospitals or elsewhere — is still under investigation.
Liang cited a lack of knowledge of the disease, long working hours, and insufficient protection as potential contributing factors to the infections. As of Monday, at least 21 frontline medical workers had died in the epidemic, though only 10 had died from the virus, according to domestic outlet Caixin.
The deaths of a few medical workers — including whistleblower Li Wenliang, hospital director Liu Zhiming, and frontline doctor Peng Yinhua, whose wedding had been postponed so he could attend to sick patients — have been met with shock, sadness, and even anger on Chinese social media.
At Beijing's bidding, medical teams from across the country have been dispatched to Wuhan to support the city's overburdened hospitals. Last week, the Hubei provincial government said medics should not work on the front lines for longer than one month.
China Permanently Bans Its Once-Flourishing Wildlife Trade
China has permanently banned the trade of all domestic wildlife, including the "bad habit of eating wild animals," top policymakers announced Monday.
The Standing Committee of the National People's Congress, China's highest legislative body, announced that a range of wildlife-related offenses — including hunting, trading, transporting, and eating — are now banned, with violators subject to "increased punishment." Going beyond to the country's existing wildlife protection law, the new ban explicitly forbids the consumption of terrestrial wildlife with "important ecological, scientific, or social value."
"Since the outbreak of the novel coronavirus, the prominent problem of recklessly eating wild animals and its potential risk to public health have aroused wide public concern," said Zang Tiewei, a spokesman for the National People's Congress.
On Jan. 26, three ministries of China's central government jointly announced the suspension of the domestic wildlife trade for the duration of the coronavirus outbreak. And last week, a person from the southern Guangdong province was sentenced to one year in prison for illicitly purchasing two white pheasants.
China Advises Citizens Against Traveling to the US
China has warned its citizens to reconsider traveling to the United States, accusing the country of treating Chinese tourists "unfairly" against the backdrop of the COVID-19 epidemic.
China's Ministry of Culture and Tourism said Monday that the move was in response to "exaggerated epidemic prevention measures" in the U.S. as well as the country's "internal safety situation." Earlier this month, the U.S. advised its citizens not to travel to China amid the COVID-19 epidemic, and major American airlines have temporarily suspended flights to several Chinese cities.
There are currently 53 confirmed cases of coronavirus in the U.S., but the number has increased dramatically in other countries in the past few days. South Korea has around 1,000 confirmed cases so far — the largest cluster outside of the Chinese mainland — while Italy and Iran have reported 229 and 64 infections, respectively.
Feb. 24, 2020
Wuhan Authorities Retract Notice Allowing Some To Leave City
Authorities in Wuhan, the epicenter of the novel coronavirus outbreak, have retracted a notice that would have allowed some vehicles and people to enter and leave the city. In a statement Monday, Wuhan's COVID-19 prevention and control headquarters said that a notice issued mere hours earlier was invalid.
The initial No. 17 notice from Monday morning had said that some vehicles and people would be allowed in and out of the city for reasons including "the needs of epidemic prevention and control" and "urban operation and production." Local residents and Wuhan-registered vehicles that had previously not been allowed to return to the city were also to be permitted entry under the new guideline, which would also have permitted migrant workers trapped in the city and people needing treatment for "special diseases" to leave.
However, the city's COVID-19 headquarters said in the later No. 18 notice that the previous order had been issued without authorization by a subordinate group in charge of traffic-related issues, and was therefore invalid. The authority added that the staff members involved had been reprimanded, and that the city would "strictly control personnel and strictly prevent the epidemic from spreading outside."
Frontline Medics To Receive Higher Pay, Authorities Say
The central government's COVID-19 working group has ordered local authorities nationwide to better compensate frontline medical workers.
In a notice Sunday, the group said that all frontline medical workers in Hubei province, the center of the epidemic, as well as those dispatched there to assist with treatment and containment efforts, should have their salaries tripled and, on top of that, receive twice the amount they're already receiving in subsidies.
The notice also said the procedures for processing work-related injury claims must be "simplified," and medical workers' shifts should be "arranged appropriately" to ensure enough rest, among other measures.
Last week, Hubei's provincial government said that the children of frontline medical workers would be eligible for preferential educational opportunities, including bonus points on a national standardized test. The measure was criticized online, with some calling instead for direct benefits to the frontline medical workers themselves.
Six Chinese Provinces Downgrade Emergency Response Levels
Six provinces of China have lowered their public health emergency response levels amid declining numbers of newly diagnosed COVID-19 cases.
On Monday, the southern Guangdong province and the northern Shanxi province downgraded their emergency response levels from 1 to 2, while the southwestern provinces of Yunnan and Guizhou lowered theirs to Level 3.
China has a four-tier public health emergency response system. For the highest designation — Level 1 — public health issues must be reported directly to China's Cabinet and other national-level agencies.
The moves come days after the northwestern Gansu province and the northeastern Liaoning province lowered their emergency responses to Level 3 on Friday and Saturday, respectively, after no new cases were reported in either province for several days.
Since late January, all of China's provincial-level administrative regions, including Beijing and Shanghai, have at some point declared Level 1 public health emergencies to combat the coronavirus epidemic.
Feb. 23, 2020
Feb. 22, 2020
Feb. 21, 2020
Patient in Chengdu Recovers, Tests Positive Again 10 Days Later
A COVID-19 patient in Chengdu, capital of the southwestern Sichuan province, has tested positive for the virus 10 days after recovering and being discharged from the hospital, the Chengdu Public Health Clinical CentersaidFriday.
The case could have significant implications about the pathology of COVID-19, including the degree to which antibodies produced to counteract the virus are effective in preventing reinfection.
The patient recovered and was discharged from a local hospital on Feb. 10, to be quarantined at home and subject to regular health checks for 14 days. The patient tested positive again on Feb. 19, and was admitted to the Chengdu Public Health Clinical Center for further observation.
China Mourns the Death of Another Frontline Doctor
A Wuhan doctor who had postponed his wedding to treat COVID-19 patients died Thursday night after becoming infected with the virus,accordingto local health authorities.
Peng Yinhua, 29, was admitted to the Jiangxia District First People's Hospital on Jan. 25 before being transferred to a larger facility, Wuhan Jinyintan Hospital, five days later after his condition had worsened. According todomestic media, Peng's plans to get married in early February had been put on hold because of the city's urgent need for doctors.
Peng's death has been met with anoutpouring of emotionon Chinese social media. Two days before, another doctor —Liu Zhiming, the director of Wuhan Wuchang Hospital — had also died from the novel coronavirus.
Last week, China's National Health Commissionsaidthat as of Feb. 11, some 1,716 medical workers had contracted COVID-19, accounting for 3.8% of all confirmed cases nationwide. At least six of them have died.
Chinese Researchers Hopeful About New Self-Test Kit
Researchers from Shanghai and Hunan have developed a new kit that allows people to self-test for COVID-19 outside of a hospital setting, Sixth Tone's sister publication The PaperreportedFriday.
The diagnostic kit, jointly developed by Hunan University and a research institute affiliated with Shanghai Jiao Tong University's School of Medicine, has been recommended for fast-tracked approval by the National Medical Products Administration.
The research team said they had completed more than 100 clinical trials at designated COVID-19 hospitals with a 90% detection accuracy rate, according to The Paper.
The product is said to be similar to a home pregnancy test, capable of being used in the privacy of one's home, thereby reducing the risk of cross-infection in a more public setting. The report did not say how the test is administered.
Hubei To Count 'Clinically Diagnosed' Cases After All
At apress conferenceFriday, health authorities in the central Hubei province announced a reversal to a previous decision to disqualify "clinically diagnosed" COVID-19 patients from the province's tally of confirmed infections. They added that all cases that had been removed would be re-added, though this had not been reflected in official figures released Friday.
The decision came just a day after the provincial health officials began deducting clinically diagnosed cases from Hubei's overall count.
In aprevious versionof its diagnosis and treatment guidelines, the National Health Commission had applied a "clinically diagnosed" designation only for Hubei province. This special category for symptomatic patients with pneumonia-like radiographic imaging but no positive nucleic acid test was removed two weeks later when the commission issued itslatest guidelinesWednesday.
Feb. 20, 2020
First Deaths Recorded in Middle East and on Quarantined Cruise Ship
Hours after Iran confirmed the country's first COVID-19 cases Wednesday, its health authorities said both patients had died of the disease,accordingto the state-run Islamic Republic News Agency.
The two elderly patients — both from the city of Qom, about 145 kilometers from the capital of Tehran — are the first novel coronavirus-related deaths in the Middle East.
Meanwhile, in Japan, two passengers aboard the Diamond Princess cruise ship died of COVID-19 on Thursday,accordingto the country's state broadcaster NHK. The patients were both in their 80s with underlying health conditions, and had been hospitalized after testing positive on the ship.
Now with 621 confirmed cases, the Diamond Princess has the most coronavirus patients of any place outside the Chinese mainland.
COVID-19 May Become a Seasonal Flu, Chinese Health Expert Warns
The novel coronavirus epidemic that continues to spread globally could become a recurring seasonal illness, a senior health expert said Wednesday.
"It is possible for COVID-19 to become a chronic disease, coexisting with humans like a seasonal flu," Wang Chen, vice president of the Chinese Academy of Engineering and a specialist in respiratory diseases,toldstate broadcaster China Central Television. He added that the global community must take preparatory measures for such a future.
Zhang Wenhong, an infectious disease expert in Shanghai, had said last month that the virus evolving to become a "recurring seasonal disease" would be theworst-case outcome scenarioto the epidemic.
In an About-Face, China Says Only Positive Tests Can Confirm COVID-19 Infections
Wuhan, the epicenter of the COVID-19 outbreak,reported615 newly confirmed cases on Wednesday — several hundred more than the 349 total confirmed cases the province to which the city belongs reported the same day. The logical inconsistency is the result of yet another change to the official rules for how Hubei tallies confirmed infections, with many cities across the province now opaquely disqualifying previously counted cases.
In thelatest versionof its diagnosis and treatment guidelines released Wednesday, the National Health Commission reversed aprevious decisionit had made around two weeks ago to apply a "clinically diagnosed" classification just for Hubei province. The special category — which included symptomatic patients with pneumonia-positive radiographic imaging but without a positive nucleic acid test — resulted in anovernight spikein reported cases.
According to the latest guidelines, confirmed cases in all provincial-level administrative regions of China will require a positive nucleic acid test. With the new rule in effect, Hubei health authorities stopped counting "clinically diagnosed" cases from Thursday, and disclosed how many cases would no longer qualify as "confirmed."
The number of cases Hubei's cities disqualified from their counts was apparently large enough to bring the province's total far below the total for just Wuhan, its capital.
It's unclear how many of the clinically diagnosed cases recorded over the past two weeks were removed from Hubei's total reported infections (45,027 as of Wednesday). It's also uncertain whether the removed cases included other scenarios besides "clinically diagnosed." For example, the provincededucted1,043 cases from its overall total last week due to double counting.
Guangdong Court Sentences 5 People to Prison for Epidemic-Related Crimes
At least five people in southern China will be punished for epidemic-related infractions, the Guangdong High People's CourtannouncedWednesday.
A person surnamed Chen reportedly spat on police officers after trying to take a public bus without wearing a mask. Chen was convicted of "obstructing public service" and sentenced to 18 months in prison.
A person surnamed Wu was sentenced to one year in prison after being caughtplaying cardsand refusing to cooperate with police, while another person was also sentenced to a year in prison and fined over 50,000 yuan ($7,100) after selling face masks at exorbitant prices.
A fourth person surnamed Cai was sentenced to one year in prison with a 3,000 yuan fine for setting up a fraudulent charity account and soliciting "donations" for epidemic relief efforts. A fifth person received the same prison sentence and a 5,000 yuan fine for illegally purchasing two white pheasants.
Feb. 19, 2020
Disinfectant Spray Kills 135 Wild Animals in Chongqing
Chemicals in the disinfectants used during the COVID-19 epidemic have resulted in the deaths of several wild animals in the southwestern city of Chongqing, Xinhua News AgencyreportedWednesday.
The vaporized solutions sprayed to decontaminate entire cities — as well as forests, nature reserves, farms, and zoos — have killed creatures from 17 species, including blackbirds, white-headed pheasants, gray-breasted bamboo chickens, wild boars, and weasels, among others. A total of 135 wild animals have "died abnormally" in Chongqing since the epidemic broke out, according to the report.
Experts believe that some of the wild animals were fatally poisoned by disinfectant spray, according to Xinhua. Officials in Chongqing told the state media outlet that they had buried the dead animals and disinfected the places where their deaths occurred.
COVID-19 is believed to haveoriginated from wild animals, though scientists are still scrambling to identify the exact source of the virus. Meanwhile, China has banned the trade of wild animals during the epidemic, and cities, includingChongqing,have
closed zoos and disinfected related areas as a precaution.
Children of Hubei's Frontline Medical Workers To Benefit From Preferential Education Policies
The children of frontline medical workers in the central Hubei province, the heart of the COVID-19 epidemic, will receive preferential treatment for educational opportunities, local authoritiesannouncedTuesday.
Eligible primary school students will have the chance to study at "relatively high-quality" institutions, while students sitting for the high school entrance examination this year will be awarded 10 extra points, the provincial government said. The policy also grants qualifying university candidates priority when choosing their majors, a process that is usually based on grades.
The policies have drawn criticism on microblogging platform Weibo. While some argue that they would allow children to benefit from their parents' sacrifice, others say they should also include the children of sanitation workers, reporters, and transportation workers, who are also on the front lines of the epidemic.
"Personally, I think this is unreasonable. Is it the other students' fault that they were not born in a medical worker's household?" one Weibo userwrote. "Policies should just benefit the frontline medical workers themselves, rather than the next generation," wrote another.
Feb. 18, 2020
Wuhan To Add 10 More 'Shelter Hospitals' for COVID-19 Patients
Wuhan is planning to convert more public and private facilities into temporary "shelter hospitals" for novel coronavirus patients with mild symptoms, local mediareportedMonday.
To ease the burden on its overcrowded permanent hospitals, Wuhan is expected to add 10 more shelter hospitals providing 11,465 extra beds. One of the projects will convert a factory into the city's largest shelter hospital, expected to accommodate some 3,000 patients.
Wuhan began converting large public venues — including exhibition centers and sports arenas — into shelter hospitalsearlier this month. The three currently in use can accommodate around 3,400 patients. As of Monday, there were 46 designated COVID-19 hospitals in Wuhan with over 18,800 beds, treating 18,039 patients, a senior health officialsaid.
14 Americans Evacuated From Japan Test Positive for Coronavirus
Fourteen of the more than 300 Americans evacuated from a cruise liner under quarantine in Japanese waters have tested positive for the novel coronavirus, U.S. authoritiessaidMonday.
Some 3,500 passengers and crew members were quarantined aboard the Diamond Princess after a passenger who disembarked in Hong Kong tested positive for the virus. So far, 454 people have been infected aboard the cruise liner that has been anchored near the Japanese port of Yokohama since Feb. 3.
The U.K. has said it plans toevacuatethe 70 Britons stranded on the ship, while a plane chartered by the Canadian government has already left Japan to bring its citizens from the Diamond Princess home.
Katsunobu Kato, Japan's health minister, said Tuesday that all passengers who have tested negative will be allowed to leave the ship by Friday, according tonational media.
Feb. 17, 2020
Beijing Likely To Postpone the Year's Biggest Political Meetings
China's most important annual political meetings, the "two sessions," may be postponed amid the ongoing COVID-19 epidemic,accordingto the official Xinhua News Agency.
The potential move was proposed Monday by Li Zhanshu, chairman of the Standing Committee of the National People's Congress. A final decision will come later.
At the lower rungs of government, many provincial- and city-level two sessions had already been postponed — in the southwesternSichuanprovince, the northern city ofHohhot, andWenzhouin the eastern Zhejiang province, among other places.
The two sessions, orlianghuiin Chinese, are the annual meetings of China's top legislative body and top political advisory body in Beijing. They generally begin in March and last for two weeks, during which some 3,000 delegates approve new laws and policies.
China Approves First Drug for Treating Coronavirus
Favipiravir, an experimental antiviral drug, has become the first pharmaceutical product approved in China for treating the novel coronavirus.
China's National Medical Products Administration approved the drug on Saturday, and a company called Zhejiang Hisun Pharmaceutical began producing it the following day,accordingto The Beijing News.
Zhang Xinmin, director of the China National Center for Biotechnology Development under the Ministry of Science and Technology,saidduring a press conference Saturday that favipiravir showed positive results in clinical trials involving 70 human subjects in Shenzhen, with minimal side effects.
On Feb. 11, the head of Zhejiang Hisun's medical department said in aninterviewthat because clinical trials of favipiravir had only just begun and the sample size is still limited, more research will be necessary.
Originally designed by Fuji Chemical Industry Co. Ltd. in Japan, favipiravir has been used to effectively treat other viral diseases includingEbolaandrabies.
Wuhan Imposes Mandatory Barcode Scanning To Track Residents
The government of Wuhan, the epicenter of the COVID-19 outbreak, has issued strict new regulations aimed at preventing the further spread of the virus that has killed over 1,300 people in the city alone.
According to thenoticeMonday, any public places that "must be open" to meet basic needs will introduce a "QR code registration system." Though the notice did not go into detail, the system will likely require people entering such places to scan a code with their government-registered phones, allowing the authorities to monitor their movements.
Nonessential public spaces including parks, movie theaters, and religious buildings will remain closed, the notice said, and face masks and temperature checks will be required to access ones that are open.
At pharmacies, meanwhile, anyone hoping to purchase medicine for treating cough or fever must provide their government ID number, current address, and an emergency contact, with all such data being reported to the government.
First Autopsies Could Shed Light on COVID-19 Pathology
The autopsies of two patients who died of the novel coronavirus over a month ago were completed Sunday, according to multiple Chinese media reports.
After family members of the deceased gave their consent and authorities gave their approval, the two autopsies were carried out at Wuhan Jinyintan Hospital, one of the medical facilities designated for treating the city's COVID-19 patients. The results of the postmortems are expected to be revealed in around 10 days.
Liu Liang, a professor of forensic medicine at Tongji Medical College who supervised the autopsies,toldThe Beijing News that the procedures could help scientists and health professionals better understand the virus and how to treat it.
"We need to figure out how it causes pneumonia, (and causes fluctuations in) the number of lymphocytes and leukocytes, through autopsies," Liu said. "That's how future diagnoses stand to benefit."
During the SARS outbreak of 2002-2003,clinical pathology studieswere completed within 20 days of the first death, providing valuable insights into how to diagnose and treat the virus.
In aseparate interviewFriday, Liu had said that the reason the first COVID-19 autopsies were coming so late — nearly 40 days after the first of the two subjects died on Jan. 9 — was because no suitable facility had been available and local authorities had not given the green light.
Feb. 16, 2020
Our earlier coronavirus coverage can be foundhere.
(Header image: Police officers cross the street with bicycles in tow, Shanghai, Feb. 27, 2020. Wu Huiyuan/Sixth Tone)