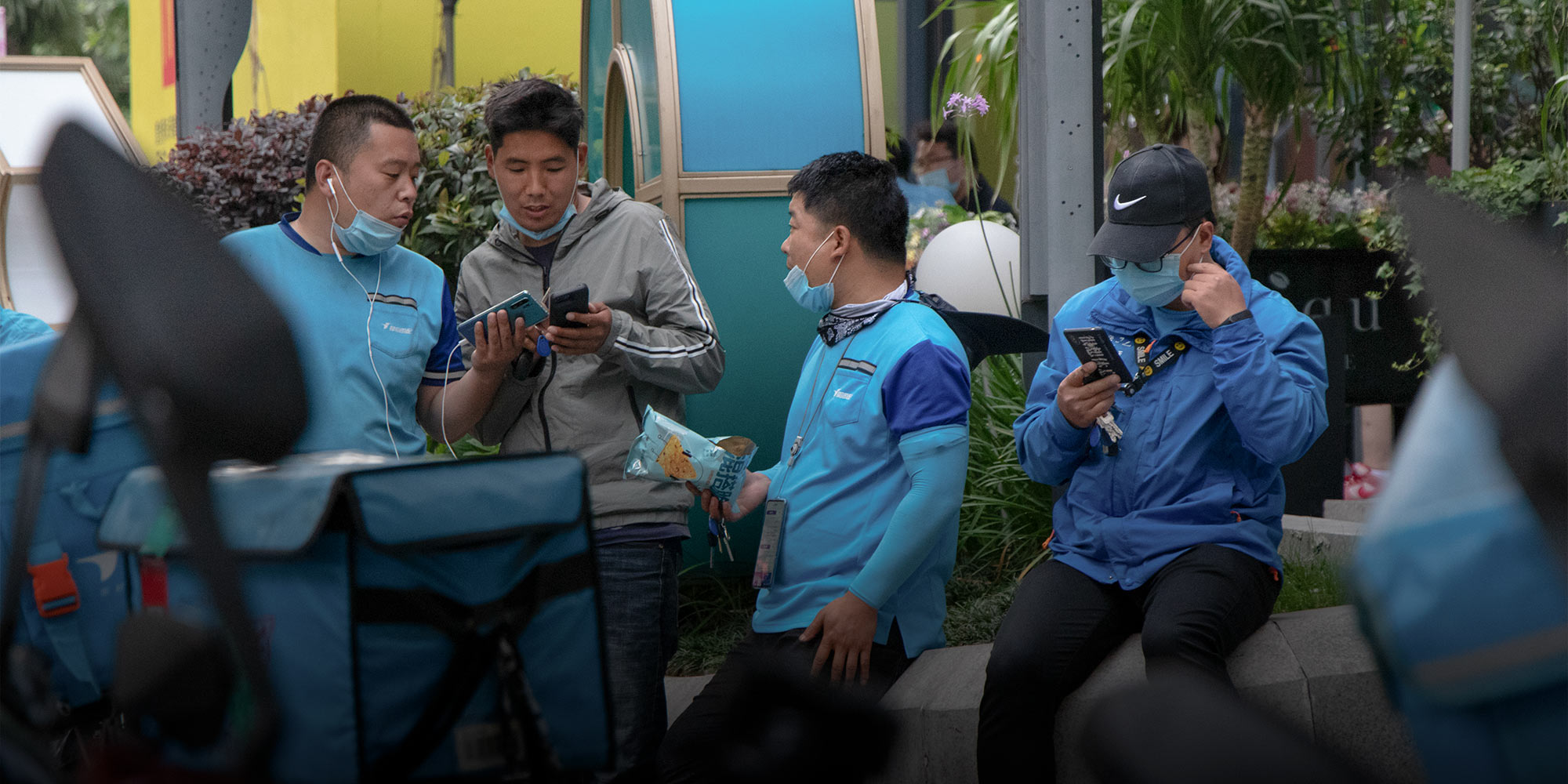 FEATURES
China's Laid-Off Workers Rush Into Food Delivery
Workers let go during the pandemic are trying to make ends meet delivering takeout. But the huge influx of drivers is making the grueling job even tougher.
SHANGHAI — Two long lines of messily parked electric scooters clutter the sidewalk outside a bustling downtown mall. Here and there, young men wearing blue and yellow uniforms are slumped over the bikes, sheltered from the hot May sun by the plane trees overhead.
Each of them is staring at their cellphones, ready to grab any incoming order that pops up on their delivery apps.
The riders are members of China's 6 million-strong army of food delivery workers, who make their living ferrying milk tea, poke bowls, sandwiches, and stir-fry to hungry residents across the city. 
During normal times, they'd be racing through the streets trying to deal with a constant stream of orders. But these days, many tell Sixth Tone they often have long periods of downtime between jobs.
"This epidemic has really influenced our work," says Wu Youhua, a boyish-looking driver with a black face mask strapped across his chin. "There's a lot more people doing food delivery compared with last year."
Food delivery platforms like Meituan and Ele.me have seen a massive influx of new drivers amid a sharp economic slowdown triggered by the COVID-19 pandemic. As millions of workers are laid off or furloughed, many are turning to the gig economy as a last-resort source of income. Meituan alone added 458,000 new drivers to its ranks between Jan. 20 and March 30.
New drivers say food delivery is a useful — if exhausting, stressful, and dangerous — means of keeping up with payments and surviving in post-coronavirus China. But with most workers paid just 5-7.50 yuan ($0.70-$1) per delivery and only a limited amount of work available, the increased competition means veteran riders are working longer for less.
Wu, a native of the neighboring Jiangsu province, tells Sixth Tone he's working an extra 3-5 hours a day to maintain the income he received before the pandemic — bringing his average workday to 15 hours. During the long lulls between peak delivery times, Wu says he plays the mobile game Honor of Kings and chats with other drivers.
"We're very idle right now," he says. "Last year, it was just one order after another."
Not far from where Wu is sitting, a group of fellow veterans gathers to grumble about the increase in riders. Some say their monthly earnings have halved in recent months.
"Look at this whole row of bikes!" says a stocky driver wearing a hiking bandana, pointing down the congested sidewalk. "There are so many riders out these days."
"They say the number of riders in China has increased by 500,000 since the virus broke out," the man continues, a figure repeated by several drivers, though Sixth Tone hasn't been able to verify the claim. "And Shanghai has seen the worst increase. It's the worst."
"All you can see in the streets are riders," mutters another rider wearing large square glasses. "They don't have other work to do."
"None of them have work to do," chimes in another driver, smirking.
"In the past, we'd have been incredibly busy at this time," the first man says. "We didn't have any time to rest. But now, there are barely any orders."
Just a few months ago, the situation for drivers looked very different. As cities across China went into lockdown during February, China's waimai xiaoge — or "takeout brothers," as the 92% male workforce is affectionately nicknamed by the public — played a crucial role keeping the country fed and supplied.
Elderly users of delivery apps boomed, while brick-and-mortar businesses increasingly turned to the courier services to dispatch nonfood items such as books, cosmetics, and even expensive tech products. Drivers were hailed as heroes for working through the virus outbreak, after which Alibaba-owned Ele.me christened its riders "blue knights" — a reference to their colorful uniforms.
Jia — a driver from Shanghai, who declined to give his full name for privacy reasons — tells Sixth Tone things weren't too bad for him during the height of China's epidemic. Jobs were sparse because few restaurants were open, but there were also fewer drivers, as many had left the city to return to their hometowns. Jia says he was never particularly worried about catching the virus, because he trusted the precautions put in place.
In March, however, things changed rapidly. Drivers began arriving back in Shanghai and a wave of laid-off employees from troubled sectors — many of whom had dabbled in food delivery to make extra cash in the past — turned to delivery work full time, says Jia.
"A lot of factories have dismissed all their workers; they've all come running to delivery, so there are fewer orders for us now," says Jia. "My salary is half what it used to be."
The lack of orders is being exacerbated by the headwinds buffeting China's food delivery platforms. The pandemic hasn't been the bonanza for the $86 billion industry that many anticipated. 
A large number of restaurants have shut down since January, and concerns about the virus spreading through food or drivers have kept consumers from ordering takeout altogether. Economic anxieties are also leading many to save money by cooking at home.
The number of food delivery users has decreased from 421 million in 2019 to 398 million this year. Meanwhile, users of grocery delivery services like Freshippo — the Alibaba-owned online supermarket chain also known as Hema — were up 59% in the month after the Lunar New Year, compared with the previous year, according to QuestMobile.
Meituan — China's leading food delivery player — reported a loss in the first quarter of 2020, and has faced several strikes from full-time contracted workers over lowered wages. Restaurants have also rallied together to pressure the platform to lower its commission fees on deliveries.
Yet new riders continue to join the platforms. Wu, the rider from Jiangsu, says his work group on social app WeChat has increased from 40 people to over 200 since the outbreak began. Strangers often approach him in the street asking what the work is like and how well it pays.
Jia says food delivery is an ideal backup gig due to its flexible schedules and the fact it doesn't require any special skills or qualifications — just a bike and a smartphone. He knows this better than anyone. A former cab driver, Jia turned to food delivery after having his license revoked for drunk driving, he confesses with a smile.
The work is also attractive because the platforms pay reliably and drivers can earn good money if they work hard, according to the Cheung Kong Graduate School of Business. Before the pandemic, Jia says he could make more than 10,000 yuan per month.
That's not to say the work is easy or simple. Newbies often struggle to make money and adapt to the tough conditions enforced by the delivery platforms, according to Jia.
Novices tend to make the mistake of traveling far and wide in a desperate bid to fulfill orders, rather than mastering a small area and chaining orders together, Jia says. This also brings a higher risk of being late, which the platforms punish with a 100 yuan fine.
Cao Tao, a former chef, signed up with Meituan after the restaurant where he worked cut his hours in February. But he soon found he was only able to make 100 yuan a day on the platform — barely enough to cover his living expenses — and quit after a few days.
For now, Cao continues to work as a rider delivering groceries for Freshippo, which pays around 200-300 yuan per day. But he's far from satisfied with his new career. Though his income is comparable with what he earned as a chef, his living expenses are far higher because he now pays for food and rent. It's easy to make mistakes on the job, and he often gets so stressed that he has to take cigarette breaks in bathrooms.
"My life is more tiring than it used to be," says Cao. "Actually, my life used to be pretty good. I just wasn't that satisfied with it."
Some new delivery workers are already considering quitting. Zhang Xiaodong came to Shanghai from the central Henan province to work for Ele.me in early May, but he's planning to head home at the end of the month.
A welder by trade, Zhang says he's also only making around 100 yuan a day. He says he doesn't know Shanghai's roads well and has a low score on the app's video game-like ranking system, which classifies drivers from "copper" to "king level" and gives priority to high-level users.
Even worse, Zhang was hit by a car during his first week on the road — an all-too-common danger for China's delivery workers. In 2017, a report found that a serious injury or death involving a delivery driver happens once every 2.5 days in Shanghai. Though platforms have lengthened delivery times slightly to allow riders to drive more carefully, a Meituan driver tells Sixth Tone it's still impossible to complete orders on time without running red lights.
Zhang sustained a nasty gash to his arm in the accident and had to take himself, bleeding, to the hospital. Luckily, there was no major damage, so he went back to work after several days of rest at home, but he now has a long scar running along the length of his forearm.
"Right now, I can only get so many orders each day," Zhang tells Sixth Tone. "I don't want to do this anymore."
Other new drivers tell Sixth Tone they plan to leave the industry once the job market recovers. For most of them, however, quitting now is not an option.
At a set of traffic lights, a gray-haired driver tells Sixth Tone he's delivering takeout because the taxi company that used to employ him went bust during the shutdown.
"What can I do? I have a family and a mortgage to pay," he says, before whizzing off with a low hum from his e-bike.
Editor: Dominic Morgan.
(Header image: Delivery drivers chat with each other during their downtime in Shanghai, May 21, 2020. Kenrick Davis/Sixth Tone)