When Cheng Wei returned to Central China in early January, he thought he'd only be staying a few weeks. The 29-year-old would marry his fiancée in his ancestral hometown later that month, before going back to work in southern tech hub Shenzhen.
The COVID-19 pandemic, however, has torn the young technician's plans to shreds. Over two months later, he's still stuck in the central Hubei province, which remains partly under lockdown after suffering over 60,000 infections and 3,000 deaths from the novel coronavirus. 
And Cheng is paying a heavy price for his enforced absence from work.
On Feb. 28, Cheng's employer, display panel manufacturer China Star Optoelectronics Technology (CSOT), informed staff at its Shenzhen plant that they would have to make up for any lost workdays by working unpaid overtime or taking personal leave.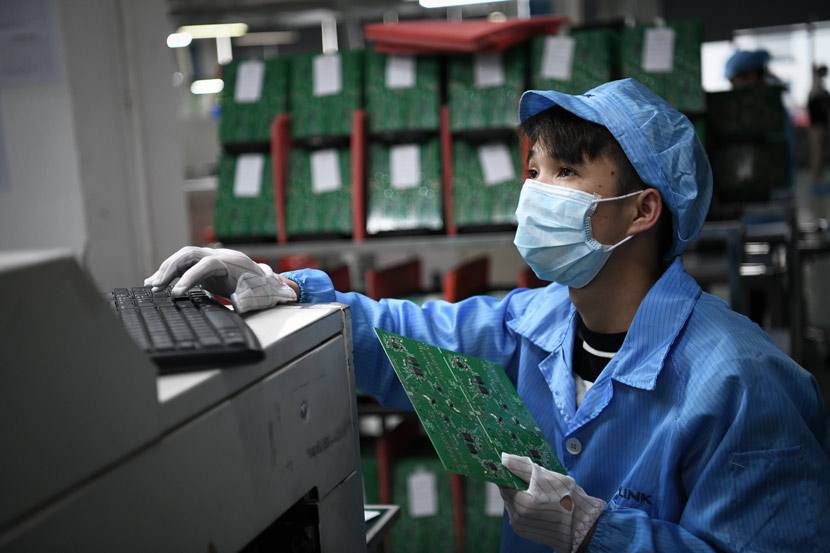 A worker wearing a mask checks a circuit board at a workshop in Shenzhen, Guangdong province, March 12, 2020. Liang Xu/Xinhua
For CSOT's roughly 200 Hubei-based employees, it's a bitter pill to swallow. Many have already missed over 30 workdays, meaning they'll need to work hundreds of unpaid hours or accept a salary deduction of over 6,000 yuan ($850). 
Like many Chinese migrants, Cheng normally works extra-long shifts and weekends to supplement his income. If he isn't paid for this overtime, he estimates his monthly wages will drop from around 6,000 yuan to just 2,700 yuan.
"This rule is inhumane," said Cheng, who insisted on using a pseudonym due to the sensitivity of the issue. "Once you've deducted social security payments, I'd have at least half a year on only 2,000 yuan (per month). It's hard to live on that."
Chinese authorities have taken multiple steps to protect workers during the pandemic, asking employers to avoid layoffs and introducing regulations requiring companies to grant short-term paid leave and refrain from unilateral wage cuts. But some firms are circumventing or simply ignoring such policies amid a sharp economic slowdown triggered by the pandemic, with some analysts predicting China's gross domestic product will contract by 9% in the first quarter.
China's official unemployment rate rose to 6.2% in February, indicating that roughly 5 million people lost their jobs that month. In a recent survey by Fujinfu, a financial subsidiary of manufacturing giant Foxconn, half of blue-collar workers said their income could decline by up to 50% compared with before the pandemic.
Fang Yan, a lawyer based in the northwestern Shaanxi province and a National People's Congress representative, told domestic media in early February that the pandemic may cause a large number of legal disputes.
In a written message to Sixth Tone in March, Fang said she had indeed seen a large number of labor disputes since the pandemic began, especially cases related to wages and work-related injuries. She added that people from Hubei province are among the most vulnerable to mistreatment, as they've been highly impacted by quarantine and virus-prevention measures.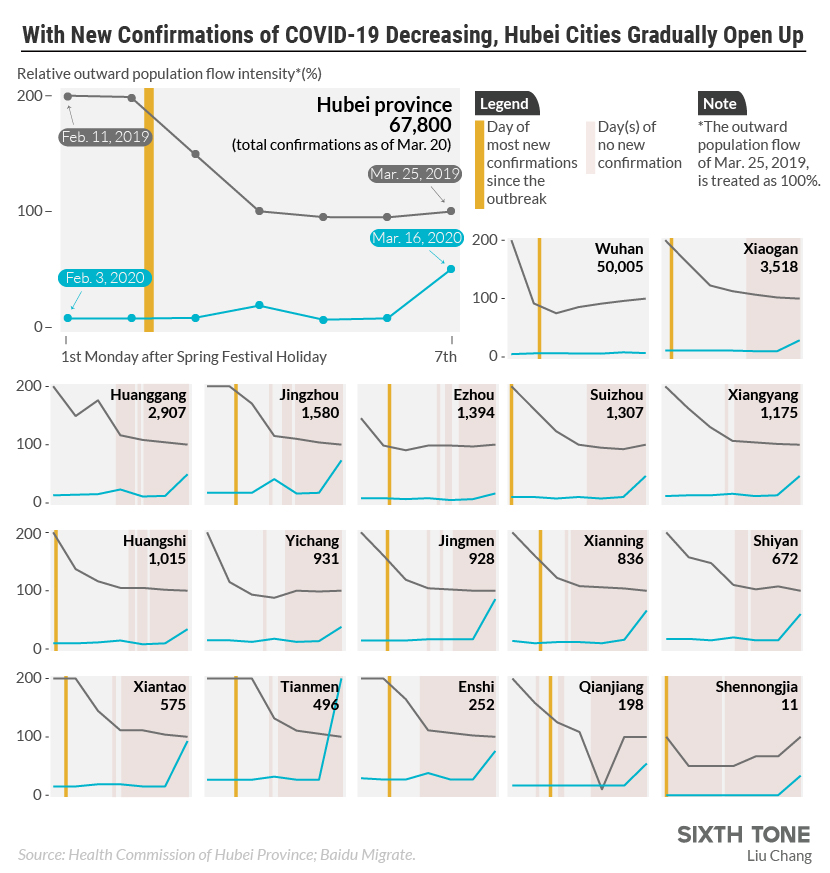 "Many Hubei employees are unable to return to work due to virus control (policies)," said Fang. "However, one-sided dismissals or salary reductions due to late work resumption are currently rare."
The economic turbulence is giving companies incentives to pass on the costs of the slowdown to workers, said Yang Bohua, a lawyer with the South China-based Guangdong Guolong Law Firm. 
"We think manufacturing businesses are more prone to disputes as they hire many people," said Yang. "To survive, some companies may play tricks, which incur labor conflicts."
And despite the government's efforts to protect labor rights, regulations are often difficult to enforce in practice, especially in sectors like manufacturing with relatively lax supervision, Liu Jiwei, a partner at Beijing-based Weiheng Law Firm, told Sixth Tone.
Employees at CSOT are confronting this reality. According to Cheng, Hubei-based staff members at the company have made several calls to their local labor and social security bureau trying to report the issue, but the calls have gone unanswered.
Some of the workers are now seeking legal advice, while others are refusing to return to Shenzhen, Cheng said. He contacted a lawyer he found through the Chinese super app Alipay, but later decided it wasn't worth spending more time and money on a legal case. "An arm can't wrestle down a leg," said Cheng, referring to the apparent power imbalance in his relationship with the company.
Another locked-down employee at CSOT's Shenzhen plant surnamed Chen told Sixth Tone he felt he had no choice but to agree to the company's new policy. "I don't have much money, and I don't want to wrangle," said Chen, adding that any labor arbitration process would be time-consuming due to the large number of disputes during the pandemic.
For most people stuck in Hubei, the top priority is simply getting back to work as quickly as possible. Under a hashtag on China's Twitter-like Weibo that translates as "WhenCanHubeiGetUnlocked," many user posts express anxiety over when they'll be able to return to their jobs. The hashtag had been viewed over 29 million times as of March 20.
Liu, a quality inspector at an artificial intelligence company in Shenzhen who has been locked down in her hometown of Xianning, Hubei province, fears that the longer she's away from work, the more likely she'll be fired as her company's financial situation worsens.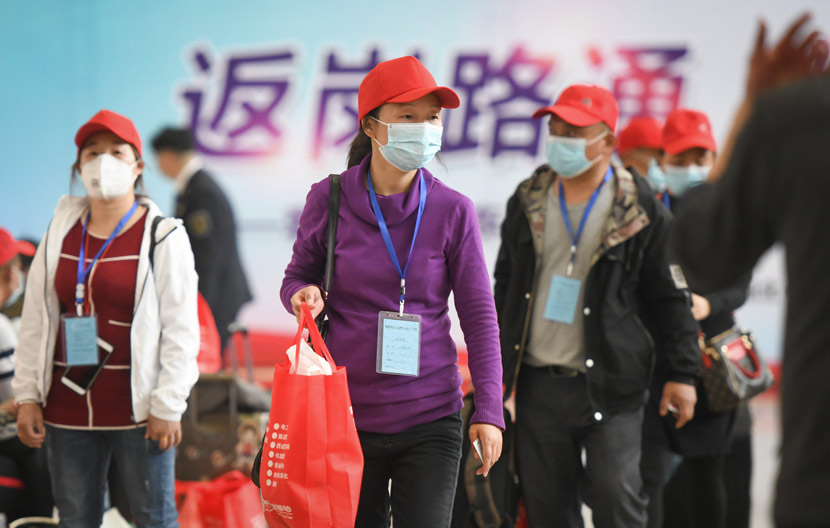 Workers prepare to board a special train transporting them back to factories in Guangdong province, Jingzhou, Hubei province, March 19, 2020. Liang Xu/Xinhua
"My company has been planning to lay people off," said Liu, who declined to give her full name due to privacy concerns. "Because we're in Hubei and haven't been able to go back to work on-site for a long time, they (the company) will treat us more ruthlessly."
A few days ago, Liu's colleague secretly sent her a list of employees her company was planning to fire. Her name was on it. As she still hasn't been formally notified of the company's decision, however, Liu believes her best method for keeping her job is to get back to Shenzhen as soon as possible.
China is now taking steps to gradually open up Hubei as the number of new COVID-19 cases in the province dwindles. On Wednesday, the city of Wuhan — the heart of the initial outbreak — reported no new infections for the first time in months. 
On March 11, Hubei's pandemic control command center announced cities would be classified as low, medium, or high-risk, with those deemed safer encouraged to resume work "safely and in an orderly manner." The center also encouraged local governments to charter vehicles to ferry workers back to their workplaces in other provinces.
Authorities remain cautious, however. Those wishing to leave Hubei have to complete an approval process, and some have found it impossible to meet the requirements.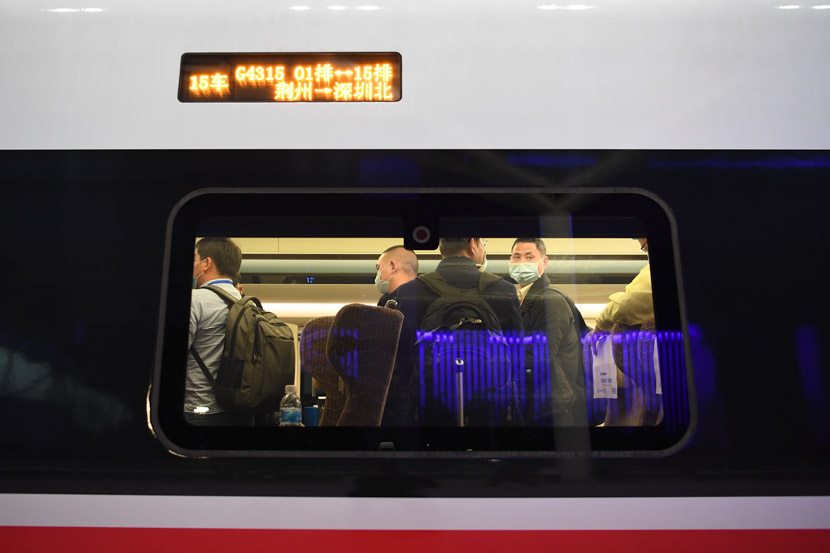 A special train transporting workers returning to work from the city of Jingzhou in Hubei province arrives in Shenzhen, Guangdong province, March 19, 2020. Liang Xu/Xinhua
According to Liu, each worker first has to provide their residential committee with an official certificate from their employer, proving the company is willing to "take in" the worker. Then, workers need to present proof that they're healthy through a certificate or a specially developed health app.
Liu says she's almost completed these steps and plans to book a ticket on a government-arranged bus to Shenzhen. But Cheng and Chen, the CSOT employees, say they're still not able to travel, because their company has refused to sign a "take-in" certificate.
In a screen grab of a group message sent via the social app WeChat seen by Sixth Tone, a manager at CSOT tells workers that the company can't issue "take-in" certificates, as the Shenzhen government has ordered it not to do so. 
There is some evidence to suggest this is the case. In a February announcement, Bao'an District, where CSOT's Shenzhen plant is located, said companies found to be asking workers from Hubei to return would be punished. The district has also agreed to pay companies a subsidy of 1,000 yuan for every employee stuck in Hubei.
During a phone call with Sixth Tone, Chen Jing, a public relations executive at CSOT's Shenzhen facility, said the company had acted according to Chinese laws and regulations and encouraged employees to use paid leave to make up for any lost workdays. The company is struggling to cope with ongoing disruptions to supply chains as a result of the pandemic, she said.
"The industry has already gone downhill over the past two years — the survival of the enterprise should also be taken into consideration," said Chen.
Later, Chen added via WeChat message that CSOT had negotiated any changes in salary and benefits with employees. 
Cheng disputed the company's account, describing the new rules as a coercive measure introduced without any form of negotiation. But he told Sixth Tone he just wanted to get on with his life. "Every day I spend at home now, I'm wasting money," he said.
Editor: Dominic Morgan.
(Header image: Foxconn employees walk to an onsite canteen in Shenzhen, Guangdong province, March 2020. IC)