This article is part of a series of first-person accounts from medical workers who lived and worked in Wuhan over the past four months. The rest of the series can be found here.
At around midnight on Feb. 9, I was pulled away from some late-night chicken wings by a call from my boss.
I work in a hospital emergency room in the southern province of Guangdong, and I knew a call at that hour could only mean one thing. My wife, guessing what was coming, burst into tears.
Sure enough, the hospital wanted to know if I'd be willing to join a medical support team bound for the central province of Hubei, the heart of China's COVID-19 epidemic. "I'm happy to go if you need me," I said. "But I need to discuss it with my family first." To be honest, there wasn't much to discuss. It would be hard on my family, but it was the right thing to do.
I was formally notified of my selection at 1:30 a.m., finished packing after 3, and arrived at my hospital, ready to go, at 7 that morning. My co-workers, even those I didn't really know, all hugged me goodbye. Some sneaked things like masks and gloves into my luggage.
Beginning in late January, China sent more than 42,000 medical workers from all over the country to Hubei. About 2,500 were from Guangdong. My cohort consisted of 310 medics, including two nurses from my hospital. We were some of the lucky ones: We'd been given a choice. Some young doctors in our group had been plucked at random after no one in their department volunteered.
Gathering for our flight, we had no idea what awaited us, how risky the work would be, how long we would be away from our families, or even where in Hubei we would be sent. I only got the answer to that last question after we arrived: Keting Fangcang, the largest fangcang shelter hospital in provincial capital Wuhan.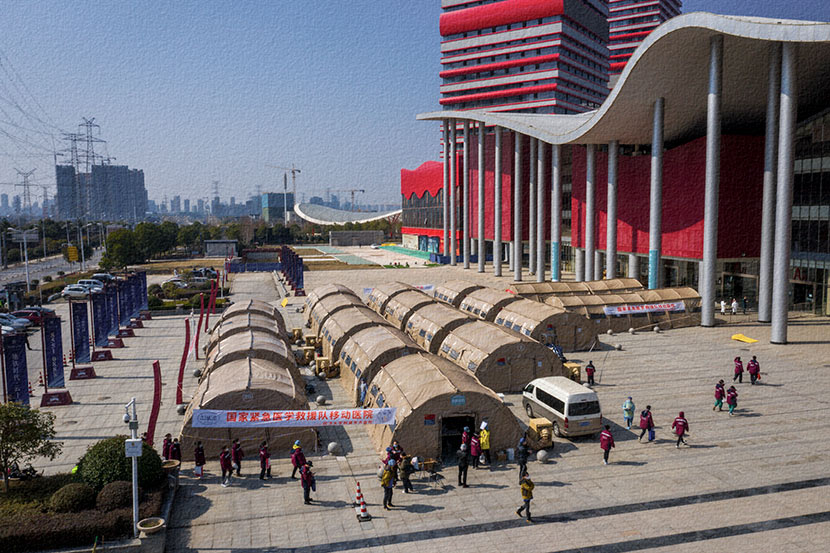 An exterior view of Keting Fangcang in Wuhan, Hubei province, Feb. 9, 2020. Courtesy of Wang Wei
Feb. 13: First Impressions
It's been three days since I arrived in Wuhan. My first shift began at 2 a.m. this morning and ran for six hours.
Before the epidemic, Keting's expansive exhibition hall hosted film and art festivals. In the span of just three days in early February, the city renovated it into a makeshift hospital for around 1,500 patients with mild COVID-19 symptoms.
Fangcang hospitals have helped alleviate Wuhan's hospital bed shortage, but another shortage still looms large: The sudden expansion of Wuhan's medical system and intake of thousands of new, mildly ill but infectious patients has led to a surge in demand for personal protective equipment. Members of relief teams like ours were told to bring whatever we could with us, including daily essentials like masks, goggles, and protective suits.
But medical gear was at a premium everywhere, and we were at a loss for where to get more. After talking it over, on Feb. 12 we decided to ask the health bureau in our city back home for help. A friend of a friend of a friend — I still don't know his name — immediately donated 500 goggles and successfully convinced the city to send us a batch of high-quality N95 medical masks.
On my first shift I toured my new workplace. The wing where I'm assigned houses more than 400 patients. With just four doctors and a handful of nurses per shift, we're each expected to look after about 100 people.
Most patients are asleep by the time the night shift starts, but some lie awake, worried they are getting sicker. I take their vital signs and reassure them everything is normal.
Sometimes warm words, carefully chosen to relieve a person's anxieties and help them get some rest, can be more effective than medicine.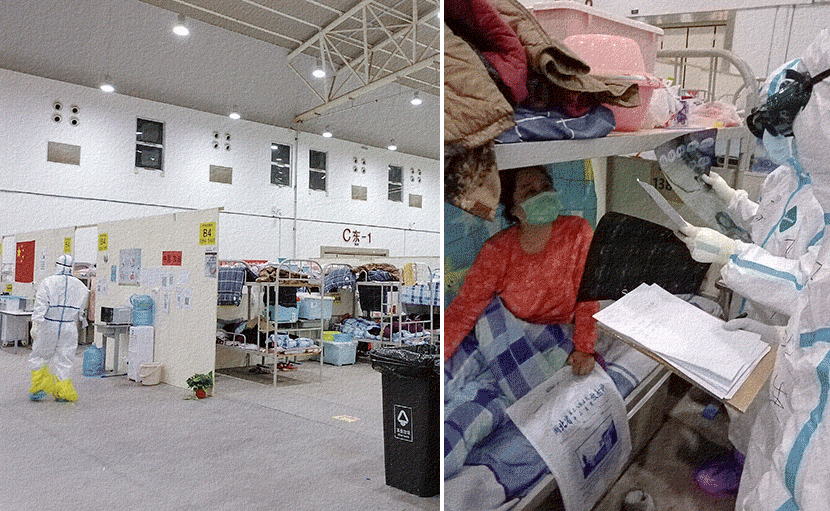 Left: An interior view of Keting Fangcang; right: Doctors check a patient's CT scan at Keting Fangcang in Wuhan, Hubei province, February 2020. Courtesy of Wang Wei
Feb. 17: Long Days
I've come to appreciate the joys of the night shift: Most patients are already asleep by the time we come on duty, and the job is easier.
Day shifts are more challenging. We essentially function as community doctors. We observe patients' conditions, manage their medications, and help them deal with their emotions.
Nurses check patients' vital signs three times a day. If a patient's heart rate exceeds 130, body temperature exceeds 38.5 degrees Celsius, or blood oxygen levels fall below 93%, we arrange for them to be transferred to a hospital where more serious cases are treated.
Although this might seem relatively mundane compared with the doctors in intensive care units battling to keep critically ill patients alive, fangcang hospitals carry their own risks. With hundreds of potentially highly infectious people in our care, we have to assume the coronavirus is everywhere at all times.
Patients can be also be very demanding, especially after being made to wait for days for a test to see whether they still have the virus, only to keep being turned away because of continued test kit shortages.
Mostly they're anxious, but the fear that can build up over these long waits sometimes boils over into rage. On my first day shift, I was surrounded by a group of patients bombarding me with shouted questions. Some wanted to be discharged immediately, others were worried and hoped to stay longer, still more demanded to know why they hadn't been tested yet.
They coughed as they berated me, spraying me with spittle. Some even tugged on my protective suit. All it would have taken was for one of them to get carried away and tear my suit or mask, and I don't know what would have happened.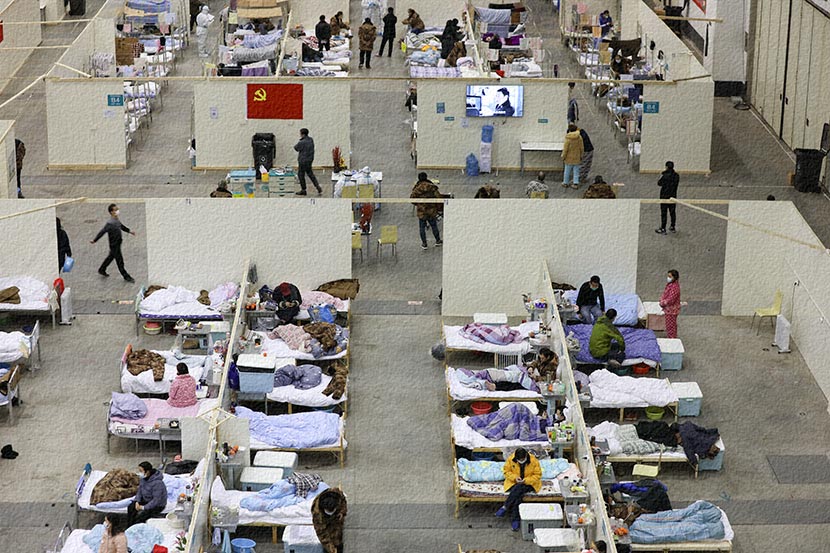 An interior view of Keting Fangcang in Wuhan, Hubei province, Feb. 18, 2020. Chen Zhuo/Changjiang Daily/People Visual
Feb. 18: Group Therapy
Most of our job is simply communicating with patients and relieving their stress. Today our fangcang hospital became one of the first to start a social media WeChat group for patients, where they can ask us questions about their conditions, talk with one another, and even post updates about their lives after they're discharged or transferred to a different hospital.
Giving patients a way to stay informed helps them feel more in control and soothes their fears. It's helpful for us, too: There some things about post-fangcang life the doctors here only learn about from reading messages in the group.
About a quarter of the patients I've spoken with know someone who has recently died. A few have no idea what happened to their loved ones.
One day, a patient told me the elderly man in the bed next to his looked anxious and wanted to leave. He had been waiting for his test results for a long time, and he hadn't heard from his wife for several days — she was being treated in a hospital for patients with more severe symptoms.
He was terrified that something had happened to her. Eventually we asked a local Wuhanese nurse to go to the hospital where the woman was being treated and check on her.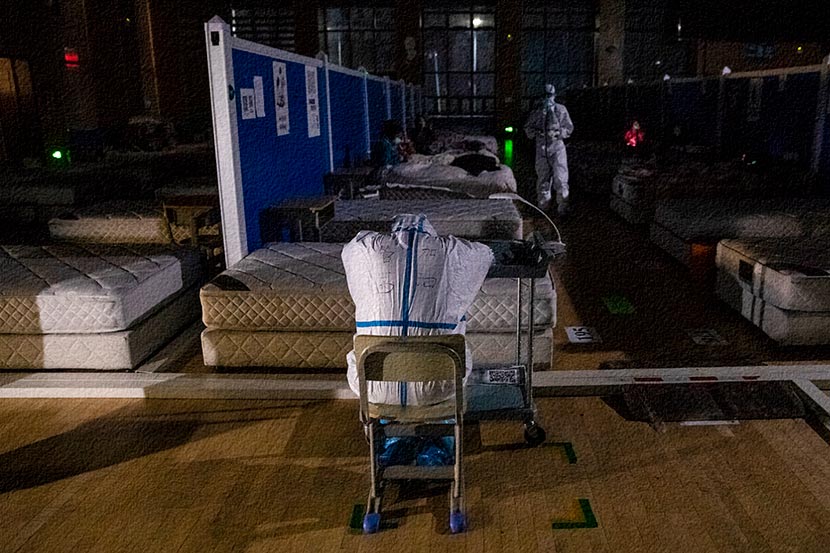 A medical worker takes a break at a "fangcang" shelter hospital in Wuhan, Hubei province, March 9, 2020. The hospital was closed on March 10. Shen Bohan/Xinhua
March 1: Decompression
Doctors are not any more immune to the stress of fangcang life than patients. We have one six-hour shift every 30 hours, but the stress of battling an unknown illness in an unfamiliar environment far from home is taking its toll.
Even when we're off-duty, we aren't allowed to leave the confines of our hotel. But since we can't spend all our time cooped up in our rooms, we'll occasionally drop in on each other to chat — maintaining a safe distance, of course. Some have taken up indoor running, clocking 6 kilometers a day without leaving their rooms.
During night shifts, after all the patients are asleep, I'll sit down and talk with the nurses on duty. Like us, they hail from all over China. Most of them left their families back home to come here; some have children too young to walk. Sometimes it's easier to chat about the foods we miss or make plans to visit each other when all this is over.
There have been challenges and conflicts, but what's struck me most about my time in Wuhan is the respect our patients show us. One night, after I got off a shift at 2 a.m., I went into my office to rest. I found a woman taking photos with her cellphone. She said she was being discharged from the hospital the next day and that she felt indebted to the medical staff who had left their homes to help her. She wanted to record a video with all the doctors and nurses so she wouldn't forget us.
In seven years of practicing medicine, I'd never encountered anything like it.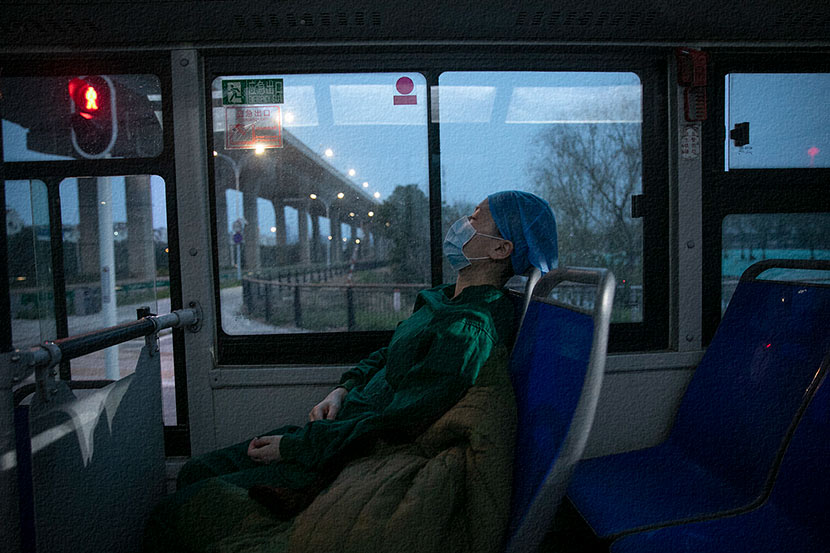 A medical worker takes a shuttle bus to Keting Fangcang in Wuhan, Hubei province, Feb. 24, 2020. Wu Ming/Southern Visual/People Visual
March 17: On the Road
I'd already sent my luggage and supplies home by express mail. I was ready to collapse by the time I was done, when suddenly I received a call from a bus driver I met in Wuhan.
We had gotten to know each other when he ferried me to work one day. I was late for my shift because of a stomachache, so I was the only one on the shuttle to the hospital. As we talked, he told me his family was safe and sound, but the mother of one of his co-workers had died. She probably had COVID-19, though she had never been formally diagnosed.
He was one of a number of Wuhan bus drivers who voluntarily signed up to provide shuttle services to doctors and others who needed to get around while the city was under lockdown. There's one shuttle every 15 minutes. Each driver works nonstop for six hours at a time. To stay on schedule, they frequently eat their meals squatting on the side of the road. After he dropped me off, I sent him some daily necessities, including masks.
I hadn't expected to hear from him again, but he called to say goodbye after learning our team was leaving Wuhan — we'd discharged our last patient on March 8. He told me he was touched by my gifts and had shared some of what I had sent with his neighbors. And if I was ever back in Wuhan, he said, his family would give me a full tour of the city.
Such small expressions of gratitude have become commonplace. Many security guards, police officers, and volunteers at the fangcang hospital had signed up to be there of their own accord. Looking back, I didn't really have a choice: Dealing with outbreaks is part of my job. They did have a choice, and still they were willing to run the risk.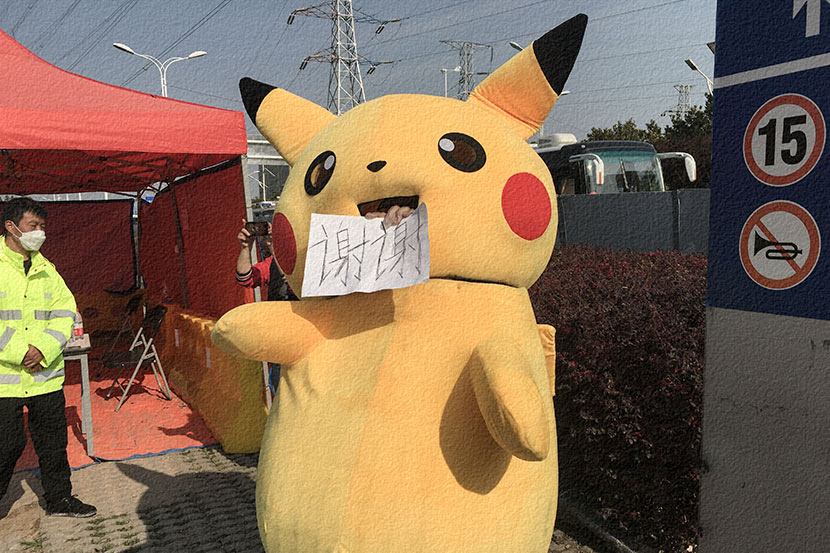 A volunteer dressed as Pikachu thanks medical relief team workers outside Keting Fangcang in Wuhan, Hubei province, March 17, 2020. Ma Furong/CNS/People Visual
March 20: Home
We left Wuhan today. As our convoy moved through the city, cars honked their horns for us at every intersection, and residents leaned out of their windows to wave farewell.
I have no interest in being called a hero, but the doctors I spoke with in Wuhan all agreed the epidemic represented a peak in the reputation of medical workers in China. Even just a few months ago, it seemed routine to read about doctors being harmed or even killed by disgruntled patients. Now that feels so long ago.
This winter, mutual understanding reigned as doctors and patients both seemed to understand that no one had it easy. Still, my co-workers and I would sometimes debate about whether patients would continue to be kind to us once this is all over. All we can do is hope.
The other day, my hospital asked me for a photo from my time in Wuhan. They wanted me to write a few lines to go with it, but all I could manage was three words.
"Here's to normalcy."
As told to Sixth Tone's Cai Yiwen.
Translator: Lewis Wright; editor: Kilian O'Donnell; portrait artist: Zhang Zeqin.
(Header image: A nurse cleans and dries goggles outside Keting Fangcang in Wuhan, Hubei province, Feb. 18, 2020. Chen Zhuo/Changjiang Daily/People Visual)