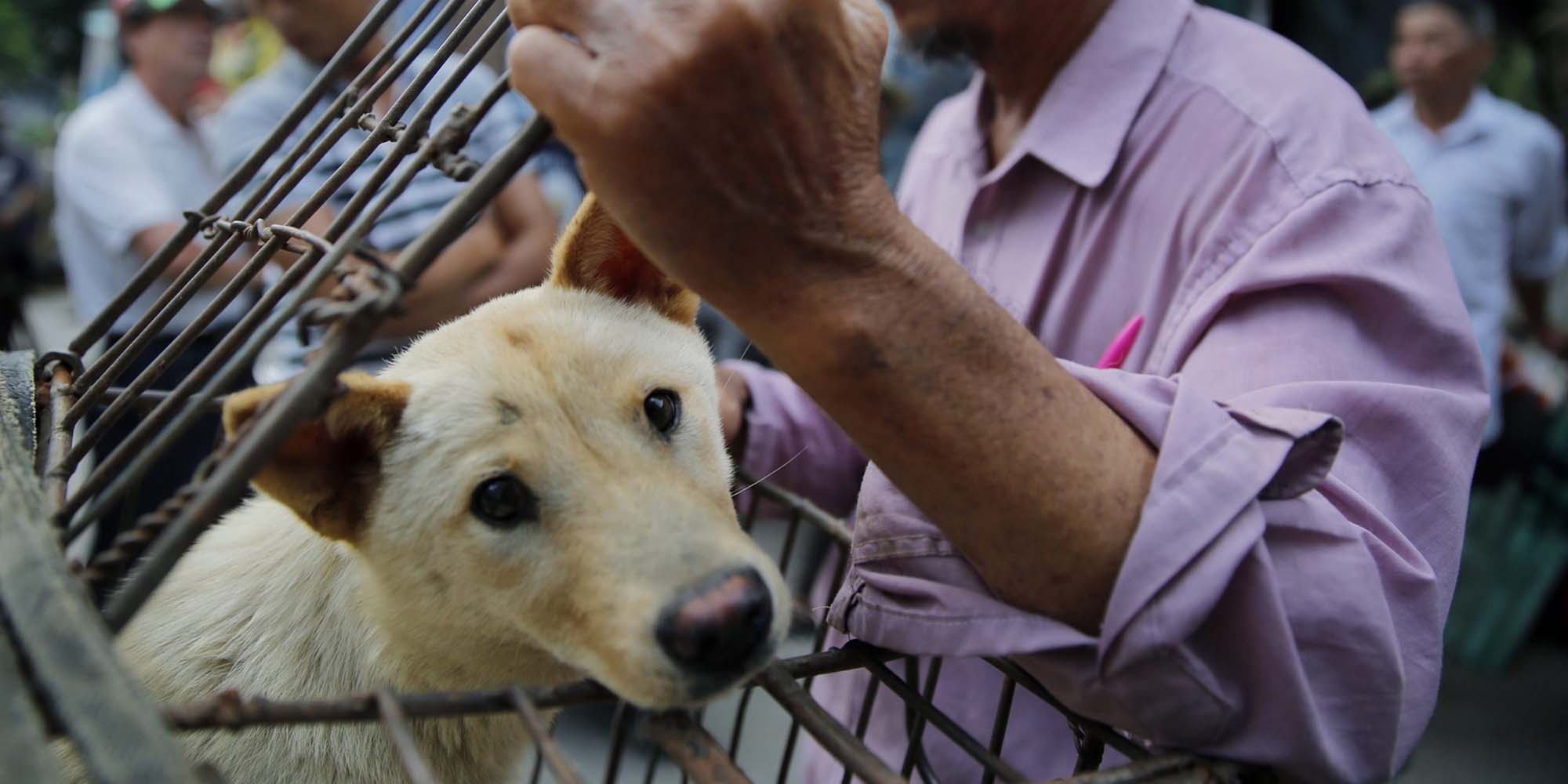 NEWS
Dogs Absent From China's Latest List of Edible Animals
The proposed policy could pave the way for a nationwide ban on the consumption of dog meat.
China's Ministry of Agriculture on Wednesday proposed a list of 31 terrestrial animals that farmers would be allowed to raise for food or other commercial purposes. The long-awaited document is considered an official "white list" of farm-approved animals following China's recent nationwide ban on eating wild animals.
Amid the COVID-19 outbreak, initially traced to a wet market in the central city of Wuhan, China's top legislative body in February prohibited the consumption of terrestrial wild animals as food, citing public health concerns, and urged the Ministry of Agriculture to rethink which animals should be farmed for food. Ahead of the list's release, animal breeders and conservationists locked horns in heated debate over which animals should be included.
The proposal includes 18 types of "traditional" livestock and poultry (pigs, cows, water buffalo, yaks, sheep, goats, horses, donkeys, camels, rabbits, chickens, ducks, geese, turkeys, pigeons, and quail) as well as 13 types of "special" livestock and poultry (deer, reindeer, alpacas, guineafowl, pheasants, partridges, ostriches). Four animals in the latter group — minks, racoon dogs, and two species of foxes — may only be bred for commercial purposes other than food.
The agriculture ministry said that while the "special" animals have a long history of being bred in captivity, wild populations from this group would fall under the management of the National Forestry and Grassland Administration— and would thus be prohibited for consumption as food.
The ministry's proposal specifically states that dogs are "companion animals," and thus should not be grouped among livestock. Over the years, China's black and gray markets for dog meat have drawn heavy criticism from conservationists and animal welfare activists.
"The fact that dogs are no longer listed alongside traditional livestock and poultry is major social progress — it means the consumption of dog meat will lose its legality and legitimacy in the future," said Sun Quanhui, senior scientific advisor at World Animal Protection, an international nonprofit. Sun told Sixth Tone that the newly released list is consistent with the prevailing sentiment among the Chinese public and international community.
Earlier this month, the southern city of Shenzhen prohibited the eating of cats and dogs, with violators facing penalties of up to 10 times the value of the animal consumed.
While Shenzhen was the first city in China to institute such a ban, Sun believes it won't be the last. "After Shenzhen, we expect more provinces and cities to incorporate the consumption of cat and dog meat into the scope of their legislation," he said.
The Ministry of Agriculture will seek public opinion on Wednesday's policy proposal for the next month.
Also on Wednesday, the National Forestry and Grassland Administrationsaidthat people breeding animals falling into the "special" livestock and poultry category may continue to do so, while those breeding animals for purposes other than eating — such as medical or scientific testing — must apply for a new license. The administration added that farmers forced to stop breeding animals for food because they aren't on the new white list would be eligible forcompensation from the government.
Editor: David Paulk.
(Header image: A vendor holds a caged dog for sale at a market in Yulin, Guangxi Zhuang Autonomous Region, June 20, 2016. IC)