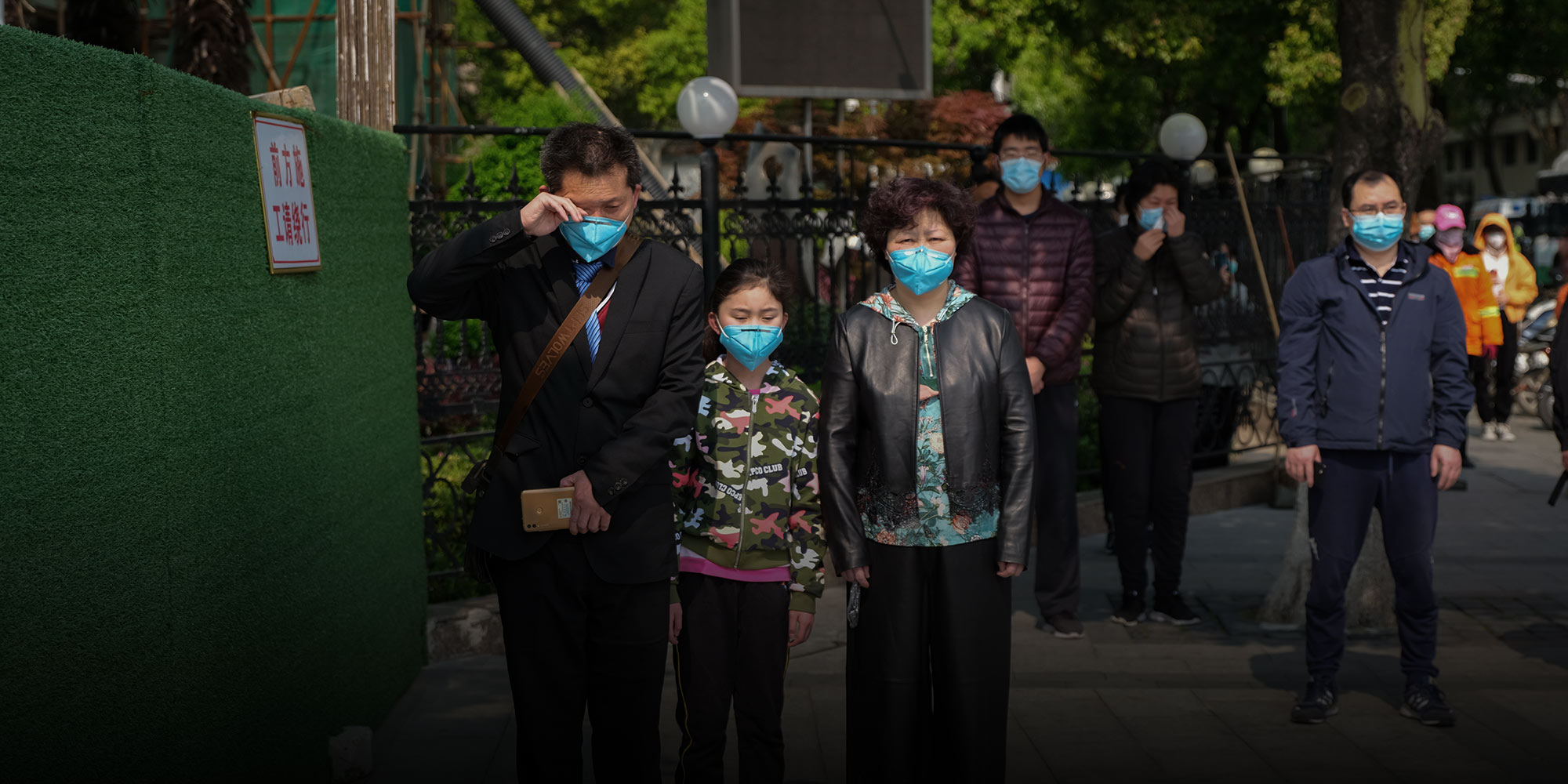 NEWS
In Wuhan, Sirens and Silence
On a national day of mourning, the city at the heart of China's COVID-19 outbreak reflected on what was lost.
HUBEI, Central China — For three minutes this morning, car horns blared, air-raid sirens echoed, and residents across Wuhan stood in silence, as a battered city grieved for the lives lost in the ongoing COVID-19 pandemic.
Similar scenes took place across China Saturday, one day after the central government announced the country would observe a national day of mourning on April 4. Timed to coincide with Tomb-Sweeping Day, a traditional festival for Chinese to honor and make sacrifices to the dead, a nationwide three-minute moment of silence was held at 10 a.m., and all flags in the country and at Chinese embassies around the world were ordered lowered to half-mast.
The national day of mourning is the first since 2010, when a massive landslide in the northwestern Gansu province killed at least 1,480 people.
As of Friday, over 3,300 people in China have died of COVID-19, according to official figures.
Over 75% of them were here, in Wuhan, a transit hub on the banks of the Yangtze River where the first cases of the then still-unidentified disease were reported late last year. "So many people have died in our country, it's devastating," 39-year-old Wuhan resident Mei Xinghua told Sixth Tone Saturday.
Mei had come to the city's riverside Yiyuan Square with his wife and daughter to watch a provincial government-organized memorial to those killed by the disease. Unable to enter the square, which was closed to the public, the three did their best to take in the ceremony from across the street. "I came here for everyone (who died), but especially for my late cousin," he said.
Mei's cousin, actually a distant relative, was an ophthalmologist at Wuhan's Central Hospital before dying of COVID-19 in early March. On Thursday, Mei Zhongming was one of 14 people, along with his co-worker, whistleblower Li Wenliang, to be honored as martyrs by the Hubei government.
The scene outside Central Hospital was quiet on Saturday morning, and the entire complex remained surrounded by the city's ubiquitous yellow and blue barricades, erected as part of a more than two-month-old citywide lockdown. According to a report from domestic outlet Caixin, more than 230 of Central's 4,000 employees contracted COVID-19, making it one of the hardest-hit medical facilities in Wuhan.
"The hospital's clinic will reopen on Apr. 6, so we're disinfecting," a man who identified himself as a hospital employee told Sixth Tone.
All three of the national flags in front of the building had been lowered to half-mast.
At around 9:40 a.m., a 24-year-old Wuhan resident, dressed head-to-toe in protective gear, arrived at the hospital to drop off a traditional memorial bouquet of yellow and white chrysanthemums . The woman, who did not give her name, showed Sixth Tone a card she had attached to the flowers: "Deep condolences to the martyrs Li Wenliang, Jiang Xueqing, Mei Zhongming, Zhu Heping, and Liu Li. Your 1.4 billion compatriots will remember!"
The names are those of Central Hospital staff known to have died from COVID-19.
"They (the medical workers) have left us, but we will remember them," she told a group of reporters gathered outside the hospital. "They're the ones who blew the whistle."
"I want to say that residents don't have short memories," she added. "We remembered in February, we still remember now in April, and we will remember in the future."
Other residents have focused their energies on the survivors. A preschool teacher in the city, surnamed Deng, told Sixth Tone she has been sending postcards and images to some of the thousands of medical workers from around the country who arrived in the city at the height of the outbreak to relieve its overwhelmed hospitals.
"My heart is heavy," Deng said, explaining that she and other volunteers like her wanted to tell these doctors and nurses, most of whom have since returned to their home cities, that Wuhan was recovering.
"Many doctors and nurses sacrificed their lives for people they didn't even know. I don't know how to express my gratitude," she said.
Additional reporting: Shi Yangkun; editor: Kilian O'Donnell.
(Header image: Mei Xinghua, together with his wife and daughter, watch a memorial ceremony on the banks of the Yangtze River in Wuhan, Hubei province, April 4, 2020. Shi Yangkun/Sixth Tone)