As a doctoral candidate in cultural studies with a dream of one day becoming a public figure, I have long been fascinated by reality TV — a popular and wide-ranging genre in China that has launched a number of relative unknowns, including intellectuals, to stardom. So when a talent scout asked if I'd be interested in taking part in what the show's producers called "an observational travel program looking at the psychology of social interactions between strangers," I leapt at the chance.
After a month of interviews and taped auditions, and several more months of waiting, the director finally told me I booked the gig — just not the one I thought. Instead of India, the show was sending me, along with eight strangers and a celebrity host, to the Caribbean. Their reasoning was admittedly flattering: They told me that my "looks and age were better suited for (that destination's) youthful, glamorous itinerary."
Reality and variety shows have become big business in China over the past decade and a half. From "X-Change" in 2006 to more recent hits like the celebrity team race "Keep Running" and debate competition "I Can I BB," they all work off the same general script. Producers start by establishing contestants' personalities and forging connections between the cast and audience. Then they spend the later episodes carefully editing footage to reinforce these constructed personas, or renshe. Contestants are incentivized to play along, since only those who can quickly establish a distinctive and memorable persona have a shot at translating their 15 minutes of fame into a sustained wanghong internet celebrity status.
My persona — the "attractive, Cambridge-educated, female Ph.D. student" — helped build exposure for both the show and for me personally. But it was also suffocating. In an ideal world, I would also be known as much for my candidness, critical thinking, approachability, and sense of humor as for my looks or credentials. Instead, watching my "authentic" persona on screen was like seeing myself with everything but the economically viable, politically appropriate traits screened out. It was a trapeze performance: thrilling but safe.
For instance, I have spent years trying to challenge sexist stereotypes, yet I quickly learned how little tolerance the producers had for anything that drifted out of the societal mainstream. Just a month before I was set to leave, one of the show's producers informed me that I needed to go on a diet. I consider myself already on the thinner side, and the producers themselves said they selected me in part because of my looks, but they still expected me to drop 11 pounds in 30 days. "Being in front of the camera is especially unflattering, and I don't want anyone saying that I hired a pig," the show's director informed me. I was furious and humiliated, but I ultimately agreed to lose the weight.
That wasn't the only preproduction hassle. Two weeks prior to our departure, I got an unexpected call from the director. "Do you have any idea how much trouble you've just caused me?" he asked, before haranguing me for posts I'd made on microblogging platform Weibo expressing support for LGBT groups. "What else are you hiding from me? Don't you know that you can't address that issue at all? The station executives are furious!"
Gay rights are a public relations minefield in China, one that mainstream media outlets go to extreme lengths to avoid. The director told me to immediately delete all my Weibo posts on the topic. "Even your likes have to be deleted," he said. "Or else I can't guarantee your spot on the show." Once again humiliated, and feeling increasingly powerless, I acquiesced.
Nor did matters improve once shooting finally commenced. As a supposedly fat female contestant with inconvenient political opinions and little interest in pandering to the male gaze, I was closely monitored for the duration of production — even beyond the 24/7 filming to which I'd agreed.
My show-defined persona as a "female Ph.D." — a group stereotyped in China as undesirable, asexual bores — didn't help, either. Once, I was excitedly talking about the origins of anthropology when one of the other participants started mocking me. "Do the guys you've dated like hearing about this stuff?" he asked. Sometimes the harassment was more subtle, such as when I was the only woman sent to help the male cast members carry our luggage into the hotel. It reminded me of the old joke: "There are three genders: male, female, and the female Ph.D."
For the sake of theatrics, the producers sorted me into a group with another highly educated young man, telling us both that "it would be best if you could create some sparks." But we all quickly realized that what the viewers really wanted to see — and what we were there to provide — was conflict. We never received a detailed script, but there was a tacit recognition of this fact in the way the cast quickly fell to feuding with each other, or at least their personas, while playing up their own exaggerated characters.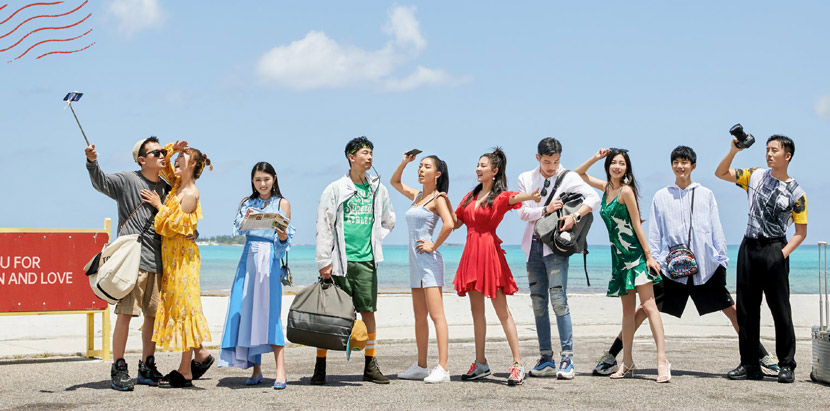 A promotional photo of a reality show. From Weibo
The trauma of 10 days spent being shamed and criticized for who I was — albeit in the most superficial sense — only started to wear off after we finished shooting. Once I was back on campus, I realized that it didn't matter how my cast mates had acted toward me: We were all just playing our parts. The content of those roles, whether we were the bullies or the bullied, was as artificial as everything else.
The show's premiere threw me for a loop, however, when it shone a light on the loneliness and bullying that I had experienced. I soon received hundreds of supportive and sympathetic messages and comments online. Unfortunately, this sympathy often went hand-in-hand with retaliatory bullying directed at other contestants. If the show is, as the producers claim, a course on "the psychology of social interactions between strangers," it offers some harsh lessons.
Perhaps we simply need to temper our enthusiasm for peering into other people's lives. My experience reminded me of the philosopher Byung-Chul Han's analysis of the digital age. "Today, however, a complete lack of distance and deference prevails: Intimate matters are put on display, and the private is made public," he writes in his "In the Swarm: Digital Prospects." "Without distance, it is impossible to be in good standing."
If I learned anything from my own time being put on display, it's that instead of relying on character archetypes, maybe we need to celebrate the diversity — and respect the privacy — of the lives we so avidly consume.
Translator: Katherine Tse; editors: Cai Yineng and Kilian O'Donnell; portrait artist: Zhang Zeqin.
(Header image: E+/VCG)