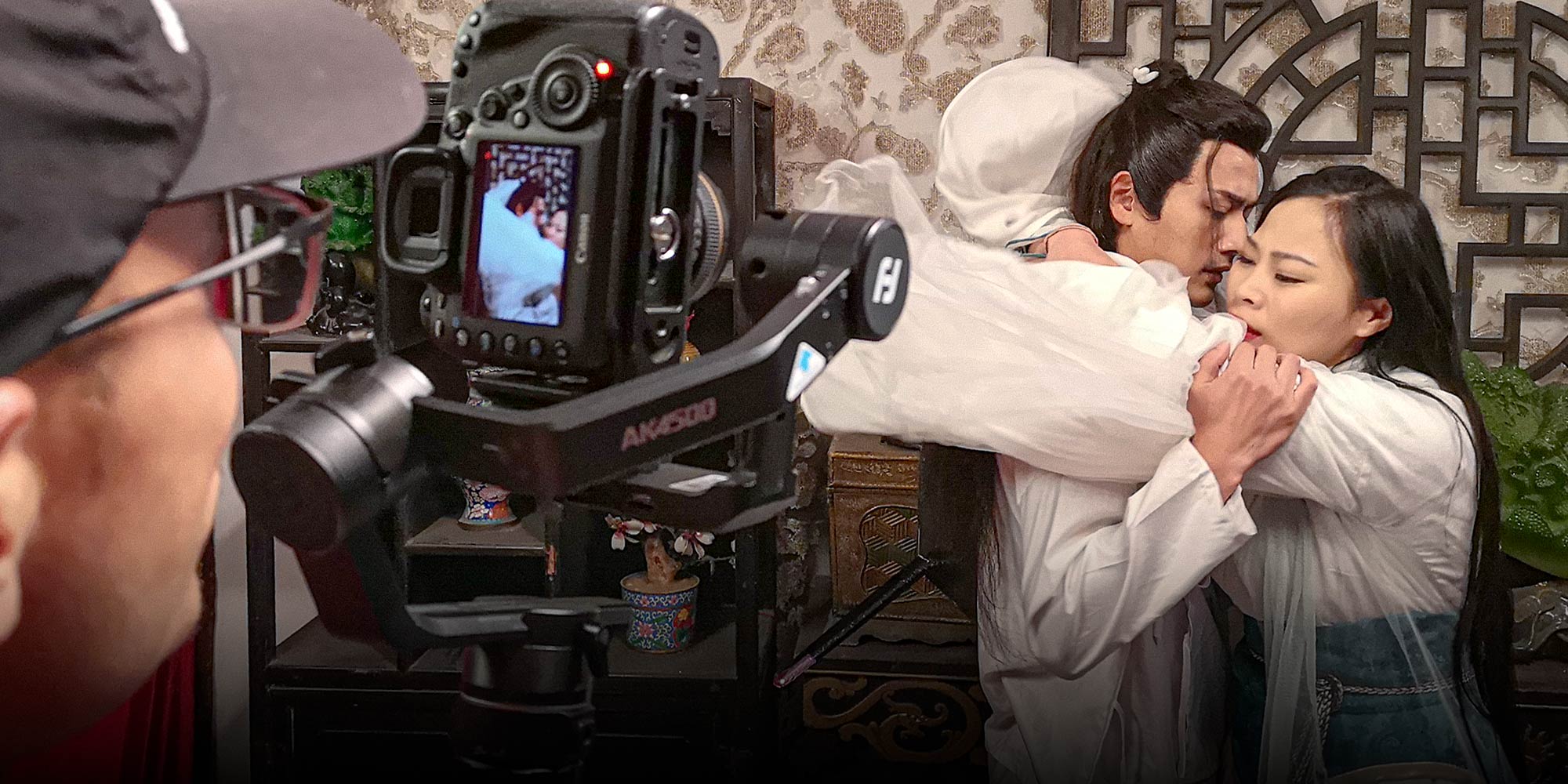 FEATURES
Winter Has Come for China's Movie Extras
As a slowdown chills the Chinese film industry, actors are finding creative new ways to make a living.
ZHEJIANG, East China — It's a weekday afternoon in "China's Hollywood," but the three actors aren't in a hurry. They're sitting around a table in a gloomy, unheated fourth-floor café, smoking, chatting, and sipping fruit-filled cups of tea. Outside, the streets are almost deserted.
"Tons of people used to live here," says stuntman-turned-actor Liu Gang, stubbing out a cigarette. "It was hard to find a house, and you'd have to go really far out in search of one. But now, many are sitting empty."
The group gazes through the window at the distant apartment blocks just visible through the mist and rain. It's clearly winter in Hengdian — a small town in the eastern Zhejiang province that's home to the largest movie studio in the world, Hengdian World Studios.
Around one-quarter of all Chinese movies and one-third of the country's TV series are filmed in Hengdian, but over the past year a chill has gripped the town. Heightened regulatory oversight and a stagnant business environment have caused a sharp slowdown in new productions.
The depression has been so severe, it's gained its own ominous nickname — yingshi handong, or "the winter of film and television" — and actors like Liu are feeling the effects.
"I've barely filmed any dramas these past two years," says the 35-year-old. "I've just been hanging around. Few production crews are shooting, so most people, including extras, don't have anything to do."
In 2019, the number of TV dramas filmed in China was 27% less than the previous year, and 1,884 Chinese film companies went out of business, according to business database Tianyancha.
Hengdian has even begun offering free usage of its famed facilities — which include a replica of Beijing's Forbidden City and other historical palaces — to ailing firms suffering from severe financial frostbite.
The frigid conditions have left Hengdian's resident population of actors uncertain about the future. Not long ago, there were about 100,000 here, but two-thirds have already left town, director Xu Jun tells Sixth Tone. The rest are waiting out the winter, doing whatever they can to survive.
"At least you get lots of free time to work out," jokes Ming Guang, another actor.
Liu laughs, then turns sullen again. "We're full-time actors," he says, his brow creasing. "We don't have other industries to turn to. When productions stop, our salaries plummet."
Like many in Hengdian, Liu is from a humble background and has had to fight hard to carve out a career on screen. A native of the central Henan province, his childhood kung fu training helped him find work as a stuntman in the town in 2013.
After two years and several major injuries — including fractures on his breastbone, collarbone, ankle, and spine — Liu transitioned into acting, but now he describes feeling "panicked" about the absence of regular work.
"We're all working far from our hometowns, working hard, struggling," says Liu. "The moment you're idle, your mind just feels blank. You have no idea what you'll do in future."
Even A-list stars have found themselves jobless. In August, the actress Dilraba Dilmurat — who ranked 16th on the 2019 Forbes China Celebrity 100 list — admitted she hadn't received any offers for eight months. When the Taiwanese-Canadian actor Godfrey Gao died while filming a reality TV episode in November, many commentators remarked that such mindless programming was all most celebrities could do during the "winter."
It wasn't always this way. When Liu started acting in 2015, China's film and TV industry was booming. It had been a bumper year for movies, and online video platforms like iQiyi were providing new outlets for content creators. Popular genres that were banned on regular TV — such as time-travel, zombie, and saucy dramas — weren't subjected to such rigorous oversight on the internet.
"There were so many people in Hengdian, so many dramas being made," says Liu. "You could film anything, and it'd be approved."
The Chinese media industry grew 74% in 2015, according to Securities Times. Investors were falling over themselves to finance new productions. Industry insiders recall that creators sometimes only needed a basic PowerPoint with a rough story outline to secure investment.
But things started to change in 2018. More and more productions began to be cancelled at the last minute, according to Liu and Ming.
"They'd already have your character set, they'd be ready to film, then — suddenly — nothing," says Liu. "This kind of thing didn't just happen once or twice; it was again and again."
"We're used to it now," adds Ming.
A cocktail of regulatory and commercial issues has contributed to the change in the filming climate. Oversight of movies has ramped up at a time of sensitive anniversaries in China. In early 2018, China's State Council took direct control of regulating the film industry as part of a large-scale administrative reshuffle. In the months since, there have been reports of long delays in movies being greenlighted for release. The uncertainty is preventing investors from funding new projects.
China's TV stations have cut content budgets as their advertising revenues dry up amid an economic slowdown and changing viewer habits, with more people watching videos online, according to Securities Times.
Video platforms including Tencent Video, iQiyi, and Youku, meanwhile, have tried to rein in their losses as tech companies and investors become less willing to fund large deficits.
China's film industry is also still reeling from the aftermath of the Fan Bingbing tax evasion scandal in 2018, which left production companies with an overdue tax bill of $1.7 billion, Nikkei Asian Review reported. Huaiyi Brothers, a company at the heart of the incident, finished the year with a $158 million loss, according to Variety.
On the eve of the Spring Festival holiday, the industry has been dealt yet another blow: Screenings of all seven domestically made movies scheduled for release during the break have been cancelled, to halt the spread of the novel coronavirus disease, which has killed 17 people in China as of Jan. 23. The holiday has traditionally been the most important week of the year for China's cinemas. 
But not everyone in Hengdian is content to wait for the film industry's fortunes to improve. Some actors are finding new ways to make money, harnessing the town's movie-making resources to produce content for social media platforms.
In another, equally gloomy concrete block 2 kilometers away, in a corner decorated to look like an ancient Chinese bedroom chamber, a young damsel in flowing white robes is professing her love to a handsome warrior.
To the side, a cameraman wearing a cowboy hat smokes as he films. Unusually, he's shooting everything vertically — all the better to display on short-video apps such as TikTok and Kuaishou. Off-set, another actor livestreams to his followers on Kuaishou as a makeup artist fixes his jet-black wig.
There's no director, because the group is creating the duanju or "short drama" — a 20- to 30-minute production released in one- to four-minute online segments — as a collective. The cast and crew pooled their money to fund the production, and they'll evenly split their earnings based on the videos' number of likes and views, depending on the platform.
Ruo Xuan, the actress playing the damsel, skips over to review the footage. A 27-year-old from Zunyi in China's Southwest, she came to Hengdian in 2014, hoping to star in the kind of sumptuous costume dramas she'd adored as a child. She started out as an extra, playing imperial maidservants for just 70 yuan ($10) per day, then moved up to roles with a few lines of dialogue, which paid up to 300 yuan.
After a couple years, however, Ruo realized she didn't have the connections to become a star, and she became disillusioned. She spent some time as a professional cosplayer, performing at anime conventions across China. It was only after her friend introduced her to duanju in 2018 that she returned to Hengdian.
"I was so excited, because I had no idea you could film series and send them out episode by episode like that," says Ruo. "I could film things that I actually liked, be the lead female, and create a whole story. That's what I really wanted to do."
Over the past two years, Ruo has written and starred in dozens of short dramas. Each piece is filmed over a few intense days to save costs — they'll often hire better-looking actors for lead roles for up to 2,000 yuan a day. She doesn't earn a high income from the videos, but it's all relative, she says.
"My income now is definitely a lot better than it was when I was an extra," says Ruo.
Elsewhere in Hengdian, some former extras are focusing on creating viral videos, in the hope of achieving fame and fortune on social media.
China's version of TikTok has 400 million daily active users, the platform announced in January, and the country's short-video industry is worth an estimated 38 billion yuan, according to consultants iiMedia Research. Top short-video stars can earn millions of yuan.
In an empty parking lot, Ding Yanguang is improvising some skits with a bunch of fellow former movie professionals. The group gathers on a daily basis and comes up with ideas on the spot, often recycling old jokes but changing the cast, props, and settings.
In one sketch, a young woman approaches a man sitting next to his girlfriend. "I'm pregnant!" she shouts, causing the man's partner to slap him, curse him for his infidelity, and run off in tears. For the punchline, the woman explains that she just wanted the seat.
Other clips are made to spread "positive energy," explains Ding, a tall, bearded figure who hails from the eastern Shandong province. One such skit shows a woman crying because she can't afford to pay her college tuition fees, only to be handed a stack of money by a kindhearted stranger.
The videos could be shot anywhere, but the actors stay in Hengdian because it's more convenient. "If you were just daydreaming at home, these things could be hard to realize," says Ding. "But here, anything you want to do filming-wise is very convenient. It's easy to find actors, it's easy to find post-production places, and it's easy to find sets."
Nowadays, the town is also full of influencers, which produces an endless stream of odd encounters. As Sixth Tone chats with Ding, a short man in a suit and tie who bears a striking resemblance to Jack Ma, the founder of e-commerce giant Alibaba, enters the parking lot.
"Hello, foreign friend. Nice to meet you," he says, as the other actors whip out their phones and start filming. He proceeds to give a tour of the compound, claiming he owns all the surrounding villas.
For the former extras, such moments are all grist for the mill. They collaborate to create content, but they'll ultimately post the clips on their own individual accounts and earn income separately. Many of them have built up substantial online followings. 
Ding has more than 300,000 fans on TikTok, and he says he can earn around 8,000 yuan per month on average.
"If you do it well, your income can be quite a few times higher than what you get doing dramas," says Ding. "And even if you don't, you'll make enough to eat and drink. At least you won't go hungry."
The comment about starving is no joke. The group members comment among themselves that there are so few jobs for extras in Hengdian, some aren't earning enough to eat properly. 
It's something they can all relate to: Many have experience living on a shoestring budget while trying to make it in acting, and several tell Sixth Tone that they won't return to that life — even if the film and TV industry starts to thaw.
"I used to be an extra, but now I pretty much don't do it anymore," says Shi Junmin, a tank-like figure in a tight black sweater. "You can't make money."
Short-video making has bumped Shi's income to unforeseen heights. The son of farmers in the northern Shanxi province, Shi never went to school. As a young man, he moved to Beijing to work as a security guard, earning 50 yuan per day. 
In 2017, Shi came to Hengdian to try his luck in acting, thinking his unique appearance could be useful. He made over 6,000 yuan in his first month, but after that the opportunities dwindled.
Since switching to online content, however, he's developed a cult following. He has 260,000 fans on TikTok and 108,000 on Kuaishou.
"I came here with a dream. But I've come to realize that — even though dreams are important — they must be attainable," says Shi. "If you don't have money and you're not eating enough, then what are you doing talking about your dreams?"
Others, however, have doubts about the future of short videos. Xu, the director, tells Sixth Tone he's confident that Hengdian's movie industry will recover and rise to new heights, but suspects the hype over TikTok may be short-lived.
"When people see a lot of it, they get tired of it," says Xu. "Movies are different: They tell stories. There's still a lot of people willing to film dramas, because dramas are the real thing."
Ruo, the short-drama creator, says she's happy filming short-form pieces for now. But she still dreams of setting up a proper studio one day, once the ice has melted.
"I won't give up," says Ruo. "If we develop well, my hope is still that we can do full-scale productions."
Editor: Dominic Morgan.
(Header image: Actress Ruo Xuan (right) has her on-screen advances rejected by another actor while filming a "short drama" in Hengdian Town, Zhejiang province, Jan. 15, 2020. Kenrick Davis/Sixth Tone)