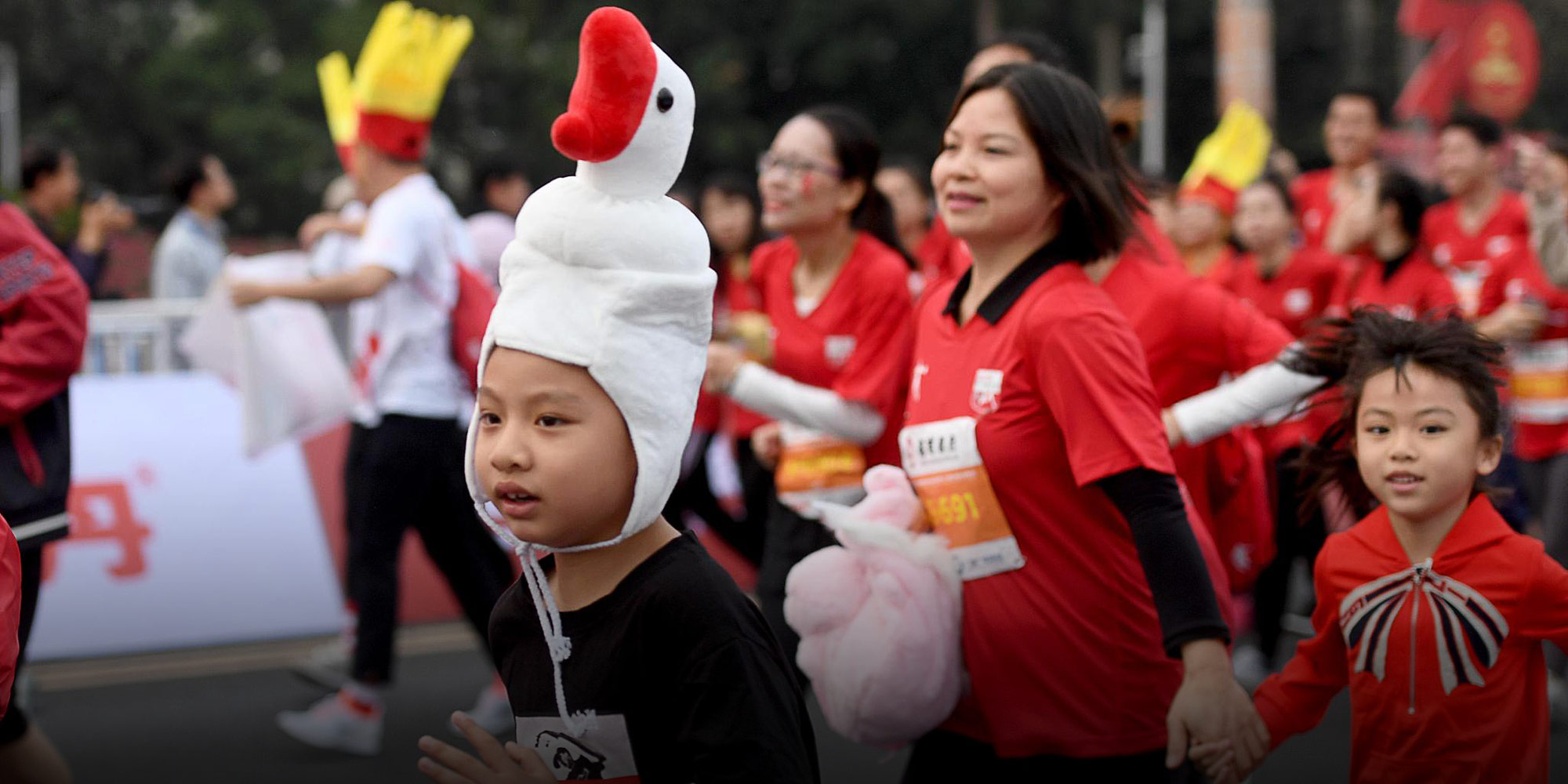 NEWS
China's Year in Sports in 7 Words
For Chinese sports, 2019 was a year of triumphs, disappointments, and — above all — controversies.
Last Friday, Mesut Özil, a German soccer player who represents the English Premier League club Arsenal, shared a Turkish poem on Twitter and Instagram about the treatment of Uighurs in China's northwestern Xinjiang region.
China's retribution came swiftly. State broadcaster China Central Television (CCTV) canceled its planned coverage of Arsenal's game against Manchester City on Sunday, and a Chinese foreign ministry spokesperson accused Özil of believing "fake news." A digital rendering of the player was even deleted from the China version of the video game Pro Evolution Soccer 2020.
The controversy was hardly a surprise after the drama of 2019. The year was one of sporting experimentation, disappointment, and evolution. But above all, it was a year in which many of the most memorable moments played out off the field rather than on.
Here is Sixth Tone's summary of China's year in sports in seven words.
1. Victory
Unsurprisingly for a major sporting nation, China came out on top in numerous global competitions this year, with too many to name here. A standout moment came in August, when Zhang Weili became China's first-ever Ultimate Fighting Championship (UFC) world champion. The mixed martial arts fighter annihilated Brazil's Jéssica Andrade in just 42 seconds, giving the modern combat sport a much-needed publicity boost in China.
"[It] was an iconic moment in history," says Andrew Collins, CEO of Mailman Group, a global sports digital consultancy and marketing platform headquartered in Shanghai. "They've never had a Chinese world champion before — that's like the 'Yao Ming moment' for UFC."
Chinese athletes also won big in speed skating, snooker, and skiing. In team sports, China's women's volleyball team — long-time media darlings, with many players already national celebrities in their own right — came out victorious in the 2019 FIVB Volleyball Women's World Cup in Japan after 10 straight wins.
In esports, meanwhile, China's FunPlus Phoenixwon the world championship for League of Legends — the second consecutive victory by a Chinese team in the competition — in November, just after the wildly popular battle arena game celebrated its 10-year anniversary.
2. NBA
A rollercoaster year for China's most-watched sports franchise started early. In January, the National Basketball Association's macho-man fans wereoutraged after fresh-faced pop star Cai Xukun was featured in the NBA's Spring Festival video. The hapless singer became the butt of relentless online memes.
But this minor controversy paled in comparison to the cataclysmic fallout that occurred later in the year, when Houston Rockets General Manager Daryl Morey sent out a single tweet in support of Hong Kong's protesters. After NBA Commissioner Adam Silver defended Morey's comments, CCTV canceled all league broadcasts, and a string of Chinese companies cut commercial ties with the league.
NBA broadcasts have since resumed — with the exception of Houston Rockets games — but overseas sports franchises remain anxious and uncertain as they enter 2020, says Collins, who has worked with several organizations involved in the scandal.
"I've never seen an incident like this become so geopolitical," says Collins. "It started a global debate about positioning in this market … It made everyone stop and reassess what they're doing."
3. Naturalization
For many Chinese sports fans, 2019 will be remembered as the year foreign athletes started swapping their IDs for Chinese passports so they could compete for the East Asian nation.
The Chinese Football Association (CFA) had long opposed naturalizing foreign players — a common, if sometimes controversial, practice in international soccer. But it finally caved at the end of 2018, and teams this year began reeling in foreign players.
As of December, four players have been naturalized, with London-born Nico Yennaris — now often referred to by his Chinese name, Li Ke — becoming the first to join China's national team. Elkeson, a Brazilian midfielder with no Chinese heritage, joined him soon after. There are a few conditions, however: The CFA has told clubs that naturalized players must receive Mandarin lessons, learn the national anthem, and "have the patriotic spirit nurtured within them."
The experiment has yet to bear fruit. The Chinese men's team looked strong after beating Guam 7-0 in a World Cup qualifier but then drew with the Philippines and lost a crucial game against Syria on Nov. 14. The same day, national team coach Marcello Lippi, a former World Cup winner himself,announced his resignation.
Not all naturalizations have been disappointing, however. In June, the half-Chinese skier Eileen Gu traded in her American passport to become a Chinese citizen. Only two months later, the 16-year-old star scooped up two gold medals for China at the Australian New Zealand Cup.
4. Disappointment
Men's soccer and basketball compete for viewers in China, but this year they also seemed to be competing to see who could disappoint domestic fans more
September's FIBA Basketball World Cup 2019 was one of the biggest international tournaments to be hosted by China since the 2008 Summer Olympics, but the performance of the Chinese national team left much to be desired. After beating Ivory Coast, they were defeated by Poland and Venezuela, failing to qualify for the next round of the tournament.
In the aftermath of China's third and final game, clips of a disappointed-looking Yao Ming and a commentator choking up on live TV went viral online. Fans were amused that the team then went on to play lower-bracket games in Guangzhou, where they shared a hotel with the equally unfortunate national soccer team.
China has invested heavily in improving its soccer reputation. This year, soccer training programs were introduced at the country's kindergartens, and there has even been an attempt to train kids using high-tech virtual simulations.
But Collins says there are more fundamental issues to address, such as a lack of facilities and grassroots participation. While China's Olympic gold medal-winning athletes are trained in spartan specialist schools, the world's top soccer players mostly started playing as children with friends in their free time.
"It doesn't matter how much more money they invest in 10,000 new football pitches or new coaches," says Collins. "It has to be part of the culture."
5. Growth
While pingpong, badminton, and basketball remain the major draws in China, the number of sports played in the country is growing. This year, Sixth Tone covered China's growing scenes for BMX, boxing, skateboarding, and even full-contact medieval combat.
MMA got a huge boost with the opening of the state-of-the-art UFC Performance Institute in Shanghai, the largest such center in the world. Even the new sport of drone racing is taking off, with online video platform Youku securing broadcast rights to the Drone Racing League in January and the league announcing the launch of a China competition on Thursday.
6. Strikes
Money continues to slosh around the highest tier of Chinese soccer. National team coach Lippi said goodbye to a $28 million annual salary when he quit last month, while the CFA imposed salary caps on local players to encourage more Chinese athletes to test their talent abroad.
In China's lower-tier soccer leagues, however, it's a different story. Many grassroots players are struggling to get by, as evidenced by numerous protests over unpaid wages in the past year.
Industry insiders have blamed the issues on the immaturity of the country's soccer ecosystem, including an underdeveloped fan economy, and on the relatively high cost for teams to participate in leagues.
7. Doping
The saga surrounding Chinese swimmer Sun Yang's alleged doping went through various confusing contortions this year, with every step garnering media attention.
In January, the Sunday Times reported that Sun faced a lifetime ban from competitive swimming after clashing with anti-doping authorities last year.In response, Sun's lawyer demanded that the article be retracted, claiming the anti-doping testers had not presented their credentials and had falsely accused his client of violating UNESCO's anti-doping convention.
In July, Sun clashed with Mack Horton — a rival Australian swimmer who publicly accused him of being a "drug cheat" during the 2016 Rio Olympics — at the FINA World Aquatics Championships, where Horton refused to share the medalists' podium with Sun.
FINA, the international federation that governs aquatic sports, decided not to sanction Sun, but he was later compelled to attend a hearing in Geneva after an appeal by the World Anti-Doping Agency.
The case remains unresolved and has grown increasingly bizarre. During the hearing in November,Chinese media claimed that one of the anti-doping officials involved in the September 2018 incident was actually a builder who had come along to help out a friend. The case is currently in a deadlock, with both sides negotiating over the translation of the hearing's transcript, which includes Yang's full testimony.
Editor: Dominic Morgan.
(In-text GIFs: All found online and re-edited by Ding Yining and Qi Ya/Sixth Tone)
(Header image: A boy wearing a goose hat competes in a road race in Nanning, Guangxi Zhuang Autonomous Region, Dec. 1, 2019. Yu Jing/CNS)