SHANGHAI — Stopwatch in hand, white snapback hat turned up, Bao Jiafu is in his element as he cheers on riders at a freestyle BMX contest on a sunny November afternoon in northern Yangpu District. The 20-year-old has a back injury that prevented him from competing, but he still appears to be in the center of the action: He's the timing official for the event, as well as an occasional emcee.
"This young dude is my favorite rider — let's give him courage," says Shen Jian, the day's official commentator, passing the microphone to Bao. "Ahh!" he roars as the young rider pulls off a tough rail trick.
Bao is a linchpin of China's nascent BMX community. He's a silver medalist at this year's freestyle national championships and a tireless promoter of the sport through the Shanghai-based club Cat Crew, his social media channels, and his youth coaching. But when he joins up with China's national BMX team, Bao confesses to feeling more like an outsider.
20-year-old Bao Jiafu describes how he became one of China's top BMX freestylers. By Lu Yunwen and Zhou Zhen/Sixth Tone
"Training with the (national) team is more regimented," Bao tells Sixth Tone.
Ever since the International Olympic Committee (IOC) announced that BMX freestyle park would be an official event at the 2020 Summer Olympics in Tokyo, China's sports authorities have been attempting to integrate the country's top freestylers into its elite sports training system. The process, however, has been fraught at times, as free spirits like Bao struggle to adapt to the military-style discipline required of athletes representing Team China.
The Chinese sports bureaucracy swung into action as soon as the IOC announcement was made in 2017. BMX is a new, niche pastime in China, but within months, authorities drew up a plan to train more than 1,000 riders nationwide, with 27 Chinese provinces establishing their own BMX freestyle teams. Twenty-four crack freestylers — 10 male and 14 female — would then be selected for a national squad to begin intensive training during the second half of 2018. 
As with most Olympic events, the chosen athletes were mainly students from China's network of specialist sports schools, which have provided more than 90% of Chinese Olympic medal winners since 2004. But the squad also included six independent freestylers, including Bao.
Bao's background contrasts sharply with those of his sports school teammates, who began rigorous athletic training at a young age but have little riding experience, having been reassigned from other sports in 2017.
A native of the southwestern city of Chengdu, Bao dropped out of middle school in his early teens and worked a string of blue-collar jobs washing cars, scrubbing pots, and hawking drinks. Discovering BMX in 2014 helped him turn his life around, he says.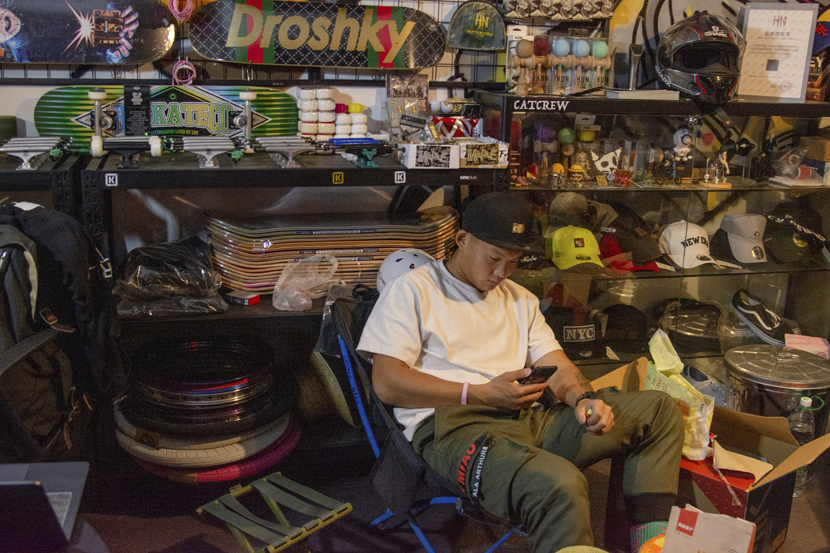 Bao Jiafu rests at the Cat Crew BMX bike shop in Shanghai, Nov. 12, 2019. Jiang Feng for Sixth Tone
"Riding BMX made me feel less confused about life," says Bao. "I could release my negative emotions."
Bao bought his first real BMX bike at age 15. The bicycle cost 1,100 yuan (then $180) — two-thirds of his monthly salary at the time. "I thought it must be excellent," says Bao, though he later discovered it was the cheapest model on the market. From then on, he dedicated himself completely to freestyle BMX, spending all his spare time practicing tricks.
Zhao Qiang, a Shanghai-based freestyler who now also serves as Bao's agent, recalls being amazed by Bao's work ethic when he first met him at a BMX show in 2016.
"He practiced so hard," says Zhao. "That's why he made quick progress. He dreamed of being a professional rider."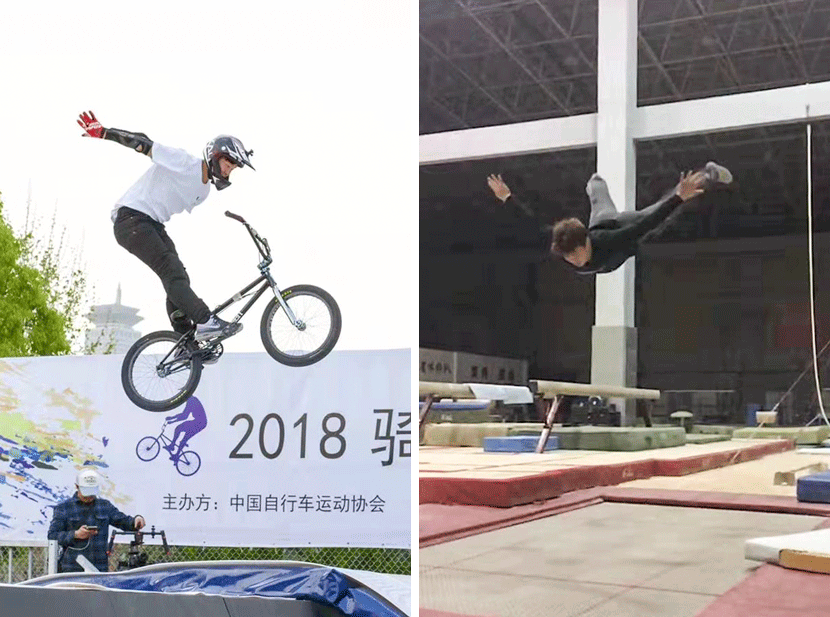 Left: Bao Jiafu does a no hander during a competition in Shanghai, April 2018; Right: Bao practices a no hander in Shanxi province, 2017. Courtesy of Bao Jiafu
At the time, nobody thought it was possible to make a living from BMX in China, but Bao eventually proved them wrong. He took part in BMX freestyle performances and traveled to competitions across the country, winning prize money and ultimately attracting sponsorship deals.
"(At first,) he didn't even know whether he could afford the next tournament trip, but he kept doing it anyway," says Zhao.
Despite his intense ambition and self-motivation, however, Bao confesses to finding the national team training "tiring." Life in the boot camps is highly structured, with athletes required to rise at 7 a.m. and start working out by 8 a.m. Training usually lasts until 9 p.m., sometimes later. The atmosphere was a far cry from the carefree vibe at Cat Crew, Bao's club.
The freestyler also chafed against the scientific approach to training that prevailed in the camps. In the eyes of the sports officials, BMX freestyle park is similar to events like gymnastics or diving, in which athletes are required to perform a series of challenging moves flawlessly. Coaches from those sports were integrated into the BMX camps and applied similar training techniques designed to help athletes improve their posture and achieve greater hang time.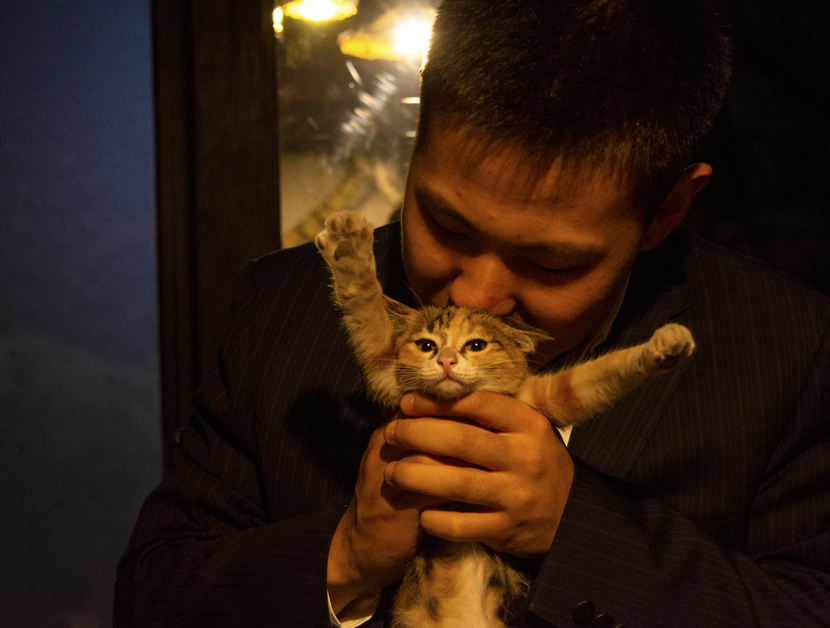 A rider plays with a feline friend at the Cat Crew BMX bike shop in Shanghai, Nov. 12, 2019. Jiang Feng for Sixth Tone
For the Cat Crew members, though this style of training is probably effective in terms of winning Olympic medals, it strays from the true spirit of BMX. 
"Planning your own practice is different from being assigned all these training tasks," says Zhao. "I know what I want to practice and I plan for myself — that's how I'm different from the sports school kids," adds Bao.
The performance of China's BMX team in recent competitions suggests the training has not had the impact officials hoped. In the 2018 UCI BMX Freestyle Park World Cup, the highest-ranked male Chinese rider finished 124th out of 167 competitors, with China occupying six of the bottom eight positions. The women's team fared little better, with China's top rider finishing 36th in a field of 47. With just over five months of the Olympic qualification process to go, Team China's hopes of sending riders to Tokyo appear slim.
Wu Zhipeng, a BMX coach based in southern Guangdong province, says the training camps have failed to get the best from the team. Sports school athletes sometimes lack passion for BMX, while experienced freestylers like Bao can feel out of place.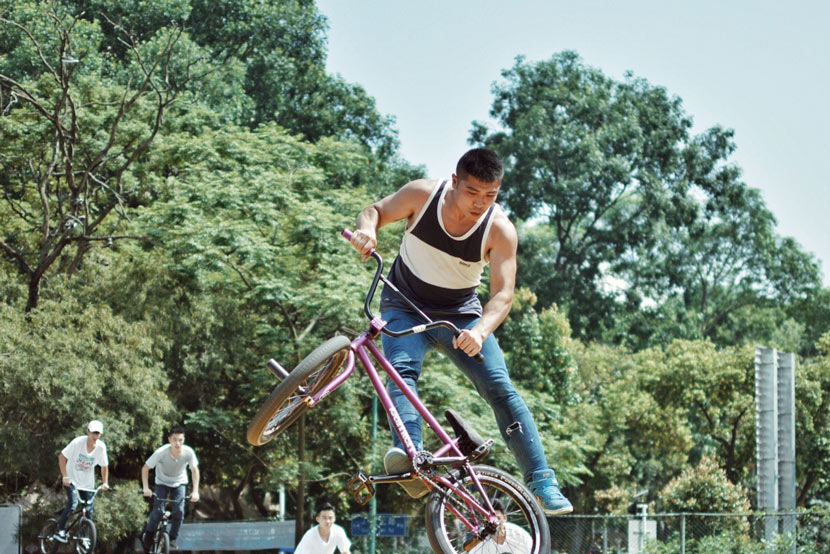 Wu Zhipeng practices in Dongguang, Guangdong province, 2017. From Wu's Weibo
"It's not only about the facilities where you practice," says Wu. "The kind of people you are practicing with also matters."
In truth, Tokyo 2020 may have come too early for Team China. Wu points out that elite riders would normally begin training at 10-14 years old, and so sports schools may produce a better crop of freestylers for the next Olympics. At the moment, sports officials are playing the odds by focusing their resources on women's BMX, where competition is believed to be less fierce, according to Bao.
"There are great hopes for Chinese female BMX freestylers to qualify for the Olympics," says Bao.
Yet some argue China should do more than focus on training up a small squad of elite athletes. Efforts could also be made to grow the sport and get kids on their bikes.
Passionate freestylers like Bao remain extremely rare in China. The first Chinese freestyle rider, Guo Yaokun, started practicing tricks only in the 1990s, and there are still just 300 active freestyle riders in the country, according to Sylvain Aubichon, a Shanghai-based BMX coach.
Many Chinese parents are reluctant to let their children take up BMX, perceiving it as dangerous and rebellious, says Ding Yiyin, a researcher at Hangzhou Normal University who focuses on social attitudes toward extreme sports. Videos of tattooed riders drinking liquor to gain courage before attempting a hazardous trick periodically scandalize users on Chinese social media platforms.
"Due to their limited knowledge and stereotypes toward extreme sports … (lots of parents believe BMX freestyle) is more dangerous than it really is," says Ding.
The few youngsters who do take up the sport, meanwhile, struggle to find space to practice in China's crowded cities. Public skate parks are few and far between, and are often overrun by small children. Professional-standard parks are even rarer: There are only two in Shanghai, a city of 24 million people. For elite riders, the lack of facilities is a problem.
"Only rookies ride in public skate parks," says Zhao, Bao's agent.
Thanks to the efforts of high-profile freestylers like Bao, however, there are signs that BMX is slowly starting to gather momentum in China. The Chengdu native, with his cheeky smile and inspiring backstory, is helping to create a new, friendlier image for the sport.
"Bao is the one with a positive image in the community that challenges the mainstream's misperception of street riders," says Ding.
Bao's ability to attract support from famous brands including Vans, Le Coq Sportif, and New Era is also convincing people that freestyling is a potential path to success. Before, even Bao's own parents considered BMX a waste of time, but now their attitude has changed. "They think I have a decent job," he says.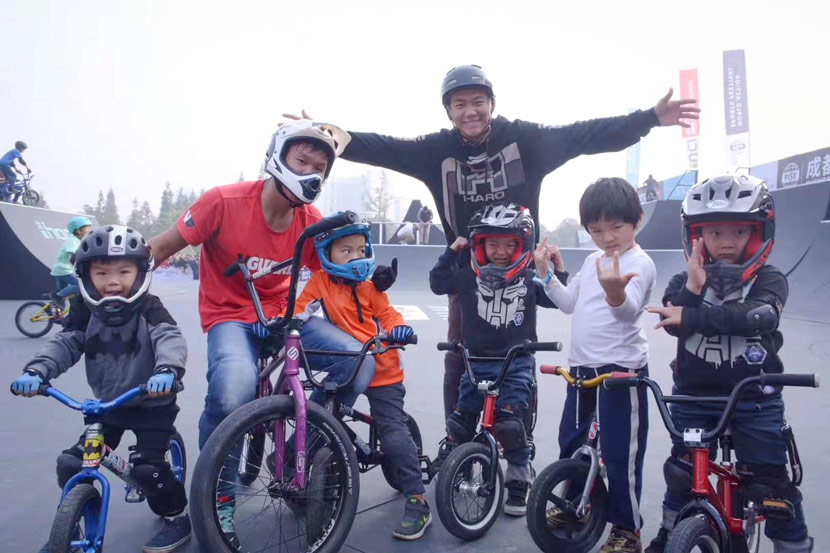 Bao Jiafu (in red) and his friend pose for a photo with young BMX riders in Chengdu, Sichuan province, November 2017. Courtesy of Bao Jiafu
Today, Bao runs regular classes for children in several cities, teaching them to ride on indoor mini ramps. His students like him so much, they often escort him to the railway station to wave goodbye as he heads back to Shanghai.
"I wish they (my students) could grow up sooner," says Bao. "Then, I could sit by the skate park and watch them ride."
Whether the sport's growing popularity will help China in its quest for Olympic BMX glory remains to be seen. Wu, the Guangdong-based coach, feels the gap between the Chinese riders and the world's top freestylers is too wide to bridge anytime soon. Zhao, however, thinks that Chinese BMX may be on the cusp of something big.
"Acceptance for our sport is growing," says Zhao. "This is no longer a generation that resists sports that might cause trouble."
Editor: Dominic Morgan.
(Header image: Bao Jiafu practices a table at the SMP Skate Park in Shanghai, November 2019, Courtesy of Zhao Qiang)