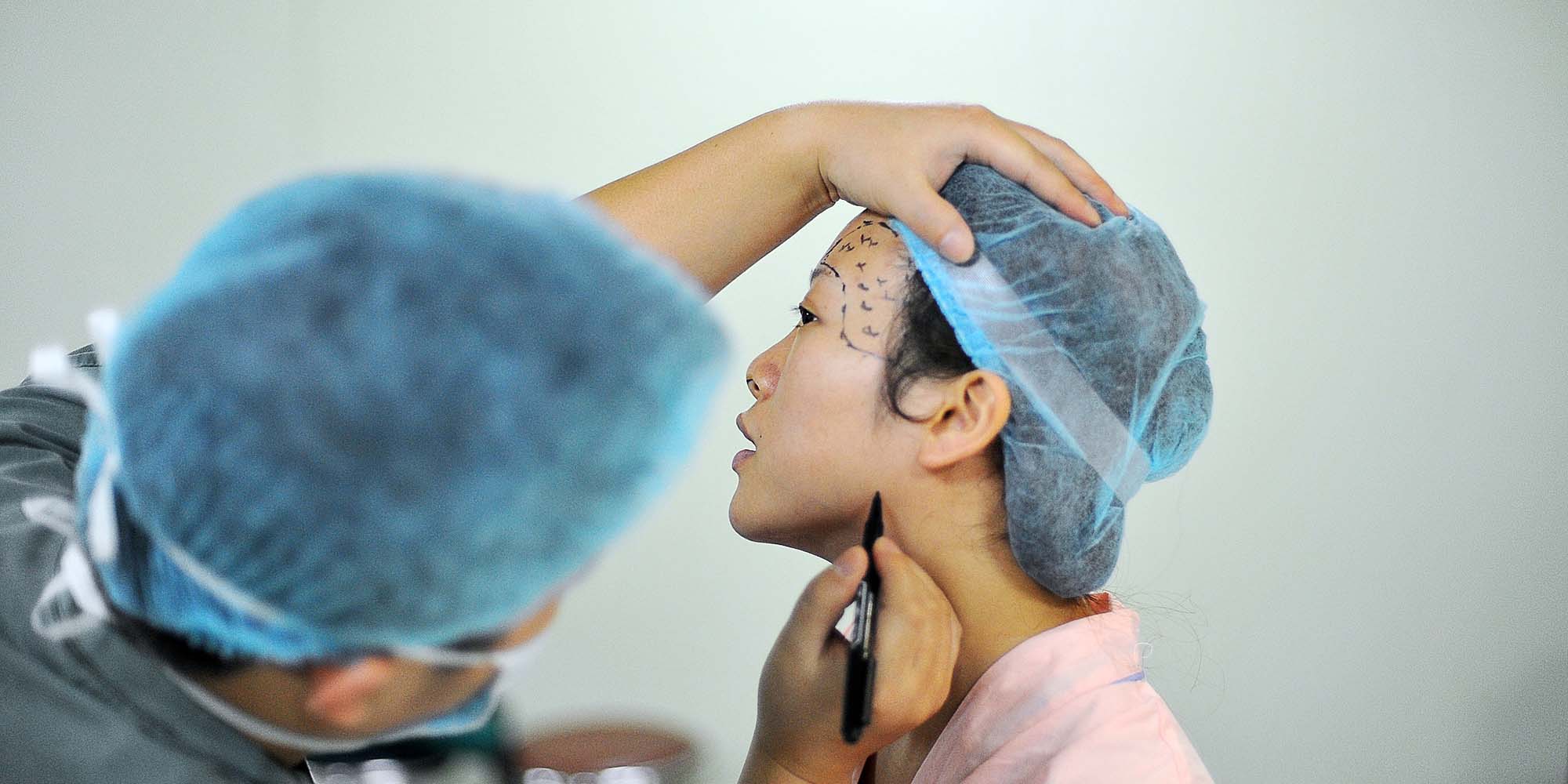 NEWS
China's Facebook of Plastic Surgery Opens WeWork for Operations
Doctors who connect with patients online can now book operating suites in a 'shared clinic' — complete with labs, medical equipment, and even auxiliary staff — for a range of cosmetic procedures.
If you live in China, the sharing economy may be coming to a plastic surgery clinic near you.
So-Young International, China's largest online marketplace for cosmetic surgery services, is venturing offline, opening a "shared clinic" earlier this month where patients and doctors who find each other online can book an operating room, come in for the scheduled time slot, and go under the knife.
At a press conference Friday, the Nasdaq-listed company — along with BeauCare Clinics, a Chinese chain of beauty centers — jointly announced the opening of a shared medical cosmetology clinic in Beijing. The launch marks the first time the country's long-promoted concept of "shared health care" has entered the field of cosmetic surgery.
"Shared clinics allow physicians to focus their time on the surgery itself, and this greatly reduces the cost for cosmetic surgeons who want to start their own businesses," Jin Xing, So-Young's president and chief executive, said in a press release sent to Sixth Tone.
The six-story shared clinic located north of Beijing's Fourth Ring Road doesn't employ its own surgeons or accept walk-in patients, but it makes its eight operating rooms — as well as its consultation rooms, patient wards, laboratories, nurses, and anesthetists — available to those willing to pay for them. Patients can use So-Young's app to search for a suitable surgeon from one of a number of different clinics. Upon reaching a mutually agreeable price, the surgeon can then book an operating room for the procedure, for which the clinic charges an hourly rate. The clinic does not receive a percentage of the fee negotiated between doctor and patient.
So-Young told Sixth Tone that the doctors who solicit clients on its platform are strictly vetted and fully qualified.
With China's beauty industry booming, cosmetic surgery has fast become a lucrative field. A 2017 guideline from the National Health and Family Planning Commission allowed doctors to practice outside their primary workplaces, in an effort to more widely distribute medical resources and provide doctors with a means of supplementing their modest incomes. For surgeons who want to start their own practices, the leasing and upkeep costs of running a medical facility can be prohibitively expensive, and a lack of access to top-of-the-line equipment might prevent physicians at small- or medium-sized clinics from being able to carry out more advanced surgeries, Jin said.
The shared clinic in Beijing began accepting bookings Nov. 8 for surgeries including double eyelid, dermabrasion, and liposuction, among others. While So-Young has not revealed the number of completed procedures, the company said that over 100 surgeons have signed up to use the facility. In the next five to 10 years, the "shared hospital" model, with its efficient allocation of resources, could replace most of China's existing small- and medium-sized clinics, Jin said.
Driven by a rising middle class and an increasingly young customer base, China's cosmetic surgery industry was worth 193 billion yuan ($28 billion) in 2017 and is expected to reach 481 billion by 2020, with an average annual growth rate of around 20%, according to Deloitte's 2018 report on the country's medical cosmetology industry. Recent years have seen the proliferation of both large and small cosmetic surgery hospitals in China, along with online platforms like So-Young promoting cosmetic surgeries.
China's sharing economy — which now encompasses everything from bicycles and phone chargers to wheelchairs and umbrellas — is expected to be worth over 9 trillion yuan next year. According to a sharing economy report released earlier this year by an office under the National Development and Reform Commission, China's top economic planning authority, shared health care will play a crucial role in addressing shortfalls in the country's medical sector. In August 2017, the eastern Zhejiang province approved its first shared hospital in Hangzhou, allowing private practitioners to share equipment, operating rooms, lab space, an on-site pharmacy, and other resources.
The shared hospital model deconstructs the existing top-down health care system into different modules, giving patients the freedom to find the best physicians for them without having to worry about location, Eric Chong, CEO of Guangzhou Asclepius Management Consulting Co. Ltd., told Sixth Tone. But a lower regulatory threshold for private clinics could also present new risks, he added.
"The current liability system (under the shared clinics model) is still unclear," Chong said. "If there's a medical accident, it's hard to say whether a third-party platform like So-Young would be held responsible."
If So-Young's shared cosmetic surgery clinic proves successful, the company will consider introducing such facilities in other Chinese megacities, Jin said.
Editor: David Paulk.
(Header image: A doctor preps a woman for a plastic surgery procedure in Dongguan, Guangdong province, Nov. 6, 2013. Liang Qing/VCG)