ZHEJIANG, East China — Just days after her company's new pediatric clinic opened in downtown Hangzhou in mid-September, Wu Yunxia was surprised to find it packed with people. But rather than bringing their children for a checkup or emergency treatment, the visitors had come to observe the facility's new business model.
Wu's company, Wellem Medical Group Ltd., operates a private clinic in a 22-story building that's part of the shiny new Hangzhou Tower 501 Plaza. With its stark glass facade, it resembles a typical office block, but a giant ad near the entrance informs visitors that they've arrived at an unusual place: "Medical Mall."
Hangzhou received approval from the provincial health authorities at the end of August for clinics to share services, paving the way for China's first "shared hospital." While health care providers were previously required to offer their own basic services, clinics in the mall can now purchase access to facilities managed by Run Run Shaw International Medical Center, named after the Hong Kong philanthropist. The center will eventually offer shared pharmacy, laboratory, and operating room services, though only its health check department is up and running thus far.
Though Wellem had already invested in its own facilities since obtaining its license in June, it hopes to take advantage of the sharing system in the future. "In the long run," says Wu, "the sharing mechanism could fundamentally change the way we operate."
The pooling of resources lowers the bar for private companies to enter the industry. "On average, the investment needed to build a new clinic is between 5 million yuan and 10 million yuan [$750,000 to $1.5 million]," says Zhang Qiang, founder of Dr. Smile Medical Group, which opened a surgical clinic in the medical mall in September. "Sharing the pharmacy, lab, and operating room services could save one-third of the entire investment sum."
When Sixth Tone visited in late October, most of the clinics that fill the building's ninth through 16th floors were open for business, with services ranging from dental and ear, nose, and throat care to reproductive health treatment and traditional Chinese medicine. The mall itself is owned by Quancheng International Medical Center, a Hangzhou health management company established in late 2015, which has also equipped the building with some centralized facilities like a waste treatment system.
Medical malls first appeared in the U.S. in the late 1980s as a way to repurpose traditional shopping malls that saw declining visitor numbers. One of the earliest such malls still in operation, the Jackson Medical Mall in Mississippi, was established in 1995. The concept is also popular in Singapore and Hong Kong.
But on the Chinese mainland — which saw 7.93 billion visits to hospitals and other medical facilities in 2016 — various government policies made shared medical systems impossible until recently. One such obstacle was a former Hangzhou regulation that prohibited private medical providers from operating within 500 meters of each other — a rule intended to guarantee clinics sufficient patients. Similar regulations still exist in other cities around China.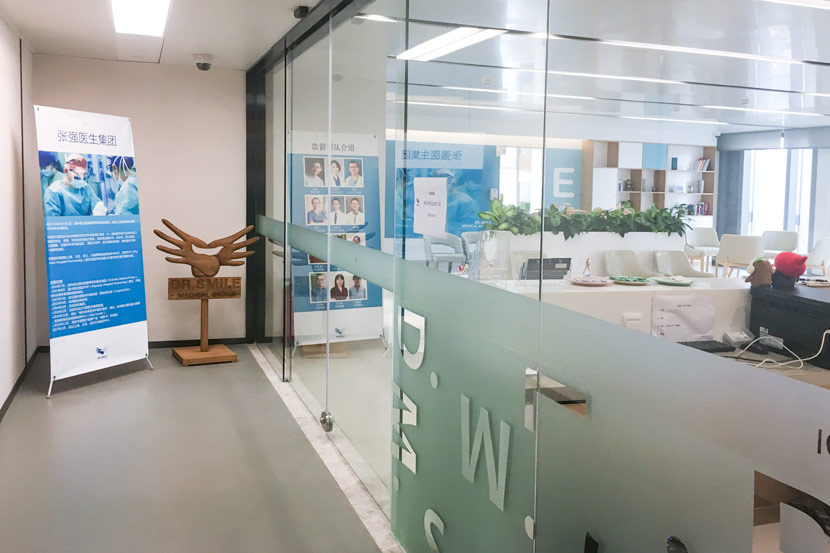 A view of Dr. Smile Medical Group's clinic at the medical mall in Hangzhou, Zhejiang province, Oct. 18, 2017. Ni Dandan/Sixth Tone
Another policy change that opened the door for the sharing of medical resources was an April 1 regulation by the National Health and Family Planning Commission allowing doctors to practice outside their primary workplace. Zhang set up Dr. Smile in 2014 under this new system, which has been piloted in several areas since 2011. "Half of our doctors are shared talent resources from the country's public hospitals," he says. "This is also part of the sharing concept."
At present, Zhang's clinic cooperates with two international hospitals in Hangzhou; any of his patients who require surgery can be admitted to either of the facilities. "In essence, we've been using shared medical services for quite some time — they were simply not within the same building," he says.
Yu Xinle of the Zhejiang provincial health authority believes that the medical mall model will further increase doctors' freedom. "The original intention of the medical mall was to improve the utilization of medical resources," Yu, head of the medical affairs department, told state news agency Xinhua. Health care providers can treat patients without supplying so much of their own equipment, added Yu, and doctors need only bring their skills and reputation to get to work.
During Sixth Tone's visit to the Hangzhou medical mall, Yao Shunning — a doctor at a public hospital in southern China's Guangdong province — was leading a team of three on an inspection tour. "The concept sounds new and promising to me, given that there are so many rich people in the south, but quality medical services in nice facilities are limited," he tells Sixth Tone.
In southern cities like Shenzhen, says Yao, local authorities are flexible in their approach to health care and encourage doctors to work outside of the public system. Medical malls could provide an environment where doctors can thrive, he says.
At the moment, services at the Hangzhou medical mall all cater to upmarket clients, and many clinics say the majority of their patients pay out of pocket. "None of the facilities here have been included in the [public] health insurance program," says Wu. "Although our Shanghai clinics now see up to 40 percent of patients paying with commercial insurance, here in Hangzhou, this percentage is much lower."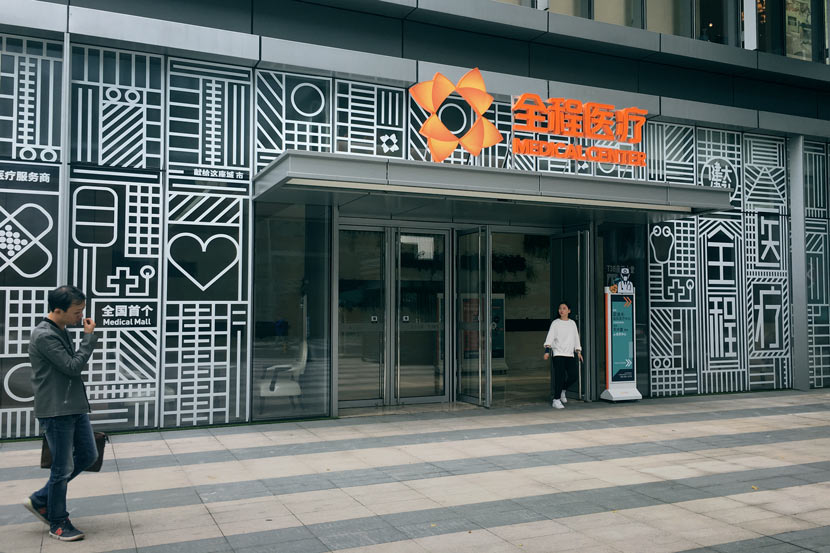 An exterior view of the medical mall in Hangzhou, Zhejiang province, Oct. 18, 2017. Ni Dandan/Sixth Tone
Zhang and Wu believe medical malls will soon be found all over China — "especially in big cities where medical resources are limited but patient demand is huge," Zhang says. "We offer diversified health care that can also partly relieve the burden on public hospitals." In 2016, private health care accounted for less than 28 percent of total visits to health care providers.
In the future, says Wu, the mall's sharing system could be expanded even further. "The existing services in the building complement each other. We now refer our clients to each other," she says. "But such collaboration is superficial. We hope the entire building will have one unified system where as long as a patient holds a membership card for the building, they can use any of the services here."
That vision may still be a long way off. These days, patients who visit the medical mall mostly go to a single clinic. "I came here just because it's closer to my office," says Jennifer Lu, a client of Yes Skin Care Center in the mall. The 27-year-old tells Sixth Tone that she doesn't see how she can benefit directly from the sharing scheme. "The availability of various medical services in one building sounds like a smart idea," she says, "but at present, I don't necessarily need other services."
Editor: Kevin Schoenmakers.

(Header image: XiXinXing/VCG)