Health authorities in central China's Henan province have ordered an investigation into a public hospital that allegedly administered a "mythical cure" to children with cerebral palsy, Sixth Tone's sister publication The Paper reported Monday.
The Third Affiliated Hospital of Zhengzhou University was accused of using needles to inject "neurotrophic medicine" into acupuncture points — a therapy they dubbed fengzhen, or "sealing needles" — to treat the condition affecting speech and muscle coordination. Dingxiang Doctor, a reputable new media platform that shares health-related expertise and debunks medical myths, exposed the hospital Monday and also alleged that some of the children who underwent the treatment suffered from epileptic episodes and strokes as a result.
"In the hospital, the nation's largest cerebral palsy rehabilitation center, almost all children have received different degrees of this fengzhen treatment — a pediatric trauma therapy that still lacks medical evidence," the article said.
A staff member from the Third Affiliated Hospital's publicity office told Sixth Tone on Tuesday that hospital administrators are in talks to address the issues raised by Dingxiang Doctor but declined to elaborate.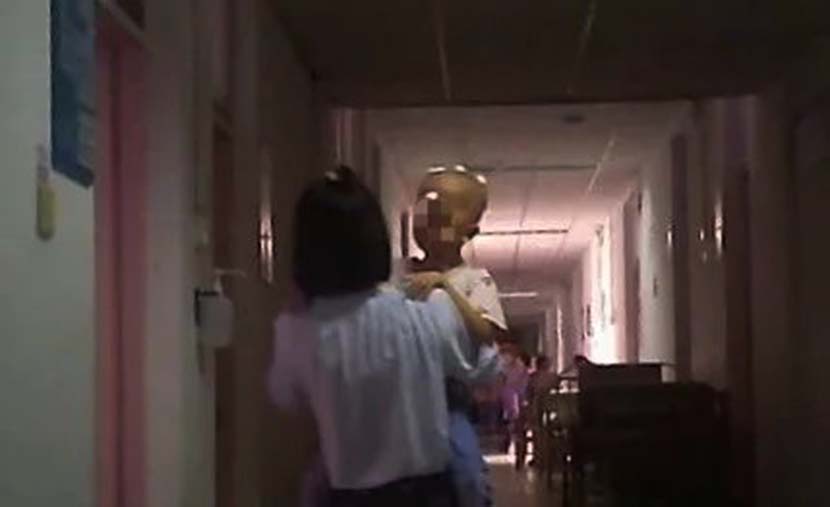 A woman carries a child who has just received a "fengzhen" treatment in Zhengzhou, Henan province. From the public WeChat account 偶尔治愈
Cerebral palsy is a movement disorder caused by abnormal brain development or damage to the developing brain, and affects a person's ability to control their muscles. An estimated 5 million children in China under the age of 14 have been diagnosed with cerebral palsy, according to a 2016 study.
According to Dingxiang Doctor, fengzhen involves dozens of injections into a patient's head, neck, limbs, and waist, resulting in pain and minor bleeding. Some patients suffer more than others: While one girl experienced epilepsy after receiving the treatment for one and a half months, a 6-month-old boy suffered a rare stroke after four rounds of treatment, according to the article.
Fengzhen was introduced by Wan Guolan, director of the hospital's child rehabilitation department, in 1992 to treat children with cerebral palsy and hypoxic ischemic encephalopathy — a brain injury — according to the hospital's website. The hospital claims that in the years since, over 90,000 patients have visited for the treatment, which the website describes as "god's treatment" and "very effective."
Wan previously claimed that, from 1997 to 2002, the hospital used the treatment to cure 190 out of 381 children who had been diagnosed with cerebral palsy, according to Dingxiang Doctor's article, which cited one of Wan's studies.
Sun Chengyan, an expert on child cerebral palsy treatment with nearly three decades of experience, told Sixth Tone on Tuesday that fengzhen treatment is "cruel" considering the number of needles used on children. "Rehabilitation techniques such as physical exercise, as well as surgeries in some cases, are recognized forms of treatment," he said, adding that medical experts shouldn't make blanket statements claiming they can cure the disorders using treatments that haven't been scientifically proven.
Bao Xiulan, a pediatrician at Peking Union Medical College Hospital, also told Dingxiang Doctor that, contrary to the hospital's claims, fengzhen treatment doesn't help cure certain conditions associated with either cerebral palsy or the "brain injury syndrome," which she described as a nonexistent health condition.
This is not the first time a hospital has been found promoting questionable medical treatments for children. In July, a children's hospital in eastern China's Jiangxi province removed a staff member and stopped using a traditional Chinese medicine treatment called sanfutie — believed to ward off winter ailments — after nearly 100 children complained of side effects such as burns, blisters, and itchiness.
Editor: Bibek Bhandari.
(Header image: EyeEm/VCG)