Update: Jiangxi Provincial Children's Hospital has said that the skin reactions resulted from "old ginger" being used in the adhesive paste instead of "tender ginger" and from the paste's alcohol content being too high at 62%, according to a Weibo post Thursday by People's Daily. The hospital further said that the staff member responsible had been removed from their post.
A children's hospital in eastern China's Jiangxi province has suspended one of its traditional Chinese medicine (TCM) treatments after dozens of children complained of side effects such as blisters, itchiness, and burns, domestic outlet Red Star News reported Tuesday.
Typically administered during the hottest periods of the summer, sanfutie involves several applications of circular patches to acupuncture points on the patient's back and shoulders over the course of 40 days. The patches tingle, leave a pattern of red circles once removed, and are believed to ward off winter ailments by strengthening the patient's immune system.
Nearly 900 children received sanfutie Jiangxi Provincial Children's Hospital, at a cost of around 400 yuan ($60) per treatment. Of these patients, 92 reportedly experienced adverse side effects.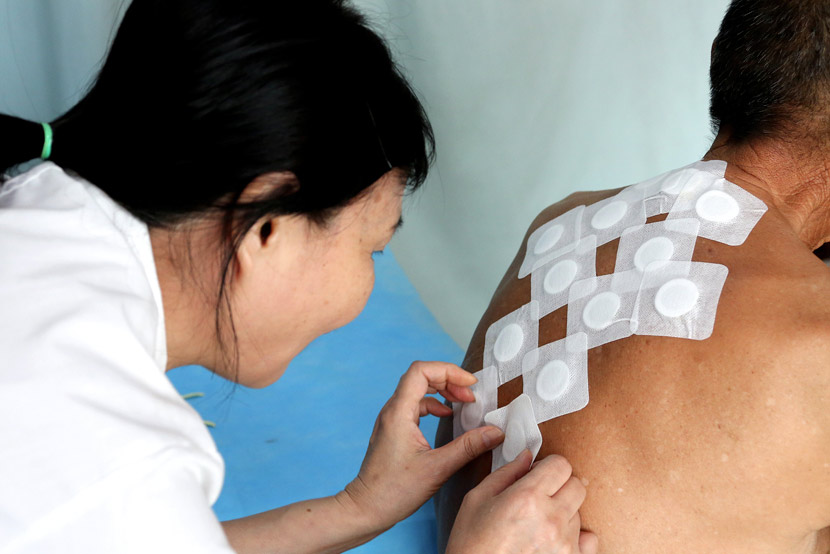 A medical worker applies "sanfutie" patches to a patient's back at a clinic in Zaozhuang, Shandong province, July 12, 2019. Ji Zhe/VCG
The month prior, Jiangxi Provincial Children's Hospital began promoting sanfutie via its official account on social app WeChat, calling for parents to register their kids for the popular treatment, which the hospital described as especially beneficial to children suffering from respiratory and digestive illnesses.
In a separate WeChat post on July 12 — the first day the treatments were administered — the hospital advised parents that the patches should only remain on children aged 5 or younger for two to four hours, and that they should check on their children regularly for possible allergic reactions. While sanfutie must be administered at a licensed medical institution, once the patches are applied, the patient is usually free to leave and remove them later.
Parents who spoke to Red Star News said burns and blisters began appearing on their children's backs within hours of the first application. Some reported that their children experienced high fevers.
Sanfutie medicated patches are often smothered with a sticky paste made of ingredients considered yangsheng, or "healing for the body," such as sweet potato or green beans, according to Xu Xiaodong, a TCM doctor in central Hubei province. These plant-derived ingredients are then mixed with natural stimulants — white mustard or Spanish fly, for example — to create a burning sensation, Xu told Sixth Tone.
Another TCM doctor, Yang Zhen, told Sixth Tone that while the ingredients used for sanfutie are specifically meant to stimulate the skin, they're usually nontoxic. "There's no standard formula for the mixture, since different ingredients serve different purposes and target different body parts," Yang said. "However, sanfutie is regulated by health authorities and should only be administered at hospitals."
Following media reports, Jiangxi Provincial Children's Hospital published a statement Tuesday announcing that it had suspended its sanfutie program. The hospital ensured concerned parties that the affected children would receive follow-up care and promised to cooperate with experts to investigate the matter.
A staff member at the hospital who answered Sixth Tone's phone call Wednesday reiterated key points from the statement.
Editor: David Paulk.

(Header image: A nurse applies a "sanfutie" patch to a patient's neck at a hospital in Shijiazhuang, Hebei province, July 17, 2019. IC)