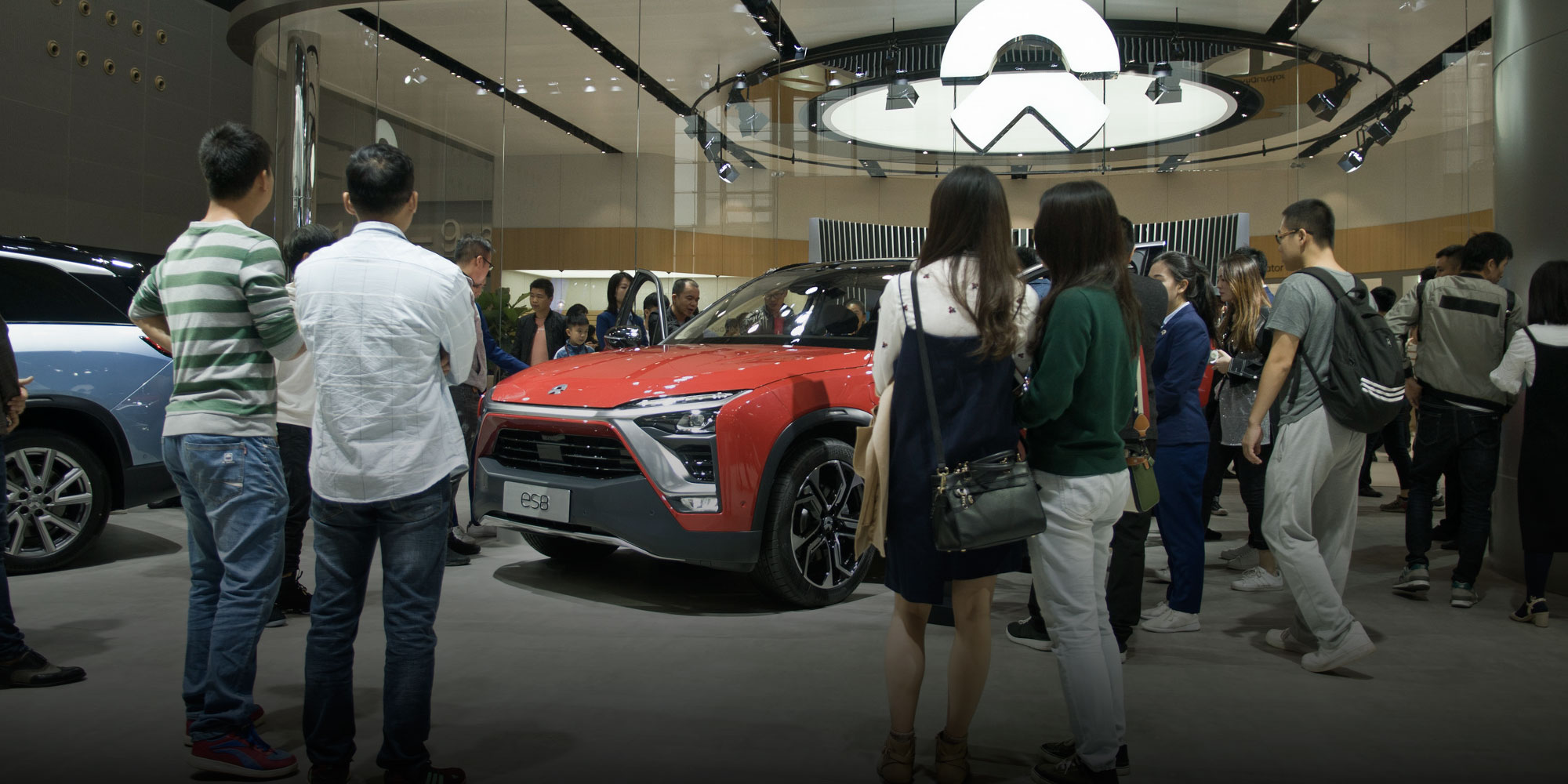 NEWS
China's Nio Recalls Nearly 5,000 Electric Cars After Fires
Three electric vehicles manufactured by the Shanghai-based company have had battery-related incidents over the past two months.
Chinese automaker Nio is recalling 4,803 of its flagship electric vehicles following a handful of battery-safety incidents, the State Administration for Market Regulation said in a statement Thursday.
The news comes after multiple reports of Nio ES8 vehicles emitting smoke or bursting into flames since April. The affected vehicles, powered with NEV-P50 battery packs and manufactured between April 2 and Oct. 19 of last year, are prone to overheating and ignition in "extreme situations" due to wiring problems, the market regulation authority said.
In a separate statement Thursday, the New York Stock Exchange-listed company said it would notify consumers of the recall and replace NEV-P50 packs with NEV-P102 modules within the next two months.
Founded in 2014, electric-car startups like Nio — branded as China's answer to U.S. manufacturer Tesla — have accelerated the country's push to promote electric vehicles. Last year, China accounted for 56% of the world's total electric vehicles sales with 1.2 million units sold.
However, experts say that China's electric vehicle market is overcrowded and that many startups in the industry may hit speed bumps, or even crash, in the coming years. Indeed, despite receiving financial backing from private tech giants and even a state-owned company, Nio is facing turbulent times.
The electric-car market is "a competition between technology improvement and market acceptance," according to Zhang Zhiyong, founder of Wenfeng Automobile Consultancy. He added that recurring of battery-related problems could prove harmful for companies.
"If the technology remains unimproved and such problems reappear, it would hamper market acceptance, which will result in considerable pressure on the manufacturers," Zhang told Sixth Tone on Friday. "If vehicle sales cannot increase, the cost will remain high. Currently, electric-car companies face significant financial pressure."
Only 16,461 ES8 cars had been delivered by the end of April following the model's launch in June 2018, according to Nio's first-quarter financial report. The company also reported $390 million in operational losses in the first quarter of 2019, a 78.8% increase compared with the same period last year. Following such huge losses, Nio in March canceled a plan to open a second manufacturing plant in Shanghai.
Electric-vehicle manufacturers have also suffered in China from consumer concerns over safety. In addition to the three separate incidents of Nio ES8 cars smoking or catching fire this year, a Tesla Model S sedan busting into flames due to faulty battery drew widespread attention in April.
Contemporary Amperex Technology Co. Ltd. — the manufacturer of the NEV-P50 batteries — released its own statement Thursday, saying the safety problems resulted from interference between its modules, which were customized for the model ES8 cars, and Nio's own components.
Earlier this month, the auto-industry watchdog under China's Ministry of Industry and Information Technology ordered manufacturers to conduct safety checks on all new-energy vehicles — including those already sold — by October.
Editor: Bibek Bhandari.
(Header image: People visit electric-car maker Nio's booth at the 16th China International Automobile Exhibition in Guangzhou, Guangdong province, Nov. 17, 2018. Chen Jia/IC)