A faulty battery was responsible for a Tesla Model S sedan busting into flames over the weekend in Shanghai, Sixth Tone's sister publication, The Paper, reported Wednesday.
A preliminary investigation determined that a short circuit had caused the fire in a parking garage in the city's Xuhui District on Sunday, according to an automobile expert from the Chinese government's General Administration of Quality Supervision, Inspection and Quarantine who was present at the Tesla service center in Shanghai where the vehicle was inspected.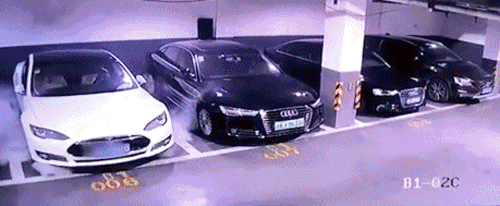 Surveillance footage shows the Tesla Model S billowing smoke and then exploding in a parking garage in Shanghai's Xuhui District. From The Paper
However, Tesla seemed unaware of these findings on Wednesday afternoon.
"As of now, the authorities are leading the investigation and have not yet come to any preliminary conclusions. We are actively cooperating with the investigation and will announce any findings," the company posted on microblogging platform Weibo after the inspection in Shanghai had concluded. The post also asked people not to "spread or believe any rumors."
After this weekend's incident, Chinese netizens began speculating about possible causes. On Weibo, a hashtag translating to "Tesla blows up" had been viewed 93 million times by Wednesday evening, with many reacting to the sheer size of the explosion.
"In the future I will not park next to any Tesla cars, it's way too risky," one user commented under a media post about the incident. "Nothing is confirmed before the investigation results are out," another user wrote under Tesla's post, adding that "all electric devices carry a risk if used improperly."
In response to the criticism and speculation about what might have triggered the explosion, Tesla CEO Elon Musk has taken to Twitter this week to defend his company. "Over a million combustion engine (it's right there in the name!) car fires per year & thousands of deaths, but one Tesla car fire with no injuries gets biggest headlines," he wrote. "Why the double standard? This is a real question."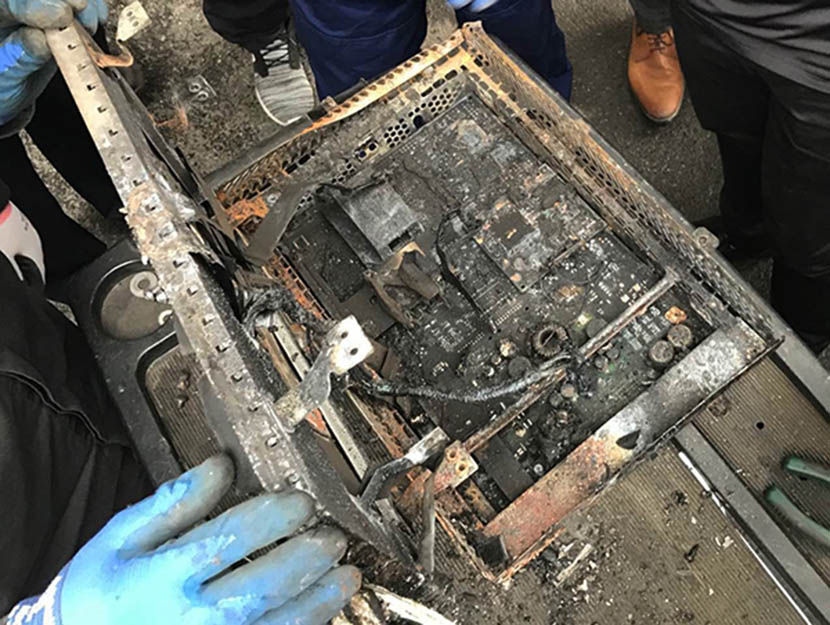 Inspectors examine the burned battery of the Tesla Model S days after it caught fire. From The Paper
According to The Paper's article, diagnostic data for the Model S could not be recovered, as the battery and computer processor had been destroyed in the fire.
The day after Sunday's Tesla explosion, a video circulated on Weibo showing another electric vehicle — made by Chinese automaker Nio — engulfed in flames. Nio announced Monday that it would investigate the incident.
Editor: David Paulk.
(Header image: A person charges a Tesla Model S electric car at a charging station in Lin'an District, Hangzhou, Zhejiang province, Feb. 4, 2015. IC)