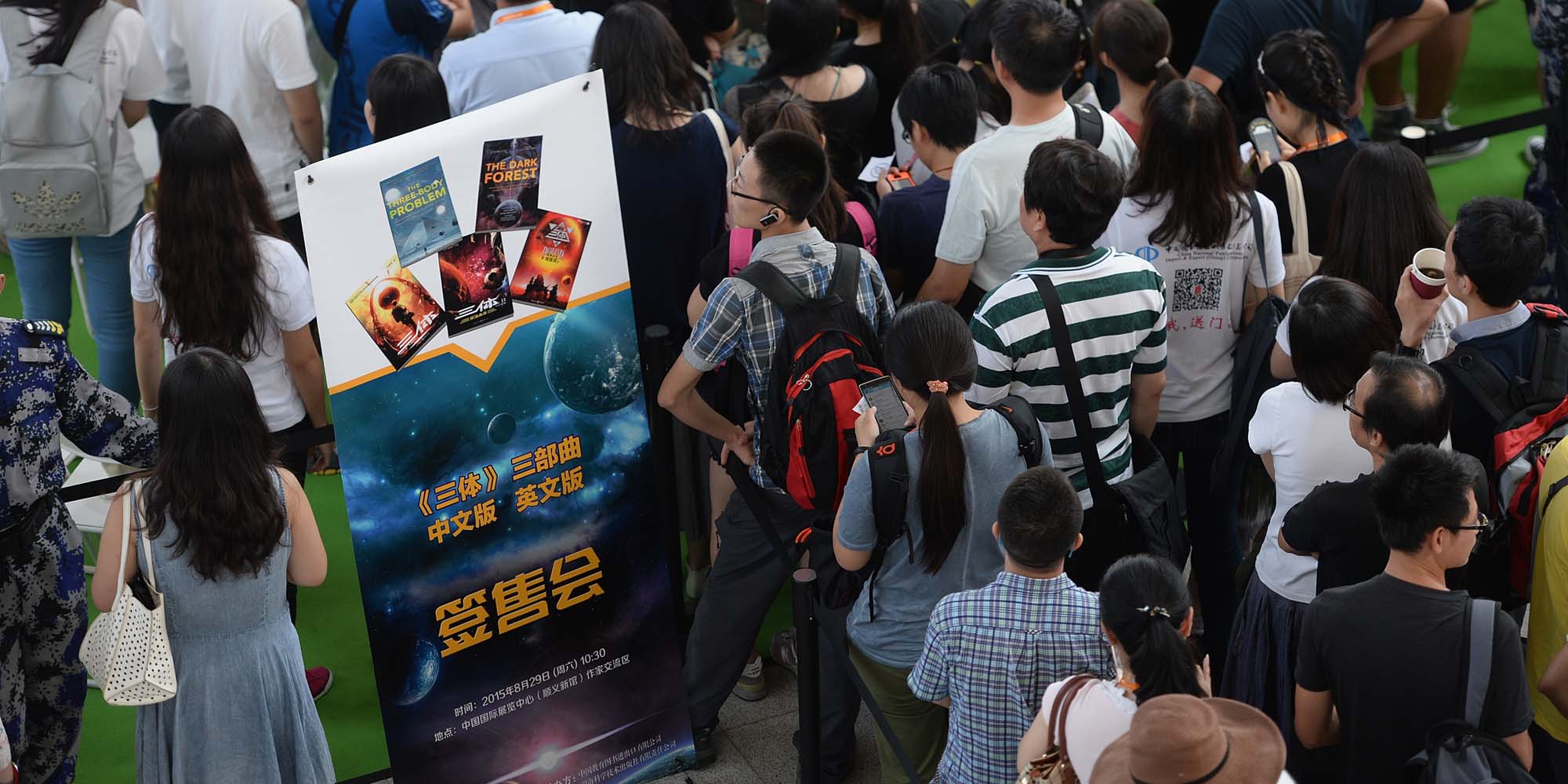 NEWS
New Sci-Fi Series Has Fans Asking, Can 'Three-Body' Be Filmed?
Liu Cixin's best known work is getting a television adaptation. So why aren't more fans celebrating?
A Chinese film company plans to turn Liu Cixin's Hugo Award-winning "The Three-Body Problem" into a 24-episode television series, according to a filming permission slip published by China's State Administration of Radio, Film, and Television Tuesday. But many fans of the novel are far from thrilled, with some questioning whether it's possible to do the story justice on a television budget, while others express cautious optimism.
"The Three-Body Problem," which took home the best novel prize at the 2015 Hugo Awards, is the first book in Liu's trilogy about the relationship between humans and an advanced alien civilization. According to the permission form, Yoozoo Pictures is slated to begin filming the series in September, with production expected to take 12 months. It is not known whether the adaption will include elements of the entire trilogy, or just the first book.
When Sixth Tone contacted Yoozoo Pictures Wednesday, a representative of the company, surnamed Wang, said it had no further comment and does not intend to disclose any additional details while the TV series is still in the pre-production stage.
This is not the first time Yoozoo has tried adapting Liu's best known trilogy. In 2014, the company announced plans to adapt the books into a six-part motion picture series, with the first set to premiere in July 2016. But no films were ever released, and the company only provided vague explanations about a need for more time for "post-production." Last March, rumors briefly surfaced online that Amazon was in talks to purchase the rights to the trilogy, but Yoozoo later dismissed the story in an official statement.
Hopes for a cinematic adaptation of the story were revived earlier this year, however, after "The Wandering Earth" — also based on one of Liu's stories — won over audiences with its high-quality visual effects and earned 4.6 billion yuan ($667 million) domestically.
Yet even after the success of "The Wandering Earth," Liu continued to doubt whether "The Three-Body Problem" could ever be successfully filmed. At a February meeting with director James Cameron, he said, "Given the past experiences of the Chinese film industry, (adapting) 'The Three-Body Problem' would certainly be challenging."
Liu has also indicated his opposition to a Hollywood adaptation. "For Hollywood sci-fi films, the story and the background can be complicated and tortuous, but the theme must be simple, it must be black and white," he was quoted as saying in April. "'The Three-Body Problem' violates this fundamental principle."
Yoozoo's earlier struggles to bring "The Three-Body Problem" to screens may be one reason why online reaction to the news of the new TV show has been so tepid. While some fans on microblogging platform Weibo expressed support for the idea, others worried the series would be weighed down by low-quality visual effects and poor writing — endemic problems in China's television industry.
"Yoozoo dares to try again? They don't even dare show the movie (in theaters), but they want to try a TV series?" commented one Weibo user under a related news story. "TV visual effects are usually poor," wrote another.
Asked about these concerns, Yoozoo representative Wang told Sixth Tone that while the company respects fan opinion, they hope to "let the work speak for itself."
Those within the industry have been more supportive. Yao Haijun, deputy editor-in-chief of the influential Chinese magazine Science Fiction World, welcomed the news. "I can understand why readers have mixed feelings, but everything must have a beginning," he told Sixth Tone Wednesday. "The spirit of science fiction lies in exploration and inclusiveness."
Sci-fi author Chen Qiufan echoed some of the concerns raised by netizens, telling Sixth Tone that adaptations are costly and complicated to pull off. "Authors must be open and understand that different platforms require different adjustments," he added. "You can't expect the film to be the same as the novel, and fans must understand this, too."
Not all fans are pessimistic. Timothy Chen, a 24-year-old who says he devoured the trilogy in three days as a high-school student, told Sixth Tone that, although he understands the concerns, he remains hopeful the project will be a success.
"I would say that I still have higher expectations," he said. "I hope this series will become the first chapter in the story of Chinese science fiction."
Editor: Kilian O'Donnell.

(Header image: People attend a signing session for "The Dark Forest," the sequel to "The Three-Body Problem," in Beijing, Aug. 29, 2015. VCG)