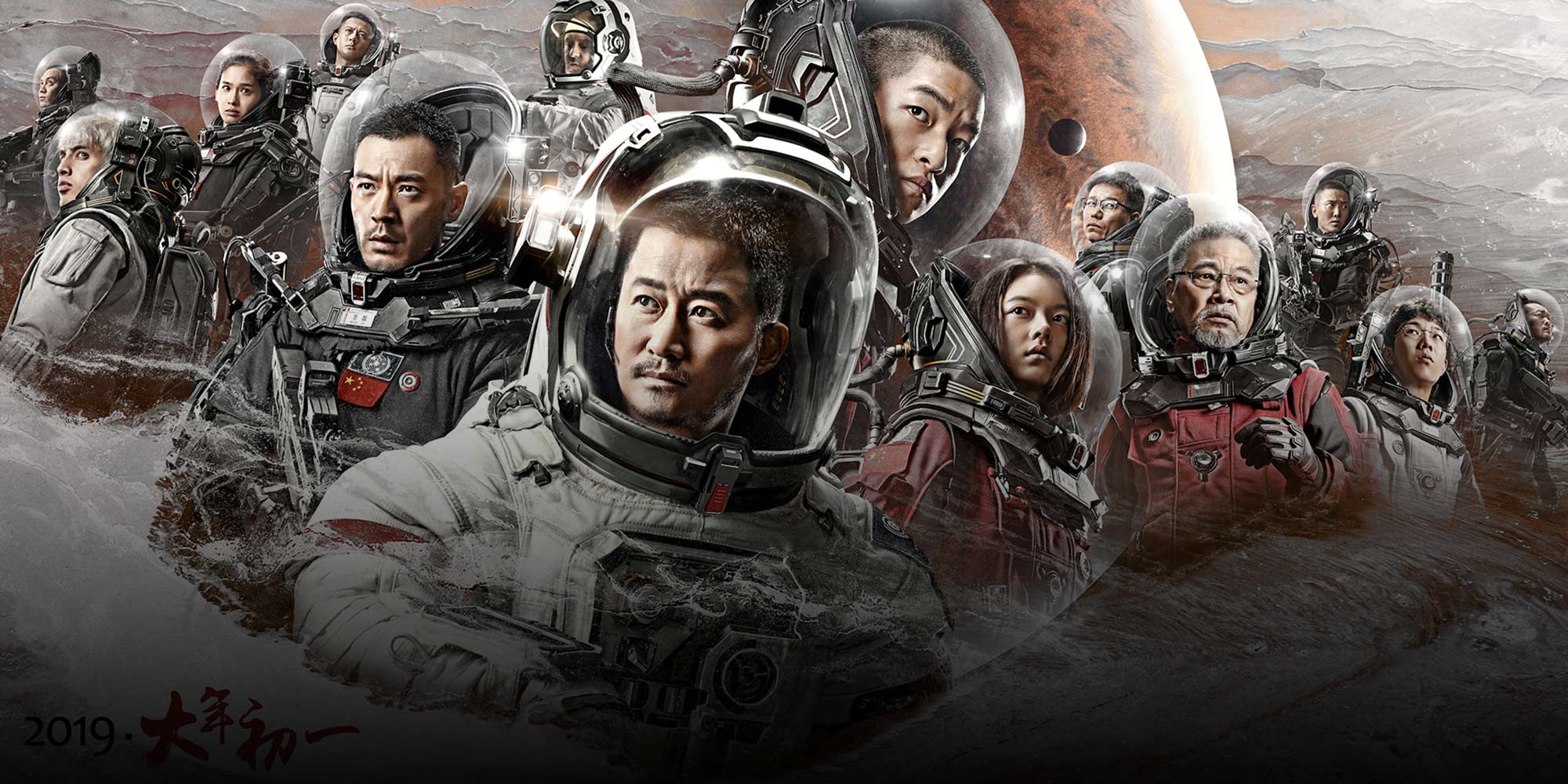 NEWS
Chinese Sci-Fi Blockbuster Draws Crowds on Opening Day
'The Wandering Earth' — a big-budget adaptation of a Liu Cixin novel — is expected to spark deeper interest in homegrown science fiction.
JIANGSU, East China — Chinese film fans ushered in the Year of the Pig with a new single-day box-office record on Tuesday, with the country's first big-budget sci-fi blockbuster, "The Wandering Earth," contributing a significant share.
In all, eight movies were released yesterday, garnering total box-office takings of 1.46 billion yuan ($207 million), breaking the previous record of 1.28 billion yuan set on the first day of Lunar New Year 2018. The much-anticipated "The Wandering Earth" took an estimated 186 million yuan ($27.5 million), according to ticketing site Maoyan.
Based on a short novel of the same name by Liu Cixin — China's first science-fiction author to win the prestigious Hugo Award — "The Wandering Earth" has been four years in the making and cost around $50 million to make. The story takes place in an apocalyptic future where, as the sun dies, the world government decides to physically move Earth away from destruction and embark on a centuries-long voyage to a new solar system. But humanity is threatened with annihilation almost immediately, when scientists discover that Earth is on an apparent collision course with Jupiter. In the end, it is left to a rebellious young man named Liu Qi — played by up-and-coming actor Qu Chuxiao — and his father, a Chinese astronaut, to come to the rescue.
"The Wandering Earth" has attracted attention both at home and abroad for being China's first big-budget sci-fi blockbuster. Science fiction as a whole is becoming increasingly popular in China, partly thanks to the success of Liu Cixin's award-winning trilogy "The Three-Body Problem." But although the country's domestic movie industry is growing rapidly — churning out around 1,000 titles per year, according to consulting firm Askci — Hollywood films still constitute the bulk of the country's sci-fi releases.
The early signs indicate that "The Wandering Earth" is a hit. At a series of promotional screenings before its official release, critics praised its visual effects and gripping storyline. And on Douban, the movie currently has a score of 8.3 out of 10 points, higher than most other movies in the same genre.
On Tuesday afternoon at a movie theater in Lianyungang, a coastal city in the eastern Chinese province of Jiangsu, a near-full house flocked to see the first screening of "The Wandering Earth." Thirty-seven-year-old Qiao, a self-professed fan of science fiction and Liu Cixin's works in particular, took his wife and 10-year-old daughter to see the movie. He, too, lauded the plot and eye-catching special effects.
Qiao is familiar with smaller-budget Chinese attempts at sci-fi, such as 1980's "Death-Ray on the Coral Island," but claims that "The Wandering Earth" is "the first true Chinese sci-fi movie." He added that "The Wandering Earth" held its own against movies like "The Day After Tomorrow" and "2012" — two of the best-known examples of overseas sci-fi in China. "But we shouldn't compare ourselves with movies from previous years, now that filmmaking technology is developing so fast," he said, adding that he was cautiously optimistic about the future of homegrown sci-fi.
Not all reviews of "The Wandering Earth" have been positive, however. On Douban, certain netizens complained about what they perceived as the film's overly patriotic tone, and about their dislike of Wu Jing, the actor who plays Liu Qi's father and also stars in the bombastic "Wolf Warrior" action movies.
With a host of other homegrown sci-fi movies set for release this year, some Chinese film critics and media outlets have dubbed 2019 "year one" for the genre's development in the country. Another Liu Cixin adaptation, the sci-fi comedy "Crazy Alien," was also released yesterday, taking 404 million yuan on its opening day. And further examples of the genre are scheduled for screening later this year, including "Shanghai Fortress," which sees the eastern megacity defend itself against invading aliens, and "Pathfinder," about an interstellar adventure on a desert-like planet.
Contributions: Wang Yiwei; editor: Matthew Walsh.
(Header image: A promotional poster for the film "The Wandering Earth." From Weibo user @电影流浪地球)