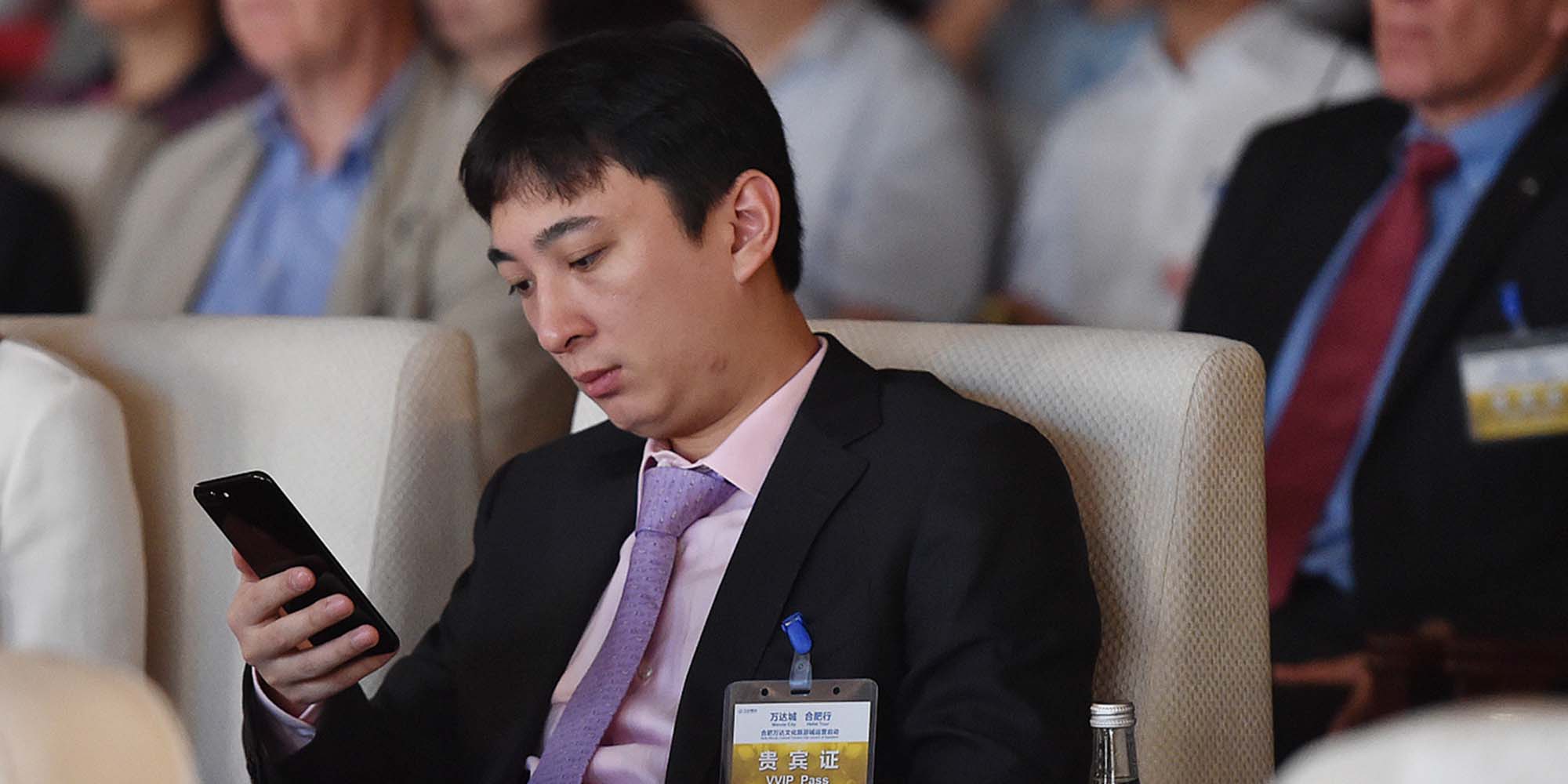 NEWS
The Crazy Rich Chinese Heir Who Dominated Singles' Day Online
A cash giveaway and viral hot dog meme helped son of privilege Wang Sicong surpass even the world's biggest shopping event in internet fanfare.
Wang Sicong has generated online buzz in the past for his social media posts and photos, such as those of his dog beside unopened boxes of brand-new iPhones or wearing a pair of Apple Watches. But this year, the billionaire heir managed to outshine one of China's most popular online events, as Wang's name trended on social media above even the country's Singles' Day shopping bonanza.
On Nov. 11 — the date of China's Black Friday equivalent known as "Double Eleven" — two hashtags with the phrase "Wang Sicong lottery" were viewed over 10 million times altogether on microblogging platform Weibo, while the Singles' Day hashtag garnered only a quarter as many views. As the founder of Invictus Gaming, Wang held a sweepstakes last week to award 113 people 10,000 yuan ($1,430) each in celebration of his esports team's win at the 2018 League of Legends World Championship. His contest attracted over 23 million participants who hoped to claim the cash in the week leading up to China's biggest online sales fest.
Each November, hundreds of millions of people participate in e-commerce giant Alibaba's annual Singles' Day shopping event — which generated over $30 billion in sales this year — creating an online buzz that's usually difficult to match. But the 30-year-old bachelor and his 41 million Weibo fans — twice the amount belonging to Alibaba founder Jack Ma — managed to make this year's Singles' Day all about Wang.
The son of China's once-richest man Wang Jianlin, the junior Wang likes to describe himself as "the low-key online celebrity," but often makes big splashes on social media nonetheless. And it doesn't take him much effort: Last week, a photo of Wang voraciously gobbling down a hot dog instantly became a viral meme, which was then turned into a variety of merchandise. His fans say they appreciate the billionaire's down-to-earth, humorous, and interactive online presence.
"Wang Sicong presents himself to us as a real flesh-and-blood 'person' on Weibo," a 2015 article from financial news outlet Jiemian said of his social media personality. "And regardless of whether this image is true or not, at least it's likable."
So what puts Wang Sicong at the center of so much social media chatter? Sixth Tone looks at some of the ways Wang is able to amuse the internet so consistently.
'Second-Generation Rich'
Wang Sicong's father founded one of China's biggest conglomerates, Dalian Wanda Group, which invests in hotels, health care, construction, and entertainment — it even owns the American movie theater chain AMC. So when Forbes magazine declared the senior Wang China's richest man in 2013, his son's public profile was instantly elevated to that of a billionaire heir.
The fuerdai — a Chinese term meaning "second-generation rich" that is used for the children of newly wealthy parents — has since become a magnet for controversy and admiration alike, known for his sharp and sometimes insensitive comments online as well as outlandish photos that keep netizens entertained.
"I don't care whether my friend is rich or not, because he cannot be as rich as me anyway," Wang said in 2014. The statement triggered a wave of reaction on Weibo, but most users were simply amused by Wang's aloof, out-of-touch attitude.
The elder Wang has offered explanations for his son's curious behavior. "Sicong was relatively little when he was sent [to elementary school] abroad, and most of his education was in the West, so in terms of China's social complexity and the ways of its people, he lacks a deep understanding," he told The Beijing News in 2015. "When he is in China, he cannot do things the way he learned to in the West."
An Opinion Leader
Wang Sicong is brutally outspoken and often bullheaded on social media, taking pleasure in public shaming, trolling, self-mockery, and flaunting his enormous wealth. For his distinctive presence and influence online, Wang topped China Internet Weekly's Online Celebrity Ranking List in 2016, followed in second place by the popular video blogger Papi Jiang.
He is also known for picking fights with bigwigs in the entertainment industry using his characteristically brutish remarks. In a razor-sharp critique of the hit online reality show "Produce 101" that he posted on his Weibo account, Wang made numerous personal attacks targeting the program's contestants. Most notably, he called one participant an "anglerfish" and complained that the show had fallen into the wrong hands after it was sold to tech giant Tencent.
The young celeb has also generated online buzz for his Alaskan malamute, Coco. Despite occasionally receiving flak for hyping the luxurious life of his pet via her own Weibo account, which has over 2.3 million followers, most netizens are simply entertained by the jet-setting, organic food-eating, Apple product-owning pooch.
"Humans do not have it as good as this dog does," commented one Weibo user.
An Entrepreneur
Wang Sicong is more than just a billionaire heir — he has also created his own business empire, albeit with the aid of financial favors from his father.
The 30-year-old is the owner of multiple media platforms, including the streaming site Panda TV, the entertainment company Banana Culture, and the esports organization Invictus Gaming, which manages professional teams for popular games such as "Dota 2" and "League of Legends." Wang also heads the Beijing-based Prometheus Capital, a private equity company he founded in 2009.
Wang Sicong's net worth of 5 billion yuan positions him as one of the richest fuerdai, according to Hurun China Rich List 2018. To some, he might just be another son of privilege, but to others, the young billionaire serves as an inspiration in the startup industry.
"I don't chase after hot [investment] spots, because many were originally created or discovered by me, such as livestreaming," Wang said in response to a netizen's question in 2016. "As the son of [China's] richest person, my biggest challenge is to live up to public expectations, and to surpass my father."
Editor: Bibek Bhandari.
(Header image: Wang Sicong plays with his mobile phone during a public event in Hefei, Anhui province, Sept. 24, 2016. VCG)