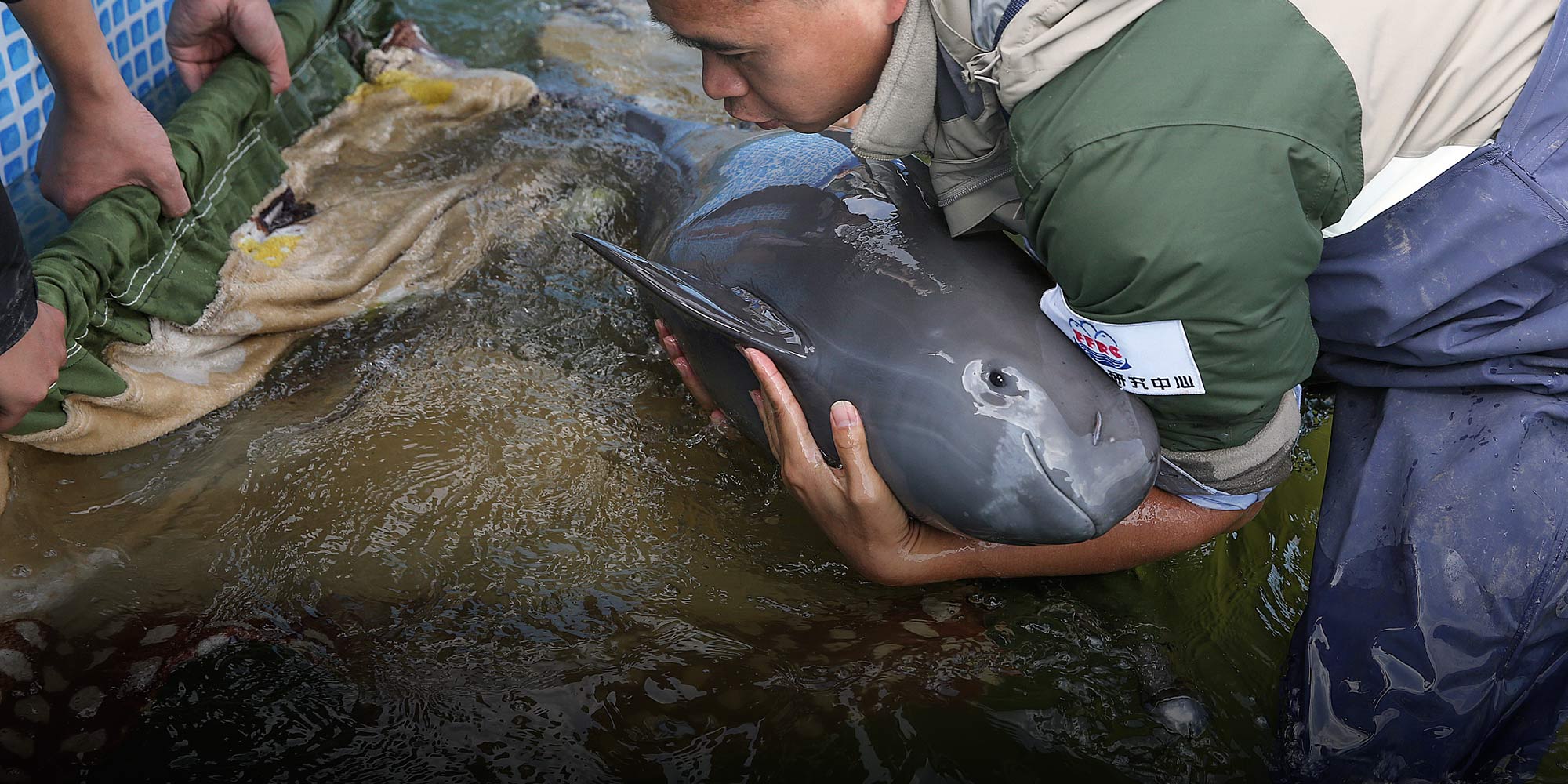 NEWS
Conservationists Slam Porpoises' Relocation to Aquariums
Over a dozen Yangtze finless porpoises will be moved from protected natural areas to two commercial ocean parks.
Chinese environmentalists are incensed over authorities' plans to relocate 14 critically endangered porpoises to commercial aquariums.
The Yangtze River Fisheries Administration ordered conservation areas in Anhui and Hubei provinces to send the 14 finless porpoises to two aquatic parks for breeding purposes, Sixth Tone's sister publication The Paper reported Monday, citing an official notice from July. Chimelong Group in southern Guangdong province and Haichang Ocean Park in Shanghai will house the mammals, which are native to the Yangtze River and its surrounding lakes. No details about how long the porpoises will remain in captivity have been released.
"These commercial organizations know more about wildlife harvesting, trade, and animal performances than they do about protection and breeding," environmental group China Cetacean Alliance wrote in an email to Sixth Tone.
On Wednesday, the nonprofit coalition of eight local and international conservation organizations also condemned the fisheries administration's decision in an open letter widely shared on social media. The alliance said that relocating the mammals from their natural habitat would threaten their population, as reintroduction into the wild isn't always successful. The government estimates that there are only about 1,012 finless porpoises still living in the Yangtze.
In recent years, human activity — including illegal fishing, sand dredging, and land reclamation — has diminished the porpoises' natural habitat. Between 2006 and 2012, their population in the main stream of the Yangtze declined at an annual rate of nearly 14 percent. Because the Yangtze finless porpoise cannot breed with other porpoise species it is particularly vulnerable to extinction — and the latest move from Chinese authorities has only sparked more concerns from conservationists.
"This is totally for commercial gain," He Daming, a Yangtze porpoise conservationist, told Sixth Tone, referring to the administration's decision. "This isn't protection, it's harm."
An official at the Yangtze Fisheries Administration who refused to give his name told Sixth Tone on Thursday that the decision was in line with a 10-year action plan to protect the porpoises. The official added that big aquariums have skilled teams and sufficient facilities to breed porpoises and dolphins, even whales.
"There are over 400 [porpoises] in the main stream of the Yangtze River, and they require urgent protection measures," the official said, adding that artificial breeding methods have yet to see any major breakthroughs. "The aquariums have experience in breeding, and they want to offer assistance."
But conservationists aren't satisfied with the government's response, mostly due to the poor track records of the parks that have been entrusted to care for the porpoises. Chimelong Group — one of China's biggest amusement park operators — angered many in July 2017 when it unveiled plans to spend 5 billion yuan ($740 million) on a land reclamation project that would endanger a local population of Chinese white dolphins. The company's killer whale breeding center was also criticized last year by animal rights groups who were concerned that the park might use the animals for live performances.
"If all the Yangtze finless porpoises are put into aquariums one day, will there be any reason [for the authorities] to protect the river and other aquatic habitats?" wrote the China Cetacean Alliance.
Correction: A previous version of this article stated that Chimelong Group in July 2017 unveiled plans to spend 5 million yuan on a land reclamation project. The amount was 5 billion yuan.
Editor: Bibek Bhandari.
(Header image: A Yangtze finless porpoise is prepared for release into a conservation area in Anqing, Anhui province, Nov. 10, 2016. Chu Jieyu/VCG)