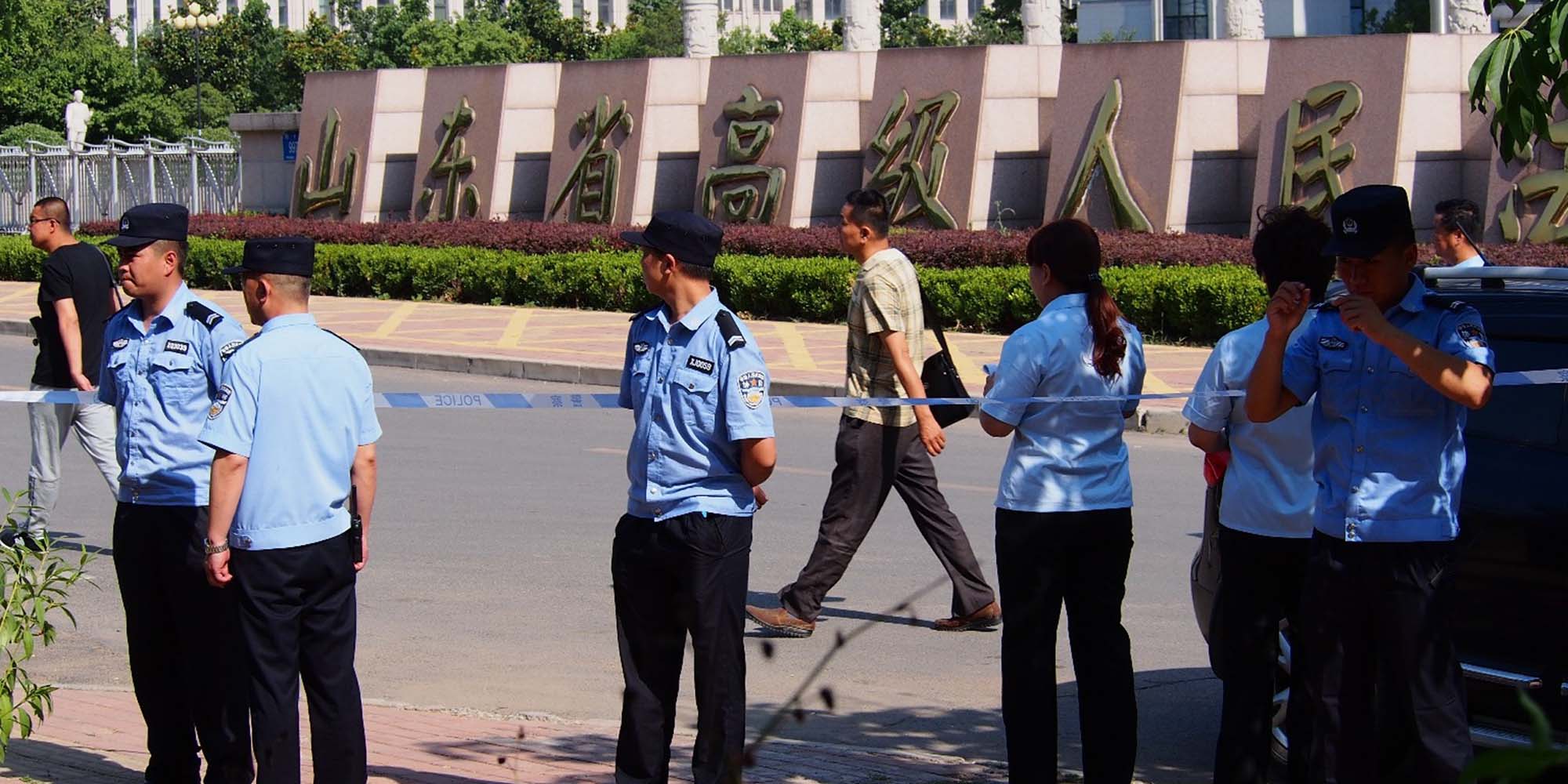 NEWS
Ringleader of Shandong Loan Shark Gang Sentenced to 25 Years
Over a dozen other men will spend up to 20 years in prison following a 2016 usury case that ended in bloodshed.
The leader of a gang of loan sharks involved in a death that attracted nationwide attention in 2016 has been sentenced to 25 years in prison and had all of his property confiscated. The verdict was announced by a district court in Liaocheng, in eastern China's Shandong province, on Friday morning after a three-day trial last month.
The members of the crime ring, headed by Wu Xuezhan, were gradually apprehended by police over the course of a year after one of their members was killed while forcibly detaining a woman who owed them money. Fifteen members of the group were convicted of crimes including illegal detention, racketeering, intentional injury, and organized crime, and sentenced to between two and 25 years in prison on Friday.
According to a previous report by The Paper, Sixth Tone's sister publication, Wu had cultivated an unsavory reputation in the city since 2010: His gang would allegedly collude with local officials to intercept and abduct petitioners on their way to file grievances with higher authorities, harassing and intimidating them in so-called black jails. And in 2015, Wu had his gang threatened a construction company that was competing for a lucrative government project.
But the gang did not fall foul of police until 2016, when one of its members, Du Zhihao, was killed in a high-profile usury case. In April of that year, Du and 10 of his cohorts went to collect a debt from entrepreneur Su Yinxia, who had borrowed 1.35 million yuan ($215,000) from their boss, Wu, at a steep interest rate.
The gangsters had detained Su and her then-22-year-old son, Yu Huan, when he came to check on his mother at her office. The men beat and berated Su, at various points forcing a shoe into her mouth and exposing their genitals. One of Su's employees called the police, but the officers who turned up left mere minutes after surveying the disturbing scene. Agitated by the officers' abrupt departure, Yu grabbed a fruit knife and lashed out at the gang, stabbing Du and two others. Du later died at a hospital.
In February 2017, the Liaocheng Intermediate People's Court sentenced Yu to life in prison for the crime of intentional injury, but the verdict was questioned the following month by an investigative report in Southern Weekly, an influential newspaper. Online, too, netizens have criticized the court's decision, saying Yu was only trying to protect his mother, and accused the officers who left the scene of being negligent in their duties — though a court later absolved them of blame.
After Yu appealed his life sentence, the Shandong High People's Court in June 2017 reduced his term to just five years. Two of the three officers called to Su's office were eventually fired.
Yu is currently serving his jail sentence. Along with his mother, he has filed civil suits against Wu and his gang, demanding that Wu and another creditor return 134,000 yuan in interest collected and property seized. In an interview with China National Radio before the most recent verdict was announced, Yin Qingli, Su's lawyer, said that more than any claims for damages, what his client and her son really wanted from Wu's gang was an apology.
In its ruling on Friday, however, the district court made no specific reference to Su and Yu's claims.
The usury case and its messy aftermath have precipitated a wider central government campaign to clean up organized crime and the corrupt officials who collude with gangs like Wu's. In a notice released in January, the State Council and the Central Committee of the Communist Party vowed to weed out anyone in power offering an umbrella of protection to mafia-like groups.
Editor: David Paulk.
(Header image: Police stand guard outside the high people's court in Jinan, Shandong province, May 27, 2017. Luo Bo/IC)