A woman seeking justice for her mother, who died eight years ago while being extrajudicially detained, may finally have her day in court.
In September 2009, Li Shulian tried to travel to Beijing to petition a lease conflict she had with local authorities in Longkou, in eastern China's Shandong province, but was intercepted and detained in a Longkou hotel. A month later, Li's family was told she had died — supposedly by hanging herself, though her body was covered in bruises.
Her daughter, Li Ning, has been trying to uncover the truth ever since. "Every day for the past eight years, I've felt a stone laying on my heart," Li told Sixth Tone. "Not for one moment have I felt relaxed." After years of the younger Li's activism, three Longkou officials were finally charged with intentional injury in 2014, but a court hearing was never held.
Now, two recent changes have set the stalled case back in motion. In August, prosecutors changed the charge against the three suspects from "intentional injury" to "unlawful detention," a more serious crime punishable by at least 10 years in prison in cases where the victim dies. In addition, the case's jurisdiction was changed from Longkou to neighboring Penglai, meaning it will now be handled by that city's prosecutors and court, financial news outlet Caixin reported on Sept. 13.
"The reason for the Longkou court's reluctance to hold a hearing could be that they have realized that their goal of concealing the facts is too obvious, their ploy of shielding suspects too clumsy," Feng Yanqiang, one of the lawyers who represent Li and her family, told Sixth Tone.
According to China's Civil Procedure Law, a court should announce a verdict no later than six months after having accepted a case. When Sixth Tone contacted the Longkou People's Court, an official referred to other media reports about the lawsuit and declined to comment further.
Both the court and the procuratorate in Penglai refused to comment when contacted by Sixth Tone on Tuesday.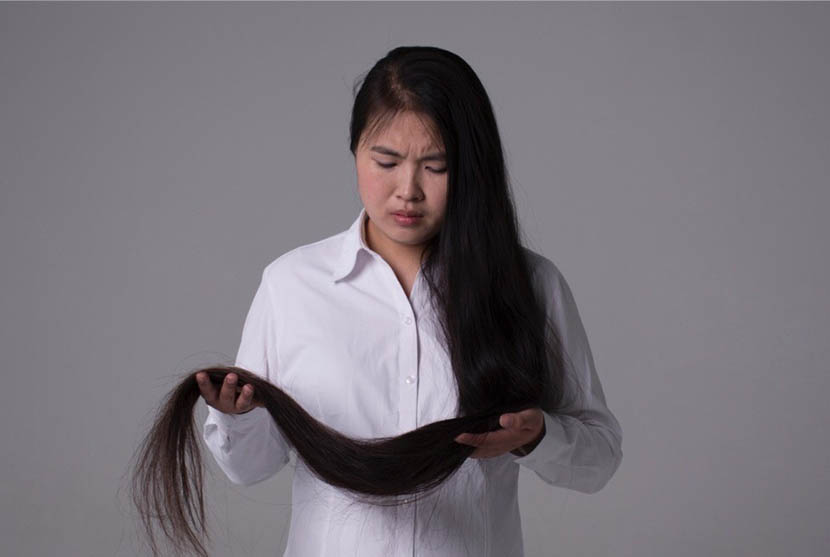 Li Ning holds a length of her hair, which she refuses to cut until her deceased mother finds justice. From Li's Weibo account
Petitioning is a legally protected right in China, but people who go to the central government in Beijing with complaints about local governments are thorns in the sides of lower-level officials, whose careers could be put in jeopardy as a result. In 2010, media reported on a Beijing company hired by local governments to intercept and threaten petitioners, and detain them in so-called black jails. Last year, a man was found dead by the roadside after traveling to Beijing to file complaints.
Li Shulian had been petitioning since 2001, claiming that she had been wronged by a Longkou official when the lease for one of her shops was not renewed after she had been found out to be subletting the properties.
When Li Shulian died, her now-30-year-old daughter was a freshman at Renmin University in Beijing. When Li Ning traveled back to Shandong and saw her mother's body at the funeral home, she knew the official explanation that her mother had hanged herself was a fabrication. "I saw a very thin mark around her neck," Li said. "But her thighs and back were black and blue, and there were injuries all over her body."
Declining Li's family's pleas to check the autopsy report, local police put Li Ning's father and brother under house arrest in a hotel for around three months, until they signed an agreement promising not to further investigate Li Shulian's death. "They promised to give us 780,000 yuan [now $119,000], but how could I let my mother go without knowing how she died?" said Li Ning, who returned to Beijing to avoid the Longkou authorities the night after she saw her mother's body.
Since then, Li has been trying to bring her mother's case to the public's attention. In 2012, Li went to Beijing during the annual "two sessions," one of the country's most important political events, took off her clothes in public, and knelt down in naked protest — a tribute to her mother, who was once taken from her hotel room by police before she had a chance to get dressed.
Although Li Ning was quickly whisked away by police, several lawyers contacted her afterward to offer legal assistance. With their help, Li Ning and her family were allowed to see Li Shulian's autopsy report, as well as a transcript of her interrogation, in 2013. The documents showed that the three suspects, together with three guards, beat Li Shulian with stun guns and wet towels, and prevented her from sleeping by waking her up every hour.
The three guards, none of whom were government employees, were given prison sentences in 2010 for intentional injury, but the three officials were not charged until 2014 — and never sentenced.
Even with the recent developments, Li Ning isn't optimistic that her mother's case will come to a fair conclusion. "I have waited eight years, and I don't know what's next," she said. "Will now be a breakthrough? Or will I need to wait another eight years?"
Feng, the lawyer, is more hopeful. "The change of jurisdiction would free the case from any local interference in Longkou," he said. "And the change of charges against the suspects is a step closer to the truth."
Li Ning hasn't cut her hair since 2009, and has vowed not to do so until her mother's case is resolved. Today, it falls well past her waist. "I will keep it as a symbol of my determination," she said.
Editor: Kevin Schoenmakers.
(Header image: Li Ning burns incense and joss paper in tribute to her mother on Qingming Festival, April 5, 2017. From Li's Weibo account)