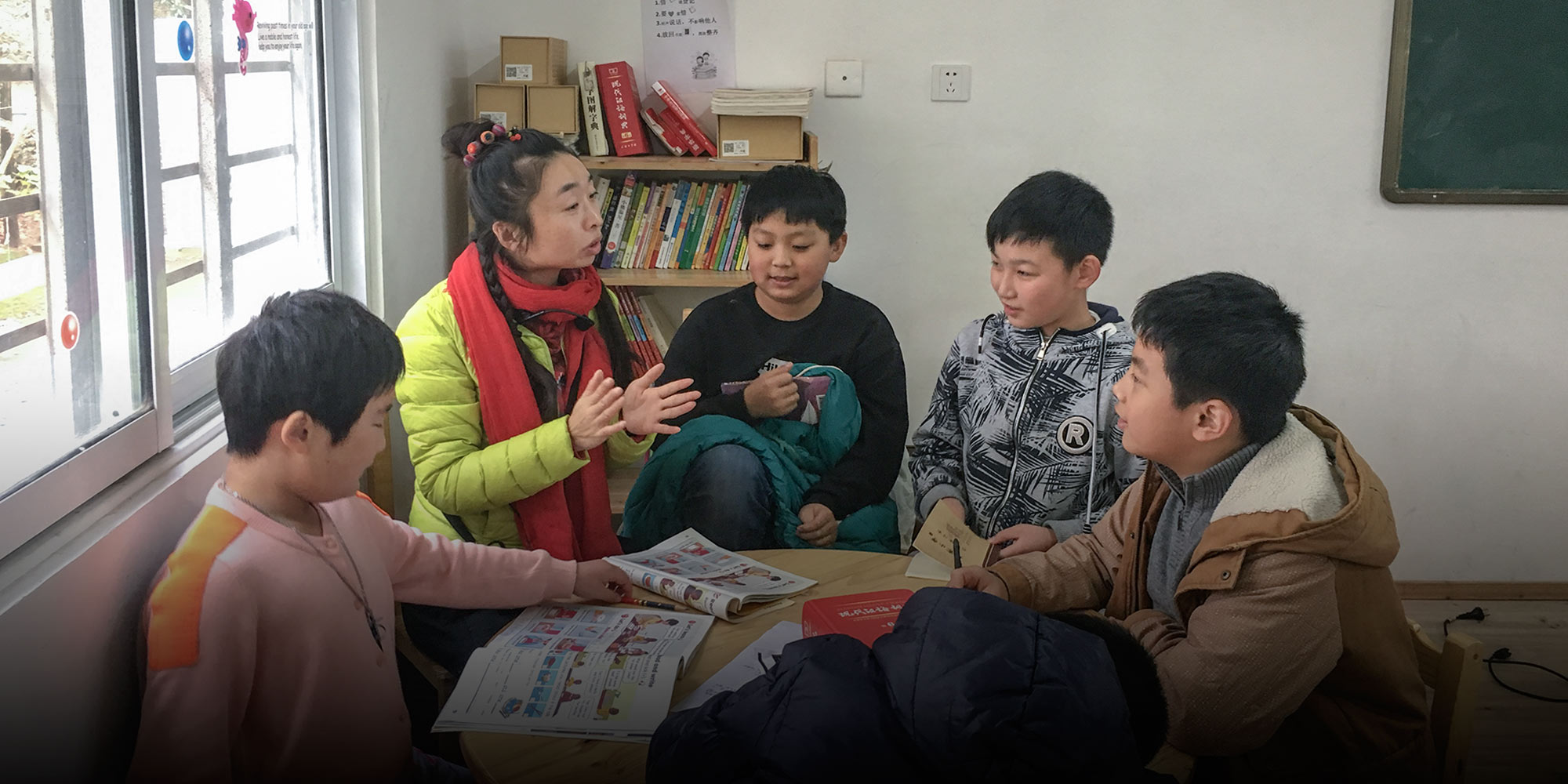 FEATURES
Outlaw Educators: China's Growing Homeschooling Movement
Turned off by public schools' strict curriculum and focus on exams, parents educate their children at home.
This is the first article in a series on homeschooling in China. Part two can be found here.
ZHEJIANG, East China — Yuan Honglin's career as one of China's foremost homeschooling advocates began when his daughter's kindergarten teacher said 3-year-old Xiaoyi didn't interact much with the other children, and might need psychological care. Feeling both shocked and skeptical, Yuan decided to take his daughter out of school and teach her himself.
Afraid that being away from her peers would only exacerbate his daughter's anxiety, Yuan organized free home-based classes that other children could join. Now, 14 years later, the classes have evolved into a small but popular school, and his daughter is an outgoing and confident 18-year-old. "The great educator Confucius proposed that we should teach according to a student's abilities," Yuan, who holds a Ph.D. in history, tells Sixth Tone. "But in the official education system in this country, the same teaching method is strictly replicated for all students. As a father, I should strive to offer the most suitable education for my children."
Yuan, 60, is outspoken when talking about his didactic philosophies and his criticisms of China's exam-oriented education system, but becomes cautious when talking about his own school. Institutes like Yuan's are known in China as sishu. They are commonly small-scale, home-based organizations that, in contrast to public and private schools, are unlicensed and thus illegal. Away from government oversight, they sometimes adhere to questionable teaching methods — some such schools have been criticized by former students for their sole focus on rote learning of classic texts — or use corporal punishments.
Moreover, China's Law on Compulsory Education states that all children must be in school for nine years, starting from the age of 6. This law was rarely enforced, but in September, China's cabinet, the State Council, reiterated that sishu are against the law. The authority requires schools to report parents who withdraw their children during the compulsory education period, which lasts through primary and middle school. Last month, a township government in the southwestern province of Yunnan sued the parents of five children who had dropped out of school — and the provincial government said Sunday that it will include dropout rates in local officials' performance evaluations.
Yuan's school, too, has faced government scrutiny. He started homeschooling in 2003 in his hometown in Haiyan County, but under pressure from local education authorities he and his family have since moved from city to city within Zhejiang province — to Jiaxing, Yongkang, Yiwu, and then to Shaoxing. "We got fined in Yiwu and received a warning in Shaoxing," says Yuan. "We are under huge pressure because we run a full-day [home-based] school for students who are supposed to attend school for compulsory education."
Despite the misgivings from the Chinese government, a growing number of parents are embracing homeschooling. A 2017 nationwide survey by the 21st Century Education Research Institute showed that the number of parents who express interest in alternative education grew at an annual rate of 30 percent between 2013 and 2017. It showed that by February 2017, around 50,000 people in China "pay close attention to" or "are trying to provide" home-based study for their children. The survey also said some 6,000 Chinese children study at a sishu or at home — though higher dropout rates from public schools suggest that this number could be larger in reality. The survey said that a little over two-thirds of homeschooled children attended regular schools but couldn't fit in and that the remaining one-third have parents who are strongly opposed to the education philosophies of China's state school system.
Zhu Lingyun, a mother of a 10-year-old boy, sent her son to Yuan's sishu earlier this year. "Sending a child to a public school is like putting him on a production line," she tells Sixth Tone. "After three years in a public primary school in [the eastern city of] Ningbo, I found my child was losing his curiosity." As one of around 40 students in his class, her son was not making enough progress, Zhu says, and instead of receiving extra help from his classmates or teachers to improve his poor academic performance, the boy was frequently punished by his teachers and bullied by his classmates. Chinese schools put a lot of focus on preparing children for the zhongkao and gaokao, the entrance exams for high school and college, respectively. These tests level the playing field for children across the country, but also require grueling preparation.
Yuan's daughter, Yuan Xiaoyi, says that she felt insecure at school and would often stand alone in a corner, watching the other children play. Instead of taking her to see a doctor, as her teacher had suggested, Yuan Honglin believed that what his daughter needed was a familiar and relaxing environment. He himself sat the college entrance exams shortly after they were restored in 1977 following the end of the Cultural Revolution. Yuan Honglin had relied on self-study and managed to be admitted to Peking University, one of China's most prestigious universities. That experience made him confident in his ability to teach his daughter. He quit his job in foreign trade in Guangdong, southern China; moved back to their hometown, Haiyan; and started teaching her at home. He designed the curriculum according to his daughter's interests — from reading classical Chinese texts, English, French, and Japanese to math, science, music, and art. Exams were rare.
After Yuan Honglin turned his home into a small school, other children joined — most for evening classes, some full time. He bought teaching materials from the U.K. and Australia, and invited tutors to teach physics, chemistry, piano, and the violin. Following their wandering journey around Zhejiang province, the Yuan family and their sishu moved, at the beginning of the year, to Shenzhen in southern China where official attitudes to homeschooling are more relaxed. They also opened a second school in Xiamen, on the eastern Chinese coast. Both locations host around 10 children, including Yuan Honglin's younger 7-year-old daughter. Tuition costs 50,000 yuan ($7,500) per year — in contrast, public schools are mostly free of charge during the compulsory education period.
While Yuan Honglin has decided to leave Zhejiang province due to government pressure, another pioneer of alternative education has been successful in turning his sishu into a licensed private school there. On a remote hilltop village in rural Longyou County, in western Zhejiang, Chuyang School opened three years ago with support from the local education bureau. Housed in a former high school, it is surrounded by a small bamboo forest, a field with home-grown vegetables, and a small farm. It's a boarding school that currently hosts over 100 students, ranging from primary to high school. While their peers in state schools toil away in preparation for entrance exams, these students can focus on their own interests. "Our education is not about preparing the students for exams, but to find out what they are good at and help them improve in these areas," Liu Heqiu, the principal of the school, tells Sixth Tone. "We are not aiming for our students to achieve high academic scores, but we work to discover the potential of each student."
Ye Zhiyi, office director of Longyou County Education Bureau, tells Sixth Tone that when they approved Chuyang School, they saw it as complementary to schools that follow the regular curriculum. "We observed that there was a need for diversified education," Ye says. "It's not against the compulsory education law — students continue to receive schooling here, though they have different teaching methods and materials to learn from." Ye argues that the growing number of students at the school proves its value, though he admitted that only a few local students were enrolled. "That has much to do with the [relatively low] local income level and understanding of education," he says — the school charges a hefty 80,000 yuan per year in tuition.
"We're lucky that the local education bureau is open-minded and can accept diversified education," says Liu, the principal. The school was initiated by Wu Zhijian, who took his son out of middle school eight years ago. "I was fed up with the public education system that overemphasized students' academic performance," Wu tells Sixth Tone. In 2011, Wu started running full-day classes for students outside traditional schools. The initial goal was similar to Yuan Honglin's: to find companions for his son. He started his sishu in a corner of the Zhejiang Provincial Library — as he is in charge of arranging training classes there, Wu knew teachers whom he could call upon to teach various subjects.
Some of the students are enrolled at Chuyang to avoid the stress of regular schools, which had caused psychological problems such as insomnia or anxiety, Wu says. "Some parents who found us described their children as on the verge of mental collapse. There's a middle school in [provincial capital] Hangzhou where the teacher supervising children's mental health has been referring students in need of help to us."
This year, Wu has seen off his first group of five graduates, all in their early 20s. Two chose to start their own businesses and one went abroad. The other two obtained their bachelor's degree through self-study examinations, which are specially designed for students outside of the state-run system to earn their undergraduate diploma.
Now 18, Yuan Xiaoyi is also preparing to take the self-study exam for a bachelor's degree in English. Her father plans to keep his sishu open, but doesn't see a bright future for homeschooling. "In the short term, I don't think the government policies will change in our favor — on the contrary, they'll become stricter," Yuan Honglin says. "But for parents, I think they deserve the right to choose the best education for their children."
Editor: Kevin Schoenmakers.
(Header image: A teacher talks to students in an English class at Chuyang School in Quzhou, Zhejiang province, Nov. 22, 2017. Ni Dandan/Sixth Tone)