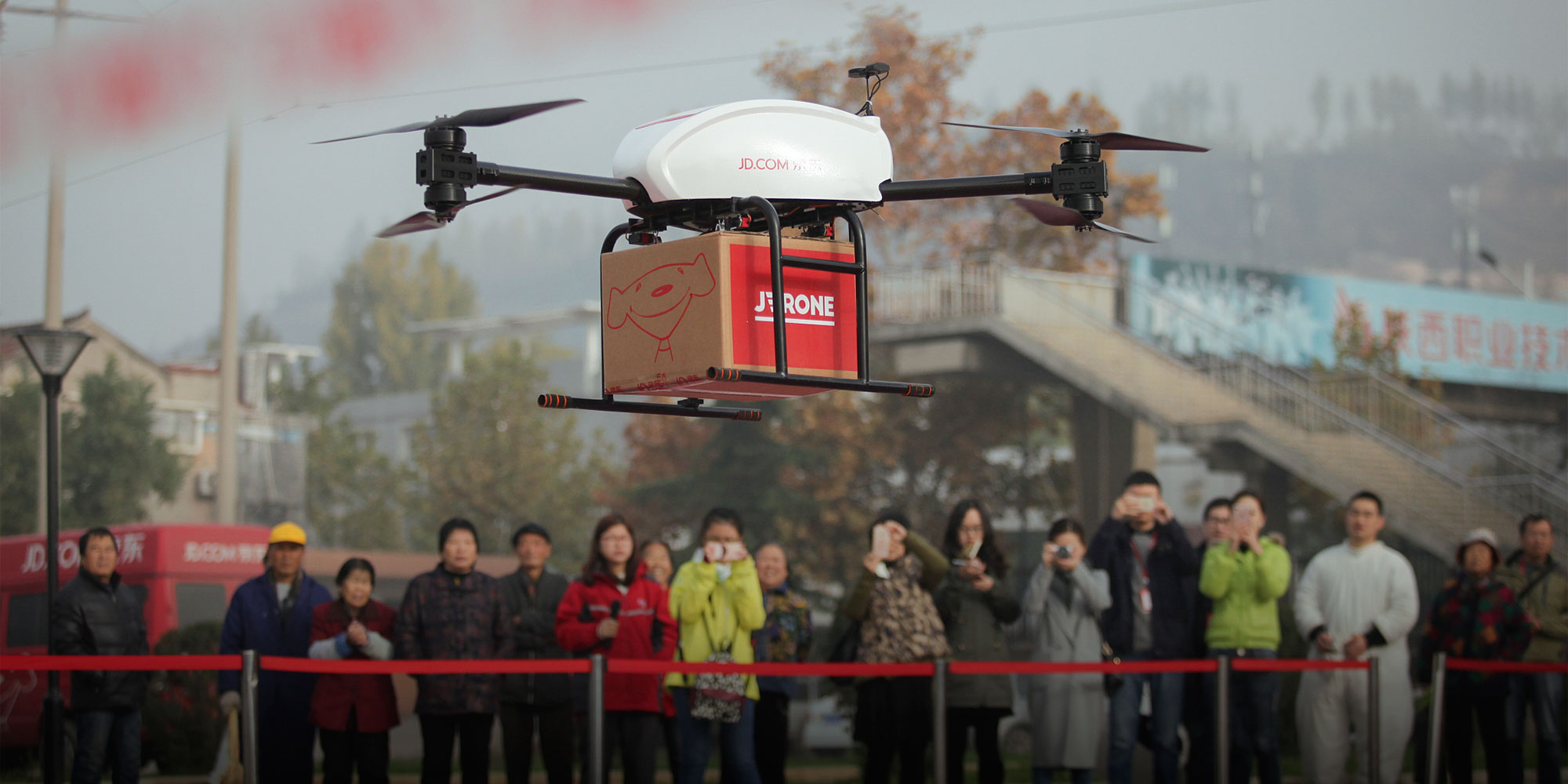 FEATURES
Can Delivery Drones Solve China's Last-Mile Package Problem?
Drones have made online shopping easier for rural residents, but regulatory and technical issues have put the brakes on a wider rollout.
JIANGSU, East China — With its low-rise houses, rows of fruit trees, and strip of commercial greenhouses, Zhangwei looks like any other township in the eastern Chinese province of Jiangsu.

But while the town of 26,000 residents, located some 450 kilometers from Shanghai, may seem unremarkable, it's way ahead of most other rural areas in the country when it comes to cutting-edge delivery drone technology.
Up to four times a day for the past five months, a drone descends from the sky, bearing the logo of China's second-largest e-commerce platform, JD.com. It hovers above the ground, drops a box of purchases on a green mat surrounded by weeds, and takes off again. Then, 27-year-old Zhang Xiaoyan, a part-time deliveryman for JD.com, collects the packages and goes door to door distributing the town's orders.
"At the beginning, people would gather around the drop-off point, curious to see the drones," Zhang said after one of his rounds on Tuesday. "But now, drone delivery has become a common thing for us."
Zhangwei has a geographic stroke of luck to thank for its drone deliveries: The town is administered by neighboring Suqian City, the hometown of JD.com founder Liu Qiangdong. Lu Hao, 24, is one of the town residents who has already benefited from the service. Lu ordered a facial cleanser on Monday night and received it the following afternoon — around half the time it would have taken before the advent of drone deliveries, he said.
"It's really convenient to have drones transport goods to the countryside," said Lu, emerging from his ivy-covered one-story house to receive his package. "It feels really high-tech."
Though the e-commerce industry is booming in China — the country is now the world's largest online shopping market — delivery companies are seeing a slowdown in profit growth as their operating costs rise. A large chunk of the delivery cost comes from the so-called last mile, where companies rely heavily on couriers to get parcels from local distribution centers to customers' doorsteps. A study found that the last mile accounted for around 30 percent of the e-commerce delivery cost in China in 2013.
Due to factors like traffic jams, low success rates for first-time deliveries, and customers' demand for faster service, the final leg of the delivery process is eroding profit margins, said Yao Jianfang, an analyst at the China E-Commerce Research Center in Hangzhou, eastern China. The cost is even higher in remote parts of the Chinese countryside — home to 42.65 percent of the nation's population — where roads and bridges are poorly built and package orders are sporadic, Yao added.
Courier companies and e-commerce giants are experimenting with various methods to tackle the problem, including driverless cars, delivery drones, and lockers in city centers where shoppers can pick up their goods. JD.com and the country's largest courier company, SF Express, are spearheading the drone delivery trend, followed by a horde of smaller players such as Hangzhou-based Antwork and Shenzhen Smart Drone UAV.
China's largest e-commerce platform, Alibaba, had steered clear of drones since running a one-off drone delivery trial two years ago. But last month, Alibaba showed a change of heart, sending six boxes of passion fruit via three delivery drones to an island in eastern China's Fujian province to promote the debut of its drone delivery service this Singles' Day, China's annual online shopping bonanza.
Once an occasion for lonely hearts to celebrate their singlehood, e-commerce titan Alibaba has turned Nov. 11 into the world's largest online shopping festival, and in doing so has increased demand for express delivery. Between Nov. 11 and 16 this year, 1.5 billion packages will be delivered around the country, a 35 percent increase from the same period last year, according to State Post Bureau estimates. It's unclear whether Alibaba will continue using drones for delivery after Singles' Day.
While Alibaba is trying to address the problem of the last mile in part by teaming up with convenience stores around the country, JD.com has spent tens of billions of yuan on building its own nationwide transportation network in an effort to ensure quality control from factory to doorstep. Its drone development team was established in late 2015, and the company's first delivery drone debuted the following year. Drones capable of carrying up to 10 kilograms across a maximum distance of 10 kilometers are now used daily in Suqian and Xi'an, the capital of northwestern China's Shaanxi province, according to JD.com. As of the end of July, JD.com's drones had delivered more than 8,000 orders and flown more than 10,000 kilometers.
At present, delivery drones are only allowed to fly along preset routes and are only used in last-mile delivery. But in the future, JD.com hopes to replace courier drivers, vans, and electric tricycles with drones in all parts of the delivery process, cutting freight costs by an estimated 70 percent.
JD.com is not the only one vying to revolutionize the logistics industry with drones. "My dream is that in the future, when I run out of salt, a drone can deliver some to my balcony in 10 minutes," said Yu Hang, chief marketing officer of delivery drone manufacturer Antwork, whose clients include state-owned postal service China Post.
But Yu's utopian vision of drones providing timely delivery anywhere may still be far-off due to regulatory barriers, technical issues, and safety concerns.
The delivery drone industry faces a shared obstacle: short battery life. Antwork's latest drone model, for example, can technically fly for up to 40 minutes on a single charge. But the battery lasts for less than 30 minutes when carrying heavy cargo, said Yu.
"This is a common problem for everyone in the industry," Yu explained, adding that there are limits to how much energy can be stored in a lithium battery. "When we design a drone, we need to take into consideration factors like weather and the environment so that we can come up with the best solution."
To overcome this technical obstacle, JD.com is considering swapping its batteries for electric generators, which would allow its drones to fly farther and carry more goods, said JD.com's principal scientist, Li Dapeng.
There's also a lack of national regulations governing the commercial drone industry. Earlier this year, recreational drones in Chengdu — the capital of southwestern China's Sichuan province — delayed flights and forced airlines to change their routes. Following the diversions, regulators rushed through new rules forbidding unmanned aerial vehicles from flying too close to airports and requiring drone operators to register their devices with China's aviation authority.
Zhang Qihuai, an aviation and space law researcher at the China University of Political Science and Law in Beijing, said drone regulations are inconsistent and often lack clarity on where drones can and can't be flown. "It's a beautiful dream [to have drones deliver everywhere], but so far, the industry lacks rules and regulations," he said.
To receive permission to operate drones, companies must lobby local governments, military, and aviation authorities — and even then, drone flights are often restricted to less populated rural areas due to safety concerns.
Despite the challenges, Yu remains optimistic about the future of drone delivery, even drawing a comparison to one of Mao Zedong's most famous military strategies, in which Mao gained support in rural areas before ultimately defeating the Nationalist government during the Chinese Civil War in the 1940s.
"Our goal is to eventually come back to the cities because after all, that's the main market," said Yu. "We'll encircle the cities from the countryside."
Editor: Julia Hollingsworth.
(Header image: A drone lifts a package from JD.com in Xi'an, Shaanxi province, Nov. 10, 2016. Chen Feibo/VCG)