ZHEJIANG, East China — On a quiet street in Chinese tech hub Hangzhou, construction is underway on a new mall. From the outside, it looks like just another shopping center — but e-commerce king Alibaba has hinted that on the inside, its first brick-and-mortar megamall will be anything but.
Slated for launch in April 2018, More Mall is expected to feature technology that sounds more like something you'd find in a sci-fi movie than at your local shopping center. Although Hangzhou-based Alibaba has been cagey about the specifics, local media have reported the mall could feature robotic fitting room attendants and facial recognition technology. Shoppers can also expect smart mirrors that show how a lipstick shade would look on a customer's face, as well as augmented reality programs that demonstrate how furniture would look in their house. When Sixth Tone visited the mall recently, the black-and-cream exterior looked mostly built, though the interior appeared far from completion.
The world's biggest e-commerce company, Alibaba, launches its strategy to conquer the offline market in the eastern Chinese city of Hangzhou. By Shi Yangkun/Sixth Tone
The megamall is part of Alibaba's new retail strategy, which will see the world's largest e-commerce company attempt to extend its online shopping empire offline. American e-commerce giant Amazon began doing the same in 2015; it has launched brick-and-mortar bookstores and a convenience store without cashiers, and in August, it took over supermarket chain Whole Foods Market in a $13.7 billion deal. This year, Alibaba began piloting smart clothing boutiques, supermarkets, furniture shops, and a gas station. Eventually, the company plans to have around 6 million convenience stores across the country, all using its e-commerce infrastructure. If all goes according to plan, Alibaba — which already accounts for 50 percent of China's estimated 12.9 trillion-yuan ($1.9 trillion) e-commerce market — could become an even more powerful force.
Alibaba's new offline retail push is motivated in part by the fact that it's running out of room to grow online, according to Xu Gang, a department director at consulting company Accenture specializing in retail and consumption. "In order to maintain a high-speed increase and a high market value, they must find new areas to break into," Xu told Sixth Tone, adding that internet companies often have higher sales increase targets than traditional companies. "They have started to see that internet penetration is reaching saturation, so naturally the future trend is going offline."
It's a fair bet to make. Sales revenue from Chinese convenience stores grew 13.6 percent each year between 2011 and 2016, market research firm Mintel found. The trend runs counter to that of the overall retail market, which has seen a slowdown in growth over the same period, according to China's Ministry of Commerce. Mintel's director of research for the Asia-Pacific region, Matthew Crabbe, told Sixth Tone the convenience store market offers something e-commerce can't: the ability to obtain an item quickly without waiting hours or days for delivery. Alibaba hopes to benefit from the advantage that convenience stores hold by partnering with existing mom-and-pop shops in neighborhoods all over the country.
The first Alibaba-affiliated brick-and-mortar convenience store, Weijun Grocery, was just a regular shop on the outskirts of Hangzhou's famous West Lake before it relaunched as Tmall Weijun in August. The store's 47-year-old owner, Huang An, spent years working in retail before setting up his convenience store opposite the prestigious Zhejiang University eight years ago. In 2015, he began feeling the pressure from global chains like 7-Eleven, FamilyMart, and Lawson, and considered closing up shop. "There's no way to compete with such chains if we are talking about getting inventory at a lower cost," Huang said, adding that he had worried the store's shabby appearance would repel his college-age customers.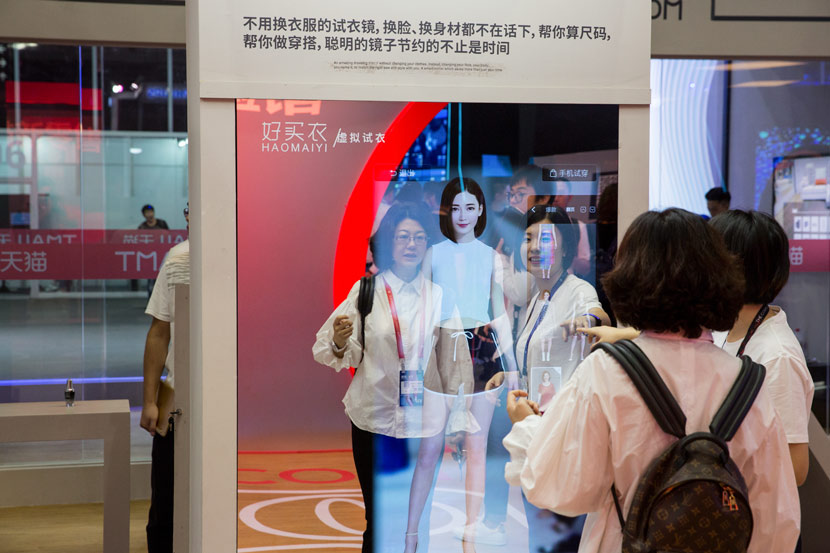 A customer uses a smart mirror to try on clothes virtually during Alibaba's annual Cloud Computing Conference in Hangzhou, Zhejiang province, Oct. 11, 2017. Shi Yangkun/Sixth Tone
But Huang's fortunes changed that same year when Alibaba's e-commerce platform Tmall approached him, offering to transform his shop into a state-of-the-art smart store. Huang immediately agreed. "I told them to do whatever they liked," he said, standing behind the counter in his packed shop. Huang's refurbished convenience store already looks like it's part of the Tmall family. The store's sign has been replaced with an LED message board, which flashes images of Tmall's black cat mascot at all hours of the day. A shelf near the counter boasts a cardboard display in Tmall's signature bright red and offers goods from the online Tmall store.
In mid-October, Alibaba installed its first voice-interactive Tmall genie in Huang's store. The robot answers simple customer and clerk queries — such as "What is the weather like today?" — in a polite woman's voice and calculates the total price of customers' purchases at the checkout counter.
It's a win-win situation for Huang, who got a good-looking pilot store for free and has already started reaping the benefits. In the first month after the relaunch, sales increased by 45 percent, and customer traffic was up 20 percent. The shoppers aren't the only ones excited by the store: Around 1,000 other convenience store owners — including one from Jiayuguan City some 2,700 kilometers away in northwestern China's Gansu province — have come to see the shop for themselves over the past month, Huang estimated.
But Alibaba's offline rollout hasn't been without hitches. Despite its status as a leading global tech company, Alibaba hasn't perfected its smart store technology, according to Huang's family. Huang's son, Huang Haidong — who helps out in the store — said the robot assistant struggles to recognize speech in a noisy environment, a recurring problem for the busy store. The genie also needs to expand its vocabulary, he said. "I hope in the future, the device can learn to say sentences like 'Do you want to pay with cash or Alipay?'" Huang Haidong said, referring to the mobile payment platform owned by Alibaba affiliate Ant Financial. "After all, I have to repeat this sentence to practically every customer nowadays."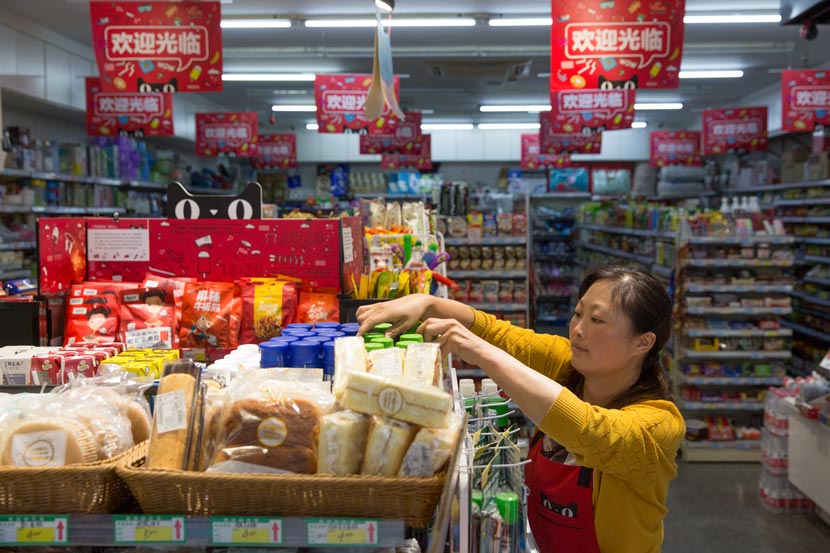 An employee arranges products on a shelf at the Tmall Weijun convenience store in Hangzhou, Zhejiang province, Oct. 11, 2017. Shi Yangkun/Sixth Tone
Alibaba also faces competition from its main e-commerce rival, Beijing-based shopping giant JD.com, which is also working on an offline retail strategy. Shortly after Alibaba announced its plan to turn traditional gas stations into unmanned ones, JD.com partnered with oil and gas company Sinopec to set up 30,000 smart gas stations, many of which will supply goods under the JD.com brand. According to media reports, JD.com last week revealed plans to open two of its own fresh food supermarkets, 7 Fresh, in Beijing by the end of the year — the company's answer to Alibaba's line of smart supermarkets, Hema Xiansheng.
Despite the challenges, Alibaba's and JD.com's new retail approaches are likely to "profoundly change" the relationship among consumers, brands, and retailers, according to Mintel research director Crabbe. "New retail is not simply the sum of two parts," he said. "What we are beginning to see is an entire revolution in the way Chinese people shop."
Editor: Julia Hollingsworth.
(Header image: A staff member dressed as the Tmall mascot is seen at Alibaba's annual Cloud Computing Conference in Hangzhou, Zhejiang province, Oct. 11, 2017. Shi Yangkun/Sixth Tone)