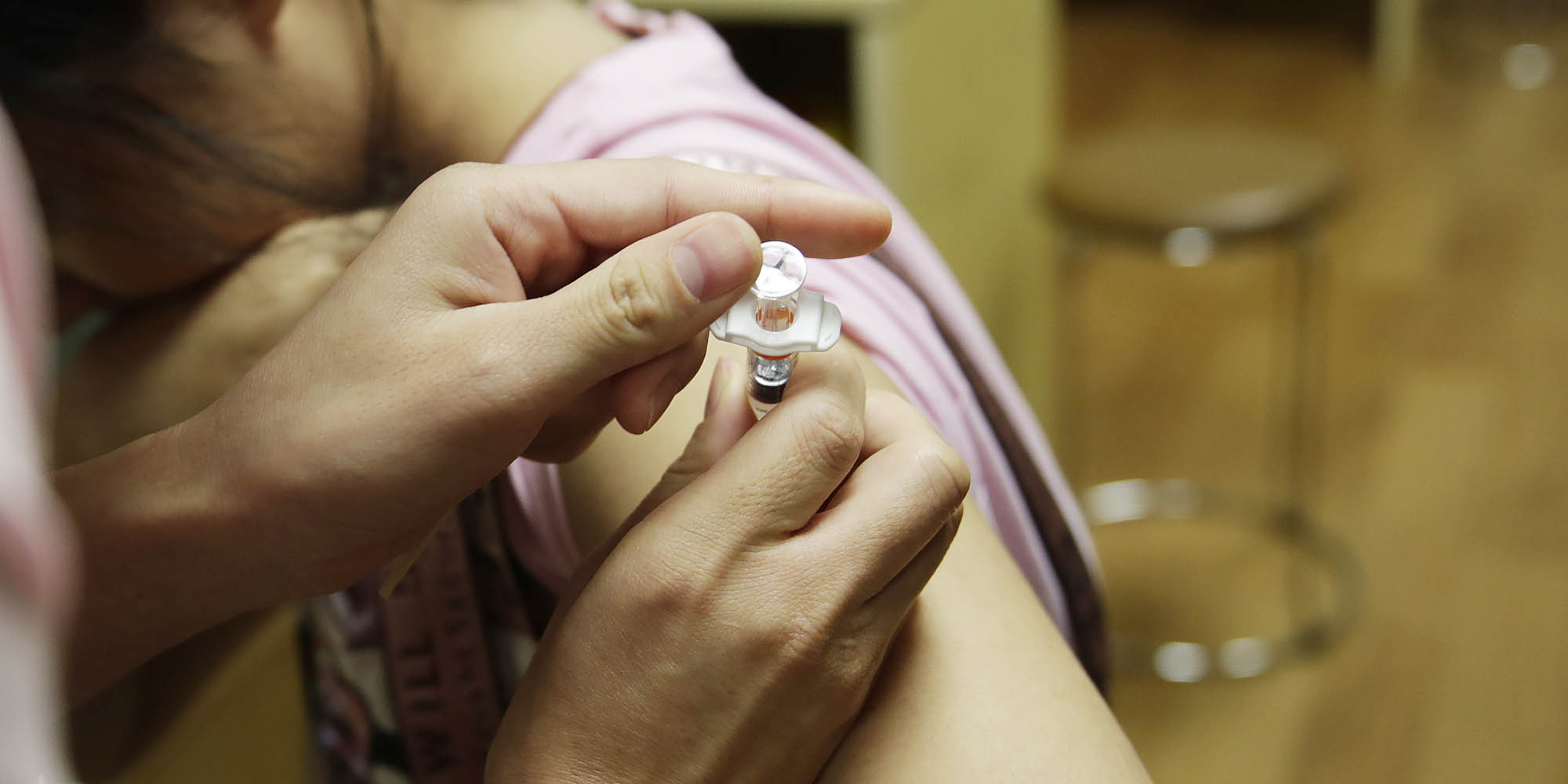 NEWS
Medical Tourists Scramble as Vaccine Shortage Hits Hong Kong
Manufacturer of leading HPV vaccine says 'global cyber-security incident' to blame for reduced supply.
When a Hong Kong health clinic notified medical tourist Zhan Jinjin the day before her flight that her appointment for a routine vaccination had been canceled, the 25-year-old was incensed.
Zhan, who hails from Putian in eastern China's Fujian province, told Sixth Tone that when she arrived in Hong Kong, she visited dozens of clinics all over the city. Some told her the Gardasil 9 vaccine for human papillomavirus (HPV), the world's leading cause of cervical cancer, was out of stock; others offered to sell it to her at extortionate prices.
Though she was eventually successful at a clinic that had enough of the vaccine left for just two patients, Zhan took to microblog platform Weibo to vent her frustrations — and quickly learned that she was not alone.
Gardasil 9 — one of the most effective HPV vaccines on the international market — has not yet been approved by for use on the Chinese mainland by the country's food and drug administration, prompting many to get inoculated in Hong Kong.
But supplies in the city are running low, and global pharmaceutical giant Merck announced Monday that it would temporarily pull its prized vaccine from the shelves of the city's public health facilities, leaving people like Zhan in a pickle.
In a press release seen by Sixth Tone, Merck said that the supply of Gardasil 9 to Hong Kong would be suspended from Oct. 12 to Dec. 1, explaining that a cybersecurity incident in June had disrupted its global manufacturing network. "This disruption has further exacerbated the existing supply pressures we were already experiencing for a number of our vaccines as a result of increasing global demand," the statement read.
Xu Yilin, a bank worker from Guangzhou, capital of southern Guangdong province, had wanted to be vaccinated against HPV but failed to secure an appointment after calling two clinics in Hong Kong. "I called the second clinic on Oct. 11, and they asked me to call them again in December because of the shortage," the 26-year-old told Sixth Tone. "I live close to Hong Kong, so at least it's convenient for me." Xu added that some of her friends who live elsewhere are considering going to Taiwan to get the vaccine.
Twenty-four-year-old Lin Qishan, meanwhile, had already received her first Gardasil 9 injection over October's weeklong National Day holiday. "After I heard the news [about the shortage], I asked my boyfriend to check with the clinic," the graduate student in Nanjing, capital of eastern China's Jiangsu province, told Sixth Tone. "The clinic said it wouldn't affect me, though they wouldn't let me schedule my second injection because this can only be done two weeks in advance."
Although Cervarix, another HPV vaccine, became available on the Chinese mainland in August, it only protects against two strains of the virus and was removed from the U.S. market in 2016. Gardasil 4, which protects against four strains but has also been discontinued in the U.S., was approved by the Chinese Food and Drug Administration in May but has yet to reach consumers.
Gardasil 9 is effective against nine strains, which explains why so many Chinese go out of their way to get it. Patients receive three injections over the course of six months — two months between the first and second injections, four months between the second and third.
For some people who have already received their first or second injection, the October-to-December delay disrupts this timetable, but those in Hong Kong's public health sector are telling people not to worry.
"It's fine to finish the three injections in one year," said He, a staff member at Mear, an online booking agency for doctors in Hong Kong. "Some clinics have arranged a longer vaccination cycle for the customers, according to suggestions from the vaccine producer," she told Sixth Tone. "This current shortage is affecting all of Hong Kong."
In China, cervical cancer is the third most common form of cancer in women aged 15 to 44. Each year, the country sees 30,000 deaths from the disease and over 100,000 new cases.
Editor: David Paulk.
(Header image: A girl is inoculated against HPV at a hospital in Haikou, Hainan province, Aug. 18, 2017. Qi Miao/VCG)