A cervical cancer vaccine that took more than a decade to approve for use in China has been dropped from the U.S. market by its manufacturer.
Cervarix, the world's first human papillomavirus (HPV) vaccine, is produced by British pharmaceutical giant GlaxoSmithKline (GSK). HPV infections are the main cause of cervical cancer, among the most common types of cancer in women worldwide.
In July, GSK announced that Cervarix had been approved by the China Food and Drug Administration (CFDA) and will be available in China beginning next year. No other HPV vaccines have ever been available on the Chinese market.
The approval came eight years after trials of the drug began in China — and a decade after it was widely available elsewhere around the world. China has more than a quarter of the world's cervical cancer patients, and over the years many women have opted to travel to places like Hong Kong to obtain the HPV vaccine.
But although the drug has yet to become available on the Chinese market, it appears to have fallen out of favor with American consumers, who instead are turning to variations of the drug that they consider more effective, and which are produced by other pharmaceutical companies.
In a note to customers, GSK said it stopped selling the vaccine in the U.S. in late August, citing very low market demand as the reason for its withdrawal. While the official announcement was made that month, media reports on the issue have only recently come to fore.
Whereas Cervarix only protects against two types of HPV, Gardasil 9, produced by competitor Merck, covers 9 strains. Gardasil is also licensed by the U.S. government for both men and women, but Cervarix has only been approved for women.
Last year, Cervarix earned the company $107 million worldwide, while Gardasil earned a total of $1.9 billion. Cervarix had around a 2 percent market share in the U.S. for the first half of 2016.
In a written statement sent to Sixth Tone by GSK China media officer Song Xinrong, the company said that the decision to no longer supply Cervarix in the U.S. would not affect other markets, where it said it is still widely used. "[Cervarix] has largely contributed to the reduction of cervical cancers worldwide," it added.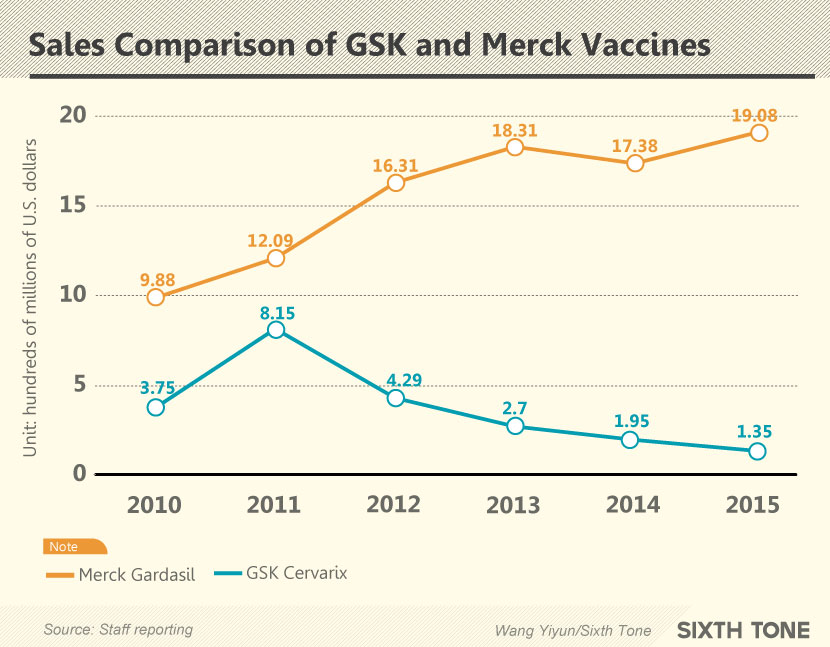 Merck is currently waiting for the CFDA's approval for Gardasil. The drug is already available in Hong Kong. Apart from GSK and Merck, several domestic companies are also conducting clinical trials for their HPV vaccines.
The news that a drug not yet available in China has already fallen out of favor abroad was met with incredulity by some on Chinese social media. "What they can't sell in America, they're selling in China," commented one net user under a news article.
But others were quick to point fingers at China's approval process. "There are many good medications you can't buy in China," wrote another net user on microblog platform Weibo. "They cannot enter the Chinese market because of all the policies that are blocking the road."
The lack of availability of certain medicines on the Chinese market has given birth to a cottage industry of travel agents who arrange trips abroad for the sole purpose of buying medicine. In an earlier interview with Sixth Tone, one such company said they had helped hundreds of hepatitis C patients travel to India in search of drugs that have yet to be approved in China.
The World Health Organization said in July that better access to hepatitis treatments could save 10 million Chinese lives by 2030.
"Our country is often criticized for its long approval process," said Liang Hong, Beijing director for GlobalMD, a worldwide platform for medical professionals. Liang told Sixth Tone that one reason the approval process is unduly time-consuming is because the CFDA lacks personnel. Another reason, she added, is China's high bar. "Our standards are quite strict," she said.
Additional reporting by Li You.
(Header image: Keith Brofsky/UpperCut Images/VCG)