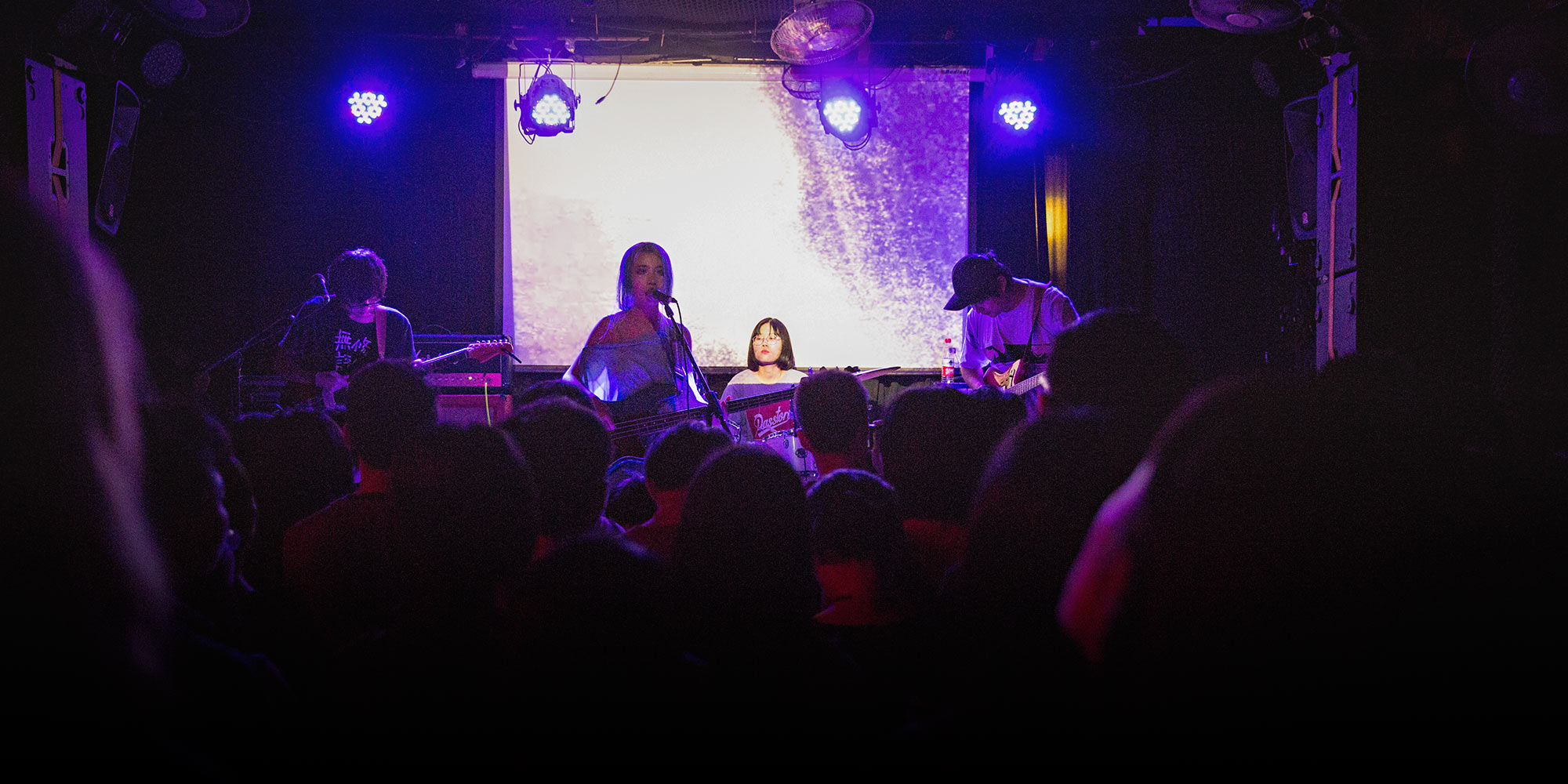 FEATURES
For Chinese Shoegazers, the Future Is Looking Up
In China's wealthy eastern cities, interest in dissonant, challenging rock music is at an all-time high.
SHANGHAI — A steady stream of music fans files into Yuyintang Livehouse on a Friday night in August to share an experience they typically enjoy alone. "I think shoegaze is quite an introverted style of music," says one woman waiting in line. "It lets people sink better into their own little worlds."
Yet despite the genre's association with solipsism, around 200 fans gathered at Yuyintang last month for the East Asia Shoegaze Festival, an evening-long celebration of the region's foremost peddlers of noise-laden, dreamy rock music.
Now in its fourth year, the festival aims to give a platform to the country's rising shoegaze acts, who share the stage with more established international bands. This year's lineup featured four DJs alongside six bands: Shanghai-based RUBUR and Tiny Enigma; Taiwan's U.TA; and Japan's The Taupe, Cruyff in the Bedroom, and Dive.
The term "shoegaze" was first applied to a musical style that emerged in the U.K. and Ireland toward the end of the 1980s. Dissatisfied with conventional guitar techniques, shoegaze's pioneers began sculpting distorted, dissonant layers of sound into canyon-like peaks and troughs. The movement's initial wave of popularity had crested by the mid-'90s but has periodically risen again, and thanks to this summer's releases by genre trailblazers Ride and Slowdive, we're in the midst of another shoegaze revival.
Though every shoegaze artist has their own sound, the underlying philosophy is about creating beauty out of noise: The enduring image of a shoegaze band — indeed, the image from which the genre takes its name — is one of motionless guitarists staring down at a phalanx of effects pedals strewn at their feet, summoning waves of punishingly loud sound by pressing a button here, turning a dial there, and taming each strum with a deft twiddle of a tremolo. Murmured, ethereal vocals swirl beneath the squall.
If this all sounds rather self-indulgent, then perhaps it is telling that one of the Chinese translations of the term "shoegaze" is zishang — literally, "self-appreciation."
Now 28 years old, East Asia Shoegaze Festival organizer Lu Jialing discovered the genre while at university, where he filled his head with the sonic textures of pioneering acts like My Bloody Valentine, Ride, and Slowdive. "I found it brought me a kind of dreamlike feeling, as if I were floating in the air," he muses. "It was a kind of escapism — for me, shoegaze is a very aesthetic, empyrean style of music, a kind of dreamscape."
Though China's rock musicians have long embraced the idea of dissonance, dyed-in-the-wool shoegaze acts didn't appear on the local scene until the mid-2000s. Even now, few Chinese shoegaze bands enjoy commercial success. But like the burgeoning independent hip-hop scene in the southwestern city of Chengdu and the ethnic folk music coming out of rural Yunnan province, Lu's festival has drawn a growing number of discerning listeners toward a previously niche genre.
Lu cut his teeth as part of the now-defunct four-piece Forsaken Autumn, a prominent Shanghai-based act formed back in 2011. The band released a solitary EP, "Whenere," in 2015 and a further single, "Touch," last year before parting ways.
"Limpid," by Forsaken Autumn
Lu has explored several other projects: Since 2012, he has run his own music label, Luuv, which has put out records by a motley collection of Chinese and Japanese shoegaze, noise, indie, and electronic acts. He also moonlights as a DJ. Curating the festival, however, has given China's scattered community of shoegaze aficionados a common focal point.
"Before the festival existed," Lu explains, "[shoegaze fans] did not have a proper chance to come together with friends from all over the country. So, I wanted to see whether I could hold a music festival and allow everyone to enjoy a feeling of extreme happiness." Over four years, the festival has seen modest growth.
The discordance of shoegaze can be off-putting to new listeners accustomed to musical styles that foreground melody. Lu attributes the genre's rising popularity in China to an emerging network of young, internet-savvy music fans. Social media and online forums give like-minded listeners more opportunities to communicate, while streaming websites like Kugou, Wangyi, QQ Music, and Xiami have put anyone with a smartphone just a few taps away from a vast musical database.
Yet while events and online communities help popularize the genre, for many fans, being sequestered in sound is central to shoegaze's appeal. "Shoegaze gives me a feeling of self-intoxication, of being immersed in my own musical atmosphere," a male festivalgoer says.
Many of this year's East Asia Shoegaze Festival attendees, however, were familiar with the Japanese acts but unable to name the Chinese bands on the bill. While local ensembles have attracted little fame individually, in recent years, Chinese shoegazers have been quietly increasing their recorded output.
A breakout moment came in 2013 with an online mixtape titled "Sinogaze, Vol. 1," a rough-and-ready two-hour anthology of Chinese shoegaze released through online music store Bandcamp. Two years later, Beijing-based label Nasty Wizard Recordings put out the "China Shoegaze Compilation," eight songs featuring four domestic acts, including Forsaken Autumn. The label followed with the "Asian Shoegaze Compilation Vol. 1," released in May this year.
"At first, there were only a few fans [of shoegaze in China] and a few bands doing it, but they tended to break up before too long," Lu remembers. In the last couple of years, he says, the scene has grown rapidly both on and off the web, especially among those born in the 1990s.
One of the local acts on the festival bill, the wet-behind-the-ears four-piece RUBUR (pronounced like "rubber"), first met online and self-released their debut EP, "True Bypass," earlier this year. But with Chinese mainland musicians arriving so late on the shoegaze scene, local groups are challenged to keep their music from becoming a pastiche of overseas artists' work.
"China didn't have a particularly defined independent music scene until quite recently," says Zhou Jingwen, RUBUR's bassist. "So maybe shoegaze draws on foreign influences quite a lot. But I think it's also very closely related to the environment you grow up in and elements of your childhood."
While many Chinese shoegazers remain beholden to the styles of their Western and Japanese contemporaries, the genre has also developed some local character. In their song "The Carcass," RUBUR incorporate an audio excerpt from Fei Mu's classic 1948 film "Spring in a Small Town." Lyrics by Hangzhou's Monkey Power — shoegaze stalwarts since the mid-2000s who today go by the moniker "Self Party" — reference listening to retro Panda-brand radios and hanging out in longtang, or lane communities. Hong Kong outfit No One Remains Virgin sing a paean to their hometown titled "Asia's Dim Sum City," while Taiwanese act TuT take their name from a crying-face emoticon popular in East Asia.
Yet despite the growing number of bands embracing a shoegaze sound, independent musicians on the mainland inevitably find it hard to reap financial rewards from their artistic endeavors. Though their debut EP was well-received, RUBUR — whose members include a college student, a recent graduate, a publishing house employee, and a soon-to-be ship crew member — remain unsigned and rely on events like the recent festival for exposure and income. Most of the bands that feature on "Sinogaze" come from Shanghai, Beijing, Guangzhou, and other megacities along the eastern seaboard, and much of their output remains decidedly low-fidelity.
"No one makes any money from it," says Lu, adding that most shoegaze musicians hold down other jobs to fund their creative pursuits. "Maybe in Europe and the U.S. there are a few bands that can make a living from shoegaze, but in East Asia, that's very difficult — no matter which country you're from."
"We just want to make more songs we like," says RUBUR lead singer and guitarist Liu Yichen. Beside him, Zhou nods her approval. "We haven't thought much about how we want this to develop in the future," Zhou says. "The main thing is to do a good job with the songs we have now, and to keep on recording, performing. That's already pretty satisfying in itself."
Editors: Qian Jinghua and Denise Hruby.
(Header image: Shoegaze band RUBUR performs at Yuyintang Livehouse in Shanghai, Aug. 18, 2017. Shi Yangkun/Sixth Tone)