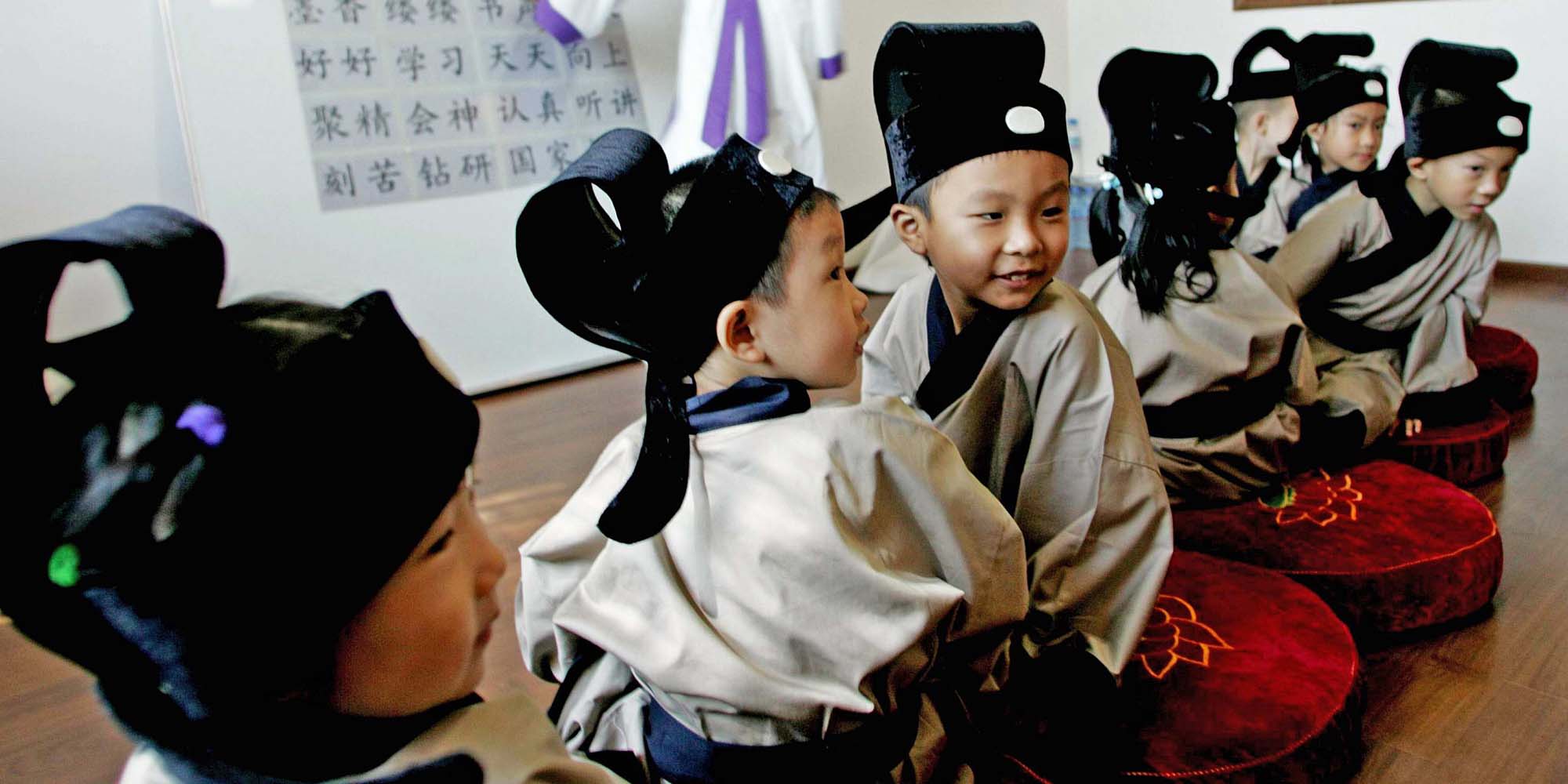 NEWS
Homeschooling Still Illegal, Warns Chinese Government
Authorities say alternative schools that focus on traditional culture will give pupils substandard education.
In an effort to reduce dropout rates, the Chinese government has clarified that homeschooling, as well as so-called sishu schools that focus on teaching classic Chinese culture, are illegal.
A notice published Tuesday by the State Council, China's cabinet, addressed students who don't finish compulsory education, which in China lasts through the end of middle school. It required schools to persuade parents who want to take their children out of school to study at home or at sishu institutes to reconsider, and to report them to local authorities if they do so anyway. In "severe cases," parents will be prosecuted, the notice said without elaborating.
During a press conference on the same day, Lü Yugang, director of the Basic Education Department at the Ministry of Education, warned that parents remove their children from school violate the compulsory education law, according to a transcript on the ministry's website.
Homeschooling and schools that focus exclusively on traditional culture, Lü said, don't offer a sufficiently wide variety of courses, or teaching that is up to the government's standard. The personal development of children who learn in such environments becomes stunted, and they don't learn enough, he added.
But more and more parents are disagreeing with this sentiment. Over the last decade, homeschooling and sishu schools have become popular alternatives for people who think China's official curriculum is too exam-oriented.
Ke Xiaogang, a professor of Chinese philosophy at Tongji University in Shanghai, told Sixth Tone that efforts to explore alternative education, like sishu and homeschooling, should be permitted. But currently, he explained, many of these institutes operate outside of the government's supervision.
These alternative schools often are operated by parents themselves, and are not legally registered. As a result, there is no official tally of how many such schools there are, but a sishu advocate told Sixth Tone in a previous interview that he estimates there are more than 2,000 such schools all over the country.
Besides being criticized by the government, these schools have also come under fire from former students. Some sishu only teach the Chinese classics — no math, science, or modern literature — and use a teaching methodology that is little more than asking students to repeat and recite texts without explaining them.
Many sishu institutes also don't shy away from corporal punishment. One Shanghai sishu summer camp, for example, says on its website that parents should accept that their children will be hit with rulers and receive other forms of physical discipline.
According to Lü, the department director, parents who wish for their children to learn more about traditional culture will be happy to know that new textbooks that will be used nationwide by 2019 feature more content on Chinese culture. "If that is not enough, students can attend classes after school," Lü said. "But these should not replace our normal school education."
Zhao Shengjun, the founder of a sishu school in the eastern Zhejiang province, told Sixth Tone that he thinks students should have the freedom to choose the way they want to be educated. "The current education system is not suitable for every student, but the government does not care about this," he said.
In any case, Zhao believes that sishu will not be significantly affected by the notice because there is still plenty of demand. "Parents are not satisfied with the country's education, and that's why sishu exist," he said.
Editor: Kevin Schoenmakers.
(Header image: Children attend a class on traditional Chinese culture at a private school in Wuhan, Hubei province, Aug. 13, 2006. Fu Keqiang/VCG)