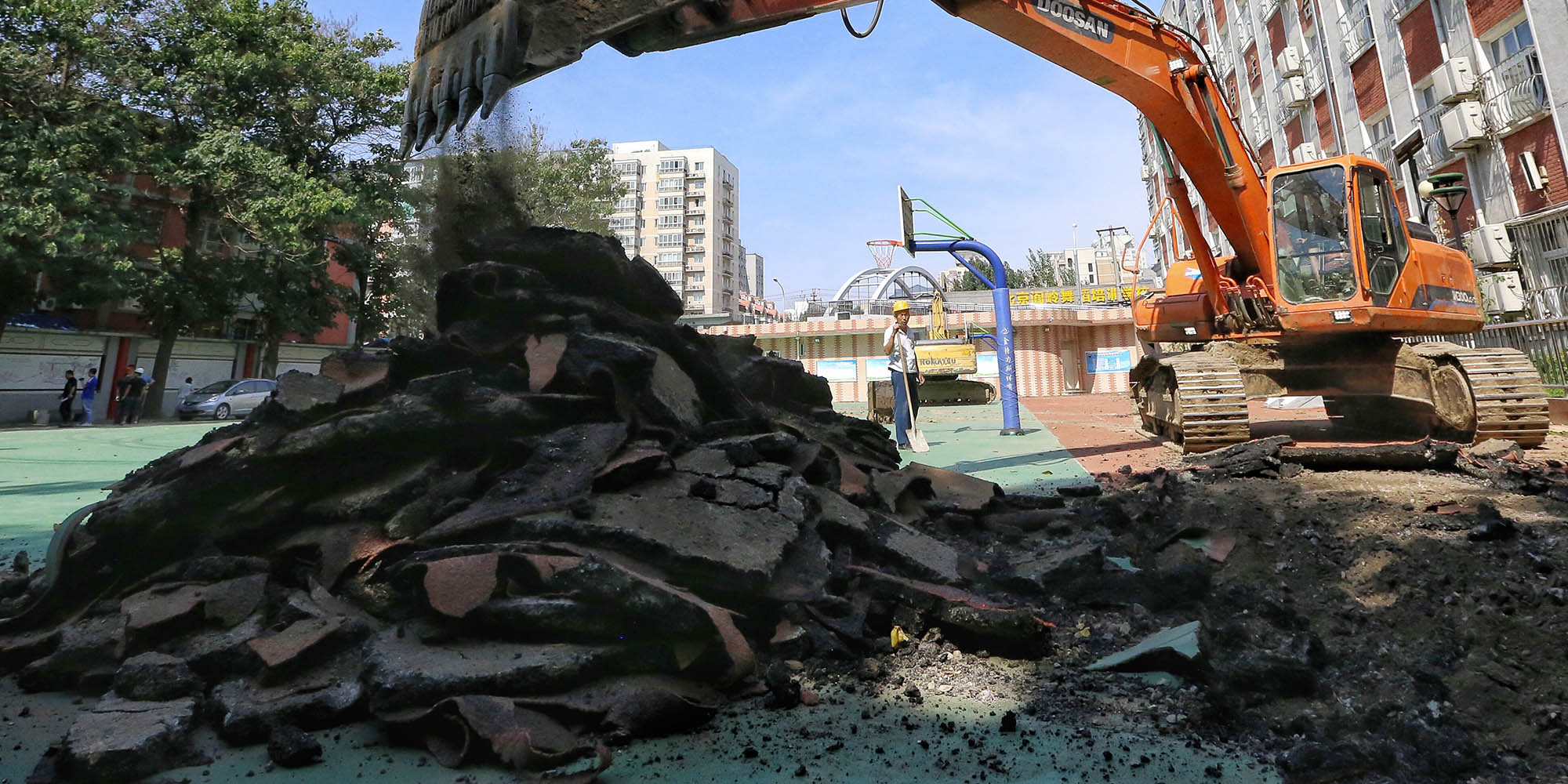 NEWS
Poor Oversight, Lax Rules, and Corner Cutting Behind Sick Schools
Experts, parents warn of growing dangers as tales of toxic schools become more prevalent.
A recent spate of "toxic school" cases across China can be traced to a lack of clear oversight on how schools select and use building materials, a leading materials expert has told Sixth Tone. Others, meanwhile, point to the rapid speed with which schools are constructed as another contributing factor.
The latest incident to make headlines involved a running track that was allegedly built using toxic materials. On June 8, students at Beijing Shangdi Experimental Primary School developed symptoms such as nosebleeds, dizziness, and allergies, which were found to have been caused by the school's running track.
Earlier this month, the running track at the Beijing No. 2 Experimental Primary School was suspected of containing toxins.
An undercover investigation this week by state broadcaster CCTV showed that cheap materials from old tires and electric cables were used to make rubber particulates for school running tracks in Baoding and Cangzhou, cities in the northern Chinese province of Hebei.
Toxic running tracks have been reported elsewhere in the country, including in Shanghai, Shenzhen, Chengdu, and Wenzhou, among others.
Some of the materials used to build tracks have been traced to Yanshan County, also in Hebei. In light of recent cases, the local government there has launched inspections into nine related factories in the county.
In a telephone interview with Sixth Tone, Shi Jianhua, council member of the China Association of Environmental Protection Industry and the leading author of the national standard for running track materials, said there was no single government agency responsible for overseeing the safety of running tracks. Instead, responsibility for such tracks was spread across a myriad of different government agencies, including those responsible for education, environment, and quality inspection, he said.
Shi said that using recycled tires as the raw material for producing running tracks is a common practice worldwide — even in Western countries.
Zhu Jun, the president of the China Tire Recycling Association, told Sixth Tone's sister publication The Paper that the origins of the toxic issue could be related either to how tires are recycled, or to the chemicals such as glue that are used later in the running track production process.
On Wednesday, China's education ministry halted construction of running tracks at schools nationwide. In addition, local education departments have been required to remove all sports tracks that do not pass quality standards set down by the department of the environment and the quality inspection bureau.
Shi said that, while there is a national standard for running track materials, it serves only as a reference guide, and that there was little enforcement of rules.
He described the standards as "imperfect."
Health risks at schools are by no means limited to running tracks. In Hangzhou, capital of the eastern province of Zhejiang, toxic chemicals were discovered within the artificial grass used in the school's sports field.
Also at the Beijing No. 2 Experimental Primary School, toxic chemical compound formaldehyde was discovered in classrooms, and is believed to have caused nose bleeding, coughing, and other symptoms among students.
A parent of one of the students at Changzhou Foreign Language School, in eastern Jiangsu province, who asked to be identified by her online name of Zhang Manzhu, pointed to the hasty construction of schools as a possible factor in the recent spate of health incidents. "They were still planting trees and grass when classes started," she said. "And there was dust left from construction on the classroom floors."
CFLS itself made headlines in April, when hundreds of pupils fell ill, allegedly due to contaminated soil. Parents pointed to a site near the school, which had, up until recent years, housed three chemical companies.
Zhang told Sixth Tone on Thursday that, like many parents, she is still waiting for the results of a recent investigation into what exactly caused illness among students.
The city of Shenzhen, in the country's southern Guangdong province, offers some hope of a better regulated future. After a slew of toxic running track incidents last year in the city, a new set of rules was introduced by the local government to regulate running track materials and construction.
The regulations required greater inspection of materials prior to the building of running tracks.
"It is a step forward," said Shi of the China Association of Environmental Protection Industry. "The new rules should be applied in other cities and provinces."
(Header image: The synthetic running track is dug up at the Baiyunlu campus of Beijing No. 2 Experimental Primary School, June 17, 2016. Guo Qian/VCG)