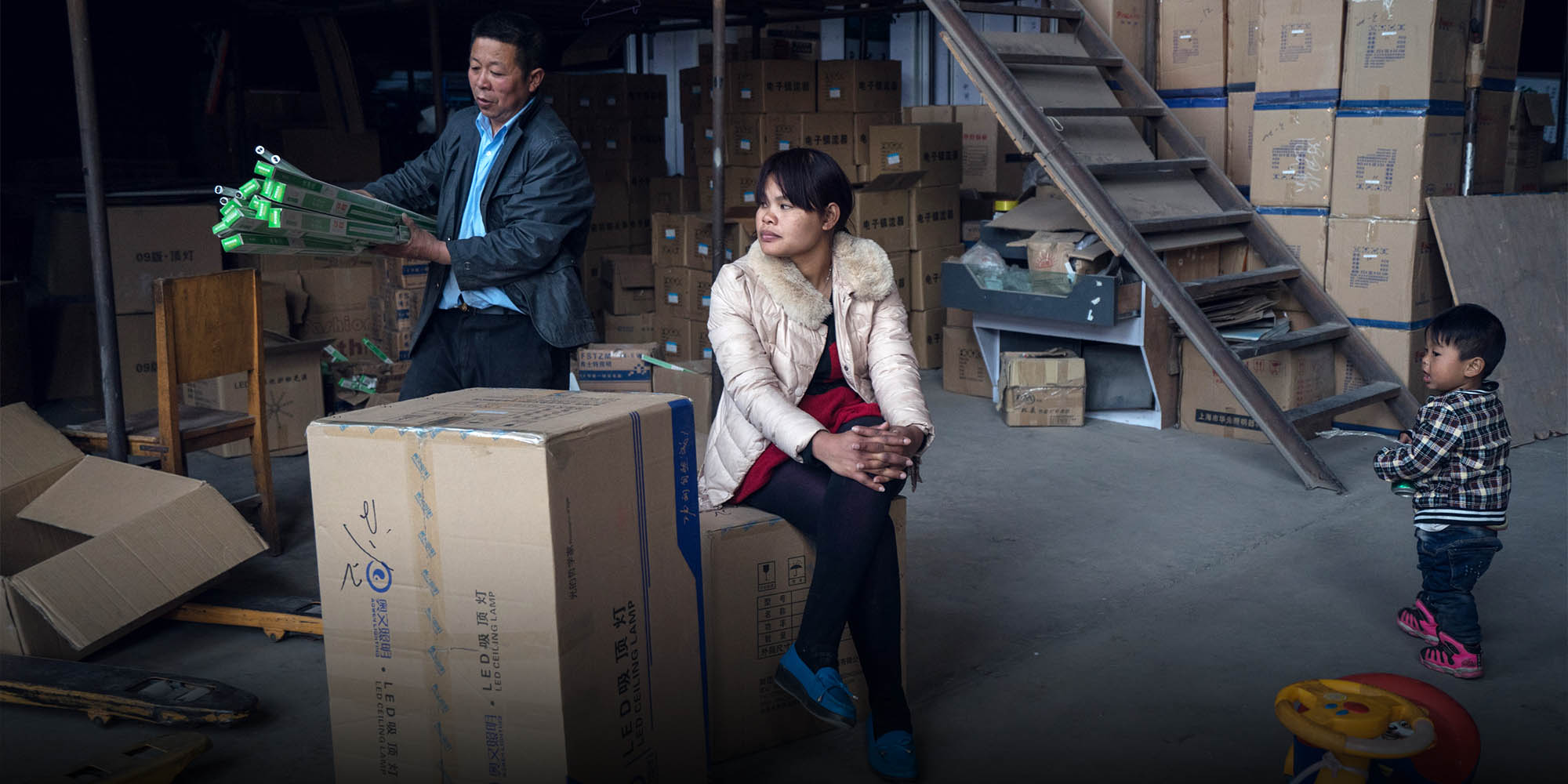 FEATURES
A Cambodian Bride in Small-Town China
Sophorn left behind her family for a new life — and a new husband.
April 13 was the Cambodian New Year. For Sophorn, who moved to China from Cambodia in 2013 to marry, it was the first time she had been home in over three years.
Sophorn is one of thousands of Cambodian women who have married Chinese men over the past half-decade or so. Jinyun County, her new home in the hills of Zhejiang province, eastern China, welcomed more than 360 foreign brides in the first half of 2013 alone.
Recent World Bank numbers show that 37 percent of Cambodians live on less than $3.10 a day. Young women have almost no prospect of earning a comfortable salary, yet they are still expected to take on a large part of their families' financial burden.
At the same time, China's countryside is full of "leftover" men who have reached or surpassed the traditional marriage age but are nonetheless expected to have children and carry on the family line. Years of restrictive family planning policies, combined with a preference for sons, has led to a massive glut in bachelors. China's 2010 national census showed that for people born in the 1980s, there were 136 unmarried men for every 100 unmarried women. The figure is even starker for people born in the 1970s, with single men outnumbering single women more than 2-to-1.
With that in mind, Zhang Chunfa, who lives in Jinyun County, plundered his savings and paid an agent 80,000 yuan (about $12,000) to find him a Cambodian bride. Back then he was 45 and single, having yet to father a child.
Sophorn had been married once before she moved to China. From the age of 15, she started working at a factory in Phnom Penh, the capital of Cambodia, and had met her future husband by the time she turned 20. The marriage that followed produced two children: a 10-year-old daughter, Janny, and an 8-year-old son, Chuu Nay.
By 2012, Sophorn had grown tired of her husband's excessive drinking and had moved out. She and the children returned to the family home in the southeastern province of Kandal.
Sophorn found new work at a factory nearby. A Chinese woman known to everyone as "Elder Sister" frequently introduced the factory's young Cambodian women to potential Chinese husbands. One day in 2013, she showed Sophorn a few photos of some Chinese bachelors.
"Lots of the guys in the photos looked pretty young," Sophorn says. "I told myself, 'There's no way I can choose a younger man than my husband.' In Cambodia, many women are unwilling to marry young men because they lack maturity. So I settled for the man who is now my husband, because he looked older."
Sophorn left her family, her two children, and her ex-husband behind, and moved to China.
For her, the new country took some getting used to at the outset. "I felt really nervous when I first arrived in China," she says. "I couldn't speak Chinese, so I couldn't communicate with the locals. For the first few days, I really wanted to go back to Cambodia, as I really missed my family back home."
As Zhang could not pronounce Sophorn's Cambodian name properly, they visited a fortune-teller, who gave her a Chinese name: Zhang Zixuan. From then on, she had a new identity in her new country.
"In my first year in China I found a job, and my husband gave me some money, too, so that I was able to send $1,500 back home." In the two years since, Sophorn has worked less, as she became pregnant and had a baby. However, her husband's income allows her to continue sending home around the same amount every year. Previously, when she was working in a factory in Cambodia, her monthly salary was approximately $100.
"I love my life in China. Chinese people have been very good to me," Sophorn says. She is very happy with her husband, whom she feels loves her and helps her with everything. "I think I am happier in China than I was in Cambodia," she says. "My Chinese husband has a steady job and knows how to look after his family."
Sophorn's is a happy marriage, but there are frequent reports of Cambodian women being trafficked into marriages with less desirable Chinese men, at whose hands they suffer horrible abuse. ADHOC, a Cambodian Human Rights organization, says it receives such cases at a rate of a few dozen per year.
Mariken Harbitz from the UN Women Cambodia Country Office told Sixth Tone by e-mail that it doesn't have statistics on the experiences of Cambodian women who move to China. "For many, migration yields benefits and can function as an entry port for a more prosperous life; for others, it carries dangerous risks, such as susceptibility to labor exploitation and vulnerability to violence," she wrote.
China's laws don't make life easy for foreign brides either. They can only apply for permanent resident status after five years of marriage. During those years, they are ineligible for public health insurance and do not have the legal right to work.
But for Sophorn, her life in China is better than the one she left behind. "It was torture when she was with her ex-husband," says Sophorn's mother. "When she had just given birth to her second child, none of her in-laws cared for her, and her husband was always out drinking." She says that after Sophorn moved back home, her husband came looking for her several times.
"If she had not left the country, she may never have got rid of her ex-husband," says Sophorn's mother, adding that this is why she was supportive of Sophorn's decision to marry a Chinese man. There was also a financial incentive: Part of the 80,000 yuan Zhang paid the matchmaker was given to Sophorn's mother.
Sophorn says that her two children have grown up a lot over the last three years. Her son, Chuu Nay, turns 8 this year. "When I went to China, he had just turned 5, and he was small and skinny. When I came back this time, I almost didn't recognize him."
Sophorn's mother says the children are closer to her now than to their mother. "They have already come to terms with Sophorn going to China, but they don't like it if I'm away even for one night." However, even after three years without their mother, the two children hardly left Sophorn's side during her stay, even following her as she worked in the fields.
Just as she is about to leave Cambodia again, Sophorn says: "When I'm in China, I obviously miss my two other children a lot. But while I've been back this time, I have seen how well they are doing in the care of my mother and relatives. I think my child in China needs me more than they do now. I really miss him at the moment, and I can't wait to get back to China and see him."
"Of course I'm very happy that Sophorn likes China," says Sophorn's mother. "For her sake and the sake of her kids, I don't mind keeping things ticking over here in Cambodia, helping her raise the next generation." She says she hopes Sophorn can go back to working and earn money that she can send back for her children to go to school.
Sophorn has similar hopes. "Even though my children in Cambodia have their grandmother to raise them, they don't have a source of income," she says. "If I can get myself a steady income in China and am able to send money back home to my family, then I'm willing to spend the rest of my life in China."
A Chinese version of this article first appeared on The Paper.
(Header image: Sophorn takes care of her son while her Chinese husband Zhang Chunfa works at a factory in Zhengzhou, Henan province, March 28, 2016. Cong Yan for Sixth Tone)