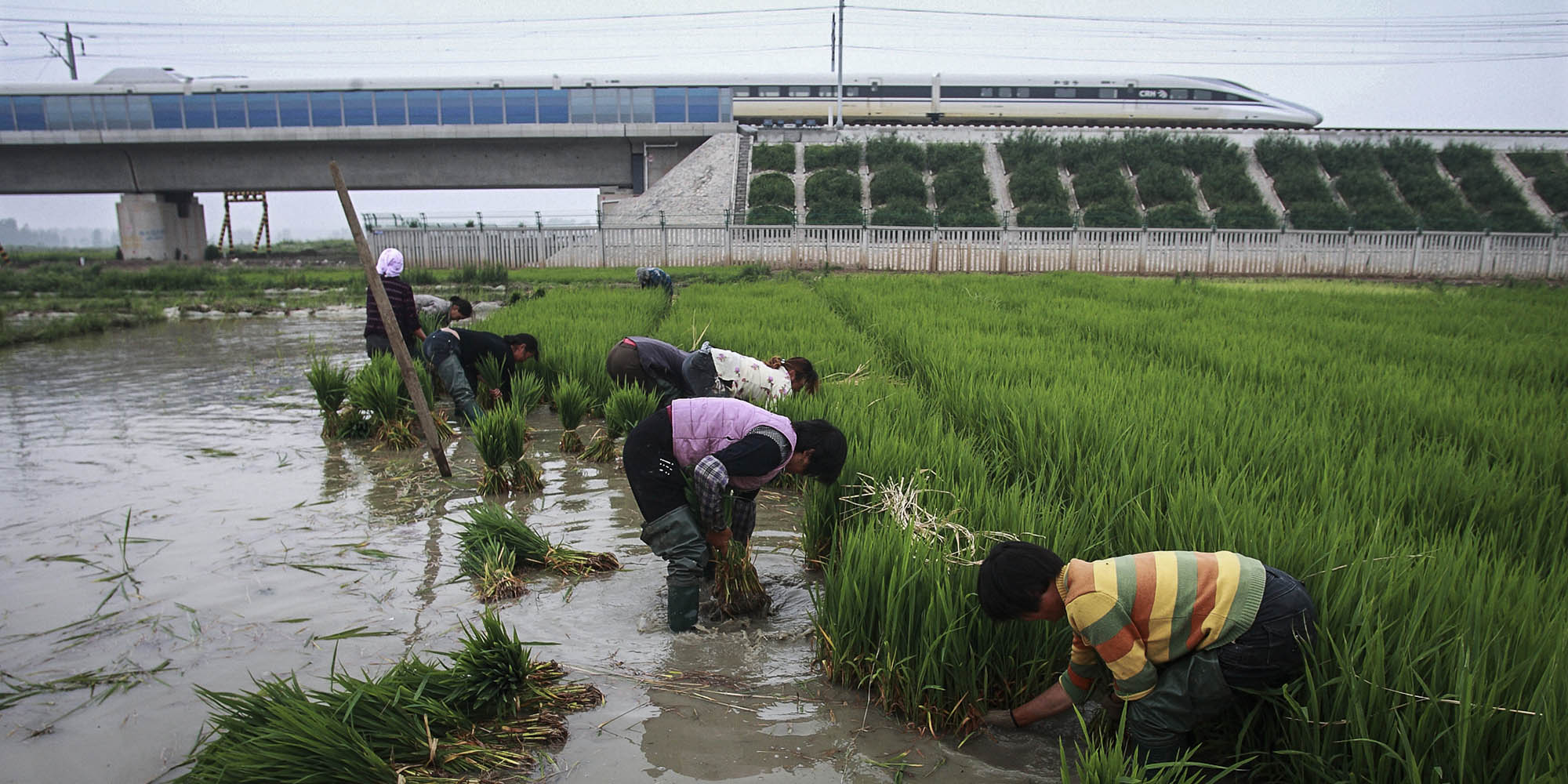 FEATURES
High-Speed Train No Silver Bullet for Rural Economy
Despite state-of-the-art infrastructure, Premier Li Keqiang's hometown Dingyuan struggles to find its economic footing.
Apart from considerable reserves of rock salt deposits, there's nothing that really makes Dingyuan County, in the impoverished eastern province of Anhui, stand out. Rock salt, and the fact that China's second most powerful man, Premier Li Keqiang, calls this place his ancestral home.
Yet even this association hasn't helped the county much, as it, like many other cities, towns, and counties throughout China, struggles to figure out ways to grow its local economy into the future.
Dingyuan did get a boost when it was selected in 2009 as one of 24 locations to get its own bullet train station on a 1,318-kilometer high-speed railway line connecting Beijing and Shanghai. The line opened in 2011.
Typically, competition between cities and towns to be chosen for inclusion in the high-speed rail infrastructure is intense. Conferring a spot on the advanced transport grid is highly coveted because of the promise it represents in the shape of new visitors, increased real-estate prices, and improved logistics links to the rest of the country.
When Dingyuan was selected, there was much debate over whether the decision was economically feasible. There are two other stops nearby, each just over 10 minutes away. Now, after five years of operation, it is becoming apparent that putting Dingyuan on the high-speed rail map has not been the catalyst for economic activity that many had hoped it would be.
"There's no real industry in Dingyuan," said Zhang Cunqiang, an entrepreneur and general manager of a wholesaling and advertising company in the town. "There aren't many employment opportunities."
What's happening in Dingyuan offers a window on the broader developmental challenges China faces as it tries to sustain economic growth, which from 2002 to 2011 averaged in the double digits at 10.6 percent, according to World Bank data. In recent years, however, that rate has fallen to single digits: In 2015 China's GDP grew by just 6.9 percent. Economic growth for Anhui province was slightly more encouraging, with 2015 GDP growth of 8.7 percent.
Dingyuan's inability to leverage infrastructure investment into productive assets capable of transforming the economy and lives of its citizens also stands to highlight other challenges to transforming the economy at grass roots such as the need to remove red tape and stem the hollowing-out of villages and towns in the country's heartland.
The county's main town, also called Dingyuan, was for many years a small, dusty town with a population of just 10,000 people. Gradually, farmland was replaced by high-rise apartment buildings and paved boulevards. In the course of the last decade, as the push for urbanization gathered momentum, that expanded to 170,000 residents, while the population of the county as a whole nears 1 million.
The high-speed rail has brought some quality-of-life improvements. A decade ago a trip to Beijing would have taken days by bus and train. Today the capital is easily accessible in 6 hours, as is Shanghai in just 2 hours. In a village about a mile away from the station, Zhang Guoyin, 57, has fallen in love with the bullet trains. "It used to take days for my son to come home from working in the garment industry in Liaoning province," he said. "Now he's able to get on a morning train and be home by lunchtime."
The arrival of the bullet train has also boosted the economic prospects of service providers such as taxi driver Shan Chenggang, 41, who picks up and drops off customers to the station. "There are about 2,000 passengers coming through the station every day," he said, adding that this was a tenfold increase from the first few years of the trains' operations.
Still, the station isn't bustling. At noontime on a recent weekday in May, there were no more than a dozen people waiting in the station's cavernous departure hall.
To connect the station to the city of Dingyuan, the local government built a six-lane highway at a cost of 400 million yuan (around $61 million), according to Zhang Hongbin of the county government information office. That amount was equal to about half of the local government's annual income in 2011, the year construction of the road began. Having a state-of-the-art transportation infrastructure appears not to have helped the local government balance its books. In 2015, income from taxes collected by the government in Dingyuan amounted to 791 million yuan. Expenditures, on the other hand, totaled 4.4 billion yuan. The government has filled the gap by turning to state grants — treasury transfers earmarked to maintain public service in impoverished areas — and proceeds from local bonds.
In Dingyuan City, Chang Zheng Road, or "the Road of the Long March," cuts laterally through the entire city, joining the museum, opera house, city square, and botanical garden with a smattering of government office buildings along its way. The opera house has been largely deserted, as has a large swimming pool complex that still has not opened for business some three years after its construction. The city's other main artery, crisscrossing to demarcate the old town from its modern part, leads all the way down to an RT-Mart, a Taiwanese-owned supermarket chain that opened its first rural branch on the mainland four years ago in Dingyuan.
The RT-Mart quickly became the largest player in town — and the only one with extensive parking space. Its arrival has meant big trouble for local competitors such as Baida and Suguo, which can't seem to keep up with RT-Mart's pricing advantages and shiny new facilities, according to Zhang Cunqiang, the entrepreneur.
The low per-capita disposable income of Dingyuan's residents — estimated at 21,300 yuan last year, according to one local government official — plus a limited population base makes the city a difficult operating environment for retailers. Even RT-Mart closes most of its checkout counters on weekdays. Customer flow has been seasonal, spiking to tens of thousands per day when migrant workers come home for the Chinese New Year holidays, and slumping significantly in the middle of the year when they are gone.
Local officials are hoping that e-commerce and online retailing can help breathe life into Dingyuan, too, by allowing the county's farmers to sell their produce nationally by channeling the internet.
Such a strategy would tie into plans by internet giant Alibaba to bring e-commerce to 100,000 villages in the next three to five years. To do this the company has earmarked 10 billion yuan in future investment in injecting Taobao into rural areas, and has dedicated a workforce of 1,000 people, each representing the company in a different candidate county.
Dingyuan is one of the counties included in Alibaba's pilot bases for Rural Taobao, an experimental site for easy shopping in rural China. "Dingyuan is currently relying on Taobao to develop its e-commerce but because local enterprises have limited skills and technological capabilities, its development is very difficult," said Zhang the entrepreneur.
Other factors include the country's business culture, which some describe as outmoded and bureaucratic. "The mindset of the government and the wider business community is that rural business people lag behind their peers in populous coastal provinces by at least a decade," said Chen Jianjun, who described himself as the "chief architect of rural e-commerce in Dingyuan." "That hasn't changed much in the high-speed train era," added the 12-year veteran of Alibaba, who spent most of his career in developed areas of the country.
Lu Kaiyang, deputy chief of commerce for Dingyuan County, has led a 20 million-yuan campaign buying and refitting an abandoned incubation center, offering flashy new office and storage space free of charge in a bid to foster e-commerce in the county. The space remains largely empty to this day.
Following a failed attempt to market locally produced pork last year, attention this year has shifted instead to locally grown rice. Alibaba has supported a coalition of 400 farms in Dingyuan, providing them with supplies of seeds, fertilizers, and pesticides, and promising to market the grain they produce under a premium brand.
With the outcome of the county's bet on e-commerce still remaining to be seen, Dingyuan officials must look to other industrial projects to secure the county's future. Greater awareness of environmental issues in China's more developed coastal areas is pushing high-polluting heavy industries inland, and places like Dingyuan County are competing to be their new home.
The county landed a 3 billion-yuan investment from Delun Tire Co. Ltd., based in China's northern Shandong province, to make 3 million heavy-duty and specialty tires per year. "Cheap labor and land here are about enough to offset the increased costs of shipping raw materials and finished products," the factory's general manager, Yuan Honghong, told Sixth Tone.
The county has up to 2 billion tons of rock salt deposits, which are used to make caustic soda, or sodium hydroxide, and polyvinyl chloride, or PVC, a commonly used component of plastic packaging. In Luqiao, 30 kilometers west of Dingyuan, a multi-billion dollar chemical complex is taking shape.
Bian Shiyu, 47, was the only woman among half a dozen middle-aged guards on duty at a sentry point at the chemical complex. She detected the pungent odor of chemicals in the air, but it didn't bother her. None of the guards, for that matter, used any form of respiratory protection.
"It all depends on which way the wind blows," said Bian.
Additional reporting by Fu Danni.
(Header image: A high-speed train passes in the background as farmers work on a rice paddy in Dingyuan, Anhui province, June 21, 2011. Chen Jian/VCG)