Will American singer Taylor Swift's latest reported fling with British actor Tom Hiddleston last more than a month? Three months? Ten years? Now Chinese fans who think they're in the know can bet on the love lives of their favorite celebrities by buying "break-up insurance."
On Taobao, China's largest e-commerce marketplace, some online vendors have promised double pay-outs should certain celebrity-related events come true within bet-upon time frames. "Insurance packages" range from a few cents to 50 yuan ($7.60).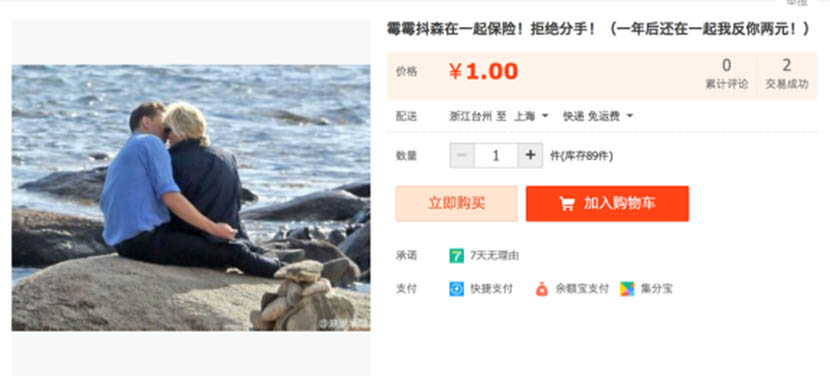 A screenshot from Taobao.com shows the price of 'break-up insurance' for Taylor Swift and Tom Hiddleston set at 1 yuan.
Besides betting on the duration of the queen of breakup ballads' relationships, net users can also gamble on whether Katy Perry will win a Grammy Award in 2017, whether the new season of the BBC detective drama "Sherlock" will air next year as promised, and whether Professor Charles Xavier will be bald in the next X-Men movie.
On microblogging platform Weibo, many net users reacted with amusement to the Taylor Swift insurance on offer. "This is the only gamble in the world on which I definitely won't lose my money," commented one Weibo user. "Wow! If she wrote a song about breaking up with Tom, I bet we could win even more money," said another.
Alternatively, netizens can also take out insurance on their own love lives. If their love story comes to a sad end, a small insurance payout could help cheer them right up. A similar product is also available for single people: If they meet Mr. or Mrs. Right within a month of their wager, the seller will give them 13.14 yuan, a number which in Chinese is a homophone for the word "lifetime."
Taobao has become known for offering extraordinary — and sometimes fraudulent — products and services. However, deals like this, whether categorized as a form of insurance or new approach to online gambling, are almost certainly illegal, and it is unconfirmed whether "investors" have received any payouts at all. According to Chinese law, private citizens cannot be insurers, and betting or lottery services can only be provided by China's state-sponsored welfare and sports lotteries.
A representative from Taobao's PR department, Liu Xiaojie, told Sixth Tone: "Taobao has done some investigation and found that most shop owners only sell the insurance for promotion of their own shops and haven't harmed customers' rights. We will soon introduce a system which will automatically remove insurance products containing relevant keywords."
(Header image: Taylor Swift and Tom Hiddleston are spotted canoodling on rocks near a beach in Westerly, Rhode Island, June 13, 2016. TheImageDirectcom/IC)