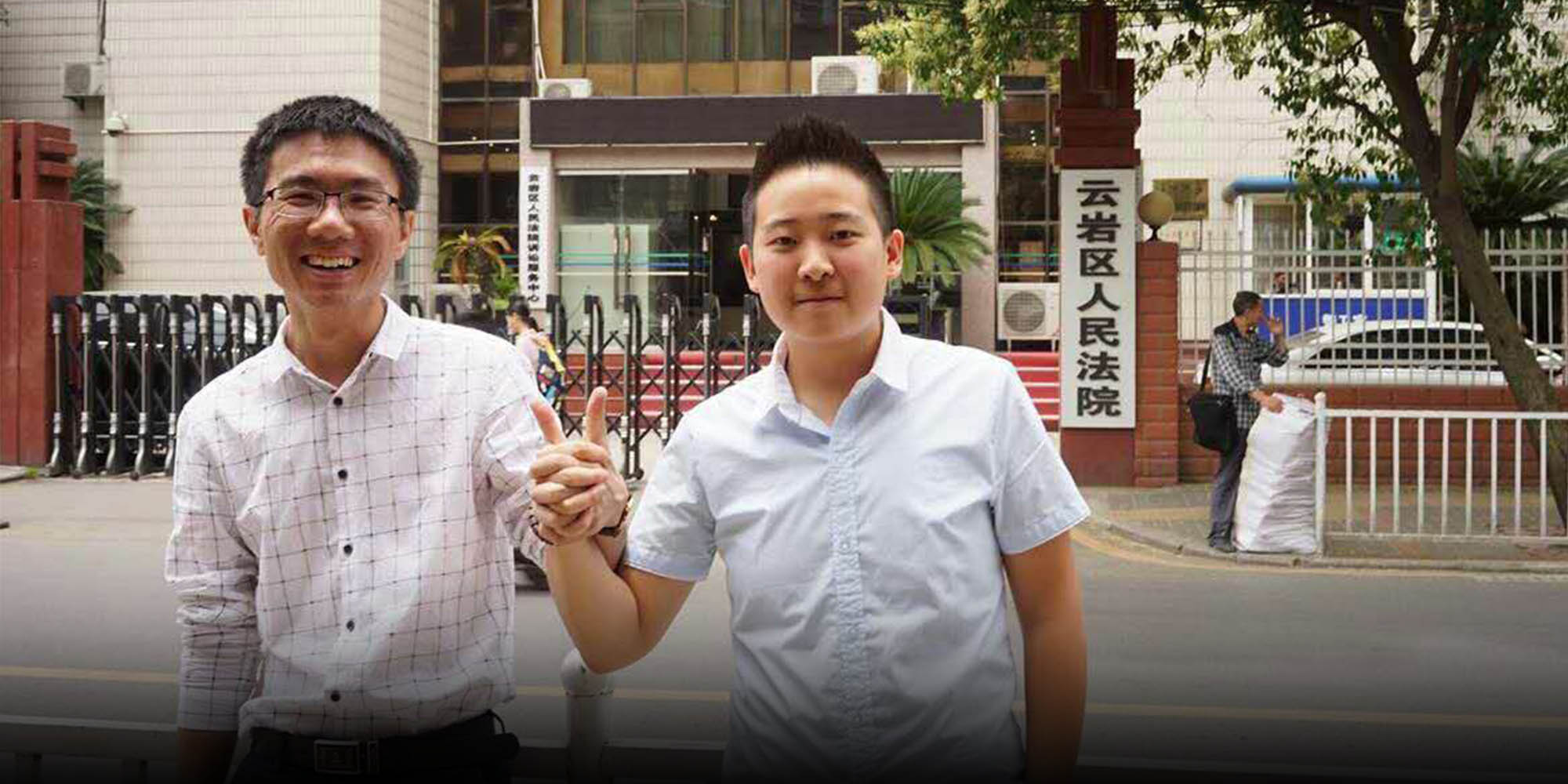 NEWS
Transgender Man Gets His Day In Court
Mr. C's unfair dismissal claim has progressed to appeal.
As hundreds gather in Amsterdam for the World Professional Association for Transgender Health symposium, a court in the southwestern province of Guizhou on Friday heard China's first claim of unfair dismissal on the basis of transgender discrimination. No ruling was made and the case is expected to continue for some time.
Plaintiff Mr. C — who has withheld his full name to protect his family's privacy — told Sixth Tone after the hearing ended at noon, "The court should be at the forefront leading society, but we'll wait and see what they decide. I hope the court can give us a fair and impartial verdict."
The hearing at the Yunyan District People's Court in Guiyang, Guizhou province appeals the result of last month's labor arbitration, in which Mr. C was awarded 402.30 yuan (around $62) in unpaid wages but denied his request for a formal apology and compensation.
Mr. C is a 28-year-old transgender man who says he was dismissed after just one week because his employer, Ciming Checkup, was uncomfortable with how his appearance might impact the company's image. Mr. C lives as a man and wears male clothing but his ID is marked female as per his sex assigned at birth. The company says he was dismissed due to poor work performance.
Lawyer Huang Sha told Sixth Tone that he and Mr. C are challenging the legitimacy of evidence produced by Ciming during the labor arbitration, as he believes the company falsified the date on some documents.
Mr. C said that he has several recordings of conversations in which company staff express satisfaction with his work performance but bring up the issue of his gender expression. But in May's labor arbitration, the arbitrator ruled that the recordings were inadmissible as evidence because they were "personal conversations" between Mr. C and other Ciming employees whose opinions didn't represent the company's management.
Xu Bin, the head of LGBT advocacy organization Tongyu, says that many trans and intersex people experience workplace discrimination but it's difficult to pursue legal action.
"Courts require very strong evidence, for example in sex discrimination cases, a recruitment ad explicitly saying the company won't hire women," Xu said. She added that in Mr. C's case, "In the first hearing, the company's human resources manager also brought up the company's dress code."
Workplace discrimination law in China is silent on transgender discrimination. In a press release for a series on transgender health launched by medical journal The Lancet on Friday, the authors of the series stress the importance of anti-discrimination laws to protect the rights of the estimated 25 million transgender people worldwide. "Where anti-discrimination law is absent, the practical result is often that discrimination is legal," they write.
So far, no cases claiming discrimination on the basis of either sexual orientation or gender identity have been awarded in China. In October 2014, a gay man in Shenzhen was fired from his job a week after being outed by a video posted online showing him arguing with another gay man. The labor arbitrator ruled in 2015 that there was insufficient evidence that his dismissal was due to his sexual orientation. The defendant did not acknowledge a recording that the plaintiff produced of his former manager saying that the viral video could damage the company's image.
Another employment discrimination case in which a man claims he was forced to take leave after testing positive for HIV was heard on Sunday in the labor arbitration court in Guangzhou, Guangdong province. A verdict in that case is expected within 60 days.
Additional reporting by Li You.
(Header image: Lawyer Huang Sha and Mr. C in front of Yunyan District People's Court in Guiyang, Guizhou province, June 17, 2016. Courtesy of Mr. C.)