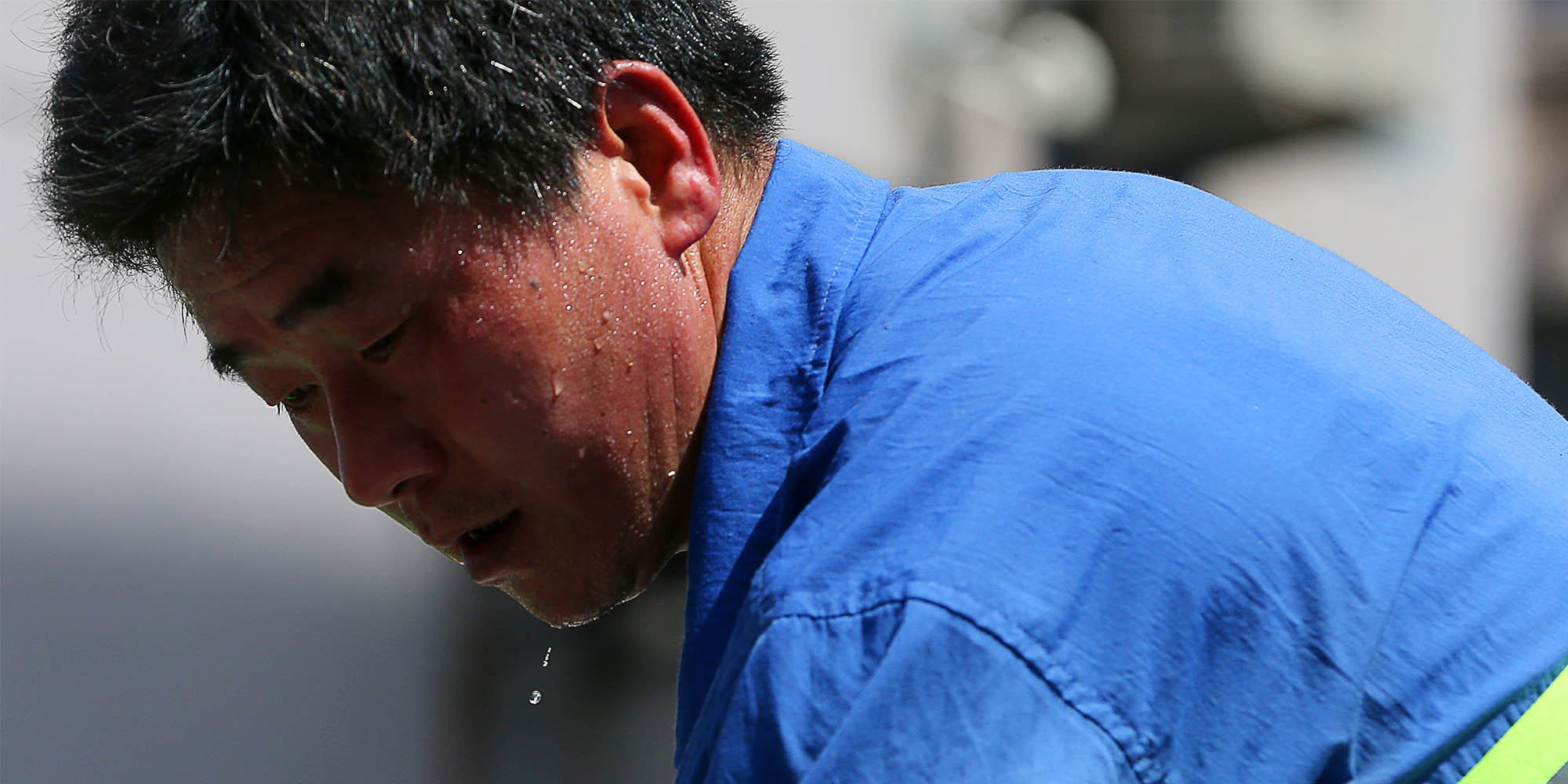 NEWS
'Heat Allowance' Small Recompense for Scorching Temperatures
Despite 2012 regulation, subsidies for working in high temperatures go unclaimed by workers and unpaid by employers.
Every year officials from labor authorities around China check that workers are receiving their promised "heat allowances" — a subsidy of around 200 yuan for working in oppressively hot conditions. But from the workers' end, there doesn't seem to be any sense of gratitude.
In a city such as Shanghai, where the cost of living is soaring, workers complain that the 200-yuan monthly stipend makes little difference and isn't enough to make up for difficult working conditions.
Zhu Mengmeng, a courier, said most of his co-workers are compensated every month during the hot summer days. "It's been a routine practice for a couple of years, but nobody thinks the stipends are of particularly great benefit because of their size."
In a bid to discourage companies from obligating their employees to work in high temperatures, the Chinese government strengthened existing legislation in 2012 by adding a financial penalty.
Employers are now required to pay an allowance if the temperature of working conditions exceeds 35 degrees Celsius outdoors or 33 degrees indoors. However, a report from China News Service said that only 28 Chinese provinces out of the total 34 have put this initiative into action.
China's first attempts to mitigate the dangers of overly hot working conditions came in 1960.
In recent years, China has experienced record-breaking summer temperatures. More than 10 people died in Shanghai from heat stroke in 2013 — the city's hottest summer on record, according to a local news report.
But nationwide financial compensation was not introduced until 2012, and the specific sum of the subsidy is at the discretion of local governments, as are distribution methods.
While some provinces pay per day and decide the eventual sum based on the number of hot days in a given month, others define a range of months during which employers have to allocate this allowance.
For instance, in Shanghai, outdoor workers are theoretically entitled to a monthly heat allowance of 200 yuan between June and September, regardless of the temperature. But in practice some of the city's couriers and sanitation workers, who typically work long hours outdoors, say they have never received the benefits.
"My employer has never mentioned a heat allowance to me," said Xu Wujian, who has worked as a courier in Shanghai for two years. Working on a temporary contract that must constantly be renewed, Xu told Sixth Tone he didn't expect the same benefits that formal employees are entitled to.
"I'd rather use the time I could spend complaining about not getting the subsidy working harder to deliver more packages. My income is completely dependent upon the number of parcels I deliver," Xu added.
The heat allowance in most provinces has remained the same since its introduction even as the cost of living in Shanghai has risen substantially, and this de facto devaluation of the subsidy further discourages employees from reporting its absence from their paychecks.
In the period since the rate was set, Shanghai residents' average monthly incomes in Shanghai have risen from just over 4,300 yuan to nearly 6,800 yuan.
Workers — and especially those on temporary contracts — are afraid that claiming benefits from their employers could lead to dismissal. In China, trade unions offer limited assistance to employees fighting for their legal entitlements.
Su Guojian, in his 50s, sweeps the roads in five neighborhood compounds in Pudong and is hired on short-term contracts. In 20 years he has never received a penny in heat allowance.
"It's not worth it to risk losing a job for a mere 200-yuan subsidy," said Su.
A staff member at Shanghai's human resources and social security bureau told Sixth Tone that any outdoor worker who has failed to receive a heat allowance can report the case to the local labor authority via a special hotline. However, there are currently no statutory disciplinary measures in place to punish company negligence.
(Header image: Sweat streams down a sanitation worker's face, Shanghai, July 2, 2013. Wang Chen/Sixth Tone)