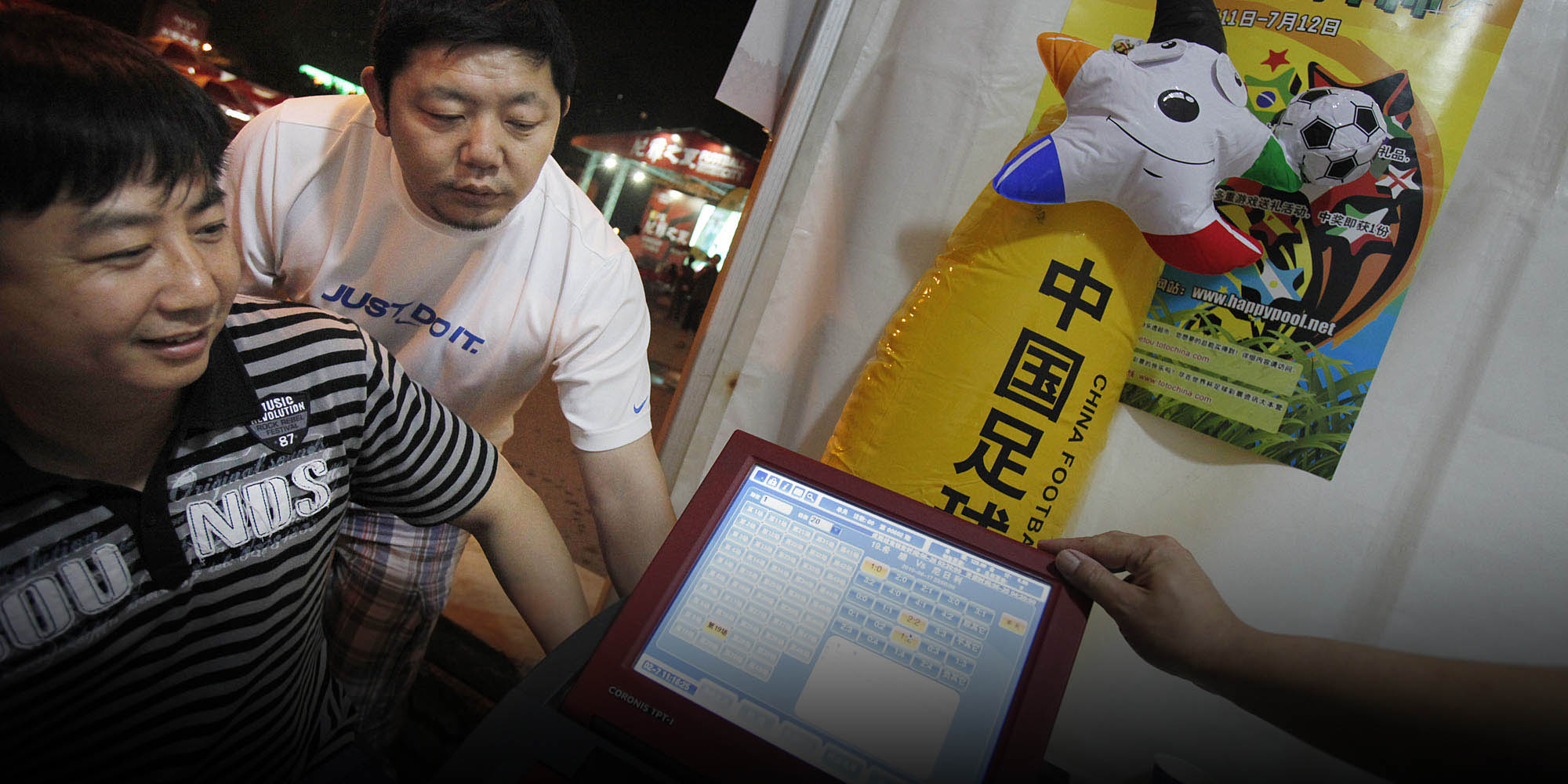 NEWS
During Euro 2016 All Bets Are On for Chinese Soccer Fans
With police cracking down on gambling dens, more risk-takers are going online.
Shu Hao, 30, has been glued to his laptop screen every night since the start of this month's Euro 2016 soccer tournament. He stays up until 2 a.m. watching matches, hoping his bets of thousands of yuan will pay off.
Chinese soccer fans are among the hundreds of millions tuning in to Euro 2016 and Copa America — its counterpart in the Western Hemisphere — these weeks. Though it's mostly illegal, betting is still indulged in by many.
Shu, who owns his own restaurant in Suzhou, Jiangsu province in eastern China, told Sixth Tone that he has put aside 30,000 yuan (more than $4,500) for Euro 2016. For each match he bets anywhere from 3,000 to 10,000 yuan.
So far, luck has been on his side. "I've won a little," Shu said. "I've put all my winnings toward playing poker."
China's gambling market is estimated to be worth $600 billion a year. It is also almost entirely illegal and a criminal offense.
According to the country's laws, gambling is punishable by up to three years in prison. Police routinely bust underground casinos — in May authorities in southern China's Guangdong province said they raided a gambling den, arresting 89 people and seizing 169,000 yuan. In the same month they announced that that they had arrested 2,400 individuals involved in gambling so far this year.
Gambling, betting, and card games involving money are somewhat of a national pastime in China, with sometimes tragic results. In March a student killed himself after racking up a debt of 580,000 yuan by betting on soccer games, and the suspect in Sunday's bombing at a Shanghai airport turned out to have money problems due to online gambling.
Most gambling has now moved online, where it is harder to be tracked down by police. "I don't go to real gambling houses these days; they are not as safe," Shu said.
Online gambling also allows businesses from outside China to serve Chinese customers. Shu uses bet365, a Gibraltar-based online betting service that has a fully Chinese website. Messaging app WeChat has also become popular as an outlet for gambling, as it allows users to send money via the built-in WeChat Wallet function.
Yang Yi, 29, works as a photographer in Shanghai. He bets on games using an app, Biying, that allows users to buy China Sports Lottery tickets. It's a legal form of betting, and the proceeds go toward the country's sports institutions and charities. Shu isn't interested in gambling this way, though, as payouts can be lower and there are fewer ways to bet compared to other venues.
Yang enjoys the strategic aspect of betting more than the money. "I enjoy reading statistics and predicting outcomes," he told Sixth Tone. "I have lost a lot buying stocks, so now I do soccer gambling. I don't rely on teams' winning histories or rankings. I try to analyze their game strategies."
Shu takes a slightly less scientific approach, placing his bets according to how much he likes the team. For the recent match between Wales and Slovakia on June 12, he put 10,000 yuan on Wales because he used to study in Swansea. Wales ended up winning 2 to 1, and Shu won 6,000 yuan.
Yang, on the other hand, hasn't been as lucky, having lost his last seven bets. "I am only trying to have some fun," he said.
(Header image: Two soccer fans buy sports lottery tickets during the World Cup, Beijing, June 17, 2010. Wu Hailang/VCG)