When actress Huang Yi — better known by her stage name, Hai Qing — was preparing to play fictional journalist Zheng Yuqing for a new television series, she spent a month undertaking her own investigative research by interning at Hefei Evening News in eastern China's Anhui province.
Journalism drama "Nu Bu Qiangda Tian Bu Rong," which translates approximately to "Heaven Cannot Abide Women Without Might," premiered two weeks ago on satellite TV channels and a handful of online video platforms. The episodes on streaming website iQIYI had been viewed 142 million times as of Sunday.
The series centers around a female reporter, Zheng, and spans the 15 years from the heyday of China's metropolitan newspapers at the turn of the millennium to the present day, when print media faces growing competition from digital media. The late 1990s to the early 2000s is considered the golden age of reporting in China, when state-approved — but not state-run — metropolitan newspapers began to proliferate, with a stronger focus on investigative reporting than party papers.
The show's writer Liu Liu — "Six Six," the pen name of feminist writer Zhang Xin — told Sixth Tone that she arrived at the setting because she wanted to write about change. "I chose this time period so I could give the public a clear view of an industry, from its birth, through its peak, and then to its recession, and show the mindset of its workers," she said.
The story begins in the present day with the surprise announcement that the director of the fictional Jiangzhou Metropolis Daily is being investigated for a disciplinary offence, and that Zheng has been appointed his successor. The action then rewinds to 15 years prior, when she was a young intern at the paper, on assignment with her boss covering a catastrophic flood.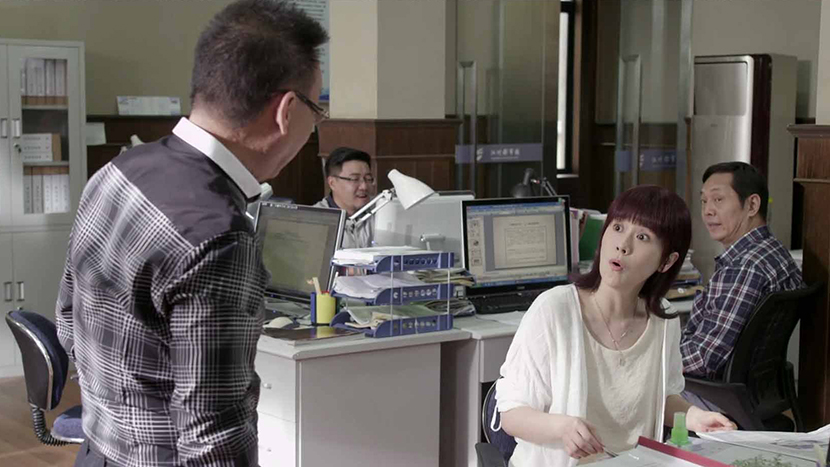 A still frame from 'Nu Bu Qiangda Tian Bu Rong' shows Zheng Yuqing arguing with a colleague.
Among the most vocal commentators on the series are media professionals, who are weighing in on the show's portrayal of their industry. Some have found Zheng's career trajectory theatrical and implausible. Journalist Station, a public account on messaging app WeChat covering industry news, pointed out that while the hard-working character sails smoothly up the ranks to become the newspaper's director at the relatively young age of 36, in reality the director is appointed by the Party Publicity Department based on political expertise rather than reporting skills.
Others identified with the character's determination to expose important issues, regardless of personal risk. In one episode, Zheng undertakes a perilous investigation into an illegal "gutter oil" business, in which used cooking oil was resold to unscrupulous vendors. Similar food safety crises punctuate China's public debate on a regular basis.
Liu's work is known for being politically engaged: According to Beijing Youth Daily, Liu's previous work, "Snail Home," which addressed the impact of official corruption in the real estate market, underwent emergency editing and was later banned. But "Nu Bu Qiangda Tian Bu Rong" glosses over the topic of censorship and state oversight, leading to indignant comments online saying Liu approaches this aspect of journalism uncritically.
When the scheduled series premiere in March was pushed back, many speculated that the delay was because the show had hit a snag with censors. Liu admitted in an interview with Sina Entertainment that some of the show's original content had been cut but declined to specify what had been removed or for what reason.
Yan Wei, editor of the magazine "China Television," posted on his Weibo microblog that the show provided a "courageous and informative" reflection on real social issues, saying, "Mainly through dissecting journalism, it examines all the growing pains that attended economic development." However, he added that in attempting to give a broad view of China's social transformation, the plot construction sometimes lacked depth.
Liu's work is known for probing social issues. As well as exploring the media industry in transition, her latest work examines the obstacles that working women encounter.
Zheng is a gutsy, driven, and deeply ethical young woman whose pursuit of big stories often impacts her personal life. The series follows her and Lu Fangcheng, her boyfriend and eventual husband, as both are forced to compromise in their careers in order to maintain their family. Early episodes also show Zheng's father disapproving of their relationship because Lu's career is less prestigious than hers, highlighting changing expectations of gender roles across different generations.
A still frame from 'Nu Bu Qiangda Tian Bu Rong' shows Zheng Yuqing and her husband at their home.
An article by the Guangzhou Daily newspaper mentioned its female journalists were touched by a familiar scene in the first episode showing the protagonist's husband taking care of their daughter at home, while Zheng worked late into the night.
The show's focus on gender equality and work-life balance echoes Hai's own values. When the 38-year-old actress was appointed China's national ambassador for U.N. Women in October 2015, she spoke of her belief that "women and men should equally contribute and strike a balance between family and work, instead of making one partner shoulder most of the family responsibilities."
Women in media face industry-specific barriers. For many years, women have outnumbered men as journalism graduates in China, yet only 47 percent of press card-carrying working journalists are women, and men make up the overwhelming majority in managerial positions.
Wang Yaqiu, a female journalist, reported in April that many women in the industry felt they were rarely given the opportunity to cover the biggest breaking stories, such as natural disasters or political and economic news, and that often they experienced dismissive remarks where male journalists would attribute their success to sex appeal.
In such a context, Zheng's high-risk assignments and triumphant career trajectory may seem like an idealistic dramatization.
Liu agreed that few women have reached the status of her protagonist. "But the position of women's careers is at an unprecedented high," she told Sixth Tone. "I stitched together a lot of stories from the industry — after all, this is a drama, not a documentary. You need to see it as a journey toward destiny."
With contributions from Li You.
(Header image: A still frame from 'Nu Bu Qiangda Tian Bu Rong' shows Zheng Yuqing holding her camera on a reporting assignment.)