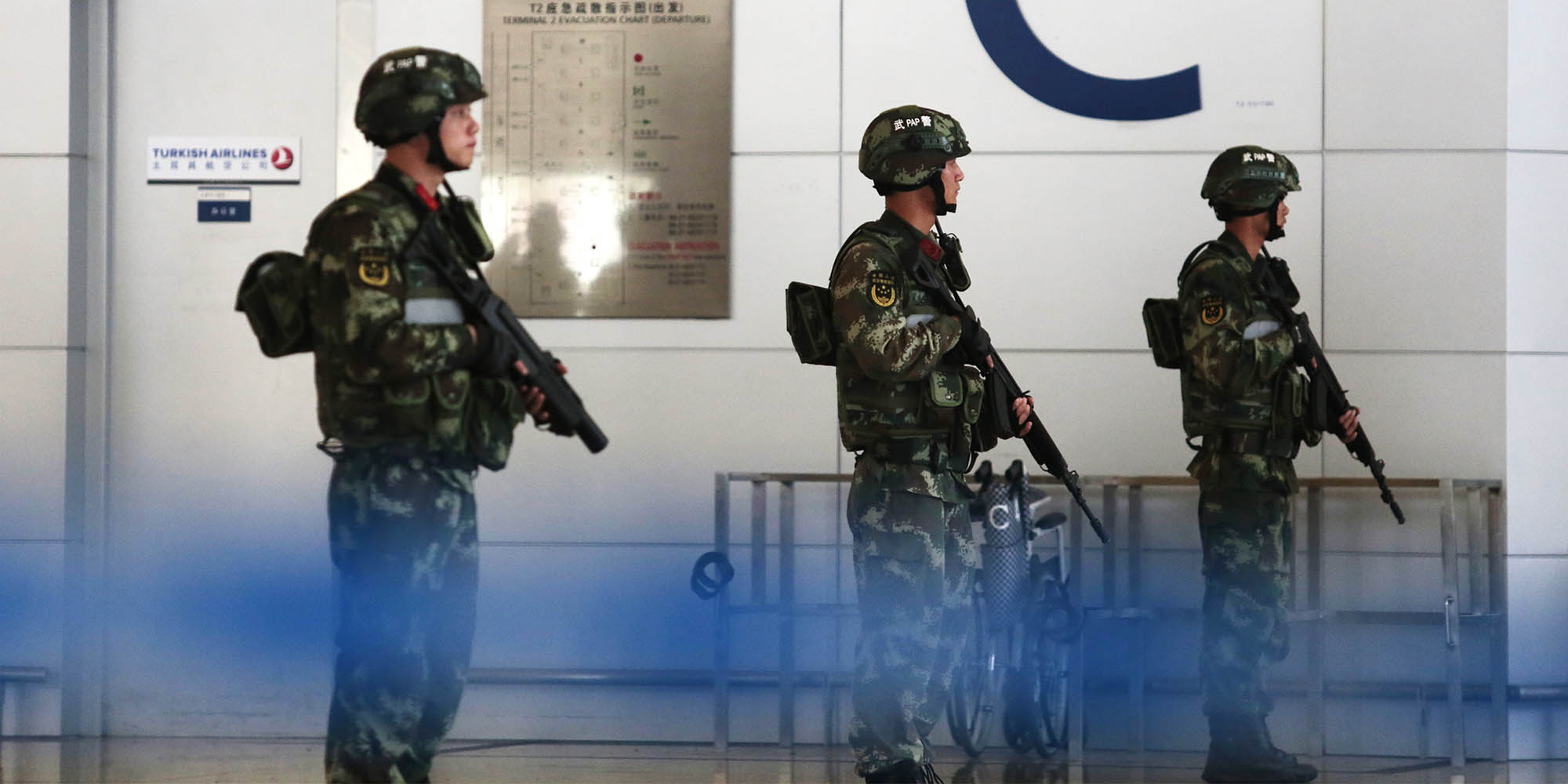 NEWS
Injuries After Suspected Homemade Explosive Detonated at Shanghai Pudong Airport
Four injured after blast at check-in area, one person with neck wound in critical condition.
One of the four people injured after a small explosion at Shanghai Pudong International Airport on Sunday afternoon appears to have suffered a knife wound to the neck and is in critical condition, according to on-the-ground reports from Sixth Tone's sister publication The Paper.
The reports could not be immediately verified with police or airport authorities.
Pudong New Area People's Hospital confirmed to The Paper that four people with injuries related to the blast are undergoing care at the hospital. The other three people, two men and one woman, suffered relatively minor injuries.
Immediately following the event, Shanghai Airport Authority posted on their Weibo microblog that the blast was caused by a suspected homemade explosive device. The post added security personnel had taken control of the area. News agency Xinhua reported an investigation is underway.
Wu Jingjing was planning to fly to Bali with her husband, surnamed Zhu, for their honeymoon. She told Sixth Tone: "The sound of the explosion was very loud, and the smoke billowed high like a mushroom cloud. It happened between check-in areas C and D, and people ran away after the blast, leaving their baggage behind on the ground. One man was injured and bleeding, and had to be carried away on a stretcher."
A security video of the scene shows several travelers fleeing in all directions just before the blast. The explosion takes up most of the screen, and dozens of people are seen diving for cover.
One photo circulating on Weibo shows an injured person being removed from the scene on a gurney. Other photos online show the area where the explosion occurred being cordoned off and protected by armed personnel.
According to local news outlet Shanghai Observer, the airport has upgraded its security level. Flights are operating normally, according to the People's Daily.
Reactions on Weibo from witnesses were swift, with one user saying: "Shit! I just checked in at Pudong airport and the counter opposite me exploded. I was so scared I cried. If this was in America, I'd think it was a terrorist attack."
Meanwhile, another user said: "There was just an explosion at Pudong airport in a control room or reception. It was deafening. Everyone was scared by the blast. Most of the people in the restaurant ran. My plane is also late, could it be that my life is going to end here today?"
This is an ongoing story and will be updated periodically with new developments.
Additional reporting by Kevin Schoenmakers.
(Header image: Three armed policemen guard the scene of the explosion at Shanghai Pudong International Airport, June 12, 2016. Zhu Weihui/Sixth Tone)