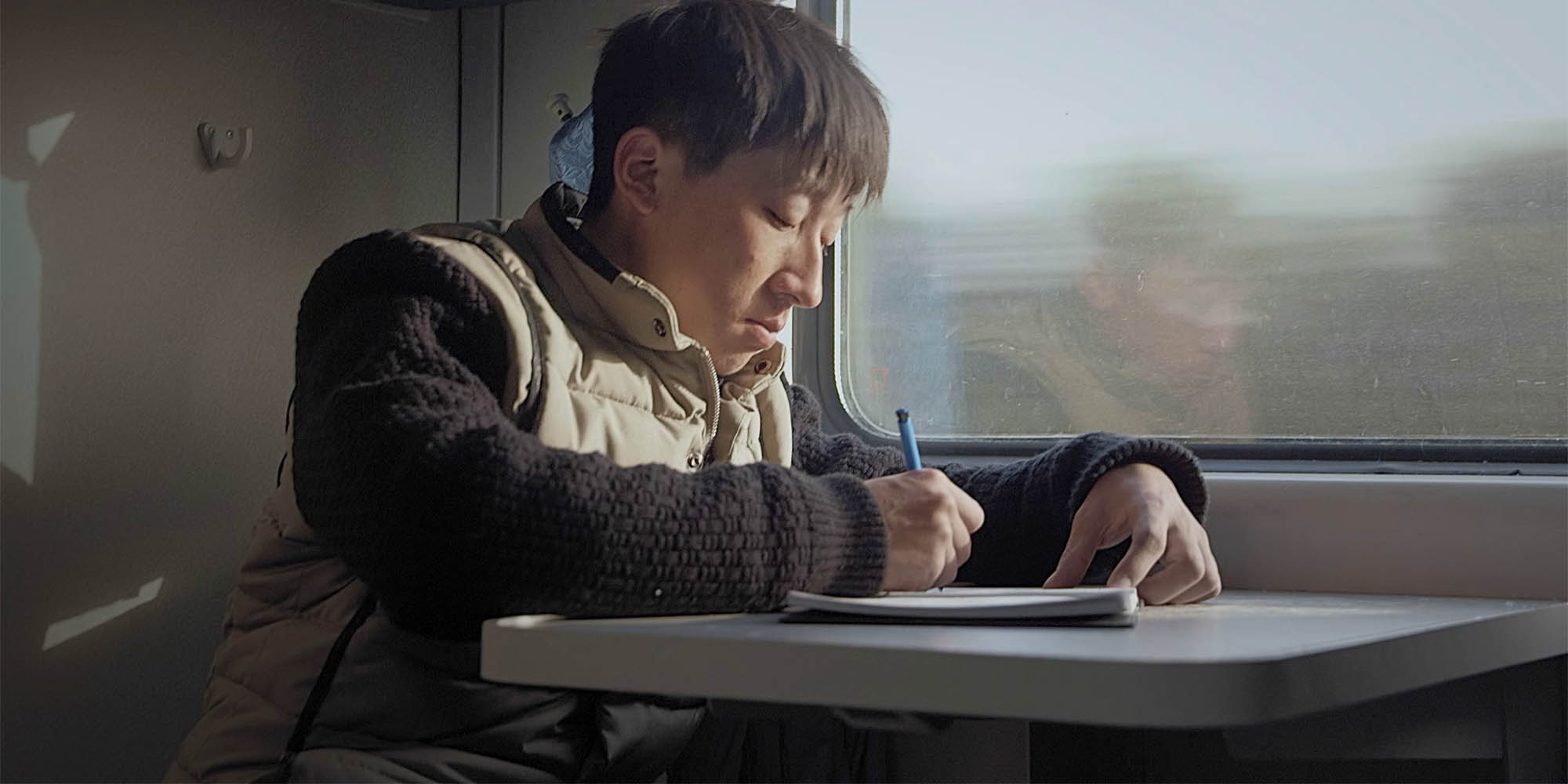 NEWS
Poet Worker Documentary Hits Cinemas Through Crowdfunding
Tale of working-class poets 'The Verse of Us' taps unorthodox means to reach audiences around China.
Footage of factory workers on an assembly line is countered by images of China's famous terracotta warriors. It's a striking, simple metaphor: two of China's most formidable human forces.
As the voice-over of the documentary "The Verse of Us" goes on to explain, however, many of China's workers often feel alienated and cast off by the global capitalist system to which they are so central: "Five years of my youth come out of the anus of the machine/ in the form of oval-shaped plastic toys/ to be sold to blue-eyed children."
The words come from a poem by Xie Xiangnan, a poet whose work experience in factories and on construction sites inspires his writing. Like each of the worker-poets featured in "The Verse of Us," a 2015 arthouse film directed by Qin Xiaoyu, Xie puts words to the stark experiences of China's migrant workers, whose stories often go untold.
It seemed like the perfect film for Chen Diqiao, a former factory worker with a keen interest in literature. "I really, really wanted to see it," says the 26-year-old from Shiyan, a city in China's central Hubei province. So when "The Verse of Us", didn't come to a single theater near him, Chen decided to take matters into his own hands.
Soon after hearing about the film, Chen decided to organize a crowdfunded screening at a local cinema. "I recruited an audience of over 80 people and negotiated a screening time with the cinema. It wasn't the easiest way to see a film, but it was a good alternative," he reflects.
All over the world, films outside the mainstream face difficulty reaching their audiences, as cinemas are often dominated by big-budget blockbusters whose ticket sales are hard to compete with. But in China's booming movie market, which is projected to overtake Hollywood in 2017, the challenges are especially daunting.
Government support in China for the production and distribution of independent film is very limited, and dedicated arthouse cinemas do not exist. Just how dire the situation became clear last month when a well-known producer knelt down on camera to beg for more screenings for a movie on traditional Chinese culture.
Unable to secure screenings for their award-winning documentary, the makers of "The Verse of Us" have tried something new. Through social media, they searched for interested individuals like Chen to bring the film to local theaters. Volunteers were responsible for bringing in an audience, while the film's staff took care of technical details.
After the Shiyan screening, Chen wrote an online essay thanking the filmmakers for making a rare film that reflects the reality of many in his Hubei hometown. He saw "his father, uncles and neighbors" in the older poets' stories, while he, "a 'new-generation' worker," spent several lonely years at the same Foxconn location where talented migrant-worker poet Xu Lizhi worked before he committed suicide in September 2014. "Did we brush shoulders?" he muses.
So far, over 350 screenings of "The Verse of Us" have been held in locations across China, ranging from China's coastal metropolises to inland locations as far as Urumqi, the capital of northwestern Xinjiang Uyghur Autonomous Region. It is the widest distribution of a social documentary through crowdfunding so far, according to director Qin Xiaoyu.
Raising funding in such a way can be a way forward for arthouse movies, says Liu Jun, a scholar at the Beijing Film Academy and a film industry expert. "In the current market, cinemas lose money if they allocate screenings to low-budget movies," he told Sixth Tone. "But if you bring your customers with you, it's a different story."
In the long run, however, Liu sees a more active role for government policy in creating a more diverse film environment in China. "The authorities are aware of the imbalance," he says, citing interest from China's leading media regulatory body in setting up arthouse cinemas.
Duan Wanfu, who was in the audience of a crowdfunded screening in Beijing last month, was touched by the film's portrayal of the living conditions of China's migrant workers — the rural population that flocks to the country's manufacturing centers for work.
"These individual tales of survival and human dignity are more important than flashy stories about China's development," says Duan, who works at a language training institute in the capital. "But they often go untold and neglected," he says, before citing a line from the film: "The sun doesn't shine equally on each of us."
Duan, 27, believes a growing percentage of Chinese youth are interested in more honest, in-depth coverage of the societal problems around them. However, he isn't optimistic that popular culture will absorb such dense subject matter any time soon, as openly discussing the position of China's underprivileged can touch on politically sensitive issues. According to Duan, "The government doesn't necessarily want marginalized voices to be heard."
It is this kind of reflection on societal inequality that "The Verse of Us" wants to encourage, says director Qin. After compiling an anthology of worker poetry, the 41-year-old, who is also a literary critic, wanted to call wider attention to the work of working-class poets through film. "The Verse of Us," he hopes, will encourage communication between China's social classes. "Right now, social segregation in this country is getting more and more entrenched," he says. "It is something to think about."
The fact that it isn't a film for everyone doesn't mean it is not worthy of attention, Qin says. "If only a minority care about something, does that mean they should just be silenced by the mainstream? Of course not." In a country with a population of 1.4 billion, he adds, even minority tastes account for significant numbers.
The "Verse of Us" has been criticized for causing middle-class audiences across the country to tear up without offering any answers or exploring the systemic reasons for the inequality it portrays. Was this not simply a way of commodifying the experiences of China's working classes for the silver screen? Duan wondered about this as well as he watched the movie from his plush red theater chair. "I think that for many people, it's just another movie," he says. "It won't change their behavior." Still, he adds, "Change always starts with awareness."
(Header image: A still from 'The Verse of Us' shows poet worker Jike Ayou writing a poem aboard a train. Courtesy of MeDoc.)