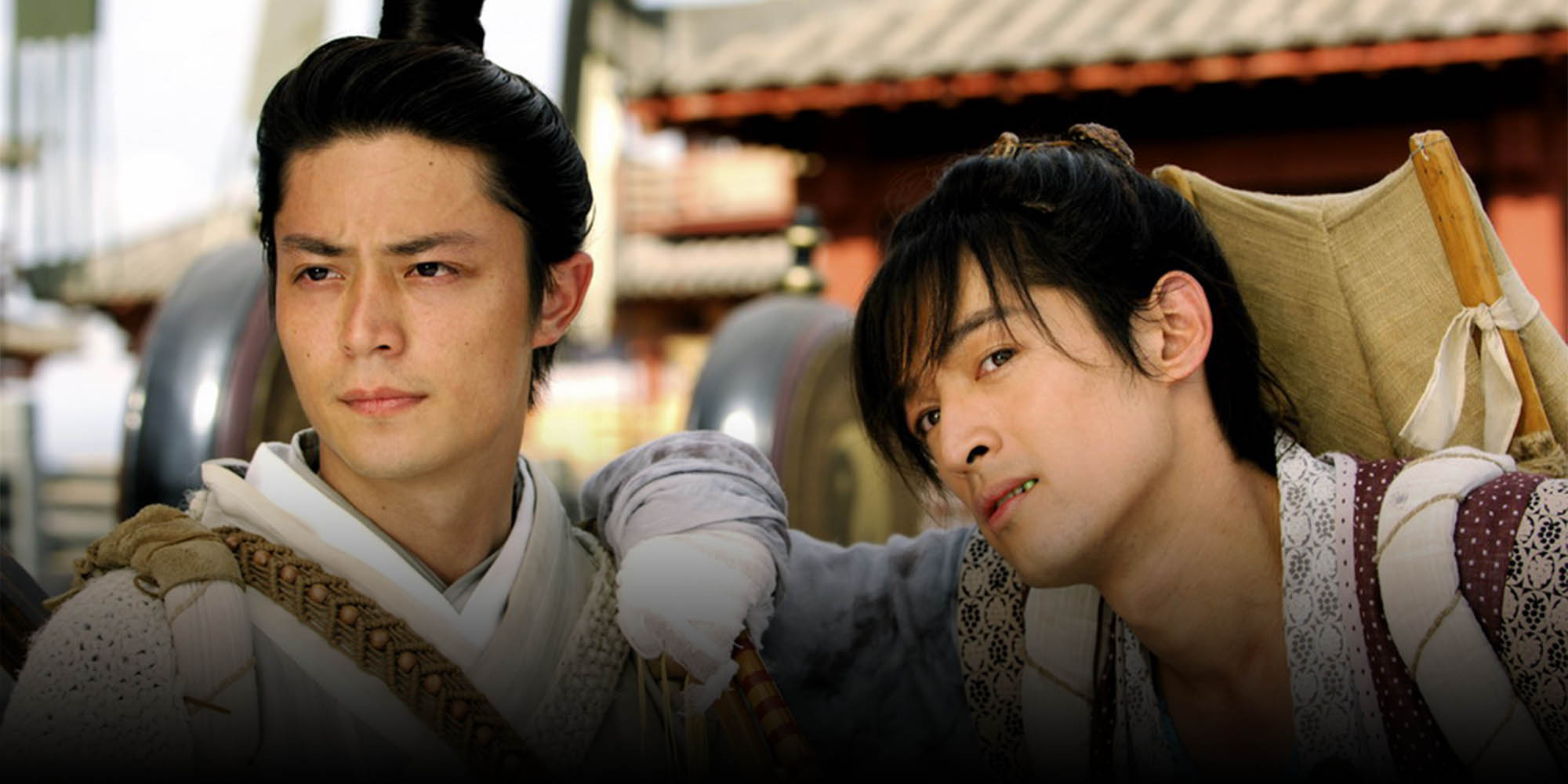 VOICES & OPINION
The Fake Gay Men of the Chinese Film Industry
Media in China cater to market tastes by hyping up the 'bromances' of male stars.
With the tacit consent of the celebrities involved, Chinese media outlets recently have been hyping up non-existent "bromances" between male stars, few of whom are gay.
There are all sorts of ways to hype up such bromances.
Some of the celebrities themselves use fake coming out stories to try and increase their fan base. At the end of last year, washed-up male pop singer Wilber Pan published a picture on China's microblogging platform Weibo of him holding hands with another man under a Christmas tree, accompanied by the caption: "Both of us here wish everyone a Happy New Year."
The image, which many believed to be a coming out announcement, became a trending topic on Weibo, with many entertainment news outlets picking up the story. However, the next day he clarified that the two men in the picture were him and his younger brother.
However, many of these supposed bromances are instigated by the media. At China's 2015 Domestic Television Series Awards Ceremony, the organizers deliberately sat two popular male television stars — Hu Ge and Wallace Huo — next to each other to hype up their friendship.
In March this year, the two actors also made the front cover of the Chinese edition of Harper's Bazaar magazine. The magazine included a series of affectionate images of the men in Hokkaido, Japan. When quizzed on the nature of their bromance in another interview, the two played along and said that if the other were still single in five years that they would consider being together. Recently, Wallace announced that he was in a relationship with a woman.
It might surprise people to read about heterosexual Chinese celebrities actively playing along with innuendos about their sexuality. After all, Chinese society is conservative, and acceptance of homosexuality is still relatively uncommon. According to a study by the Pew Research Center in 2013, only 13 percent of Chinese agreed that homosexuality is morally acceptable, 61 percent thought that it was unacceptable, and 17 percent believed that it wasn't a moral issue.
Although the Chinese media reported widely on the decision of the Supreme Court of the United States to legalize gay marriage, many Chinese parents expressed dissatisfaction with the ruling on social media on the grounds that it may have harmful effects on children.
For a long time, Chinese-directed films that contain homosexual content have been banned from public movie theaters and on domestic television. In 2016, the hit show "Addicted" — an online series with gay themes — amassed over 10 million views within the first 24 hours of launch, but was taken down four weeks later by state sensors.
[node:field_quote]
Soon afterwards, the China Television Drama Production Industry Association released a set of guidelines specifically outlawing the inclusion of homosexual themes in television series. They placed homosexuality alongside incest and sexual perversion on a list of "abnormal sexual behaviors."
So why then does the entertainment industry keep hyping up relationships between men?
First, LGBT rights are a hot topic across the world, meaning celebrities attract a lot of attention simply by associating with the LGBT movement. Although the majority of Chinese hold a conservative outlook on this topic, the country's society is still relatively tolerant compared to many other countries.
Transgender dancer Jin Xing is one of China's most popular talk show hosts. Cai Kangyong — a Taiwanese host and writer very popular among mainlanders — is also publicly out about his sexuality.
Another reason for all of the hype is the growing popularity of fu wenhua, or "rotten culture." The term refers to a cultural phenomenon in which straight people feel emotional connections to gay people.
The best example of this is straight women — funu, or "rotten women" — who harbor affections or fantasies toward gay men. The website "Jinjiang Literature City" is a place where people can write and share fiction on rotten culture. According to the introduction on the website, Jinjiang receives over 100 million hits daily.
Two popular Chinese series from 2015, "Nirvana in Fire" and "The Disguiser," featured heavily in rotten culture when fans paired up the male actors in reimaginings of the shows. Video-streaming websites like Bilibili have numerous videos where users have mashed together actors to make them look like couples.
This phenomenon can be found everywhere. Several British series like "Sherlock," "Merlin," and "The Bletchley Circle" have been given same-sex themes by Chinese internet users. To help Merlin and Arthur "get together," internet users even produced an alternate version of "Merlin," in which the role of Guinevere — King Arthur's wife — was completely cut from the story.
The entertainment industry closely monitors social media, where many people who enjoy rotten culture publish their matchmaking preferences. To play into this market, the entertainment industry has begun hyping up many supposed bromances.
Thus, the popularity of rotten culture has become an economic affair. Not long ago, the Chinese brokerage company Minsheng Securities Co., Ltd. published a research paper claiming rotten culture to be a great business opportunity, and recommended buying shares in several of the industry's related areas.
Of course, rotten culture is by no means a gay rights movement. Actually, all that most rotten women are interested in are attractive men and idealized forms of love — they don't care about the hostility, hardship, and other difficulties that gay people actually face in their day-to-day lives.
In hyping up these celebrity relationships, the entertainment industry only seeks to draw attention and create a story. It is precisely because those celebrities are not gay — at least not publicly — that they feel comfortable pushing such stories. They neither have to worry about being castigated by a socially conservative population, nor about the possibility of being censored by the authorities.
However, even though rotten culture ignores the real and severe social pressures that gay people come under, hyping up bromances has still increased the visibility of gay issues, leading to a growing awareness.
In April this year, the Chinese courts accepted their first ever same-sex marriage case, in which a gay male couple claimed that the decision of the local civil affairs bureau in central China's Hunan province not to issue them a marriage license was unlawful.
The court threw out the case. In interviews with journalists, the couple said that although they were disappointed with the outcome, they felt reassured by the large number of people who had come to support them.
Such shows of popular support contrast with the intransigence of the law and social customs — for all of the gleeful hyping up of same-sex friendships, there is still a ban on the inclusion of homosexual themes on television shows. Though we have seen many positive and inspiring changes, the social environment in which gay Chinese people find themselves is still a largely conservative one. China's gay movement still has a long way to go to achieve widespread social acceptance.
(Header image: A still shows actors Hu Ge and Wallace Huo in the Chinese television series 'Chinese Paladin 3.' VCG)